May, 19, 2013
5/19/13
10:00
AM ET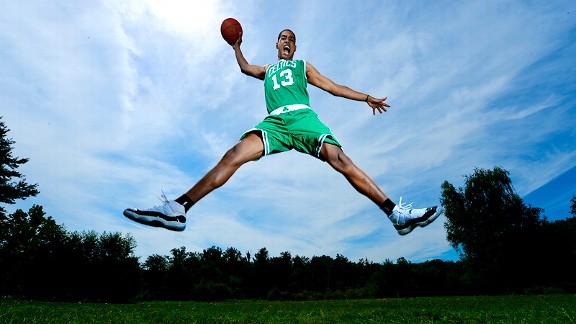 Jesse D. Garrabrant/Getty ImagesFab Melo spent much of his rookie season with the Maine Red Claws of the D-League.
After the Boston Celtics' 2012-13 campaign met an untimely end, we've busted out our red pens and assigned grades to each player based on their individual performances this season. This is the 11th in a series of end-of-the-season report cards. Today we put the spotlight two players with incomplete grades after getting limited floor time in Boston:
Player
: Fab Melo
2012-13 averages
: (D-League stats) 9.8 ppg, 6 rpg, 3.1 bpg, 26.2 mpg, 51.5 FG%
2012-13 salary
: $1.3 million

Season in a paragraph
: The 22nd pick in last year's draft came with the tag of long-term project and, sure enough, Melo spent much of the year taking baby steps with the Maine Red Claws of the D-League. Melo was coming on strong in late December, putting up some ridiculous numbers when his rookie campaign got derailed a bit by a concussion sustained by walking into a door frame. Melo led the D-League in blocks and with enough massaging should someday be an NBA-caliber defender. But the 22-year-old Brazilian remains incredibly raw.
Teacher's notes
: After landing NBA-ready Jared Sullinger at No. 21, the Celtics had the luxury of rolling the dice with Melo. Even when their depth was depleted up front this season, they made sure to keep him in the D-League and nurture his development. The Celtics were hoping Melo would be able to dominate the D-League with his size, but his rebounding numbers suggest he's still working on the fundamentals after a late immersion into the sport.
What's next?
: Summer league will provide a nice gauge of just how much Melo has progressed. Unlike his cameos with the big-league team, he'll get extended floor time and a chance to compete with other young players. It seems likely that the 2013-14 season could be another development year if the Celtics remain committed to bringing him along slowly.
Player
: D.J. White
2012-13 averages
: 2.4 ppg, 1.1 rpg, 0.5 bpg, 7.2 mpg, 52.2 FG%
2012-13 salary
: $256,000

Season in a paragraph
: The Celtics imported three players from the Chinese Basketball Association on 10-day contracts late in the year, including big men Shavlik Randolph and White. Randolph's rebounding prowess helped him earn the available floor time, while White appeared in only 12 games for a total of 86 minutes.
Teacher's notes
: White had some serviceable years in Charlotte and Oklahoma City, but didn't get much of a chance with Boston. What he did get is a head start on a chance to compete for a job for next season and summer league will provide a chance to show what all that time on the practice court and in the weight room did for him. His most noteworthy moment of the season might have been intercepting Jordan Crawford as he barked at Carmelo Anthony following Boston's Game 5 win in New York.
What's next?
: It's a big summer for the 26-year-old White, who won't just be auditioning for a spot with Boston, but also for the rest of the league if he can't stick here. With 14 of 15 players from last season under contract -- four nonguaranteed deals -- White faces long odds to stick, but can make a case this summer. His contract becomes guaranteed on Aug. 1, which means the Celtics can waive him with no costs before that point. They can also use his $1 million salary next season as part of any offseason moves, with the inheriting team able to cut him before that date at no cost as well. In that regards alone, he's a valuable asset (think Boston's creative sign-and-trade swap last year involving end-of-the-bench players that reeled in Courtney Lee).
Honor roll
: Click
HERE
to read past report cards.
Don't agree with teacher? Just want to sound off on the 2012-13 season for Melo or White? Leave your thoughts in the comments section.
March, 20, 2013
3/20/13
12:48
PM ET
The Boston Celtics formally announced Wednesday that they have re-signed forward D.J. White for the remainder of the season.

White appeared in four games while playing on two 10-day contracts, averaging 2.8 points and 1.5 rebounds over 6.8 minutes per contest. The Celtics had to decide whether to sign him for the rest of the year or cut him loose with league rules allowing no more than two 10-day pacts.

Much like the deal inked by Terrence Williams, White's contract is expected to include an option for next season that will allow him to work with the team this summer with the potential to be retained at a low-cost salary.

Celtics forward Shavlik Randolph is playing the final day of his second 10-day contract on Wednesday. Coach Doc Rivers told reporters at the team's shootaround in New Orleans that the team plans to sign Randolph for the remainder of the season as well, according to the Boston Globe.

March, 10, 2013
3/10/13
1:00
PM ET
The
Boston Celtics
inked
D.J. White
to a second 10-day contract Sunday.
White, a 6-foot-9 forward who spent the start of the season in China, has appeared in only one game (Wednesday's tilt against Indiana), registering two rebounds and two blocks in four minutes. The Celtics get a second 10-day span to evaluate his long-term potential before having to decide whether to ink him for the remainder of the season.
Celtics coach Doc Rivers previously expressed a desire to retain both White and
Shavlik Randolph
, whose 10-day contract expires at midnight but also is expected to stick around.
For more on White and his desire to stick in Boston, hop
HERE
.
March, 9, 2013
3/09/13
1:35
PM ET
By
Greg Payne
| ESPNBoston.com
With his current 10-day contract set to expire on Saturday, Celtics forward D.J. White can't afford to look too far into the future, but Boston's schedule might just be too tempting.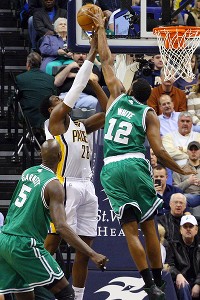 Brian Spurlock/US PresswireDJ White debuted for Boston against the Pacers on Wednesday.
White is clearly hoping his tenure with the C's can continue -- and all indications are he'll be sticking around, including the fact that he traveled with the team on Saturday -- but right now his interest might extend past simply wanting to play for a potential Eastern Conference contender. The Celtics' next two matchups are with the Oklahoma City Thunder and the Charlotte Bobcats -- White's two former NBA teams.
Prior to Friday's 107-102 overtime win against the Hawks, White downplayed a potential matchup with the Thunder, but admitted he'd be a little bit more amped up for a showdown with the Bobcats.
"I've played Oklahoma, I've played them before, so it's just another game. It'll be good to see those guys. I'd
love
to play Charlotte though," White said with a laugh. "I'd love to see them. But that's a different topic. At the end of the day, it's basketball, so hopefully I'll be there for those games."
White was traded to Charlotte from Oklahoma City midway through the 2010-11 season, but after appearing in 58 games for the Bobcats during the 2011-2012 campaign, he was not retained. When he first signed with the Celtics after finishing a season in China, White didn't deny he was a little bit miffed when Charlotte didn't pursue his services.
"I was a little surprised," White said. "Especially, I felt I played pretty decently, especially at the beginning of the season. But my minutes went down towards the end of the season for whatever reason, but that's part of the business."
So with Charlotte on the horizon, it's only natural for White to want to still be with Boston and get a chance to stand out a bit against his former club. "I have a little juice for them," White said with a wry grin on Friday.
March, 4, 2013
3/04/13
2:30
PM ET
By
Greg Payne
| ESPNBoston.com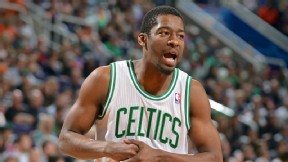 Barry Gossage/NBAE/Getty ImagesJordan Crawford is making the most of practice time.
WALTHAM, Mass. -- Jordan Crawford's been with the Celtics a little less than two weeks, but he's no longer alone in his quest to adapt to his new surroundings.
Boston now has a small contingent of players -- Crawford, Terrence Williams, D.J. White, and Shavlik Randolph -- working towards the same goal: Learning the sets with an eye towards being able to contribute when or if called upon.
On top of their usual practice responsibilities with the whole team, the four-man group has gotten together before and after official sessions to scrimmage and repeatedly run through offensive and defensive plays under the watchful eyes of the Celtics' coaching staff. Monday saw them gather roughly a half hour before the team's full-squad session so that they could work on a handful of sets before joining the regulars.
"We're just really going over the plays," Randolph said. "We've only really had like a couple team settings to learn the things, so we're just trying to get repetitions of the plays so we can know them better."
Randolph and White are still working on 10-day contracts, while Williams recently agreed to a deal that'll keep him here for the rest of the season. Crawford and Randolph both admitted that having four players all in the same scenario has made the adjustment process easier to deal with.
"(The regulars have) been here for a minute, so they know everything and the new players can come in and get adjusted while (the regulars) don't have to come in and help us out," Crawford said. "It makes it easier."
Added Randolph: "It definitely makes it easier that there's a couple other people in similar situations coming in, not really knowing much, and not being alone in that aspect."
February, 28, 2013
2/28/13
1:03
PM ET
WALTHAM, Mass. -- After nearly a full week in limbo while waiting for his clearance papers from China to arrive, forward
D.J. White
joined the
Boston Celtics
on the practice floor Thursday afternoon upon (finally) inking a 10-day contract with the team.
"I'm very excited," said White. "This organization has a rich tradition, countless championships, so it's just an honor to be a part of this organization."
White joined the team in Portland at the end of its road trip, but didn't get his paperwork in time to play against either the Blazers or Jazz to close the five-game trek. With the Celtics in the midst of three consecutive days off, the team waited until Thursday to sign him, maximizing the length of his 10-day pact.
Coaches couldn't work with him on the floor before Thursday, but he was able to familiarize himself with his new teammates.
"It's been good just to meet some of the guys," said White. "I know a couple of the guys, Jeff [Green] and
Chris Wilcox
from Oklahoma City.
Jordan Crawford
, we played together in college, just meeting the rest of the guys. So it's been good."
The 26-year-old White has appeared in 124 career NBA games after being drafted by the
Detroit Pistons
with the 29th overall pick in 2008. He spent 2 1/2 years in Oklahoma City before being dealt to Charlotte, where he put together a quality 2011-12 season. But he received only a couple training camp invites this offseason and determined that China was his best option.
"I was a little surprised," White said of not getting more NBA interest before the season. "I felt I played pretty decently, especially at the beginning of the season. But my minutes went down toward the end of the season, for whatever reason, but that's part of the business. You can't really dwell on that and look in the past, so I've been fortunate and blessed with another opportunity, so I just want to take advantage of that."
February, 25, 2013
2/25/13
12:30
PM ET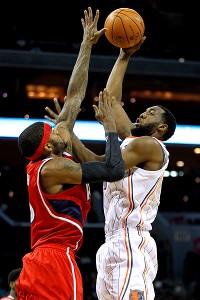 Streeter Lecka/Getty ImagesD.J. White can help the size-craving Celtics.
The Boston Celtics were waiting on a letter of clearance for soon-to-be-officially-signed forward D.J. White. As soon as that lands from China, White will don his new No. 12 jersey and dive into his 10-day contract. Here's what to expect from White when he's finally able to hit the floor for Boston:
*
THE BASICS
: The 26-year-old White has appeared in 124 career NBA games after being drafted by the Detroit Pistons with the 29th overall pick in 2008 (one spot before Boston took J.R. Giddens) and was flipped to Oklahoma City in a draft-day swap. His rookie season was almost completely wiped out (he appeared in seven games) after he
underwent surgery on his jaw
to remove a benign growth. White appeared in only 35 games over the next season-plus for Oklahoma City before being dealt with Morris Peterson to the Bobcats for Nazr Mohammed at the 2011 deadline. White averaged 6.8 points and 3.6 rebounds per game in 58 appearances (11 starts) for Charlotte during the 2011-12 campaign, his last season in the NBA. White posted 21.6 points and 9.7 rebounds per game in 32 appearances for the Shanghai Sharks this season in China.
*
OFFENSE IN FOCUS
: Last season with the Bobcats, White averaged 0.922 points per play, according to Synergy Sports data (a good number, ranking him in the 65th percentile among all players). His numbers were solid in transition (he can finish if you get him the ball running the middle of the floor) and he's got a serviceable spot-up game (shooting 45 percent from the mid-range). But even as a bit of an undersized big man, White really thrives on the glass. His offensive rebound rate (6.5 percent for his career) suggests he doesn't get to a lot of those caroms, but the ones he touches usually end up back in the hoop.
*
DEFENSE NEEDS WORK
: If there's something that's held White back in his pro career, it's his defense. During his final season in Charlotte, he allowed 0.905 points per play, which ranked him in the 26th percentile among all players. Playing for the Bobcats won't help your defensive numbers, but White owns a career defensive rating (points per 100 possessions) of 109. He's OK on the glass with a career defensive rebound rate of 18.2 percent (by comparison, Chris Wilcox is at a disappointing 15.3 percent this season; Paul Pierce grabs 19.6 percent of available defensive caroms). Even still, his career total rebound rate (12.2 percent) would make him the second best available rebounder on the 2012-13 Celtics (with Jared Sullinger injured, only Kevin Garnett owns a better number).
*
BOTTOM LINE
: The Celtics need big-man depth and White will get a chance to prove himself on short minutes. If he crashes the glass hard on both ends and up his defensive intensity on a team that will require it, he'll give himself a chance to stick. His numbers from China make him super intriguing and we've already heard a humbled Terrence Williams talk about how his time overseas changed his attitude. White might not have as much pure talent as Williams (a former lottery pick), but he's got size and Boston is going to give him every opportunity to help.
*
ADDITIONAL READING
: Our friend Brian Robb over at
CelticsHub
has a
nice breakdown of what White can bring
as well.
February, 22, 2013
2/22/13
8:56
PM ET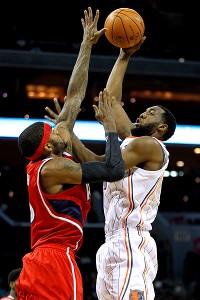 Streeter Lecka/Getty ImagesThe Celtics are set to add D.J. White on a 10-day contract.
PHOENIX -- The
Boston Celtics
are set to address their lack of size by adding forward
D.J. White
, according to coach Doc Rivers.
White, a 6-foot-9 forward, played in China this past season, but has four years of NBA experience with the
Oklahoma City Thunder
and
Charlotte Bobcats
. Rivers said the team was clearing some final hurdles before finalizing a deal (expected to be a 10-day pact), but the team is hoping to add the 26-year-old White before the end of this five-game road trip.
White averaged 6.3 points and 3.4 rebounds in 16.3 minutes per game over 124 career NBA appearances. He posted 21.6 points and 9.7 rebounds per game in 32 appearances for the Shanghai Sharks this season in China.
"Honestly, I didn't know a lot about him," Rivers said of White. "I saw him when he was in Oklahoma City and Charlotte. Listen, we went over three or four guys and this is one of those things where you just listen to [Celtics president of basketball operations] Danny [Ainge] and [director of player personnel] Austin [Ainge] and [assistant general manager] Ryan [McDonough]. They give you their opinion; I told them what I need. But at the end of the day, I told them [to get] whoever they thought was the best player. Like I said a week ago or two weeks ago when [
Jared Sullinger
] went down, we're just looking for whatever position is the best player."
The Celtics were already thin on big men before trading
Jason Collins
to Washington on Thursday in order to add guard depth by acquiring
Jordan Crawford
. Boston played Friday's game in Phoenix without
Kevin Garnett
(rest), leaving the team super small with Rivers joking, "We just decided to be the mini Celtics."
White can add some size, but Rivers said the team will seek additional big-man help with another open roster spot. Boston is auditioning players like White and swingman
Terrence Williams
on 10-day contracts before filling out their roster for the remainder of the season. Rivers had previously said the team will monitor the buyout scrapheap to see if any other veteran talent becomes available as teams shuffle their rosters for the final two months of the season.