Boston Celtics:

Donald STerling
April, 29, 2014
Apr 29
3:59
PM ET
The Boston Celtics ownership group -- managing partners Wycliffe Grousbeck, H. Irving Grousbeck, Stephen Pagliuca and Robert Epstein -- released the following statement after the
NBA handed down a lifetime ban
for Los Angeles Clippers owner Donald Sterling:
"The entire Boston Celtics organization and our ownership group fully support the decisive action taken by NBA Commissioner Adam Silver today. The Celtics stand for inclusion and equality, and we are proud to be a part of a league that shares the same values."
Full coverage ...
April, 28, 2014
Apr 28
6:15
PM ET
By
Arash Markazi | ESPNLosAngeles.com
LOS ANGELES -- Coach Doc Rivers says he turned down an opportunity to speak to Los Angeles Clippers owner Donald Sterling in the wake of the racist remarks allegedly made by Sterling. Rivers also says he believes Sterling made the remarks and that he isn't sure about his future with the team if Sterling remains the owner.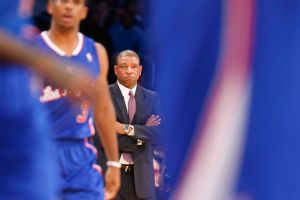 AP Photo/Danny MoloshokClippers coach Doc Rivers said on Monday that he isn't sure he would continue working for the team if Donald Sterling remains the owner.

"I was asked, do I need to talk to Donald, and I passed," Rivers said Monday during a nearly 30-minute conference call with reporters. "Quite honestly, I don't think now is the time or the place, for me at least, so I took a pass."
The comments allegedly made by Sterling were to his girlfriend, V. Stiviano, on an audio recording obtained and released by TMZ. The man making the comments urged Stiviano not to bring black friends to "my games."
When Rivers was asked if he thought the voice on the recording was Sterling's, he said, "Yeah, I believe he said those things."
"I still want to make sure it hasn't been doctored, but 'yes' is the answer," he said. "As far as believing those things, I heard what he said. Until someone tells me differently, you usually listen to what people say. I haven't given him his due process. I haven't given him an opportunity to explain himself and quite honestly right now don't want him to, or don't want him to to me. I'll wait for that further judgment."
Rivers said he isn't sure he could continue as the team's coach and executive vice president of player personnel with Sterling as the owner.
"For me, I honestly don't even want to answer that question, because I don't know," Rivers said. "This just happened ... I don't want to be part of this story. I don't have an answer one way or the other on that. We'll just wait and see."
[
Read full story
]
April, 27, 2014
Apr 27
8:00
AM ET
An audio recording purportedly of Los Angeles Clippers owner Donald Sterling making racist remarks to his girlfriend is being investigated by the NBA and it created a firestorm Saturday that overshadowed the league's thrilling playoffs:
Facing his first major issue as NBA commissioner, Adam Silver said he plans to show restraint and allow an investigation to play out before imposing any sanctions on Los Angeles Clippers owner Donald Sterling after an audio tape surfaced of Sterling purportedly making racist remarks.

Silver said Sterling was owed due process but that the league would move "extraordinarily quickly" in gathering and verifying facts surrounding the recording released by TMZ. In the interim, Sterling told the league he would not attend his team's playoff game Sunday at Golden State.

"All members of the NBA family should be afforded due process and a fair opportunity to present their side of any controversy," Silver said. "The core of the investigation is understanding whether the tape is authentic, interviewing Mr. Sterling and interviewing the woman as well and understanding the context in which it was recorded."
[
Silver: Sterling won't attend Game 4
]
Meanwhile, former Celtics coach Doc Rivers huddled his team to discuss the team owner's remarks:
Coach Doc Rivers led the 45-minute meeting and several players, including Chris Paul and Blake Griffin, spoke and voiced their anger after hearing the nearly 10-minute audio tape, which was released by TMZ on Friday night. The possibility of boycotting Game 4 of their first-round series against the Warriors was raised but quickly dismissed.

"I thought we needed to talk about it because everyone else is and so we needed to talk about it and all things came up," Rivers said. "We've heard all the stuff, the boycotts and all the stuff and all those things are things you could do but we choose to play and we're going to play tomorrow. ... It was brought up because I'm sure 20,000 people have suggested it but honestly I'm completely against that and they were, too.

"Why should we let someone's comments stop us from what we're trying to do? We're trying to do something here and we don't want that getting in the way of what we're trying to do."
[
Clippers briefly consider boycott
]
LeBron James, the face of the NBA, came out swinging as well.
LeBron James called comments on an audio recording of a man identified as Los Angeles Clippers owner Donald Sterling "appalling" and said he's not sure if he would suit up for the remainder of the NBA playoffs if he played for the Clippers.

"There's no room for Donald Sterling in the NBA -- there is no room for him," the Heat forward said Saturday night before a playoff game against the Charlotte Bobcats.

James said NBA commissioner Adam Silver should take swift action if the comments are found to be made by Sterling.

"Obviously, if the reports are true, it's unacceptable in our league," James said. "It doesn't matter, white, black or Hispanic -- all across the races it's unacceptable. As the commissioner of our league they have to make a stand. They have to be very aggressive with it. I don't know what it will be, but we can't have that in our league.

"We're the model citizen of all sports around the world because we are the most recognizable figures. ... It's very disrespectful and it's appalling."
[
LeBron says NBA must reject Sterling
]
On the Celtics' front, Jerryd Bayless took to Twitter to talk through his thoughts on the issue and said he would not consider playing for the Clippers.
I also wouldn't put on that jersey with Sterling still as the owner.

— Jerryd Bayless (@jerrydbayless) April 26, 2014