Boston Celtics:

Ed Lacerte
October, 24, 2013
Oct 24
9:59
AM ET
By
Arash Markazi | ESPNLosAngeles.com
LOS ANGELES -- The Los Angeles Lakers can blame one of the longest-tenured Boston Celtics employees as the reason their championship banners and retired jerseys are now covered up during Los Angeles Clippers games.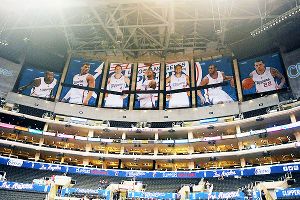 Evan Gole/NBAE/Getty ImagesThe Clippers put banners of seven of their players over the Lakers' 16 championship banners and 10 retired numbers during a preseason game Friday night.
Last season, when the Clippers beat the Celtics 106-77 at Staples Center, Celtics trainer Eddie Lacerte, who is entering his 26th season with the team, pointed at the banners toward the end of the game. It was a moment that stuck with Rivers when he took the Clippers job.
"Last year when the Clippers were blowing us out and I was sitting there with Eddie Lacerte, our trainer in Boston, and he taps me on the leg and he says, 'Look at that,'" Rivers said. "I didn't want to look at anything at that point, we were literally down 30 points, and I looked up and you see all the banners. And he said, 'Man, I would never have that.' I thought, wow, he's right. So, again, the Lakers can blame a Boston guy."
Rivers said he has heard positive and negative reviews of his decision to cover up the Lakers' championship banners and retired jerseys with seven giant banners of Clippers players during Clippers games this season.
"I've had the gamut of feedback, I can tell you that," Rivers said. "Mostly positive, even from a lot of Lakers fans. The other day I was in the drugstore, and a Lakers fan said, 'I can't believe you covered up our banners but I was always wondering why you hadn't done it in the past.' It's the Clippers' court, and that's the way we feel. It's not a disrespectful thing at all. It's not intended that way at all. When we play in our arena, it should be about us and only us."
(
Read full post
)
December, 14, 2012
12/14/12
3:15
PM ET
Getty ImagesCeltics trainer Ed Lacerte tends to Courtney Lee earlier this season.
BOSTON --
Boston Celtics
trainer
Ed Lacerte
received the 2011-12 Joe O'Toole Athletic Trainer of the Year award presented by the National Basketball Athletic Trainers Association during halftime of Wednesday's double-overtime win over the
Dallas Mavericks
.
Lacerte, now in his 26th season with the Celtics, is Doc Rivers' right-hand man when it comes to injuries (Rivers loves to joke that "Doc" is just a nickname), and Lacerte's efforts are not lost on Boston's head coach.
"Eddie is probably the hardest-working man in the league right now with some of our guys," said Rivers. "He's here all night. So I'm very proud of him."
Lacerte is an integral part of keeping Boston's players upright, including
Kevin Garnett
, who goes through lengthy pregame and postgame treatment sessions.
"Eddie's good people, man," said Garnett. "He's been in this league countless years and it's good to see. With the vets and some guys like [media relations czar] Jeff Twiss and [team massage therapist] Vladimir Schulman and Ed Lacerte, it's good to see those guys get some recognition. Because those are the guys who have helped build this league, been in this league, and you never hear about the old-timers who help create some of the foundation in an organization, so it's good to get some recognition for that. Congrats to Ed Lacerte, man."
This is the second time Lacerte, a trainer on the original Dream Team, has won the O'Toole award. Celtics captain
Paul Pierce
suggested he was well on his way to being in the mix again this season.
"Ed is one of the better trainers in all of sports," said Pierce. "The way he comes in, he's here night in and night out. He's done a great job this year, we haven't had that many injuries, so he deserves it."
Rivers joked that one of the perks of Lacerte's job is being a fly on the wall, particularly the way Boston players gravitate toward the trainer's room before and after games.
"I think if you got all of the trainers in the league to write a book, if they changed the names, it would be terrific," said Rivers.
June, 20, 2012
6/20/12
3:50
PM ET
AP Photo/Charles Rex ArbogastEd Lacerte plays cornerman to Celtics center Kevin Garnett.
Longtime Celtics trainer Ed Lacerte was honored Wednesday as the 2011-12 recipient of the Joe O'Toole Athletic Trainer of the Year presented by the National Basketball Athletic Trainers Association.
With a veteran roster, Lacerte has earned his money during the Big Three era, but particularly during this condensed season where the most popular pregame lounge was the trainer's room. Celtics coach Doc Rivers went so far to suggest that Lacerte was the MVP of the Celtics this season, but also jokingly offered a less flattering nickname because of all the times he arrived bearing bad news about the health of Boston players.
"Eddie, we call him the MVP all the time -- and the Grim Reaper, because I don't talk to him now when he walks in my office," Rivers joked near the end of the playoffs. "When he comes in your office, it's not good news coming. I told him it feels like he's been in my office all year.
"But when you go back in that training room (during the playoffs), it is packed. It really is. And even with some of the guys that are -- quote, unquote -- healthy on our team right now, they're in there. So he's been put to the test. He's had an MVP year for us. He's such a positive guy. Without that, I can guarantee you there's no way we would be (in the Eastern Conference finals)."
The award is voted on by the league trainers for exemplary achievement or outstanding service to the NBA, the NBATA or the community. Lacerte was selected for his outstanding service to the NBATA. The award is named after Joe O'Toole, a longtime former head athletic trainer of the Atlanta Hawks who is regarded as the father of the NBATA.
This is the second time Lacerte has been selected as Athletic Trainer of the Year. He was also honored for the 1992-93 campaign.