February, 10, 2011
2/10/11
12:30
PM ET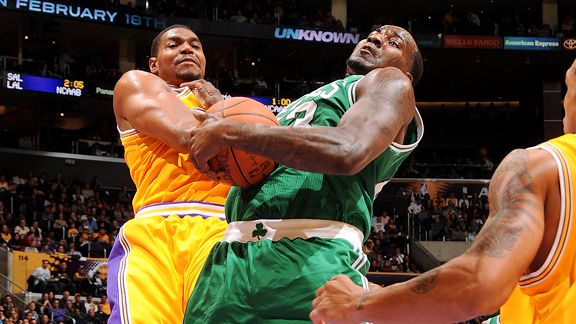 Noah Graham/NBAE/Getty ImagesThe Celtics and Lakers meet again just 11 days after their last meeting in Los Angeles.


It seems like just 11 days ago we were
trading emails with the Kamenetzky Brothers
of
ESPN Los Angeles' Land O'Lakers blog
, previewing the first Celtics-Lakers clash since Game 7 of the NBA Finals. Now, like a kid whose birthday falls right after Christmas, we're wondering why the NBA couldn't have spread the fun out a little bit (and complaining about how cheap relatives spend a few extra bucks on the Christmas present and call it a combo gift). Regardless, here comes the latest installment of the greatest rivalry in basketball and, to catch up on everything that's happened in the whopping 264 hours since these two teams last met, the Brothers K and I dive into all the hot topics.
With Boston winning Game 1, it's my serve and I volley the first question to Brian Kamenetzky:
So what's the panic level in Los Angeles been like over the last week?
B.Kamenetzky
: Well, in the day or two following the game, pretty high. The Lakers lost to an elite team. Again. They lost at home. Again. Kobe seemed to simultaneously satisfy in one game the camp insisting he shoots too much and those who think the supporting cast isn't clutch enough to step up. Suddenly Mitch Kupchak declared the Lakers' trading window might just be open for business, and Magic Johnson was on TV declaring the Lakers needed to make a move because they looked old and tired.
May, 22, 2010
5/22/10
6:00
PM ET

Looking ahead? Well, sort of.
ESPN Boston's
Chris Forsberg
phoned in to ESPN 710 in Los Angeles to join ESPN Los Angeles'
Kamenetzky Brothers
for a preview of Game 3 of Celtics vs. Magic and there might have been just a little glimpse ahead to a potential Celtics-Lakers showdown in the NBA Finals.
OK, there was a lot of glimpse ahead.
Click
HERE

to listen to the podcast.