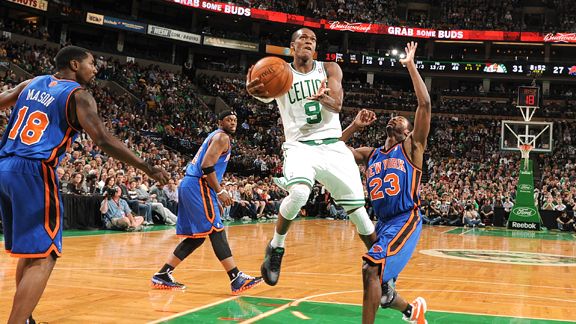 Brian Babineau/Getty Images
Rajon Rondo skies towards the basket against the Knicks.BOSTON -- First impressions after the Boston Celtics defeated the New York Knicks 105-101 Friday night at the TD Garden:
HOW THE GAME WAS WON
Rajon Rondo didn't just produce a triple-double, he put a charge into Bob Cousy's franchise record for assists in a single game (28) by totaling 10 points, 10 rebounds, and a jaw-dropping 24 assists to fuel Boston's offense. Paul Pierce finished with 25 points and 14 rebounds, while Kevin Garnett added 24 points and 10 rebounds. Amare Stoudemire finished with a game-high 27 points for the Knicks.
TURNING POINT
The Celtics led by four coming out of halftime, but the starters pushed that lead to double digits early in the third quarter. Rondo's fast-break layup with eight minutes to play in the frame put Boston on top, 65-54, its biggest lead of the night, and the Celtics hung on from there (despite a late charge from the Knicks, who cut their deficit to two with 15.4 seconds to play).
STAT OF THE GAME
Rondo's 24 assists are impossible to overlook, especially considering that was the total number of assists for the Knicks (twice already this year, he's exceeded or matched the opposing team's assist total). But Boston also did a fantastic job rebounding the ball, owning a 53-37 advantage overall, and this despite playing with a small lineup for much of the night.
UNSUNG HERO
Glen Davis might sweep this spot all year at this rate. Yet again, he fuels the bench effort, registering 16 points on 7-of-14 shooting with six rebounds and a whopping plus-15 in the plus/minus category over 24 minutes before fouling out with 2:33 to go. On a night the Celtics were without Jermaine O'Neal (sore left knee) and Shaquille O'Neal limped off in the fourth quarter, Davis comes up big for a second unit deprived of available height.
WHAT IT MEANS
The Celtics bounce back and wash away the taste of a sour loss in Cleveland. On a day in which a post-shootaround fight marred the pregame chatter, it was Rondo's big night and a solid win that people were talking about after. The Celtics now get an extended rest before traveling to Detroit on Tuesday.