Boston Celtics:

Flagrant Fouls
February, 5, 2011
2/05/11
7:00
PM ET
ESPN ScreenshotKevin Garnett brushed away the arm of referee Eric Lewis during Friday's loss to Dallas.
Celtics forward
Kevin Garnett
avoided a fine or suspension from the NBA despite making contact with a game official during Friday's 101-97 loss to the
Dallas Mavericks
. Garnett did, however, have a second-quarter flagrant assigned, according to an NBA spokesman.
The flagrant foul occurred with 2:41 to play in the second quarter. No infraction was called on the play (a Shawn Marion rebound of a Garnett miss), but video review led to the assignment of a flagrant. It is Garnett's first flagrant foul of the season.
A potential fine or suspension could have been levied for an incident that occurred with 7:43 to play in the third quarter. Dallas guard J.J. Barea corralled Garnett and gave a hard foul to prevent an easy layup in transition. The momentum carried the two players beneath the basket, where Garnett delivered a one-handed shove to the tangled Barea.
As
Jason Kidd
and
Tyson Chandler
approached, both Celtics guard
Rajon Rondo
and referee Eric Lewis got in the middle. As Lewis appeared to sternly warn Garnett, Boston's forward began to turn away before swatting the referee's left arm away from his body.
November, 29, 2010
11/29/10
11:50
AM ET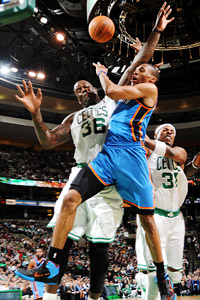 Brian Babineau/NBAE/GettyShaquille O'Neal fouls Russell Westbrook going up for a layup.
The NBA downgraded a flagrant 1 foul assessed to
Shaquille O'Neal
on Nov. 19 vs. Oklahoma City to a standard foul, while upholding a flagrant 1 foul registered by
Nate Robinson
Friday night vs. Toronto.
The NBA reviews all flagrant calls with the ability to upgrade, downgrade or uphold all calls.
O'Neal incurred his second flagrant 1 of the season for a hard foul on the Thunder's
Russell Westbrook
with 4:30 remaining in Oklahoma City's win at the Garden. O'Neal appeared to simply throw his hands in the air, but the force of impact with the driving Westbrook left referees assigning the harsher call (which resulted in two foul shots and the ball). Westbrook made both free throws, giving the Thunder a six-point cushion, and they held off a Boston charge to prevail, 89-84.
Robinson earned his flagrant 1 for a hard foul on
Linas Kleiza
in the second quarter of Boston's 110-101 triumph over the Raptors on Friday. Kleiza had an open path to the basket for what should have been an easy dunk, but Robinson scrambled over and clearly clubbed Kleiza to prevent the basket.
O'Neal and Robinson each have one flagrant point this season. Suspensions trigger at five points accrued.
In other flagrant fouls news, a flagrant 1 assessed to Washington's
Hilton Armstrong
during a visit to Boston on Nov. 17 was upheld.