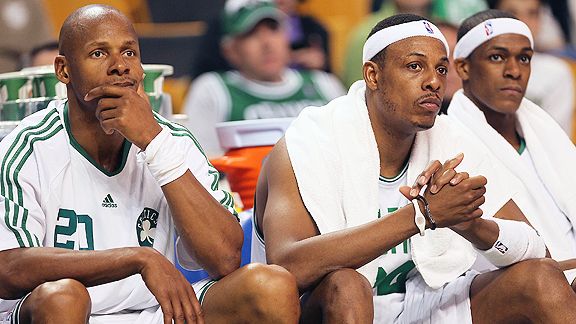 Jim Rogash/Getty Images
The Celtics head to Cleveland Tuesday for a pivotal game 5 at Quicken Loans Arena.CLEVELAND -- Five thoughts before the Boston Celtics visit the Cleveland Cavaliers in Game 5 of an Eastern Conference semifinal series Tuesday night at Quicken Loans Arena:
1. P's isn't impressed with your statistics: Asked what it meant considering that 83.1 percent of Game 5 winners in series previously tied at 2 games apiece went on to win the best-of-seven showdowns, Celtics captain Paul Pierce quipped Monday, "It means it's another statistic you just threw out there. That's all it is." Pierce and his teammates have hardly blinked at the stats working for or against them this postseason, like when the Celtics were informed that 78.6 percent of Game 1 winners prevail in best-of-seven series, or that 76.3 percent of Game 3 winners take the series (Cleveland won both those games). The Celtics just keep plugging away and, even if they lose in Game 5, Pierce suggested they'll simply ignore the stats again and keep grinding. "There's definitely a sense of urgency going into Game 5, we've got to treat it like Game 7, and that's what we're trying to do. We know it's a tough place to play in Cleveland. But we're trying to get two wins. We'll put on our hard hats, improve things we didn't do [in Game 4] and in Game 3 and try to steal another win [on the road]."
2. Game 5 will be the most important game ... until Game 6: In a seesaw series, each game has seemed more important than the last, but neither team has been able to put together back-to-back consistent efforts. Will the Celtics be the first to do it? Point guard Rajon Rondo says they'll try, but isn't getting caught up in the hoopla around the latest "biggest" game. "Game 5 is the biggest right now. It could swing the momentum. The series has been up and down each game. Won, loss, won, loss. Hopefully we change it up a bit and get two wins [in a row]. The pressure is on [the Cavaliers] now. It's also on us, it's no one-way street, but I'm confident we can go into Cleveland and get a win. We'll definitely be focused." The Celtics do need to get off on the right foot on the road. Boston can't afford to let Cleveland get out to a touchdown lead, as it did with a 7-0 burst to open Game 4, and expect to rally back as easily as it did on home soil. Home teams always make runs; road teams aren't always as fortunate.
3. Sometimes you don't get a second chance: The Cavaliers haven't generated a second-chance point in more than five quarters dating back to when Antawn Jamison drew a foul after collecting an offensive rebound with 1:51 remaining in the third quarter of Game 4. The Celtics limited Cleveland to three offensive rebounds in Game 4 and not a single second-chance point. Considering one of Boston's primary goals of the series was neutralizing Anderson Varejao and the second efforts he generates on the offensive glass, it's clear the Celtics are thriving when they do just that. In Boston's two victories, the Celtics have allowed a total of nine offensive rebounds. In both Game 1 and Game 3 triumphs, the Cavaliers generated 11 offensive rebounds in both contests. But it's not only offensive rebounds that are important...
4. Can't run if you don't have the ball: The Celtics mustered a mere five defensive rebounds in the first half of Friday's Game 3 loss and were outrebounded overall, 45-30. Some of that was aided by the fact that Cleveland seemingly couldn't miss in the first half, shooting a blistering 59.5 percent for the game. Celtics coach Doc Rivers has stressed the need for his team to generate stops and grab rebounds -- especially those 50/50 balls. "We can't run without the ball," said Rivers. "We can't run if they score. We can't run if we foul and they're shooting free throws. We can't run if they get second shots. Those three things we have to try to stop. And we have to get multiple stops."
5. Wait, what's this about LeBron covering Rondo?: This will either end up being the most over-caffeinated story line of the series (well, besides James' elbow) or it will become an even bigger spectacle (in favor of King James) if Rondo struggles (and Pierce doesn't breakout against a different defender) during Game 5. In the end, our guess is it probably won't matter. There's a reason the Cavaliers have avoided the matchup through the first 192 minutes of play. Expect the Cavs to flirt with the coverage at times, but abandon it quickly if Pierce starts to show even the faintest of offensive pulses. Cleveland already showed it can limit Rondo -- if the 18 points and 8 assists he put up in Game 3 can be called limiting -- by having Anthony Parker patrol him at near full court and Mike Brown sure seems uneasy about the prospects of swapping James off a struggling Pierce. As should be expected, the Celtics aren't altering their approach for a matchup that might happen. "[Pierce's struggles is] probably one of the reasons they haven't [utilize James on Rondo], but they're going to at some point," said Rivers. "It may not be all game. It may be in the fourth quarter. It may be in the second half, out of timeouts. And we'll be ready for it."