January, 26, 2010
1/26/10
1:58
AM ET
BOSTON -- After a brief postgame news conference that centered mainly on the slippery court caused by unseasonably warm temperatures in Boston on Monday, Celtics coach
Doc Rivers
stood up from the lectern and declared, "It's time to go home and watch '24.'"
Rivers needed a little drama after Boston's nondescript 95-89 triumph over the
Los Angeles Clippers
at TD Garden.
For the first three quarters, the sweaty court was the story of a game in which the combatants combined to shoot a meager 41.8 percent (49 of 117) from the floor.
Kendrick Perkins
' jumper to start the third quarter gave Boston a lead it wouldn't relinquish, and
Rasheed Wallace
's 3-pointer to open the fourth quarter helped the Celtics build a double-digit advantage. Boston, even as it struggled to put the game away at the free throw line, fended off the Clippers from there.
"We are not perfect," Celtics forward
Kevin Garnett
said. "Some nights we make it look easy and other nights we make it look difficult, but that's what it is."
After a thriller between the teams in Los Angeles last month that ended with
Baron Davis
draining the winning basket over
Rajon Rondo
, the Celtics made it look dreadfully boring Monday.
Click
HERE
to read the full story.
January, 26, 2010
1/26/10
12:39
AM ET
BOSTON -- A collection of postgame news and notes after the
Boston Celtics
posted a 95-89 triumph over the
Los Angeles Clippers
Monday night at TD Garden:
Rondo logs overtime
Celtics guard
Rajon Rondo
made a rare appearance at the postgame podium, taking over a spot typically reserved for captain
Paul Pierce
.
After logging a team-high 42 minutes, Rondo, who registered a double-double with 16 points and 12 assists, got a chance to break down his effort. Flanked by
Kevin Garnett
, he focused on the defensive end, particularly after being burnt by
Baron Davis
for a winning jumper when the teams met last month.
"[Kendrick] Perkins and I were laughing before [the game] because, for some reason, our two guys got off last game, and we knew that we had to step up and take the challenge," said Rondo. "At the end of the day, we had to man-up and try and get stops. Perk and I were talking and we pride ourselves on defense."
Davis finished with 16 points on 5-of-13 shooting for the Clippers.
"I just tried to keep [opposing guards] in front of me as much as possible," said Rondo. "We mixed it up as much as possible. We threw a trap at them. I think that kept them off guard all night. For me, it was my job to maintain the ball and try not to reach as much tonight and keep the ball in front of me."
For those worried, Pierce was spotted in the locker room after the game and Celtics coach Doc Rivers confirmed he was fine. Sending Rondo to the podium might have simply been a tip of the cap for his efforts (and saved Pierce from doing a little talking for a change).
Opposing view: Shots didn't fall
After shooting a dismal 38.8 percent from the floor (31 of 80), the Clippers contended they simply didn't make their shots, as opposed to anything Boston did to frustrate them.
"I thought I had about five or six good looks at the basket," said Clippers center
Chris Kaman
, who clanged 14 shots as part of a 5-of-19 performance for 10 points.
"On the season we shoot right around the high 40's, low 50's, somewhere in there on a typical night. We did a good job defensively though for the most part. Late in the game, they got some free throws and shots, but for three quarters, and probably three and three-quarters, we did a great job defensively on them. This is one of the best teams in the East, in the NBA period, and for us to beat them one time and play them this well is a positive note. We would have liked to get out of here with another win."
Added coach
Mike Dunleavy
: "[Kaman] had wide-open looks, and he didn't make shots, and that's what I'm saying. The same looks that he's made in the past that have gotten us a win are the same looks he had tonight. Unfortunately, everybody's going to have certain nights like that, but they were still wide open and they were good finds, and, hey, maybe next time they'll go down."
The Clippers seemed to take home a moral victory.
"Coach just applauded our effort, especially on a back-to-back," said forward
Marcus Camby
. "We just came up in the loss column, but this is a long trip for us and we can't hang our heads. We have to find a way to get some energy and go into Jersey and get a win on Wednesday."
Doc's Opinion: No gambling, more passes
Trailing at the half, Rivers said he got on his team about two things at intermission: gambling on defense and making extra passes on offense.
"I counted 12 points on gambles in the first half, and then offensively, [assistant coach] Armond [Hill], who keeps all the offensive stats, I think he had 11 times where we didn't make the next pass," said Rivers. "So our thought in the second half was 'Make the next pass.' The game's simple -- it really is -- when you do that. And I thought our guys did it, and then they almost started doing it to a fault. But I would rather fix that problem, than the other way."
Boston thrived making the extra pass in the third quarter, shooting 56.3 percent (9 of 16) and opening a five-point lead before the end of the period.
Giddens feeling fine
Celtics guard
J.R. Giddens
, on assignment with the Maine Red Claws of the NBA Development League, returned to the lineup one night after suffering a minor left knee injury. Giddens, playing against the same Utah Flash team he played for last season while on assignment from Boston, hit 8 of 9 shots for a team-high 22 points in Maine's 107-84 rout.
January, 25, 2010
1/25/10
11:27
PM ET
BOSTON -- Monday's game took
Boston Celtics
coach
Doc Rivers
back to his playing days for all the wrong reasons.
Unseasonably warm temperatures caused condensation to form on the floor of the TD Garden during Boston's 95-89 win over the
Los Angeles Clippers
Monday, leading to a brief delay as workers mopped the court to keep it dry late in the first quarter.
[+] Enlarge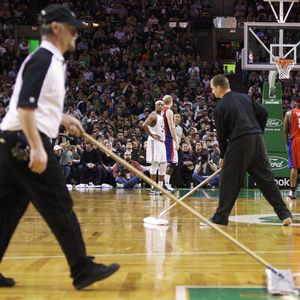 AP Photo/Charles KrupaWorkers wipe down condensation rising up from the floor, which covers the Bruins' ice, during Monday's game between the Celtics and Clippers.
Rivers said the game was nearly stopped because of the condensation, which reminded him of the game from Nov. 28, 1990, when a tilt between the Celtics and Rivers' Hawks was halted with Boston out front, 37-22, 1:30 into the second quarter due to a slippery floor from similar conditions.
The Celtics and Hawks resumed play a month later with the Celtics emerging with a 132-104 triumph.
"The Celtics had the court wet on the Hawks' side, offensively, and got up by 30 and then called the game, which the people in Atlanta thought was very unfair at the time," said Rivers, who also joked Monday's game reminded him of a recent preseason game in Worcester that was canceled due to flooding.
Monday's game featured a short break with 2:28 to go in the first quarter.
"I was nervous, though. I really was," Rivers said. "[Referee] Joey [Crawford] was terrific. [Clippers coach] Mike [Dunleavy] and I came together and, at that point, we were very close. If anybody slipped in the next two minutes, the game was over. Joey was going to make that call. Mike said the same thing, we said it almost simultaneously, 'We can't afford a guy to get injured on this floor.'
"We're not used to 55-degree days in January."
Players for both sides complained about the conditions, noting it made for a slippery -- and dangerous -- track. Celtics forward
Rasheed Wallace
summed it up as "terrible."
"You can't put them brakes on when you want to because you didn't know if you're going to slip," Wallace said. "I saw a couple guys out there slipping like Peggy Flemming on ice. That's part of it when you play in arenas with ice under them."
Dunleavy said his players brought up the slippery conditions before the game, but felt the floor crew did a satisfactory job to help get the game in.
"We kept having to go out and wipe it. There were three kids on each end trying to wipe it, and it must have made it better because I didn't see guys [slip] -- we had four guys slip in that first quarter," Dunleavy said. "I don't know if anybody really did after that, so it worked out fine."
Rivers admitted the conditions improved in the second half as the arena temperature seemed to drop.
"I'll tell you what, it seemed like when we came out in the second half, it was cooler in the arena," Rivers said. "I don't know if they turned the air on. I don't know what happened, but it was better. The floor still was a little slippery, and that's just dangerous. But we got through it."
January, 25, 2010
1/25/10
10:13
PM ET
BOSTON -- Instant reaction after the
Boston Celtics
posted a 95-89 triumph over the
Los Angeles Clippers
Monday night at the TD Garden:
How the game was won:
Paul Pierce
registered a team-high 22 points, while
Rajon Rondo
logged a double-double (16 points, 12 assists) as the Celtics fended off a late charge from the Clippers. Boston limited Los Angeles to 38.8 percent shooting (31 of 80 overall) from the field, but still had to rally from a small halftime deficit.
Rasual Butler
paced the Clippers with 17 points in a game-high 44 minutes.
Turning point:
The Celtics led by five coming out of the third quarter and
Rasheed Wallace
buried a 3-pointer on the first trip down.
Tony Allen
followed soon after with a pair of layups as Boston's lead ballooned to double digits at 71-61 and the Clippers never rallied closer than four the rest of the way.
Stat of the game:
The Celtics connected on 23 of 34 free-throw attempts, but struggled mightily at the charity stripe early in the game. Pierce might have saved the Celtics and their free-throw percentage, by connecting on all 11 free throws he attempted.
Unsung hero:
The starting 5 carried the Celtics on a night their bench combined for a mere 16 points on 7 of 20 shooting.
What it means:
The Celtics put together back-to-back wins for the first time since the start of the month (Jan. 2 vs. Toronto and Jan. 6 vs. Miami) and enter a challenging stretch with a bit of momentum fueled by the return of
Kevin Garnett
. Boston travels for a back-to-back later this week in Orlando and Atlanta, before returning home for a nationally televised Sunday showdown with Los Angeles' other basketball squad.
Related reading:
Box Score
|
Play by Play
January, 25, 2010
1/25/10
7:10
PM ET
BOSTON -- Some news and notes collected before the
Boston Celtics
hosted the
Los Angeles Clippers
at TD Garden:
"Big Baby" out, "Uno Uno" in
Declaring himself fit for a change, Celtics forward
Glen Davis
declared before Monday's game that he's dropping the "Big Baby" moniker and searching for a new nickname. When a reporter suggested the Ochocinco-like "Uno Uno" to match Davis' No. 11 jersey, he instantly fell in love with it.
"'Uno Uno!'" Davis erupted in delight. "I like that, I like that. I'll be 'Uno Uno,' that's my new name."
Davis, whose maturity has been questioned through a series of events over the past year-plus, including an offcourt fight that left him with a fractured right thumb and forced him to miss the first 27 games of the 2009-10 season, and last week's incident in Detroit, which led to him being fined $25,000 for shouting an obscene phrase, hopes to distance himself from those events as he takes the next step in his maturation.
"I've been called 'Big Baby' all through my life," said Davis. "But I'm going through changes. I'm in a cocoon and I'm coming out a different player, a different person. Basically, the new person is growth. I'm shedding that 'Big Baby' and you can see something else, not the past."
Reflecting on the hefty fine leveled last week by the NBA, Davis again apologized and was effusive in his praise of the Celtics organization for hanging with him through his troubles. But, while noting it's all about the future, he suggested fans send new nickname suggestions to his Twitter page (
@GlenDavisNBA
).
But when the Boston Metro's Jeff Howe suggested, "Uno Uno," the competition might have ended before it started.
When Celtics coach
Doc Rivers
was informed of the nickname swap a short time later, he rolled his eyes and initially said, "Oh Lord, no comment." Informed the impetus was Davis trying to change his reputation, Rivers added, "Actions change your image most of the time, but we'll see. That's good though. It's a start, right?"
Rivers then reaffirmed his support for Davis, noting that, above all, he's a good person and simply gets caught up in the moment.
"We all learn from our mistakes, at least I hope we learn from them, and I think he can," said Rivers. "Usually his mistakes come from emotions. You hope he matures, learns from that. His mistakes are nothing calculated, they rarely are. It's all emotional."
Who dat? Davis excited for Saints
After all the nickname and maturity talk, Davis took a moment to celebrate his New Orleans Saints heading to Super Bowl XLIV.
"I felt like I was on Bourbon Street [Sunday night]," said Davis, a native of Baton Rouge, and an LSU product, after watching the Saints top the Vikings in overtime Sunday. "I was dancing around at home."
Informed that Rivers had mentioned on Sunday afternoon that Davis was simply a
bandwagon fan
, Davis scoffed at the notion and declared himself a true Saints fan.
Davis plans on rushing home following a Super Bowl Sunday matchup against the
Orlando Magic
to watch the Saints play the Colts. When it was suggested he could always fake an injury to ensure he didn't miss a moment of the action, the already-more-mature Davis scoffed again.
"Oh, no, no," he said. "I've already missed 27 games. I'm not missing any more games."
More fun and games
The Celtics kept it light before Monday's game.
Kevin Garnett
playfully teased
Rasheed Wallace
as he walked through the Celtics' locker room about 90 minutes before tip-off. Once he exited through a side door, Wallace stood up and declared, "Put this in the paper, Kevin's about to be out a couple of months."
Wallace then followed behind Garnett, and shouted a playful tirade as if he was attacking Garnett as the door closed behind them.
Injury update
Rivers said the Celtics will find out more about the health of both
Brian Scalabrine
(sprain in right shoulder) and
Marquis Daniels
(left thumb) Tuesday. He even expressed optimism that Daniels could squeeze in one game before the All-Star break, depending on how his recovery proceeds.
"We're hoping for the first game after the All-Star break, but there's a slight chance he may be able to play by the New Orleans game [on Feb. 10]," said Rivers. "That would be a huge benefit for him. He'd get one game in before [a six-day break]. We come out of the break on the West Coast, so we want to come out sharp."
Guard
J.R. Giddens
, on assignment with the Maine Red Claws of the NBA Development League, suffered a left knee injury in a win over Bakersfield Sunday in California. Giddens played just seven minutes after suffering the injury. The Red Claws can't comment on injuries to NBA players, but the Celtics said Giddens will undergo an MRI (likely in Utah, where the Red Claws play Monday) and his status will be relayed home.
PODCASTS
Paul Solotaroff, NFL
Play Podcast Men's Journal's Paul Solotaroff weighs in on the characterization of Richard Sherman, the relationship between Sherman and Patrick Peterson and expectations for Darrelle Revis.
Baseball Tonight - Dominant Pitching
Play Podcast Adnan Virk talks to Tim Kurkjian about dominant pitching performances and the search for the next commissioner. Plus, Arash Madani on if the Blue Jays can make the playoffs.
Greg Cosell, NFL
Play Podcast NFL Films' Greg Cosell weighs in on whether the Browns should start Brian Hoyer or Johnny Manziel, the Jets' QB situation, Ryan Mallett's abilities and Robert Griffin III's development.