January, 30, 2010
1/30/10
1:37
AM ET
[+] Enlarge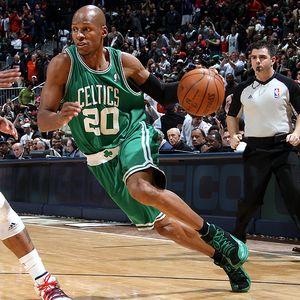 Scott Cunningham/NBAE via Getty Images)Ray Allen drives to the basket in the Celtics' losing effort against the Hawks.
ATLANTA -- Boston Celtics guard Ray Allen is one of the most thoughtful and eloquent speakers in the league. Unlike some of his peers who simply rehash the same tired cliches, Allen often listens to a question, takes a moment to digest the information, and produces an insightful response.
After Friday's 100-91 loss to the Atlanta Hawks, even Allen didn't have words to describe the Celtics' recent struggles. He could only shrug when asked why Boston has fared so poorly against the brass of the Eastern Conference, including a four-game season sweep at the hands of the Hawks.
It's the kind of struggles the Celtics haven't encountered since the Big 3 were united two seasons ago.
"It's just frustrating," said Allen. "As an athlete, when you lose, sometimes it's best to reserve your opinion. There's things we could have done a lot better -- better execution on offense and defense. We'll watch the film and get a fresher perspective. But it's just frustrating. You have to sit back and try to let this hurt, let it push you to be better.
"It's a new challenge, a new way to deal with things," he said. "It'll force us to be better, whatever happens. Moving forward from here, we have to know that being together is the best thing for all of us. When you sit atop the mountain, you think of all the adversity and bad things that happened to you along the way. Hopefully we can sit there some day."
Click
HERE
to read the full story.
January, 30, 2010
1/30/10
1:31
AM ET
ATLANTA -- A collection of news and notes after the
Atlanta Hawks
defeated the
Boston Celtics
, 100-91, Friday night at Philips Arena. Check out the video above for reaction from the Boston locker room:
Looking for 'hit,' Celtics strike out against Crawford
The Celtics entered Friday's game with a simple game plan: Slow
Jamal Crawford
. Boston center
Kendrick Perkins
went so far as to joke the team had a "hit" out on Atlanta's prized offseason acquisition, hoping some of Boston's trademark physical play would take him out of his game. Instead, the Celtics struck out looking.
Crawford might have changed the entire face of the game when he buried a midcourt heave at the end of the first quarter, giving Atlanta both a lead it would relinquish for only a fleeting moment and all the momentum heading into the second quarter, where the Hawks opened a lead as big as 11 and Boston never recovered.
Crawford, who had been averaging 18 points per game against the Celtics in three previous victories this season, had 18 points in less than 18 minutes at the intermission. That forced Boston to commit extra defenders in the second half, and, in turn,
Joe Johnson
picked the Celtics apart.
"When they start double-teaming like that, I just try to find my teammates," said Crawford, who finished with a team-high 28 points, while Johnson kicked in 27 more. "[The Celtics have] got to pick their poison. Do they want me to score, or do they want my teammates to score? One's going to be open, so I'm going to take advantage of what they give me."
The Celtics lamented giving Crawford way too much space.
"We did a poor job on Jamal Crawford," said Celtics captain
Paul Pierce
. "We gave them momentum going into the second quarter. On the road, you can't give up shots like [the midcourt heave].
Added coach
Doc Rivers
: "Right now we have no answer for Crawford."
Both Pierce and Rondo commented after the game that the biggest reason for Atlanta's success this season, even beyond their four-game sweep of the Celtics, has been Crawford.
"I think [the biggest difference is] the addition of Jamal," said Pierce. "He's probably the best sixth man in basketball. He's a contender for the All-Star game and that's pretty rare to have a [sixth man in consideration]. He played phenomenal, especially against us. Atlanta made a great move getting him this summer, he's that guy giving them a lift off the bench."
Opposing View: Playoff chatter
For the second straight night, some Celtics players thanked the visitors' locker room attendants and noted that they'd likely cross paths again when the playoffs roll around. It's a notion the Hawks weren't about to disagree with, as Crawford said after the game, "That's a team we're going to see down the line."
While Hawks coach Mike Woodson went so far as to dub Friday's game as a playoff-like battle (the Celtics vehemently disagreed), there was plenty of postgame chatter about Atlanta's four-game sweep and its potential implications on the postseason.
"We have to keep working hard," said Atlanta's
Josh Smith
. "We can't just be satisfied sweeping one of the best teams in the NBA. We have to stay focused on the prize at hand and that's get a power position in the [playoffs]."
Philips Arena rocked at times, particularly as the Hawks pulled away late. But neither team played with the sharpness that you might expect from a postseason battle, despite what Atlanta coach Mike Woodson said.
"[It was a] playoff game," said Woodson. "[The referees] let it go both ways. Everybody was banging and bodies were flying around. Our guys stepped up and made plays when they had to make them."
For their part, the Celtics weren't buying it. Boston point guard
Rajon Rondo
immediately dismissed the notion of a playoff atmosphere, while
Kevin Garnett
pointed out that opponents often treat the Celtics like defending champions, raising their own play each night based simply on Boston's history of success.
And, despite the sweep, Boston rallied around the idea that, should the two teams meet again in the postseason, the slate is wiped clean.
"You don't get to go to the second round [of the playoffs] when you sweep a team in the regular season," said Rivers. "You get to go to the next game."
Technical Difficulties
For the second straight night,
Rasheed Wallace
picked up a technical foul.
Wallace got whistled for an offensive infraction away from the ball Friday and, while trying to plead his case, got hit with a technical by referee Matt Boland.
Wallace, who now leads the NBA with 12 technical fouls on the season, earned a technical against Orlando for shouting, "And one," while looking for a foul call after a short jumper. It would seem likely that Wallace would appeal that technical, as he had a similar one rescinded earlier this year against Miami.
Also for the second straight night, Wallace departed without talking to the media.
Wallace had been on better behavior recently, but is now dangerously close to his Not-So-Sweet 16, when every other technical foul carries with it a one-game suspension.
Perkins also moved into double digits with his 10th technical foul of the season when he whacked Smith in the face after enduring a hard foul under the Boston basket (though it likely didn't warrant the flagrant call Smith got tagged with).
The ensuing dust-up led to players being separated and the crowd chanted, "Boston sucks!" as referees sorted out the chaos that also saw Woodson pick up a technical.
Unlike the last meeting when Rivers got ejected after arguing a flagrant call against
Glen Davis
, Woodson only got one technical, stayed in the game, and Atlanta didn't endure a meltdown in the aftermath.
January, 29, 2010
1/29/10
10:15
PM ET
BOSTON -- Instant reaction after the
Atlanta Hawks
posted a 100-91 triumph over the
Boston Celtics
Friday night at Philips Arena:
How the game was won:
Celtics killer
Jamal Crawford
lived up to the reputation that he's built the previous three meetings this season, pouring in an Atlanta-best 28 points on 9 of 16 shooting off the bench to lift the Hawks to a four-game season sweep of the Celtics. Crawford had been averaging 18 points per game against Boston this season and had that at the intermission. Celtics captain
Paul Pierce
did about all he could for Boston, pouring in a game-high 35 points on 11 of 15 shooting.
Turning point:
Clinging to a one-point lead with little more than nine minutes to go,
Joe Johnson
scored seven straight points in about 90 seconds to stretch Atlanta's lead to 85-77 with 7:30 to play. Later, with Boston hanging around, Crawford banked one off the glass and drew a foul to put the Hawks on top, 92-81, with 3:26 to go.
Stat of the game:
A pair for your consideration: 1) Boston's starters not named Pierce combined to 14 of 41 for 38 points, and 2) The Celtics connected on 17 of 18 free throws in the third quarter to rally from 12 down to make it a one-point game heading to the fourth frame.
Unsung hero:
Zaza Pachulia
connected on 4 of 5 shots over 13 minutes, 43 seconds of playing time, finishing with a plus-10 overall, which was second in plus/minus on the team behind Crawford (plus-20).
What it means:
Having dropped back-to-back games to open this grueling stretch, the Celtics slip to third in the Eastern Conference behind the Hawks. No rest for the weary, either, as the Lakers come to town Sunday.
January, 29, 2010
1/29/10
7:06
PM ET
ATLANTA -- A collection of news and notes before the
Boston Celtics
visit the
Atlanta Hawks
Friday night at Philips Arena:
Perk: Hit out on Crawford
Jamal Crawford
, Atlanta's key offseason signing, has enjoyed so much success against Boston in the first three meetings of the season that Celtics center
Kendrick Perkins
joked that Boston would take drastic measures to slow him down Friday.
"We put a hit out on him today," said Perkins. "We did, though. Doc said how we have to step up and stop him. He's getting real comfortable against us. He plays like an All-Star every time he plays us. So we gotta put a hit out on all of [the Hawks], basically."
Crawford is averaging 18 points per game in three meetings this season, twice erupting in the fourth quarter to spark two of the three second-half comebacks the Hawks have posted over Boston this season.
Perkins said the Celtics would take great pride in avoiding a season sweep, while noting two of those losses, the Celtics played without forward
Kevin Garnett
.
"We got one more game to prove ourselves, because right now they got our number," said Perkins. "We're trying not to get swept. Yeah, i matters. You don't want a team to come in and just sweep you, 4-0. That's confidence going into the playoffs. We want to get one."
Doc not concerned about KG
Rivers reiterated that Garnett remains fine physically, despite one of his poorest outings of the season in Thursday's 96-94 loss to the
Orlando Magic
.
Garnett provided a
tough personal assessment
after Thursday's game, repeatedly saying he "played like [expletive]" and taking complete blame for the loss.
Said Rivers: "I think he feels fine. Kevin takes it very personal when he doesn't play well, and hopefully that's a good thing for us [Friday]. Other than that, he feels good."
Garnett had just 6 points on 2-of-8 shooting with 7 rebounds, 3 assists and 2 steals over 33 minutes, and got beat on a baseline drive by
Rashard Lewis
for the winning bucket with 1.3 seconds to play. What's more, he looked generally sluggish overall.
Giddens recalled; set for surgery
Celtics guard
J.R. Giddens
, who suffered a small tear in the meniscus in his left knee while on assignment with the Maine Red Claws, was recalled in a procedural move that will allow the second-year guard to have surgery next week.
Giddens averaged 18 points, 4.5 rebounds, 3 assists, 1 steal and 31.8 minutes per game in four appearances with the Red Claws. He suffered the injury in the first quarter of a game in Bakersfield, Calif., last week, but returned the next night to connect on 8 of 9 shots for 22 points, while grabbing 10 rebounds in his best performance against Utah (where he spent part of last season while on assignment for Boston).
Rivers indicated surgery, which is expected to be a routine scope, will only sideline Giddens for 2-3 weeks.
January, 29, 2010
1/29/10
3:10
PM ET
ATLANTA -- Back-to-backs can be both a curse and a blessing. So while the Celtics have the unenviable task of visiting the Hawks Friday night at Philips Arena, one night after a national broadcast against the Magic in Orlando, it does provide Boston an opportunity to quickly rinse a bad taste from its mouth.
The Celtics stumbled to the finish line of a 96-94 loss to the Magic Thursday, fumbling away an 11-point, fourth-quarter lead before
Rashard Lewis
' baseline layup with 1.3 seconds remaining lifted Orlando to victory. Celtics coach
Doc Rivers
was pretty much appalled at the way his team played, particularly in crunch time, and the Celtics universally admitted they need to do a better job of putting 48 full minutes together.
The quick turnaround doesn't leave much time to digest the loss as the Celtics traveled immediately to Atlanta after the game to meet a team that's already produced three second-half rallies for victories this season.
"Right now, we'll think about the loss, maybe think about a little bit more [Thursday night], but [Friday], we gotta move on," Celtics center
Kendrick Perkins
said after Thursday's loss. "I know the guys on this team care about winning and losing, and we're not just going to let it go. But we have a tough test [Friday] and we have to go out there and prove a point.
"Right now, [the Hawks] are playing with a lot of confidence and swagger. We read the papers and see what they're saying, and, right now, they've earned it. They're 3-0 against us this season."
The Celtics didn't need time to review extra film to know exactly what they must do to slow down the Hawks Friday. Those previous three meetings had common themes.
"We've played them three times already, so it's not hard to game plan," said
Eddie House
. "We know what we have to do to win."
Added Celtics captain
Paul Pierce
: "We gotta slow down
Joe Johnson
and
Jamal Crawford
. Those guys have hurt us, especially Crawford coming off the bench. He's put up some great numbers."
Crawford, Atlanta's key offseason addition, is averaging 18 points per game in three meetings this season, typically doing much of his damage in the fourth frame, while keying two of the three comebacks this season. Johnson poured in 36 points in Atlanta's most recent victory, a game that featured a Celtics' meltdown after coach Doc Rivers was ejected following a flagrant foul call on
Glen Davis
(the flagrant call was later downgraded).