February, 4, 2010
2/04/10
6:00
AM ET
ESPN's Peter May writes on Eddie House after his 16-point outburst helped the Boston Celtics to a 107-102 triumph Wednesday night over the Miami Heat:
The topic prior to Wednesday night's game with the Miami Heat was rebounding, a rather sore spot all season for the Boston Celtics. But in this instance, it was about the rebounding of the Celtics' guards. The team video crew had spliced together a short segment showing the Boston guards rebounding the way they should. One guard was missing in the piece: Eddie House.
"Hey, wait a minute! I'm offended," he said in apparent mock seriousness.
"We tried to get you in there," responded coach
Doc Rivers
. "We just couldn't find one."
Thus, when House collected the first of his season-high matching four rebounds against the Heat, the Boston bench erupted in celebration. House isn't in the game to get rebounds. We all know that. He's basically a gun for hire, but, Rivers noted, when House rebounds and defends with a modicum of tenacity the coach feels comfortable keeping House out on the floor.
And with
Paul Pierce
unable to go against Miami because of a sprained left foot, House's contributions were critical. "We needed him out there because with Paul out," Rivers said, "we needed him to make shots. And to see him make them was most welcome."
House hit 5 of 9 shots (2 of 4 from 3-point land), playing 24 minutes in Boston's 107-102 victory over the Heat. It was his longest stint since Jan. 2 (the other game in which he snagged four rebounds). His 16 points represented his third highest output of the season, trailing only a 22-point effort against the Bulls on Oct. 30 and a 19-pointer against the Suns on Dec. 30.
Click
HERE
to read the full story.
February, 4, 2010
2/04/10
5:30
AM ET
BOSTON -- On the same day his comments on team chemistry drew headlines,
Boston Celtics
guard
Rajon Rondo
created some new ones, but this time he let his play do the talking.
Rondo registered 22 points, 14 assists, 6 rebounds and 3 steals as the Boston Celtics topped the
Miami Heat
107-102 Wednesday night at TD Garden.
Rondo, whose comments to the Boston Herald hinted at possible friction in the Celtics' locker room, ensured a room full of smiles after Wednesday's performance in which he helped shoulder the load without injured captain
Paul Pierce
(day to day, sprained left mid-foot).
The fourth-year point guard, who was named to his first All-Star team this month, outdueled six-time All-Star
Dwyane Wade
, who finished with 30 points, 13 assists and 4 rebounds. Wade finished with six turnovers, including a costly pick-pocket by
Tony Allen
in the final minute, while Rondo lost the ball only three times.
"[Rondo] was great," said Celtics coach
Doc Rivers
. "There was one stretch in the second quarter where he controlled the game. It was almost like Wade was in control at one end, Rondo at the other."
It's no secret that the Boston and Miami offenses go through Rondo and Wade, respectively. Wade entered Wednesday's game having made or assisted on 43 percent of the Heat's field goals this season -- the third-highest mark in the NBA behind
LeBron James
(49 percent) and
Steve Nash
(44 percent). Rondo was next on that list at 42 percent.
So there was Rondo when the Heat made a fourth-quarter charge. With Boston clinging to a two-point lead with 8:33 to play, Rondo fed
Ray Allen
for a trifecta that sparked a 9-1 burst; the lead grew to double digits when Rondo fed
Kendrick Perkins
with a no-look pass for a layup and an 88-78 advantage with 6:35 to play.
Click
HERE
to read the full story.
February, 4, 2010
2/04/10
1:36
AM ET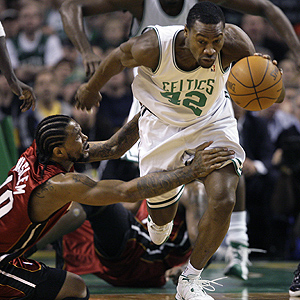 AP Photo/Elise AmendolaTony Allen comes up with a key steal late in the game, leaving Miami's Udonis Haslem in his wake.
BOSTON -- After Sunday's loss to the Los Angeles Lakers, Celtics coach Doc Rivers lamented that, above all, his biggest disappointment was that Boston had seemingly lost its ability to generate the big stop when it mattered most.
Fast-forward to Wednesday night with the Celtics clinging to a three-point lead in the final minute against the Miami Heat. Dwyane Wade, the six-time NBA All-Star who was having a monster night that would see him finish with 30 points, 13 assists and 5 rebounds, ran off a screen from Udonis Haslem as he tried to get to the basket. Instead, Tony Allen, the sixth-year forward thrust into the starting lineup with Paul Pierce sidelined, picked Wade's pocket and was immediately fouled.
Allen made both free throws with 36 seconds remaining to help Boston emerge with a 107-102 triumph over the Heat at TD Garden.
"[Wade] was having a great night tonight, he was cooking," said Allen. "I just had to try to keep my head and, whenever my number got called, I just focused in on trying to get a stop. I was fortunate enough to go under the pick-and-roll because it was higher than the 3-point line. I knew he was about to split, so as soon as he was about to split, I just reached my left hand out there and got the steal, hit the two free throws, and that was the game."
It all sounds so simple. But consider this: Wade had absolutely torched the Celtics as the ball-handler in the pick-and-roll this season. According to ESPN Stats and Research, Wade shot 50 percent (9 of 18) as the primary ball-handler in pick-and-roll plays during the first two meetings. What's more, he hit all five field-goal attempts and added five assists off the pick-and-roll during the first three quarters of Wednesday's meeting.
But in the fourth quarter, the Celtics locked him down.
Wade didn't attempt a single shot off the pick-and-roll in the fourth quarter, generating just one assist and turning the ball over twice, including Allen's pivotal steal. Just the sort of defense Rivers had been looking for Sunday.
"I needed that, I needed that confidence," said Allen. "I was struggling offensively tonight, but my bread and butter is defense and sticking with those guys."
Rivers admitted a player like Allen is a luxury.
"Well, we can say, 'You guard [the opposing team's scorer]' every night," said Rivers. "And every team -– there's not a team in the league that I can think of without a good 2 or 3 on their team. So every night you can say, 'Tony, you guard this guy.' It helps our defense."
February, 4, 2010
2/04/10
12:09
AM ET
BOSTON -- A collection of postgame news and notes after the
Boston Celtics
posted a 107-102 triumph over the
Miami Heat
at the TD Garden:
The rundown
(a quick look at the postgame headlines)
KG answers chemistry question for Rondo

Rivers said Rondo just repeating what he's previously said

Opposing View: Heat lament falling below .500 with loss

Loose Balls: Marquette's finest, KG on his rhythm, Too many minutes for Ray
KG registers a postgame steal
After comments by
Rajon Rondo
were published in the Boston Herald
suggesting a potential rift in the Celtics' locker room
, the fourth-year point guard was asked about his chemistry comments during his postgame press conference.
Kevin Garnett
, seated beside Rondo, never gave him a chance to say a word.
"Let me saying something," said Garnett. "I'm not speaking for [Rondo], but on this team we have a lot of strong personalities. At the end of day, we're all seeking, especially when you lose, man, I remember we lost to Portland, we lost three straight, I could just sense that everybody, within themselves, was trying to do more than they should, or reverting back to being leaders on this team versus the way we have been doing it. When I read the comments, I talked to him personally because, we have a lot of personal conversations. That's what it was. We're not a team here to point fingers, we keep everybody accountable, everybody knows what this is in the locker room. If we have anything that needs to be said, it will be said in closed confinement of the locker room and among each other as men. I want everyone to respect that, alright? Next question."
Rondo simply smiled and added, "Word."
Rondo did most of his talking on the court, anyhow, registering 22 points, 14 assists, 6 rebounds, and 3 steals in 44 minutes.
Doc: Rondo just repeating what I said
Celtics coach
Doc Rivers
likewise sought to clear the air Wednesday by saying the fourth-year guard's comments were, "a little overblown, to be honest," and Rondo was only repeating what Rivers had told the team three weeks earlier.
"I do like our chemistry, I like it a lot," said Rivers. "[Rondo] was almost repeating what I said three weeks ago. It was more about the focus going into the last three or four weeks before the All-Star break. Too many agendas, too many guys worried about travel -- worried about everything except for basketball and it tears your team apart for that stretch.
"And as far as us not being [the team of two years ago], he basically was repeating everything I told the team. I said we're not going to be the team of two years ago, or last year, every team is different -- stop looking for that. Be this team. That was the point I was making, so he just said what I said."
Celtics president of basketball operations
Danny Ainge
, appearing Wednesday on Boston sports radio WEEI (850 AM), didn't disagree with Rondo's assessment, but wasn't pleased by his decision to voice his thoughts.
"First of all I think that does exist," Ainge said on the issue of there being some different agendas on the team, when compared with their 2007-08 championship season. "The year that we won the championship was very special and very unique. With the great teams I've had a chance to play on I've never seen a team that was more focused and had better chemistry on and off the court. There was no agendas, and I think it had to do with the three stars coming from such difficult situations with great new hope and energy. We had young players, it was a perfect situation, a perfect storm."
Read more
HERE
.
Opposing View: Glass half full?
The Heat (24-25) dipped below .500 with Wednesday's loss and the postgame chatter centered around the struggles that leave them slipping towards the bottom of the Eastern Conference playoff teams.
"It's not about [the record], it's about us playing and how we're playing," said coach Eric Spoelstra. "Right now that's wasted energy and thought. We know what it is, we understand where we are in the standings, that won't do us any good unless we get our minds right to fight the fight, and it's gotta be unconditional. Whether we win, whether we lose, whether we're making shots or who we're playing, it doesn't matter. We've got to compete and do that at a high level."
Said
Dwyane Wade
: "It is frustrating when you want to win those games, but, at the end of the day, you didn't win them. You have to continue to keep fighting. There is not much that you can do. You can't give up on the season. You have to continue fighting, that is the message. We have to play like we did today. We gave ourselves a chance. At the end of the day they made more plays than us to win. We play with the consistent effort every night, than we will be more victorious."
Loose Balls
Bill Walker logged 1:46 off the bench and Rivers continues to stress the second-year player will be utilized more to spell his teammates, including Ray Allen, who logged a whopping 42 minutes against the Heat. "Ray Allen played 42 minutes tonight. That's too many. And he's playing too many minutes. And I know we don't have a lot of guards left right now, but we've got to do something... Tony got in foul trouble tonight. It's funny, you have these rotations that you want to go in the game with, and then one of the guards gets in foul trouble with Paul out, and you're stuck. So Billy's going to play more. When there's a matchup for [Brian Scalabrine] at the three, we can play him. But they went small and kind of forced our hand. But I've got to lower [Allen's] minutes. Even though he played great tonight, he made free throws and all that, I've got to lower his minutes. He's the only guy I'm concerned about, and he's in the best shape of anybody on our team, but I've been around this too long and know that we've got to lower his minutes."


Rivers, a Marquette product, ended his postgame press conference by declaring: "Maybe Wade is the best player from Marquette after all." At halftime, a fan decked out in Wade's No. 3 Marquette jersey won the team's Knockout competition and fans booed as he pointed towards the jersey at midcourt.


Garnett, who flirted with a triple-double (14 points, 9 assists, 6 rebounds) on finding his rhythm as he continues to get comfortable returning from a hyperextended right knee: "I'm OK. I'm doing the small things, I'm trying to fulfill my role and what I have to do on this team, and that's play defense, be talkative... give [the ball to] Rondo, Ray [Allen], [Tony Allen], Paul [Pierce], Eddie House -- all these guys when they are open. You know, move the ball, make sure we are playing the right way, and keep everybody's confidence and spirits up. That pretty much comes naturally to me, so it's nothing more, nothing less than that."
Pregame Recap
Check out our
Pregame Notes
for details on Pierce likely being out for Friday's game vs. New Jersey;
Shelden Williams
' explanation for his "when it rains it pours" Tweet on Tuesday;
Marquis Daniels
expected return to practice Thursday; and more.
February, 3, 2010
2/03/10
11:00
PM ET
BOSTON -- Instant reaction after the
Boston Celtics
posted a 107-102 triumph over the
Miami Heat
Wednesday night at TD Garden:
How the game was won:
Celtics point guard
Rajon Rondo
registered 22 points, 14 assists, 6 rebounds and 3 steals over 43 minutes while spearheading the Boston victory.
Ray Allen
chipped in a team-high 23 points, while
Kevin Garnett
added 14 points, 9 assists and 6 rebounds. Miami's
Dwyane Wade
scored a game-high 30 points to go along with 13 assists.
Turning point:
A pair of fourth-quarter moments helped Boston prevail: 1) Miami had a chance to tie it in the final minute, but
Tony Allen
picked the pocket of Wade while fighting through a screen and was fouled. He hit both free throws with 36.5 seconds to go for a 99-94 lead; 2) Boston nearly gave away a double-digit, fourth-quarter lead for the third time in five games (it did so against the Magic and Lakers), as Miami rallied from 10 down to make it a two-point game, 88-86, with five minutes to play.
Eddie House
, getting a bump in playing time with the injured
Paul Pierce
out, hit a 3-pointer and followed with a fast-break layup to quickly push the lead back to seven.
Stat of the game:
The Celtics reached the century mark for the first time since a Jan. 13 win over the Nets. Boston had endured a nine-game, triple-digit drought, which tied the Pistons for the longest current streak in the league. It was the longest streak of sub-100-point games for Boston since 2006-07 (11 games, Jan. 20-Feb. 6), as part of an 18-game losing streak.
Unsung hero:
House not only ignited the key stretch, but finished with 16 points on 5-of-9 shooting with four rebounds, two assists and a steal in 24 minutes.
What it means:
Rarely has it been pretty at home this season for the Celtics, but playing without Pierce (strained left mid-foot), Boston will take any 'W' it can get. The Celtics now have back-to-back wins with hapless New Jersey coming to town Friday, and a roster that's potentially at full health by next week (when Pierce and
Marquis Daniels
could return).
February, 3, 2010
2/03/10
7:34
PM ET
BOSTON -- A collection of pregame news and notes before the Boston Celtics host the Miami Heat at the TD Garden:
The rundown
(a quick look at the pregame headlines)
Paul Pierce will not play vs. Heat; Tony Allen to start, according to Doc Rivers

Pierce might also sit out Friday depending on speed of recovery

Shelden Williams on his "rains it pours" Tweet: "It was just a comment."

Marquis Daniels will practice without limitation Thursday; Daniels not rushing return

Rivers says Daniels could still be back for New Orleans
Doc: Pierce out tonight, might not play Friday
Celtics coach Doc Rivers said Paul Pierce, who had been listed as a game-time decision Wednesday, would not play against the Heat and might also sit out Friday's visit from the New Jersey Nets.
"He'll be day to day," said Rivers. "I don't think he'll play Friday, but after that, we'll see."
Rivers reaffirmed that the injury is nothing more than a mid-foot sprain and that Pierce will be evaluated in the coming days to see when exactly he can return to the court. Appearing on Boston sports radio station WEEI (850 AM), Celtics president of basketball operations Danny Ainge noted that, if it were the playoffs, Pierce likely would give it a go, but that the team will instead proceed with caution.
Pierce was not spotted in the locker room before the game, but Rivers said he was unaware if Pierce is wearing any special brace. Rivers said he thought Pierce would receive basic treatments, including ice to prevent swelling.
Rivers admitted he breathed a sigh of relief when the diagnosis came down Tuesday night.
"I did worry about it when he did it -- it looked awful," said Rivers. "Just watching him walk around the locker room, even at halftime, I didn't think it was severe. He did play in the second half a bit, but then after the game he said it bothered him.
"This stuff happens in the league, you do [hold your breath] every time a guy goes down, especially that way, when you see his foot trapped under another guy. When we got the report back, I breathed a sigh of relief, no doubt."
Shelden Williams: "It was just a comment"
Celtics forward Shelden Williams, who may have unwittingly lit the wick on bombshell reports Tuesday that Pierce had broken his foot with a vague posting to his Twitter account, said he didn't expect Tuesday's Tweet to snowball like it did, but that he won't refrain from posting his thoughts in the future.
Williams Tweeted Tuesday afternoon, "Man when it rains it pours!!! Yall will find out what I mean soon!!!!" Most interpreted that to mean the Celtics, riddled by injuries this season, had received bad news on Pierce's foot X-rays. A short time later, TNT analyst David Aldrige reported, through a source, that Pierce had broken his foot and would miss extended time.
Asked Wednesday what his Tweet was about, Williams said, "It was just a comment," without elaborating if it pertained to Pierce.
Williams said he would continue to Tweet as he's always done.
"I Tweet about anything," said Williams, who noted his follow-up Tweets concerned people stealing babies in Haiti and selling them in America. "Anything that comes across my mind, I pretty much Tweet it. I've had a good response from people.
"It's a good way to interact with people who follow me and don't come to games, or even those that do come, because we don't have a chance to meet [them all]."
Daniels returns to practice Thursday
Celtics forward Marquis Daniels expects to engage in his first full-contact practice session Thursday since undergoing surgery to repair a torn ligament in his left thumb in early December.
Daniels said he's looking forward to his first contact (though he's hoping it's not from one of the bigger bodies like Glen Davis) as it signifies he's one step closer to returning to the court.
Rivers said he's still hopeful Daniels can play in New Orleans, the Celtics' final game before the All-Star break, but that the Celtics would not rush him back regardless of how long Pierce is sidelined.
For his part, Daniels said, "There's still no timetable" for his return, and will see how he feels as he resumes practice participation.
Daniels has been sidelined since Dec. 4. He was averaging 5.7 points, 2.1 assists and 2 rebounds per game.
Loose balls
Celtics point guard Rajon Rondo was among the nominees for the NBA's player of the month for January, but the award went to Cleveland's LeBron James (for the third time this season) ... After being given a list of suggestions by
CelticsBlog
, Davis said "The 11th Hour" was his personal favorite of user-suggested nicknames.
February, 3, 2010
2/03/10
3:06
PM ET
With Wednesday's Celtics-Heat battle being broadcast nationally on ESPN, the Elias Sports Bureau whipped together some noteworthy stats about tonight's matchup. Here's a handful that caught my eye:
* The Celtics have scored fewer than 100 points in each of their last nine games, tying them with the Pistons for the longest current streak of its kind in the NBA. It's the longest of streak of sub-100-point games for Boston since 2006-07 (11 games, Jan. 20-Feb. 6).
Forsberg's note
: You might remember a certain 18-game losing streak during that stretch.
*
Eddie House
has 285 field-goal attempts this season and only four of them have been blocked (1.4 percent). House has the second-lowest percentage of blocked field-goal attempts in the league this season (minimum: 200 shots), behind
Mike Bibby
(1.3 percent).
Forsberg's note
: House is Bibby's brother-in-law. That's one tough family to block.
* Boston has been charged with an NBA-high 127 offensive fouls this season.
Kendrick Perkins
is responsible for 32 of them, tying him for the second-most in the league (
Dwight Howard
, 45).
* The Celtics and Heat have each lost four games this season in which they led during the last minute of either the fourth quarter or overtime. The only other NBA teams with as many as four such losses this season are Milwaukee (5), Portland (5) and Philadelphia (4).
Forsberg's note
: Two of those four losses (vs. Orlando and Los Angeles) came within the past week for Boston.
* Boston is 13-8 at home this season and 17-8 on the road. Only two other NBA teams have a worse mark in home games than in road games this season (Philadelphia and Dallas).
* Two of the last four games between the Heat and Celtics went to overtime, with the Celtics winning both by similar scores (112-108 at Boston, March 18, 2009; 112-106 at Miami, Jan. 6, 2010).
*
Dwyane Wade
has either made or assisted 43 percent of his team's field goals this season, the third-highest percentage for any NBA player, behind
LeBron James
(49 percent) and
Steve Nash
(44 percent).
Rajon Rondo
is next on that list, either making or assisting 42 percent of Boston's field goals.
Forsberg's note
: Another stat that shows just how dominant Rondo has been this season.
* Miami has the easiest remaining schedule for any team this season according to the 44.9 combined winning percentage of its future opponents. The second-easiest remaining schedule belongs to the Raptors (45.8), who are 1 1/2-games ahead of the Heat in the Eastern Conference.
Forsberg's note
: Toronto is 5 1/2 games back of Boston in the Atlantic Division.
* Miami has won the last 12 games in which it had a higher field-goal percentage than its opponent, while losing the last eight games in which its opponent had a higher field-goal percentage. Throughout the NBA this season, the team with the higher field-goal percentage has a 77.8 winning percentage.