February, 24, 2010
2/24/10
1:10
AM ET
BOSTON -- We know better than to judge a trade in one night, so as lackluster as
Nate Robinson
's debut appeared Tuesday night against his former team, the
New York Knicks
, know that it was still a step forward from his first real activity with the
Boston Celtics
on Monday.
[+] Enlarge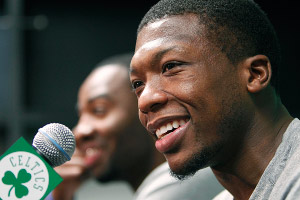 AP Photo/Michael DwyerNate Robinson, right, and Marcus Landry were introduced during a pregame news conference Tuesday.
Robinson, traded to Boston as part of a five-player swap at Thursday's trade deadline, joined Celtics coach
Doc Rivers
for a very unofficial practice session Monday.
How unofficial? Robinson learned Boston's basic offensive sets with a lineup that featured associate coach Tom Thibodeau at shooting guard and assistant coach Armond Hill at small forward (the other players had the day off after a four-game road trip).
That's a set that even the Knicks could beat.
"He's had one practice with no players," Rivers said before Tuesday's 110-106 win over the Knicks, who put up a bit more fight than Boston probably expected. "He ran our offense [Monday] with [Thibodeau] at the 2 and Armond [Hill] at the 3. It looked crazy, it looked awful. And it should have."
The Celtics didn't expect much more from Robinson on Tuesday, when he registered four points on 2-of-7 shooting with two steals and two turnovers in 16 unremarkable minutes.
As debuts go, it won't be remembered as endearingly as The Strokes' "Is This It" or Anna Paquin's Oscar-winning performance in "The Piano," but it's over and it was a win, so Robinson will take it.
Click
HERE
to read the full story.
February, 23, 2010
2/23/10
10:58
PM ET
BOSTON -- A collection of postgame news, notes and analysis after the
Boston Celtics
posted a 110-106 triumph over the
New York Knicks
at TD Garden:
The rundown
(a quick look at the postgame headlines)
*
Eddie House on his return to Boston and the fans' ovation
*
Marquis Daniels does job filling in for sidelined Paul Pierce (thumb, flu)
*
Doc Rivers likes look of a Rondo-Robinson backcourt
*
Loose balls: Walker's return, McGrady's knee, defending the pick-and-roll
Homecoming for House
Eddie House understands the NBA is a business, so he didn't have any extra emotions walking back into TD Garden Tuesday night when the New York Knicks visited the Boston Celtics. But even House couldn't help but be touched by the outpouring of support when fans
showered him with a standing ovation
and chanted his name following a video tribute midway through the first quarter.
"It was beautiful, man," said House. "I loved the fans for the way they showed their love for me and I have just as much love back for them. I loved playing here. What a great run I had, winning a championship. I love the city of Boston."
House, traded to New York along with
J.R. Giddens
and
Bill Walker
in exchange for
Nate Robinson
and
Marcus Landry
, registered just four points on 2-of-7 shooting (0 for 5 on 3-pointers) in 27 minutes against his old team. Struggles are nothing new for House this season, but if there's one thing he's struggling to adjust to, it's losing, especially after the Knicks faded late Tuesday.
"That's the hard thing, I'm not used to losing," said House. "I haven't been on a losing team in quite a long time. That's the toughest thing about it, is taking these Ls. Keep competing, man. As long as you're playing hard and trying to do the right thing, you can never be upset with yourself or your teammates. Everybody is trying to do the right thing and playing hard, but for whatever reason we're falling short."
House didn't get caught up in the hype of playing his first game against Boston so soon after the trade.
"It was no big deal -- I didn't put any more weight on this game than I did my first game in Madison Square Garden," said House. "Just play the game of basketball. It's the same thing, just different opponent and that just happens to be guys I played with before about a week ago. Just no strain on this game at all. I didn't try to come in and just automatically try getting my shots like it was something. I just played the game and let the game come to me. Just play the right way, that's all I'm trying to do all the time."
Said Boston's
Kevin Garnett
: "It's just good to have him back in the building. When you lose a personal friend, not just a teammate, but a personal friend, you always wish him the best. I just want to see him in good health. It's good to see a classy organization give it up for him. It doesn't always go like that, and that was just good to see, we all have a great appreciation for Eddie House."
Cutting edge with Daniels
With the Celtics gripping tight to a one-point lead with less than two minutes to go, Marquis Daniels slashed to the basket, where Garnett fed him for an easy layup and a 109-106 advantage. It proved to be the biggest bucket of the night and Boston leaned on its defense from there to close out the feisty Knicks.
Daniels finished with 14 points in drawing a spot start for Pierce (sprained thumb, flu) and, after the game, there was plenty of talk about Daniels' ability to generate points going to the hoop -- something coach Doc Rivers believes will be aided by the addition of Robinson.
"He's just going to do his job," said Rivers. "I mean, he's so good. He scores whatever he scored tonight –- 14 points -- without one play called for him. All were cuts. He just has a knack for knowing when to cut, where to cut. I mean, he had a layup at the end, that one that Ray [Allen] tried to throw that got deflected. He just has great basketball feel and timing. He really does. And, you know, in some ways we hurt him because, before we had Nate, he had to handle the ball a lot, so he couldn't cut as much because he had the ball in his hands. Now, with Nate, it almost frees him up even more to be a cutter. And that's what he truly is. So I think he'll even be better."
Robinson and Rondo
True to his word, Rivers utilized a lineup Tuesday night that featured both
Rajon Rondo
and Robinson on the court at the same time. Early results? Very promising.
"Well, the combination will be terrific once we get it right," said Rivers. "We had such a speed advantage on the floor and we really didn't take advantage of it. We had that one little stretch, but they don't know how to take advantage of it. So they almost ran into each other twice, trying to get to the basket. So we'll work that out. It's just going to take some time.
"I do like the combination. I like it more, obviously, if the teams have two small guards. I actually thought it stopped them from putting the two guards on the floor. We did it in the first half and you can see they stayed big in the second half. You've got to think they're thinking, 'We don't want those two guys on the floor at the same time.' So it'll be interesting how it changes other teams' rotations."
Added Robinson: "We both play good defense -- we're scrappy, get after the ball. But [Rondo's] running the show and I'm just trying to get in there."
Loose balls
* Bill Walker, a bit of collateral damage in the House-for-Robinson swap, turned out to have the most productive night of the five players involved in the deadline deal. "It was fun," said Walker, who finished with 7 points on 3-of-5 shooting over 13 minutes. "I enjoy getting to play basketball against my former team -- a little extra incentive."
* The Knicks played it cautious with
Tracy McGrady
, who was coming off a bit of a scare with his knee and playing in the second night of a back-to-back. "I told coach [Mike D'Antoni] that, because I played 30 minutes the last two games, and this was a back-to-back, I didn't want to push it," said McGrady, who finished with 6 points and 8 assists in 27 minutes. "I felt like tonight I made some plays in 25 minutes, but wanted to be cautious."
* The Celtics suggested that New York's ability to generate open looks off the pick-and-roll was the Green's biggest defensive challenge Tuesday. Said Rondo: "The pick-and-roll was kind of hard because the guard was in a tough situation. You know you have a guy like Eddie House rolling up, and it's hard to get the bump. That play pretty much tore us apart. I think that they play a similar style to Phoenix. Sergio [Rodriguez] turned the corner a few times; they did a great job mixing it up. I give them a lot of credit. They had us on our heels all night."
February, 23, 2010
2/23/10
9:57
PM ET
BOSTON -- Instant reaction after the
Boston Celtics
posted a 110-106 triumph over the
New York Knicks
Tuesday at TD Garden:
How the game was won:
Ray Allen
scored a team-high 24 points to pace all five Boston starters in double figures, while
Rajon Rondo
produced another double-double (15 points, 16 assists).
David Lee
scored a game-high 28 points for the Knicks.
Nate Robinson
(4 points) and
Eddie House
(4 points) were largely nonfactors; second-year forward
Bill Walker
(7 points) turned out to be the most productive member of last week's five-player swap.
Turning point:
Clinging to a one-point lead with less than two minutes to play, Kevin Garnett fed
Marquis Daniels
slashing to the basket for a 109-106 advantage. The defense took over from there. Boston led by 11 after a 38-point, first-quarter outburst, but the Knicks rallied to make it a game deep into the fourth quarter.
Stat of the game:
The Boston bench combined for 29 points. Not exactly the type of output expected with the addition of Robinson, but Daniels (14 points) drew a start in place of
Paul Pierce
(injured thumb, flu).
Unsung hero:
Allen continues to shoulder the offensive load since the trade deadline, scoring 24 points on 9-of-14 shooting. Allen added 5 rebounds, 3 assists and 2 steals. What's more, his block on
Wilson Chandler
with 48.9 seconds to go forced a 24-second violation and helped Boston maintain the lead in a one-possession game.
What it means:
The Celtics got sucked into playing New York's frenetic style, but after giving up back-to-back 30-point quarters in the second and third, the defense clamped down in the fourth quarter. Without Pierce and playing their first game with Robinson, the Green will take it, but this one shouldn't have been quite as difficult as it was.
February, 23, 2010
2/23/10
8:13
PM ET
BOSTON -- The Celtics payed tribute to Eddie House Tuesday night with a video montage of highlights from his two-plus seasons in Boston, culminating with the message, "Thanks for the memories, Eddie!"
House returned to Boston as a member of the New York Knicks after being traded to the Big Apple as part of a five-player swap last Thursday at the NBA trade deadline in exchange for Nate Robinson and Marcus Landry.
As the video played, fans gave House a standing ovation and began chanting his name, "Eddie! Eddie!" House initially didn't acknowledge the crowd until he checked into the game coming out of the timeout, and waved to the Garden faithful. His former teammates playfully joked with him as he came onto the court.
Nate Robinson made his Boston debut in the final minute of the first quarter. He, too, received a standing ovation from the crowd.
(
Update
: House
reacts to the crowd's ovation
in our postgame notes).
February, 23, 2010
2/23/10
5:15
PM ET
BOSTON -- A collection of pregame news and notes before the
Boston Celtics
host the
New York Knicks
at the TD Garden:
The rundown
(a quick look at the pregame headlines)
*
Robinson, Landry meet the Boston media
*
Pierce out, Marquis to start; Doc suggests Pierce is "day to day"
*
Different look in Celtics' locker room
Hello, Mr. Robinson (and Mr. Landry)
He's only been a Celtic for six days, but
Nate Robinson
has already got the company lines down.
Formally introduced to the media Tuesday after being traded to Boston in a five-player swap at the NBA trade deadline Thursday, Robinson said it didn't matter how many minutes he received he's here to help Boston raise banner 18.
Robinson and
Marcus Landry
, acquired from the New York Knicks in exchange for
Eddie House
,
J.R. Giddens
, and
Bill Walker
, both beamed with excitement coming to a playoff-bound squad after enduring the struggles in New York.
"This is a great opportunity for both of us, being a part of a great, historic team, with a lot of pride and lot of history," said Robinson. "It's overwhelming, being a part of a franchise that's accustomed to winning. That's something we're trying to bring to this team -- more victories, a lot of hustle, a lot of team ball."
Landry, a rookie forward, stressed that he's thrilled with the opportunity to play under veterans, most notably
Ray Allen
.
"Obviously, this means a whole lot to me, being able to play with guys I've looked up to and watched my whole life, like Ray Allen. I grew up in Milwaukee and watched him my whole life, now playing with him, it's a great opportunity," said Landry, a University of Wisconsin product. "Being able to make the playoffs as a rookie, but not only that, more importantly, getting to learn from a lot of guys that have been successful in this league. It's a great opportunity."
How does Robinson feel about playing the Knicks, the team he spent his first four-plus seasons in the league with, as his Celtics' debut?
"Well first and foremost, they gave me my first opportunity to showcase my talent and be a part of the NBA," said Robinson. "They gave me my first chance, so I'm always going to respect the organization and everything they did for me. It's going to be different, now I'm going to be wearing green, and I'm used to wearing orange and blue. It's a great opportunity -- it's a great opportunity for [Robinson and Landry]. We get to learn from some of the NBA greats right now. You just gotta take it one game at a time, go out there and play the game that I know how to play, and just learn, keep it going and keep moving forward."
Other highlights from the introduction (which featured Robinson offering all but one response):
* Robinson first heard of a potential trade through his agent right after the dunk contest at All-Star weekend
* Robinson on parting with the Knicks: "I'm happy, there's a big smile on my face, and I'm ready to play ball."
* Robinson on his one-month absence after trade demand: "A guy like myself sitting for a whole month, I believe Doc [Rivers] and the Celtics were saying well if he's sitting, we could use him."
* Robinson on his perception as strictly a dunker: "Of course I'm known for dunking, winning the dunk contest three times, but that's not all Nate Robinson, if you follow the way I play the game, I play hard, I play as a teammate, I get the crowd involved, I feed off the energy f the crowd and my teammates, I play for the love of the game. Its not that I just dunk, because in the games, I barely dunk. I do a lot of other things that people overlook and over see because they just watch me once a year in the dunk contest. There's more to Nate Robinson than just that."
Pierce sidelined indefinitely, Marquis to start
Celtics guard
Paul Pierce
is out indefinitely with a right thumb injury and did not even come to the TD Garden Tuesday night as he also battles the flu, according to Celtics coach
Doc Rivers
.
Marquis Daniels
will start in place of Pierce, who struggled mightily after spraining his right thumb during the first half of a win over the
Los Angeles Lakers
Thursday night. Pierce suggested Monday that he'd talk to Rivers about shutting himself down for a few days to allow the hand to heal.
"He just hurt his hand, we'll go one day at a time," said Rivers. "He's not even in the building tonight -- he's got the flu, too. He wouldn't have played with the hand injury, but with the flu, we felt it was good to stay at home."
Rivers reiterated Pierce's stance that he's "day-to-day," but also acknowledged that, if Pierce needs an extended break to get back to full strength, the Celtics are prepared for that.
"Oh yeah, I'm comfortable with any of our guys being out, I've gotten used to it," joked Rivers. "It's not what you want, but, listen, we went 3-1 [on a four-game road trip] without Paul virtually giving us much of anything because of his health. We can win without him, we just can't win a long time without him. We need him back and we need him healthy. He's our best offensive player. He creates stuff for everyone, even when he's not scoring. His presence on the floor draws attention. We need him back and we need him back healthy.
"The way we did it didn't work out, so we have to get him healthy."
Locker room shuffle
It's always interesting to see which lockers new players choose when they join a locker room midseason. Some teams, like the New England Patriots, make that decision for you as their lockers are typically aligned sequentially (though that's sometimes deviated).
Robinson chose the locker stall previously occupied by rookie
Lester Hudson
, a stall in what would essentially be the northwest corner of the locker room (viewing it straight on), sandwiched in between
Glen Davis
and Ray Allen. It seems appropriate that Robinson, who grew up in Seattle, would want to be near Allen, who starred for the Sonics (Allen suggested last week that he even played with Robinson when the two crossed paths on the campus of the University of Washington).
Not only did Landry take over Bill Walker's No. 12 jersey, he took his locker stall as well (smack dab in the middle of the room), between
Rajon Rondo
and a now unoccupied stall where J.R. Giddens once resided.
Ironically, with the stalls of Giddens and Eddie House now empty, Pierce doesn't have any company around him. That could be a potentially selling point if/when the Celtics attempt to lure a free agent for a stretch run.