March, 15, 2010
3/15/10
7:52
AM ET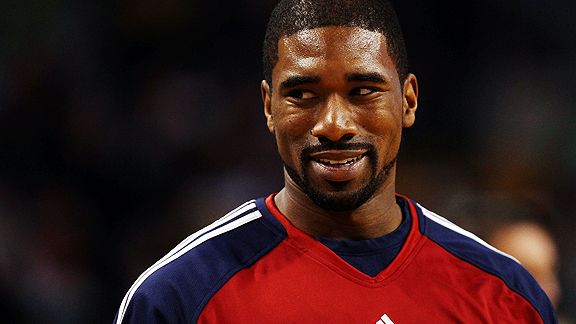 Elsa / Getty ImagesLeon Powe provided a lift for the Cavs off the bench.
CLEVELAND --
Leon Powe
's stat line Sunday doesn't leap off the page, but the former Boston big man popped off the bench to register six points and four rebounds in eight minutes as the Cavaliers topped the Celtics, 104-93, at Quicken Loans Arena.
AP PhotoLeon Powe and Rasheed Wallace battle for a loose ball Sunday.
It was the exactly the type of effort his former team could have used.
"Leon was spectacular for us," said Cleveland coach Mike Brown. "Antawn [Jamison] picked up his fourth foul, and we put Leon in the game and I thought that he was the difference maker. I think it was a single-digit lead when he went in and he helped us get it to a double-digit lead with his toughness, his ability to come up with 50/50 balls, his ability to hustle his behind off and get us heading towards the penalty. A great game by Delonte [West], a great game by Anderson [Varejao], but a terrific job by Leon just keeping himself ready until his number was called, which was in the second half."
Added
LeBron James
: "His defensive activity was great and his activity on the offensive end to get to the free throw line and knock them down was great. To play those spot minutes is a very difficult job and to come in and be ready and do what he did today was huge."
On a day Boston's bench produced next to nothing in the way of production, Powe and
Anderson Varejao
helped Cleveland take over the game. Varejao outscored the Celtics' reserves alone (17-15) and, while Powe didn't register a field goal (making him like most of Boston's bench), he still found a way to make his presence felt, getting to the charity stripe for all his points.
Powe, who signed with Cleveland in the offseason after undergoing his third major knee surgery of his career, made his 2009-10 season debut in Boston last month. He's appeared in seven games, even logging a start in place of injured Jamison last week against Philadelphia.
Having spent his first three seasons in Boston, helping the Celtics to a championship in 2008, Powe offered some perspective on their struggles and might have stated what everyone else has been thinking over the past 37 games.
"Looking at the defense from the championship year, when we won it, it doesn't look the same [now]," Powe told reporters after Sunday's game. "It looks like the rotation is slower and they are not getting to the shooters, and closing out like they did before. I don't know if it's effort or maybe they're a little older.
"But they've been old."
Powe's return to the court and his feelings about leaving Boston were documented
HERE
when Cleveland visited last month.
Materials from the Associated Press were used.
March, 14, 2010
3/14/10
11:37
PM ET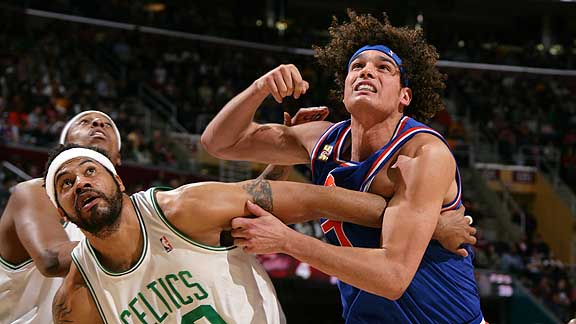 David Liam Kyle / NBAE / Getty ImagesThe Celtics couldn't match the energy of Cleveland's Anderson Varejao.
CLEVELAND -- The
Boston Celtics
entered Sunday's showdown against the
Cleveland Cavaliers
with an 18-18 record over their last 36 games.
How appropriate. Fifty-fifty. That ended up being the story of the game.
With a chance to jump-start a stagnant season, the Celtics watched the Cavaliers outwork them, particularly on the glass, where the hosts turned 17 offensive rebounds into a staggering 27 second-chance points.
Fueled by the grittiness of players like
Anderson Varejao
, who came off the bench to score 15 first-half points, the Cavaliers never let Boston get within arm's reach and emerged with a 104-93 triumph at Quicken Loans Arena.
Varejao, who terrorized Boston in helping Cleveland rally from a double-digit deficit for a big win in Boston last month, finished with 17 points on 6-of-8 shooting with 10 rebounds, six offensive. He had a quiet second half, but he left a lasting impression.
Celtics coach
Doc Rivers
used the word "frustrating" four times while describing Varejao's impact.
"Fifty-fifty [balls], second-chance points, missed layups," said Rivers, listing the key maladies in his team's loss. "It's frustrating for me. In a lot of ways we're close to breaking out and being really good, but it's also frustrating that -- one guy completely dominated this game in Varejao.
"Second-[chance baskets], loose balls, activity [around the basket] and getting under our skin. He's doing what he should do. That was very frustrating though. Overall, our defense was good, but we kept giving the ball back, even long rebounds -- that was on our guards -- but even then it was Varejao slapping the ball up in the air."
The Celtics knew the impact Varejao could have after his exploits in Boston last month. But they still couldn't stop him.
Click
HERE
to read the full story.
March, 14, 2010
3/14/10
11:21
PM ET
CLEVELAND -- A collection of postgame news and notes after the Cleveland Cavaliers defeated the Boston Celtics 104-93 Sunday afternoon at Quicken Loans Arena:
The rundown
(a quick look at the postgame headlines)
* Big Baby hears boos from crowd
* Boston's bench MIA in Cleveland
* Games before games for Cavs
Big Baby hears boos
Celtics forward Glen Davis turned around from getting dressed at his stall inside the visitor's locker room to find a large media throng waiting for him.
"You all here for me? I wonder what you want to talk about," said Davis, feigning ignorance after a somewhat unremarkable performance in which he scored four points and grabbed three rebounds (all offensive) in 15 minutes.
Hounded by boos throughout Sunday's game, the Cleveland media was eager to hear his explanation about ThumbGate after video emerged of him tugging on Shaquille O'Neal's injured thumb during the Feb. 25 game in which O'Neal tore ligaments in the digit, ending his regular season.
Asked about the crowd's reaction, Davis didn't avoid the questions.
"You guys made it look like I intentionally tried to hurt [O'Neal], but I wouldn't dare do that," said Davis. "Fans are fans, and they're used to heckling me and booing me. It is what it is."
Davis was fined $25,000 earlier this season for shouting an obscene phrase at a fan heckling him in Detroit. In a season where he's been pulled to the headlines as if he's carrying magnets in his pocket, Davis was forced to again explain the most discussed thumb war in NBA history.
"I wasn't paying attention and I didn't even know his thumb was hurt," said Davis, who endured a thumb injury of his own after an off-court altercation led to him missing the first 27 games of the regular season. "He made no indication. I was just playing basketball, trying to be a defensive agitator. I was messing with him, stuff like that. I never thought, in my mind, his thumb was hurting. I didn't find out until he called time out and said his thumb was broken. I was walking by the huddle, [thinking] 'Damn.' I didn't pay any attention to it."
Already showered with boos, Davis drew even more ire when he put a hard box-out on Anderson Varejao as the two chased a loose ball late in the third quarter. Varejao spilled hard into the front row as Davis prevented him from getting to a rebound as it trickled beyond the end line.
A local reporter questioned Davis after the game about whether his physical play "crossed the line." Davis earned a flagrant foul (that was later rescinded) earlier this year in a loss to the Hawks.
"I find if I cross the line, I get [technical fouls]," said Davis. "My job is to play hard. I'm an energy guy. I get loose balls. I go out there and try to be a factor.
"I'm a big guy. When I foul, it's usually to make sure [an opponent] doesn't make a layup or an and-1. I'm trying to make my presence felt under the rim. just trying to play the game like it's supposed to be played. I'm not trying to hurt somebody."
Davis did express remorse over one thing: failing to match Varejao's energy and impact Sunday.
"[Varejao] was huge for them -- 17 [points] and 10 [rebounds] coming off the bench," said Davis. "I kind of felt he was my responsibility -- energy and energy -- I'm the energy for this team, he's energy for them. It's frustrating to watch."
Celtics coach Doc Rivers singled out Davis' effort.
"I thought he played great. His energy out there was absolutely wonderful," said Rivers. "And Baby's been doing that more and more for us. He's the only one who made a physical play the entire night, when he knocked down Varejao."
Boston's bench MIA in Cleveland
Two nights after producing their second highest scoring output of the season, Boston's bench was woefully ineffective Sunday against the Cavaliers.
The seven-man group combined to go 5-of-25 (0-for-6 beyond the arc) for a measly 17 points with just one assist and a cumulative plus/minus of minus-62.
Among the main offenders were Marquis Daniels (0-for-3, 0 points, minus-15 plus/minus) and Rasheed Wallace (1-for-8, 5 points, minus-17 plus/minus).
Rivers seemed particularly displeased with Wallace's effort, specifically his missing so many shots from close range while logging 17 minutes with both Davis and Kevin Garnett hindered by foul trouble.
"Kevin was taken out of the game by foul trouble, but he had a great game -- 28 minutes and you look at what he did, he was terrific. But foul trouble hurt our rhythm and our game plan was to go low. Rasheed didn't give us anything, so basically we became a pick-and-roll team, instead of the post team we had planned on being going into the game."
Boston's bench combined for 54 points Friday vs. Indiana, second only to its 62-point effort against Philadelphia on Nov. 3.
Games before games
Chris Forsberg / ESPN BostonAn xBox and stereo at every locker for LeBron James and the Cavaliers.
The Cleveland locker room doesn't feel like much of a locker room at all.
With xBox 360s and full stereo systems at every locker (look behind LeBron James in the photo above or check out the full locker room shot below), Cavs players have no shortage of entertainment options, with TV screens built right into their stalls. When time allots, a player can simply swivel his chair around and relax.
With a bank of flat screen monitors showing game film along one wall and a kitchenette nearby, former colleague Julian Benbow of The Boston Globe cracked that it looked more like a Best Buy.
In a league often featuring bland locker rooms where players bury their heads in iPhones, iPods and Blackberries, the Cavs' locker room invites players to spend extra time at the gym.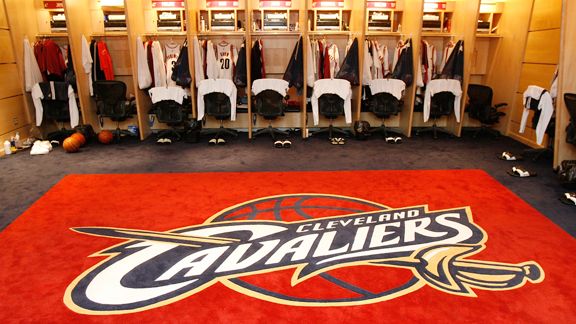 Nathaniel S. Butler / NBAE / Getty ImagesA view of the Cavaliers' locker room.
March, 14, 2010
3/14/10
6:22
PM ET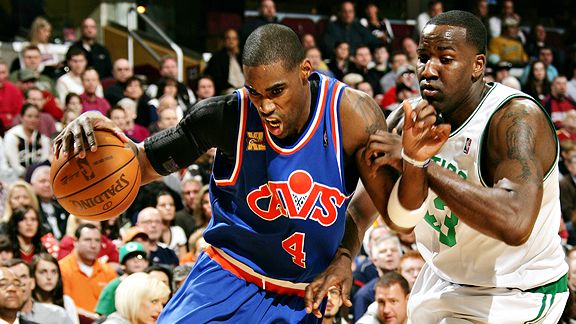 Liam Kyle / Getty ImagesThe Celtics once again couldn't hang with the brass of the Eastern Conference.
CLEVELAND -- Instant reaction after the Cleveland Cavaliers posted a 104-93 triumph over the Boston Celtics Sunday afternoon at Quicken Loans Arena:
How the game was won:
LeBron James scored 30 points on 9-of-21 shooting (11-of-16 at the charity stripe), while Antawn Jamison (15 points, 12 rebounds) and Anderson Varejao (17 points, 10 rebounds) both registered double-doubles. Ray Allen scored a team-high 20 points for Boston, while Kevin Garnett and Paul Pierce added 18 points apiece.
Turning point:
Over a 10-minute 17-second span starting with 5:13 to go in the third quarter, the Celtics generated only one field goal (a Rajon Rondo layup) while Cleveland embarked on a 21-4 run to blow open what had been a tie game.
More on the turning point:
The Cavaliers scored the final four points of the third quarter to carry an eight-point advantage into the final period, then motored away against Boston's second unit with a clip that expanded to a 13-0 run. Nine of those 13 points came at the charity stripe, but layups by Jamison and James put the Cavs on top 89-72 with 7:16 to go. The Celtics didn't generate their first field goal of the final quarter until Kevin Garnett's 11-foot jumper with 6:56 to play.
Stat of the game:
Boston's bench was dismal, with the seven-man reserve unit combining to go 5-of-25 overall (0-for-6 from beyond the arc) for 15 points. The only player with a positive plus/minus rating was Shelden Williams (plus-4 in one minute of action).
Unsung hero:
It's hard to say he was unsung considering much was made about his role before the game, yet Varejao scored 15 first-half points while keying Cleveland's effort on the glass and generating second-chance points.
What it means:
With one more matchup against the Cavaliers next month, the Celtics dropped to 2-9 against the other top seeds in the Eastern Conference in Cleveland (1-2), Orlando (1-3) and Atlanta (0-4). The Celtics were competitive for three quarters, but Cleveland was in control from start to finish. And when Boston rallied to tie the game midway through the third quarter, the Cavaliers responded with an 8-0 burst. It will be interesting to see how Boston rebounds -- something they didn't do Sunday -- when it hosts the back end of a back-to-back Monday night against the Pistons.
March, 14, 2010
3/14/10
4:28
PM ET
Chris Forsberg / ESPN BostonNo word on if Perk every truly rocked this look.
CLEVELAND -- Not only are the Cavaliers wearing old-school blue-and-orange throwback jerseys during Sunday's game against the Celtics, but they're celebrating a Hardwood Classic Night.
What does that entail, exactly? Occasionally, after a player scores a basket, a retro'd (and Photoshopped) picture of him appears on the JumboTron. It's a bit jarring at first, but it's also kinda awesome.
Check out a glimpse of Kendrick Perkins (above) and Kevin Garnett (below).
Chris Forsberg / ESPN BostonI believe they call this the Kentucky Waterfall.
March, 14, 2010
3/14/10
2:17
PM ET
Chris Forsberg / ESPN BostonWe are all witnessses ... to a gigantic billboard.
CLEVELAND -- A collection of pregame news, notes, sights and sounds before the
Boston Celtics
visit the
Cleveland Cavaliers
Sunday afternoon at Quicken Loans Arena:
The rundown
(a quick look at the pregame headlines)
* LeBron thinks Celtics are bored
* Rivers puts KG, Pierce rest talk to rest ... for now
* Doc's a straight shooter on Cleveland's additions
LeBron on Celtics' struggles
Count
LeBron James
among those who think the Celtics are simply disinterested in the regular season.
Reaffirming comments he made earlier this week, James told reporters Sunday that he still views the Celtics as a threat in the Eastern Conference despite their recent struggles. James pointed to a veteran roster and noted they can't be taken lightly with their championship experience.
"It's a veteran ballclub, they know what it takes to win," said James. "They're going to do what it takes to win. They've got guys that have been through everything, won multiple championships. It's a good team."
James told the
The Cleveland Plain Dealer's Brian Windhorst
earlier this week, "To me, the Celtics look bored with the regular season. I'm not saying they've tanked the regular season, I'm just saying, an experienced team like Boston has so much talent, they know how to win in the playoffs. Just looking at them, they look like they're ready for a new challenge.
"Any time you have a team that has so many guys who can put the ball in the basket and can decide to really defend, they are dangerous," James said. "They are ready for a challenge and that would be the playoffs. Last year in the playoffs they didn't have KG, so it wasn't a fair shot. That's looking at them from the outside. I may be wrong, but I know basketball and I know those guys."
Asked to elaborate Sunday on what exactly makes Boston so dangerous, James noted, "It's a very experienced team. When you have multiple options, offensively, that can tear down a defense, you can't just sit on one guy. They have [Rajon] Rondo and Ray [Allen], Paul [Pierce] and [
Kevin Garnett
], Rasheed [Wallace] coming off the bench, Nate [Robinson] coming off the bench. That's multiple guys who can put the ball in the basket. You have to game plan for the whole team, not just one guy like a lot of teams. That's challenging to a defensive team like us."
So does James expect to see Boston in the postseason?
"Whatever the top eight teams in the playoffs are, we have to run into them at some point if we want to win a championship -- if we want to compete for a championship," said James. "The best teams are going to win, hopefully we're one of the best."
Rivers puts KG, Pierce rest talk to rest ... for now
Celtics coach
Doc Rivers
might have opened a can of worms last week when he suggested he'd be willing to sit Garnett and Pierce in upcoming games if it meant having them at their peak for the postseason. Asked Sunday if that meant making them inactive for games, Rivers insisted that's not even on his radar right now.
"I don't know, I'm not even worried about it," said Rivers. "I'll think about it. If we need to do it, we'll do it. Who knows when it'll happen and if it'll happen. We're just working on getting them right, getting them great for when it's time to play."
Doc's a straight shooter
Asked about the additions of players like
Jamario Moon
and
Antawn Jamison
, Rivers admitted there's a league-wide trend developing with teams trying to load up on shooters. Heck, the Celtics are no different by adding guys like
Nate Robinson
and
Michael Finley
.
"[Cleveland is] very good either way -- LeBron is still playing right?" joked Rivers. "As long as he is playing, they're very good. He's the key to their team. Everyone else plays a terrific role.
"The one thing they've added is shooting. The last two years, they keep adding shooters. One thing the league has done, and we're probably a little behind, is adding shooting. With the way the rules are, it's huge. If you can space the floor at all positions, you can become a very difficult team to compete with."
March, 14, 2010
3/14/10
9:32
AM ET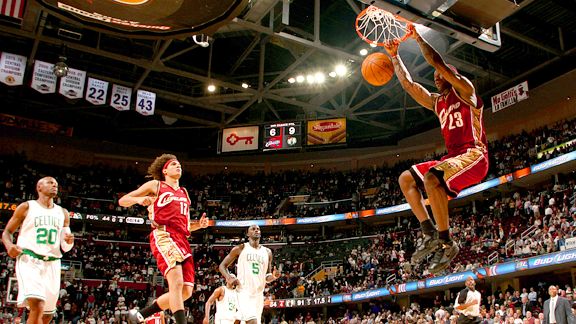 David Liam Kyle / NBAE via Getty Images)The Celtics haven't had many wins over quality teams since a triumph here on opening night.
CLEVELAND -- Celtics coach Doc Rivers doesn't buy the hype surrounding Sunday's showdown with the Cavaliers. Regardless of how his team plays, or the outcome of the game, Rivers doesn't believe it affects the Celtics moving forward, so he left his troops with a simple bit of advice after Saturday's practice.
"Just play [the game]," said Rivers. "That doesn't mean we'll win -- I think we'll win, I really do, and I think we'll come in and play terrific -- but we just gotta play hard.
"Listen, it's a big game for them, too. It's not just one way. I always laugh when I hear guys say it's a 'must-win.' Well, what if it's a must-win for both teams? Someone's not going to win. It'll be great. Our team is looking forward to it. [The Cavaliers] are looking forward to it. It's no coincidence that LeBron [James] rested two games and came back. That's not a coincidence."
Asked if dubbing it a "must-play-well" was more appropriate, Rivers still barked at the notion.
"And what if we don't [play well]? Should we quit and go home?" asked Rivers. "You just show up. And you work on it, and, if you win and play well, great. Here's my question for you: What if it's a 'must-play-well,' and we play well and win? Should we stop playing then, too?
"It's a long season, guys, and it's a game-to-game thing. Today, we had this talk, guys were chattering too much. I reminded them, 'Guys, we played well for one game. What the hell? It doesn't matter. You gotta keep doing it. It's gotta become a habit.' And I don't think it's become a habit for us yet. That's what is has to become."
Michael Finley may be new in town, but he's aware of the the rivalry.
"I expect a playoff-type atmosphere, with two championship-caliber teams trying to establish themselves in the regular season," said Finley. "I've watched these two teams battle on TV in the regular season and the playoffs. It's always a competitive battle and I don't think that will be different come [Sunday]."
March, 13, 2010
3/13/10
10:15
PM ET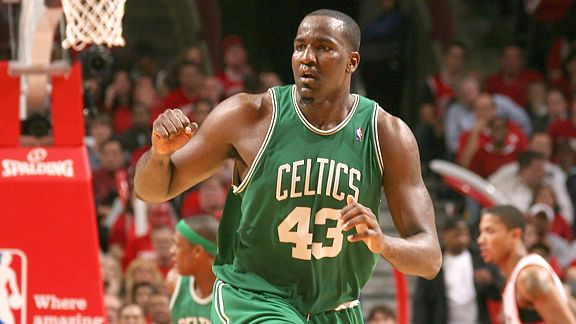 Nathaniel S. Butler/Getty ImagesKendrick Perkins is struggling offensively, but finding other ways to contribute.
WALTHAM, Mass. -- If it wasn't the truth, it might have been regarded as a bit of trash talking.
But Celtics center
Kendrick Perkins
said what everyone else has been thinking when he noted Saturday that the Cavaliers are a better team without
Shaquille O'Neal
.
"In my opinion, I think they're better [without Shaq]," Perkins said in advance of Sunday's showdown (ABC, 3:30 p.m.) at Quicken Loans Arena in Cleveland. "They can run more and they've got
Anderson Varejao
, who's more of an active body. They can get LeBron [James] open a lot and open up the paint for him, so I think they're a better team. Obviously, Shaq can help them, but I think they're better, a more fast-paced team [without him]."
Unfortunately for Perkins, he has a body of work to support his argument. Despite being regarded as one of the top defensive centers in the league (Orlando All-Star
Dwight Howard
positioned Perkins one spot ahead of himself as part of a list detailing the best defensive players in the league earlier this year), no player is as much of a thorn in Perkins' side as Varejao.
After O'Neal injured his right thumb in last month's battle at the TD Garden, Varejao came off the bench to connect on 6-of-7 shots for 14 points with 10 rebounds, 3 blocks and 2 assists in 31 minutes. His play helped the Cavaliers register a 30-point swing, as the visitors erased a double-digit first-half deficit and stormed to a 108-88 win.
So how exactly is it that O'Neal, the former first overall pick who is the fifth all-time leading scorer in NBA history, is somehow easier to defend than Varejao, the third-to-last pick in the 2004 NBA Draft, best known for being floppy (both in his hairstyle and charge-taking)?
"He's more of an instigator," said Perkins. "You have to be more of an instigator when you play against him. You gotta hit him first. He's a guy who flops and gets a lot of calls. He takes charges and gets offensive rebounds. You have to keep a body on him and play hard against him.
"You gotta take him out of the game ... He's a big energy guy and that helps them a lot."
Click
HERE
to read the full story.