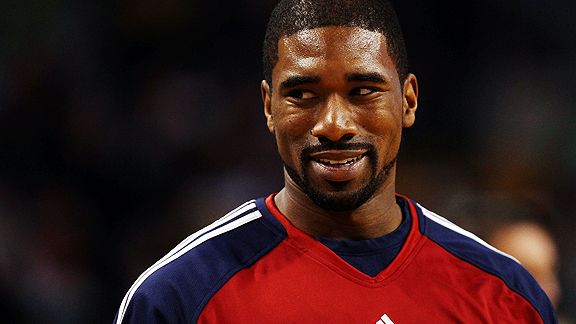 Elsa / Getty Images
Leon Powe provided a lift for the Cavs off the bench.CLEVELAND -- Leon Powe's stat line Sunday doesn't leap off the page, but the former Boston big man popped off the bench to register six points and four rebounds in eight minutes as the Cavaliers topped the Celtics, 104-93, at Quicken Loans Arena.
AP Photo
Leon Powe and Rasheed Wallace battle for a loose ball Sunday.It was the exactly the type of effort his former team could have used.
"Leon was spectacular for us," said Cleveland coach Mike Brown. "Antawn [Jamison] picked up his fourth foul, and we put Leon in the game and I thought that he was the difference maker. I think it was a single-digit lead when he went in and he helped us get it to a double-digit lead with his toughness, his ability to come up with 50/50 balls, his ability to hustle his behind off and get us heading towards the penalty. A great game by Delonte [West], a great game by Anderson [Varejao], but a terrific job by Leon just keeping himself ready until his number was called, which was in the second half."
Added LeBron James: "His defensive activity was great and his activity on the offensive end to get to the free throw line and knock them down was great. To play those spot minutes is a very difficult job and to come in and be ready and do what he did today was huge."
On a day Boston's bench produced next to nothing in the way of production, Powe and Anderson Varejao helped Cleveland take over the game. Varejao outscored the Celtics' reserves alone (17-15) and, while Powe didn't register a field goal (making him like most of Boston's bench), he still found a way to make his presence felt, getting to the charity stripe for all his points.
Powe, who signed with Cleveland in the offseason after undergoing his third major knee surgery of his career, made his 2009-10 season debut in Boston last month. He's appeared in seven games, even logging a start in place of injured Jamison last week against Philadelphia.
Having spent his first three seasons in Boston, helping the Celtics to a championship in 2008, Powe offered some perspective on their struggles and might have stated what everyone else has been thinking over the past 37 games.
"Looking at the defense from the championship year, when we won it, it doesn't look the same [now]," Powe told reporters after Sunday's game. "It looks like the rotation is slower and they are not getting to the shooters, and closing out like they did before. I don't know if it's effort or maybe they're a little older.
"But they've been old."
Powe's return to the court and his feelings about leaving Boston were documented HERE when Cleveland visited last month.
Materials from the Associated Press were used.