March, 18, 2010
3/18/10
12:57
AM ET
BOSTON -- The night couldn't have started much worse for
Paul Pierce
.
The
Boston Celtics
captain picked up a foul nine seconds into the game and his second shortly thereafter, putting him on the bench less than two minutes into Wednesday's visit to TD Garden by the
New York Knicks
.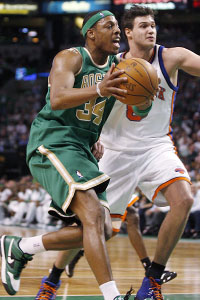 AP Photo/Marty SchwaimDespite early foul trouble, Paul Pierce stayed aggressive Wednesday and wound up with a 29-point night.
When Pierce checked back into the game early in the second quarter, he missed a technical free throw, committed a turnover on a bad pass, watched former Celtics bench-warmer
J.R. Giddens
drive on him for a layup, and was whistled for a defensive three-seconds foul.
Few would have blamed Pierce if, for the second straight game, he retreated to the locker room before intermission -- this time for the night. It seemed everything he did kept him from falling into the rhythm coach
Doc Rivers
has been desperately seeking from him this month.
But, in what might have been the most encouraging sign about Pierce's potential return to form this season, he shook off all the early maladies by pouring in 11 of his 13 first-half points over the final six minutes of that second quarter, then erupted for 16 more points in the third period as the Celtics rolled to a 109-97 triumph over New York.
"I think it's his second, maybe third game in a row where early fouls have become a problem," said Rivers. "And most players struggle on those nights, when you pick up those fouls like that. He came back in like he hadn't missed a beat.
"You could see it even in the second half, he was forcing it, probably a little more than we wanted, but it was good for him. And the recognition of the players -- there was a play right before they came out [of the game] where we should've thrown it to [
Kendrick Perkins
], and Perk said, 'No, I told Paul to just keep being aggressive, we've got to get him back aggressive.' So it's great when everybody recognizes that."
Pierce finished 11-of-17 shooting for 29 points with six rebounds and a steal. He spent the fourth quarter on the bench, but, fortunately for Boston, it was the result of his play, not any additional foul trouble.
"I thought Paul did a good job of just staying in there with two quick fouls," said
Kevin Garnett
. "When you get fouls that early, one of two things can happen: You can come out like you did and continue to be aggressive, or you can take a step back. I just thought these last couple games, he's been aggressive. In order for us to win big like we've been winning, he's going to have to continue to do that."
Click
HERE
to read the full story.
March, 18, 2010
3/18/10
12:09
AM ET
BOSTON -- A collection of postgame news and notes after the
Boston Celtics
defeated the
New York Knicks
, 109-97, in a St. Patrick's Day showdown at the TD Garden:
The rundown
(a quick look at the postgame headlines)
* Walker, Giddens finally get chance at Garden
* Doc's Opinion: Praise for Perk
* KG: Not a statistics guy
Walker, Giddens finally get chance at Garden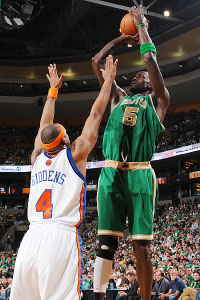 Brian Babineau/Getty ImagesFormer Celtic JR Giddens plays defense on Kevin Garnett.
The last time that
J.R. Giddens
and
Bill Walker
shared the court at TD Garden, it was the final minute of a 99-90 loss to the
Dallas Mavericks
on Jan. 18. A month later they were traded to the New York Knicks. Another month after that, they were back on the Garden floor for Wednesday's tilt against their old team.
Giddens, cleared before the game to return to action after being sidelined six weeks following arthroscopic knee surgery, made his Knicks debut, registering four points, two rebounds and two assists over 13 minutes. Walker, making his first NBA start, added eight points, a rebound and a steal in 23 minutes.
The two more than held their own against their familiar foes. Early in the second quarter, Giddens took Pierce off the dribble and drove hard to the rim for a layup. Next trip down, Walker splashed a 22-foot jumper as Boston's lead dipped to single digits, a rarity in the Celtics' rout.
The pair were pretty quiet from there on out. Part of their struggles stemmed from less than ideal matchups. Walker banged with
Kevin Garnett
near the blocks, while Giddens chased Allen as he ran off screens and did everything he could to limit Pierce, who finished with 29 points. It might have been a familiar scene earlier this year, with the only difference the blue and orange jerseys Walker and Giddens donned instead of Boston's white practice jerseys worn by the reserves.
"Every day, every time we had practice, I definitely tried to guard Paul and learn as many of his moves as I could," said Walker. "Ray [Allen] the same way. I have a great respect for those guys, especially KG."
Walker said he enjoyed going up against his old teammates, but didn't like the result.
"There wasn't a lot of looks tonight, It happens sometimes," said Walker, who has contributed four games with 21 points or more since arriving in New York. "I just didn't want to force anything and slip out of character. I don't know, I'd rather be in a close game, but that's sometimes how the ball bounces.
"It's easier to come off the bench and jump into the game than it is to create a flow [as a starter]. But I had fun lining up against Paul and Ray for the first time."
Before the game, both Walker and Giddens gushed about the opportunity to prove themselves and the uphill battle they faced in Boston to show they deserved more playing time. While Celtics coach
Doc Rivers
admitted he's been surprised by Walker's shooting ability, he just didn't see how more playing time would have been available here.
"It's tough, unless you want me to sit Paul and Ray and Marquis [Daniels]," said Rivers. "It's been tough to play here, but right before [Walker] went out, we moved him [into the rotation] and played him some. He earned it, he was looking better in practice. It's good to see him playing well.
"I didn't know he could shoot that well. He just didn't do it with us, and we didn't ask him to do it, to be honest. One thing about Billy, I always thought he had an NBA feel. He doesn't necessarily play at the pace, but his feel is terrific. And you can see that. Problem was he was never around, he was always under the knife.
"It's probably the most important part of his career, this next month of games, then he has a chance hopefully this summer to sign with the Knicks or [another] team. This is vital for him."
Rivers said he told Walker and Giddens to embrace their roles with the Knicks and utilize as much playing time as they could to develop, something the Celtics couldn't afford them.
Doc's opinion: Praise for Perk
It's no secret that
Kendrick Perkins
' play has tailed off a bit the past two months as everything from his field-goal percentage to his points per game has fallen after a hot start.
But the most disappointing statistical dip might be Perkins' rebounding as he had grabbed double digits in caroms just once over the past six weeks (14 rebounds vs. the Lakers on Feb. 18). This after registering nine games with double-digit rebounds in January.
After averaging 9.6 rebounds per game in January, Perkins' boards dipped to 5.9 per game over the last month and a half.
Perkins' offense is picking up again and he's doing more of the little things, like freeing teammates with screens. Playing an undersized New York team Wednesday, he got back to work on the glass, collecting a game-high 12 rebounds -- seven more than any of his teammates -- in just 22 minutes.
"I already said to the staff [before the game] that, no matter how small [New York] went, we were not going small," said Rivers. "We were just going to stay big throughout. And we did, which was great. And Perk and Rasheed [Wallace], they were guarding guards most of the time. And I thought they did a terrific job.
"The last three, four or five games, [Perkins'] energy is back. He's doing all the little things that he did earlier in the season. He's running the floor, running down the middle of the paint. He's just been terrific."
KG: Not a statistics guy
Garnett blistered the field with 9-of-11 shooting while scoring 22 points in Wednesday's win, but he was in no mood to talk stats after the game.
"I could care less," Garnett said of his proficiency from the field. "I'm just glad we got a big win and the starters got a chance to sit in the fourth. For the most part, I thought I had a lot of energy. I ran the floor as good as I've been doing this year and I have to continue to [do that]. But other than that, we got the win. I could care less about 9-for-11, 0-for-4, whatever. It's the W in the win column that I care about."
When asked about the point distribution among the starters, Garnett again barked, noting it didn't matter how the points got on the board, as long as they totaled more than the opposition at the end of 48 minutes.
"You know I have to say one thing about this team: You can take these starters, you can take the five right here, these first five," said Garnett, pointing to the box score in front of him. "This 11-for-17 [by Pierce], this 9-for-11 [by Garnett], this 3-for-6 [by
Ray Allen
]. This can change at any point. Different defenses and different schemes on [different] nights are going to allow certain players to have certain nights like this. As long as it's going to come from two to three guys on here.
"We focus on our turnovers being down, we focus on our blocked shots and our rebounds. Other than that our scoring is going to come from different places each night. [
Rajon Rondo
] was 2-of-3, Ray was 3-of-6, but Paul and I had decent shooting nights where we were aggressive and hit shots. It could have easily been Ray, Perk, whoever. As long as we're productive with what we're doing on the defensive end, then in terms of offense we care less with who is doing what."
March, 17, 2010
3/17/10
5:15
PM ET
BOSTON -- A collection of pregame news and notes before the Boston Celtics host the New York Knicks Wednesday night in a St. Patrick's Day showdown at the TD Garden:
The rundown
(a quick look at the pregame headlines)
* Walker to start; Giddens off bench for Knicks
* Giddens (knee) cleared to play; House (foot) day-to-day
* Pierce appears ready to go
Walker to start; Giddens off bench for Knicks
What a difference a month makes.
Bill Walker could hardly get off the Boston bench this time last month before becoming a bit of collateral damage when the Celtics traded Eddie House to the New Yorks Knicks in a five-player swap that netted Nate Robinson at the NBA trade deadline on Feb. 18.
On Wednesday night, Walker drew a start against his former team, earning a spot in part because of injuries, but also because of his performance since being given a chance to showcase his skills in New York. Walker is averaging 12.2 points, 2.9 rebounds and 1.3 assists over 27 minutes per game in March. He's posted four 21-plus point games this month, while the Celtics have had their leading scorer reach that mark just three times in March.
"A 360-degree turn," said Walker, shaking his head as he reflected on his rapid rise with the Knicks. "Going from their bench and not getting off of it, to starting for another team."
Walker said he has no hard feelings toward Boston and knew the odds of him getting playing time were long with the talent in front of him. But the Knicks like what they see and there's a good chance he could be back as part of New York's young nucleus they hope to surround by a couple of big-name free agents.
"We just like his talent," said Knicks coach Mike D'Antoni. "He's very explosive. He has a nice feel for the game, which surprised me. He knows how to play and it's up to him to work this summer, get his body in shape. It's up to him now, but he definitely has the talent to play."
Follow the jump to see Walker warming up before Wednesday's game.
Giddens (knee) cleared to play; House (foot) day-to-day
J.R. Giddens, who was recovering from arthroscopic knee surgery when he was traded by the Celtics in the five-player deal with New York, was cleared to play for the first time Wednesday and is expected to log some minutes despite not having practiced with the team yet.
What's he expecting?
"I just got cleared to play, I haven't even practiced," said Giddens. "I'm just trying to run and play hard, show people I belong and that I can help them win games."
Eddie House, the key component in that swap, will miss Wednesday's game with a foot injury. He's day-to-day, but made the trip and visited the Celtics' locker room before the game, spending a few minutes with Kevin Garnett and Glen Davis.
"He's been battling it for a while," D'Antoni said of House and his injured foot. "Eddie needs his speed, that's what he lives by, and when his feet are hurting, it's hard to play. When he's feeling well, he'll be back."
House is shooting a dismal 15.8 percent from 3-point land this month, connecting on 3-of-19 shots. He's shooting 32.7 percent overall (17 of 52).
Pierce appears ready to go
In case you were worried about Paul Pierce, who returned to the locker room early in the first half Monday night against the Pistons and didn't appear at the postgame press conference, he was on the court in uniform playing a
little 1-on-1
against Brian Scalabrine (click the link for a quick video). Pierce was in the starting lineup and it does not appear the injury is anything to worry about.