BOSTON -- The night couldn't have started much worse for Paul Pierce.
The Boston Celtics captain picked up a foul nine seconds into the game and his second shortly thereafter, putting him on the bench less than two minutes into Wednesday's visit to TD Garden by the New York Knicks.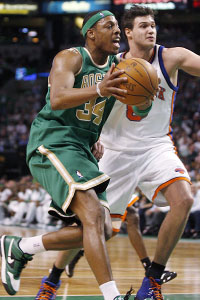 AP Photo/Marty Schwaim
Despite early foul trouble, Paul Pierce stayed aggressive Wednesday and wound up with a 29-point night.When Pierce checked back into the game early in the second quarter, he missed a technical free throw, committed a turnover on a bad pass, watched former Celtics bench-warmer J.R. Giddens drive on him for a layup, and was whistled for a defensive three-seconds foul.
Few would have blamed Pierce if, for the second straight game, he retreated to the locker room before intermission -- this time for the night. It seemed everything he did kept him from falling into the rhythm coach Doc Rivers has been desperately seeking from him this month.
But, in what might have been the most encouraging sign about Pierce's potential return to form this season, he shook off all the early maladies by pouring in 11 of his 13 first-half points over the final six minutes of that second quarter, then erupted for 16 more points in the third period as the Celtics rolled to a 109-97 triumph over New York.
"I think it's his second, maybe third game in a row where early fouls have become a problem," said Rivers. "And most players struggle on those nights, when you pick up those fouls like that. He came back in like he hadn't missed a beat.
"You could see it even in the second half, he was forcing it, probably a little more than we wanted, but it was good for him. And the recognition of the players -- there was a play right before they came out [of the game] where we should've thrown it to [Kendrick Perkins], and Perk said, 'No, I told Paul to just keep being aggressive, we've got to get him back aggressive.' So it's great when everybody recognizes that."
Pierce finished 11-of-17 shooting for 29 points with six rebounds and a steal. He spent the fourth quarter on the bench, but, fortunately for Boston, it was the result of his play, not any additional foul trouble.
"I thought Paul did a good job of just staying in there with two quick fouls," said Kevin Garnett. "When you get fouls that early, one of two things can happen: You can come out like you did and continue to be aggressive, or you can take a step back. I just thought these last couple games, he's been aggressive. In order for us to win big like we've been winning, he's going to have to continue to do that."
Click HERE to read the full story.