March, 21, 2010
3/21/10
1:20
AM ET
Go ahead. Enjoy some unbridled optimism about your
Boston Celtics
. There's no need to preface their recent success with "buts" any more.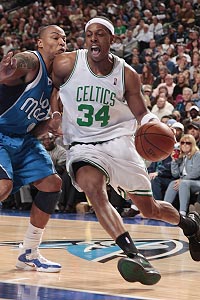 Danny Bollinger/NBAE/Getty ImagesPaul Pierce scored a game-high 29 points vs. the Mavs.
Boston, winner of four straight, posted its first defining win in more than a month Saturday night in Dallas, taking complete control late in a 102-93 victory over the Mavericks at the America Airlines Center.
Of Boston's last 10 wins, there was hardly a playoff team in the bunch (Portland and Charlotte are clinging to postseason spots in their respective conferences). You'd have to go back to a triumph over the Western Conference-leading Lakers on Feb. 18 to identify the last time anyone could truly be excited about the Celtics without prefacing it with a disclaimer that they still have to show it against quality competition.
Not only did the Celtics top a Mavericks team that had won 14 of its last 15 overall while surging toward the top of the West standings, but they did it on the second night of a back-to-back, mustering the energy and swagger that's been missing for much of this calendar year.
"It's a good win," admitted Celtics coach
Doc Rivers
. "Number one, [Dallas is] playing so well. They've had [two] days off, had prep time for us, [while] we played last night, and, to come in and come back at the end and take the game away from them was huge for us.
"Our starters were the key today. They played terrific. Our execution down the stretch the last three or four games has been unbelievable. So, yeah, this was a good win for us. Big win? Yeah, I guess. But it's just a good win for us."
Even in defeat last weekend in Cleveland, Rivers stressed that he saw something in this team that made him optimistic about its postseason chances.
But considering Boston is 2-9 against the brass of the Eastern Conference (Orlando, Atlanta and Cleveland), it's been hard to buy what he's selling.
Even after the Celtics dominated three consecutive home games over the past nine days, it seemed everyone was waiting for the usual letdown against a quality opponent on the road.
It hasn't happened. Boston completed a satisfying Texas two-step, downing the Rockets and Mavericks to kick-start a stretch that features eight straight games against Western Conference opponents leading to an Easter showdown against the Cavaliers.
Even though Rivers tossed a "but" into his remarks while talking about Saturday's win, it's clear the Celtics have a right to savor the recent triumphs.
"I told our guys, it's a great win, a terrific win, but we're still not where we want to be," said Rivers. "We have to keep marching toward that. Whether we win games or not, our goal hasn't changed. We want to be ready in April. These games are important to getting there."
The Celtics weren't looking for payback against a Mavericks team that defeated them at TD Garden in January. They were just looking for a quality win.
"No, it wasn't payback," said Celtics guard
Rajon Rondo
. "That game is over with and it's a new time for us. We just needed a win. It wasn't payback, we just needed to take care of business."
Rivers will enjoy watching the film from Saturday's win as he'll see glimpses of what made this team NBA champs in 2007-08.
Boston's entire starting five looked rejuvenated. And while
Kevin Garnett
struggled with his shot, connecting on just 3-of-9 attempts for eight points, he added nine rebounds, five steals and an assist. Boston's starters scored 89 of the team's 102 points.
Most impressive was the continued reemergence of captain
Paul Pierce
, who poured in a game-high 29 points on 10-of-17 shooting over 36 minutes.
Pierce, who hasn't met with the media since a win over the Pacers on March 12, did engage in an on-court interview with Comcast SportsNet -- the TV home of the Celtics -- following Saturday's win.
"We're trying to gather some momentum for the playoffs," said Pierce. "We're hoping to turn things around and gain confidence. But the most important thing is I'm healthy, Kevin's healthy, and we're ready to roll."
But ... but ...
There are not buts. The Celtics wrap up a three-game road trip Monday in Utah, a team it walloped at home, and a win could cement the public approval rating.
With 13 games to go, the schedule doesn't get any easier for Boston and a couple of losses could push their devoted followers back to the ledge.
But, for now, there's no reason to fret. Celtics fans can revel in the fact that this team looks like a legitimate postseason contender for the first time in a long time.
March, 21, 2010
3/21/10
1:17
AM ET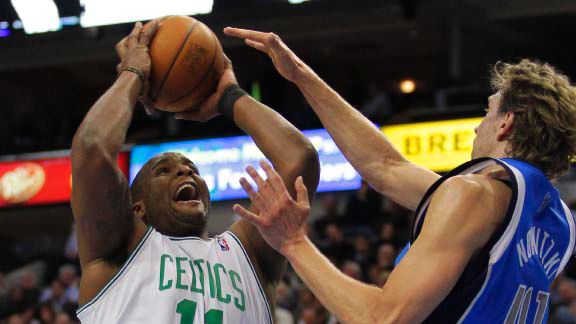 Tim Sharp/AP PhotoOn a quiet night for the Boston bench, Glen Davis provided a spark.
A collection of postgame news and notes after the
Boston Celtics
posted a 102-93 triumph over the
Dallas Mavericks
at the America Airlines Center:
Doc's Opinion: Confident Pierce
Celtics coach
Doc Rivers
has wanted to re-establish
Paul Pierce
as the team's go-to scoring option late in recent games. With 10 games scoring in double figures out of 12 appearances this month, Pierce seems to be heating up, particularly after topping 26 points or more over the past three games. Even still, Rivers wants to see him more selfish at times.
"[Pierce is] starting to get his confidence," said Rivers. "Right now he's still searching a little bit. You can see it during the middle of games more. I got on him in a time-out because I thought he was looking to pass too much, which I don't think I've ever had to say that to Paul, and told him to just be aggressive. 'Just be who you are,' and he was that. I thought Rondo was sensational as well in the pick-and-roll package down stretch."
About the only thing that went wrong for Pierce Saturday: His top-seeded Kansas Jayhawks were upset by ninth-seeded Northern Iowa, 69-67, in a second-round matchup.
Ray's take: Defensive win
: While Boston's offense shined, players and coaches seemed most excited by the play of the defense. "I think, defensively, we made the right plays," said
Ray Allen
. "We got stops, but they had a couple of looks at the basket where it could have gone either way. Offensively, we did some things where we got the shots we wanted."
Said Rivers: "I was just happy with our defense. We got stops, and then we made baskets down the stretch."
And how exactly did Boston limit
Dirk Nowitzki
, who scored 28 points on 11-of-19 shooting, but finished with a minus-12 in the plus/minus category?
"You don't [stop Nowitzki], you pray," joked Rivers. "He's tough. He really is. He's so long. There's never been a player like him. There's a new one in Oklahoma that's similar [in
Kevin Durant
]. But other than that I've never seen anything like that. He's a freak of nature. He's long, he's athletic, he can shoot, he's tough, and I thought he had a heck of a game but we did as well as you could do."
Bench production
: For the ninth time this season,
Jason Terry
single-handedly outscored the entire opposing bench. Terry contributed 18 points on 8-of-16 shooting over 32 minutes, while Boston's bench scored 13 total points, highlighted by seven from
Glen Davis
.
Loose balls
: Dallas guard
Jose Juan Barea
, a Northeastern product, missed Friday's practice with an illness, but he suited up for Saturday's game, scoring three points in 12 minutes...
Kevin Garnett
registered a season-high five steals in the win... Saturday's attendance was 20,488. The Mavs have sold out 352 consecutive regular season games at the American Airlines Center and currently own the longest running sellout streak in the NBA. Dallas has sold out all 41 games in each of the past seven seasons.
March, 20, 2010
3/20/10
11:30
PM ET
Instant reaction after the
Boston Celtics
posted a 102-93 triumph over the
Dallas Mavericks
Saturday night at the America Airlines Center:
How the game was won:
Paul Pierce
registered a game-high 29 points on 10-of-17 shooting, while
Rajon Rondo
chipped in 20 points, 10 rebounds, and 5 assists as the Celtics surged late past the Mavericks.
Ray Allen
finished with 21 points on 7-of-13 shooting with a quartet of 3-pointers, posting a team-best plus-24 in the plus/minus category.
Dirk Nowitzki
paced the Mavericks with 28 points on 11-of-19 shooting over 42 minutes.
Turning point:
In a game that rarely tipped heavy one way or the other, the Celtics were nursing a one-point advantage when Pierce drained a 3-pointer from the top of the key, then registered a steal that led to a layup in transition for Rondo as Boston opened a 99-93 advantage with 1:17 to play. The Mavericks did not register a field goal over the final three minutes of play and the Celtics scored the final eight points.
Turning point II
: Dallas led, 82-75, with 8:34 to go in the fourth frame when Boston embarked on a 15-6 run to pull ahead 90-88. It was back and forth for a bit before the Celtics surged to the finish line.
Stat of the game:
Boston's starters shot 55.7 percent overall (34 of 61) and combined for 89 points.
Unsung hero:
On a night the Boston bench offered little in terms of productivity,
Glen Davis
chipped in seven points on 3-of-5 shooting with four rebounds over 17 minutes. The rest of the five-man bench combined for six total points.
What it means:
The Celtics obtained that "quality" win the team had been so desperately seeking by taking down a team that had won 14 of its last 15 while surging towards the top of the Western Conference standings. Not only did Boston beat the Mavericks, they did it on the second night of a back-to-back, mustering up the energy to match Dallas step for step after a gritty win in Houston.
March, 20, 2010
3/20/10
2:00
PM ET
Warning: Wallace coming for retribution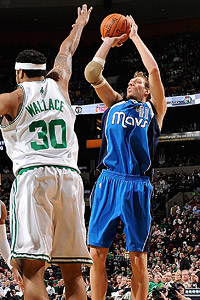 Brian Babineau/NBAE/Getty ImagesRound 2: Dirk Nowitzki vs. Rasheed Wallace.
That's the
headline this morning
at our sister site,
ESPN Dallas
, as
Rasheed Wallace
and the
Boston Celtics
prepare to visit the
Dallas Mavericks
Saturday evening at American Airlines Center. If you remember when the Mavericks visited Boston back in January, Wallace got himself in trouble with the league for criticizing officials after landing in foul trouble while guarding
Dirk Nowitzki
.
As part of his tirade against the officials -- which ended up
costing him $35,000
-- Wallace noted he'd seek "retribution" when the teams met again. It was pretty innocuous, actually, but when Wallace speaks, people tend to listen.
So, two months later, as the teams prepare to joust for the second and final time this season, there's a curiosity in Dallas about what Wallace meant by retribution.
But here's the thing: Wallace's focus needs to simply be on playing well. And, let's be honest, Wallace has been fined enough throughout his career that it's not like the $35,000 from January has lingered with him.
Coming off one of his more solid efforts of the past two months Friday in Houston, Wallace will undoubtedly be a key cog in helping to defend Nowitzki and the surging Mavericks. But Wallace is hardly the impact player he was when the teams first met.
Wallace posted his best month of the season in January, due in large part to the starts he drew in place of injured
Kevin Garnett
, averaging 13.1 points, 4.6 rebounds and 1.5 assists over 30.6 minutes per game that month. Since then it's been a steady decline, with Wallace averaging 7 points, 4.2 rebounds and 0.5 assists over 20.1 minutes in March.
Wallace has struggled with his shot -- both inside and out -- since then, but in Friday's win over the Rockets, he grabbed nine rebounds in 19 minutes, while scoring seven points. For a day, people won't be screaming for an uptick in minutes for little-used
Shelden Williams
.
But don't expect any "retribution" tonight. If anything, Wallace simply needs to use this rematch as added incentive to elevate his game further, especially with the playoffs inching near.
Wallace got in trouble when he noted back in January: "[The officials] don't like tough defense on [Nowitzki], so, of course, I get a whole lot of [expletive] calls. That's how the story goes, I'm not worried about it. We'll see them again."
The Mavericks made a late third-quarter run with Wallace on the bench with four fouls. Asked if he thought that was the difference in the game, a 99-90 Dallas victory, Wallace said, "Actually, I honestly can't remember which one the fourth foul was, there was so many bogus [calls], but I'm not worried about it. Like I said, we'll see them again. We go down there in about a month or so. There will be retribution."