March, 23, 2010
3/23/10
2:00
AM ET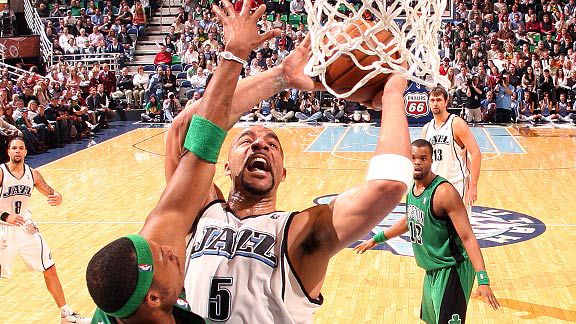 Melissa Majchrzak/NBAE/Getty ImagesOnly foul trouble slowed Carlos Boozer Monday night.
The first inclination is to suggest Boston showed its age Monday night in Utah.
But playing their sixth game in nine days, including the third road contest in four nights, the Celtics simply appeared to run out of gas while falling to the
Utah Jazz
110-97 at the EnergySolutions Arena in Salt Lake City.
The Celtics finished a rugged road trip at 2-1, and have won five of their last seven. The Green failed to lock up a playoff berth Monday (a formality at this point), but more disappointingly, also failed to gain ground on Atlanta in the race for the third seed in the Eastern Conference. The Hawks fell to surging Milwaukee.
Despite a lackluster final 26 minutes Monday, Celtics coach
Doc Rivers
didn't seem overly concerned.
"No, we just lost the game," said Rivers, when asked if Monday constituted a step backward as his team's four-game winning streak was snapped. "We're not going to overdo this. We'll let [the media] analyze this and figure out why we lost. They outplayed us. They made shots, moved the ball, attacked us. They were the better team tonight."
Rivers seemed to suggest that the positive energy from a successful start of this road trip wouldn't be tempered by Monday's loss.
Sure, the Celtics weren't happy to give away a double-digit lead after outplaying the Jazz so thoroughly in the first half, but Boston's starters simply didn't have it Monday.
It happens. As long as it doesn't become a pattern over the final 12 games, the Celtics can live with losing to a quality opponent.
Even still, Boston is likely to look back and realize it let one get away, particularly as its previously rock-solid defense went soft.
"We closed out the first half terribly," said Rivers. "We had a [12-point] lead, then we had four or five turnovers. What we did was give them hope. They cut it to five [at halftime]. Then in the third quarter, we didn't get any stops and they scored every time down. Then we stopped moving the ball and everybody was trying to make plays on their own.
"That happens. I can live with that."
Click
HERE
to read the full story.
March, 23, 2010
3/23/10
1:44
AM ET
Celtics coach
Doc Rivers
had already waved the white flag by subbing in little-used reserves
Tony Allen
and
Shelden Williams
with 2:12 to play in Monday's game against the Jazz. But that didn't mean he planned to stop coaching, and his disappointment at a lack of a traveling call against Utah led to an early departure for Boston's helmsman.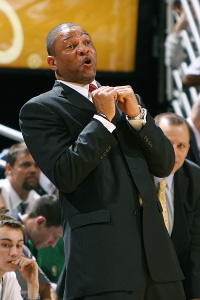 Melissa Majchrzak/NBAE/Getty ImagesDoc Rivers earns his second technical and an automatic ejection in Monday's loss to Utah.
Referee Ed Malloy hit Rivers with a technical for arguing against the non-call with 1:11 to play, then ejected him with a second technical for mocking the referee from the sideline.
"I just told Ed, please keep officiating the game," said Rivers. "That's all I said. I thought the play before [the technical] was a clear travel in front of him. So I just said, 'Hey Ed, it'd be nice if you'd keep officiating throughout.' He gave me a tech. Then I said, 'That's the best call you've made all night.' Usually, it's nice to earn them, but [Monday's technicals were] another bad call."
Rivers admitted he was surprised to earn the first technical, but he hammed it up a bit on the sideline after the initial infraction, leading to the heave-ho.
Kendrick Perkins
gave his coach a high-five at the end of the Boston bench as Rivers departed.
"Let me be clear, the refs didn't lose the game for us -- the Jazz did more things in the second half and I thought they played terrific," Rivers said before elaborating on his run-in with Malloy. "I was just upset. I didn't think he made the call in front of him, so, you know, I got thrown out for that. He has the right to do that. As a coach, they say you're out, and you've got to go. So I left."
Rivers did keep his sense of humor about the situation.
"I didn't swear -- we're in Utah, so I respect that," Rivers joked, drawing laughter from reporters.
It was Rivers' second ejection of the season. He was also tossed after a meltdown against the Hawks on Jan. 11 when he took umbrage with a flagrant foul (later rescinded) called on
Glen Davis
.
March, 22, 2010
3/22/10
11:42
PM ET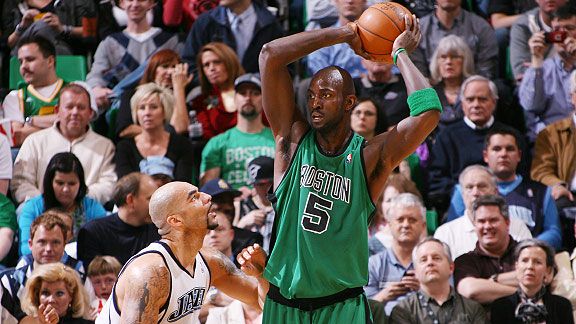 Melissa Majchrzak/NBAE/Getty ImagesThe Jazz dominated the second half Monday night.
Instant reaction after the
Utah Jazz
posted a 110-97 triumph over the
Boston Celtics
Monday night at the EnergySolutions Arena in Salt Lake City:
How the game was won:
The Celtics started strong, but faded fast over the final 26 minutes, dropping the last game of a three-game road trip.
Glen Davis
provided the biggest spark, scoring nine of his 13 points in the first quarter, and Boston led by double digits in the second period, but couldn't hold on.
Ray Allen
finished with a team-high 15 points, but
Paul Pierce
-- fresh from being named Eastern Conference Player of the Week -- struggled, going 3-of-13 from the field for 11 points.
Doc Rivers
capped the festivities by getting ejected with a little more than a minute to play.
Turning point:
The Celtics outplayed Utah throughout the first half (and were the beneficiary of plenty of favorable whistles), but needed a late second-quarter burst to open a 12-point lead with two minutes to play in the half. But Utah wouldn't go quietly into intermission, scoring the final seven points of the half to trim the lead to five before the break.
Turning point II:
The Jazz opened the second half by scoring the first nine points -- stretching their run to 16-0 -- and another 7-0 burst a short time later helped Utah's lead balloon to 14 with 6:41 to play in the third quarter.
Stat of the game:
Utah's starters outscored Boston's first unit 88-49. Whether it was tired legs or simply poor play, the Celtics' starters simply didn't have it Monday.
Unsung hero:
Davis scored five points and took a charge in the first minute he was on the court as part of a monster first half. Things got ugly in the second half, including when he took an elbow to the nose and needed medical attention before returning with a cotton plug jammed in a nostril.
What it means:
The Celtics finish a rugged road trip at 2-1, still a favorable mark for the competition they saw. It doesn't get much easier, even as the team returns home for a season-long six-game homestand. The first five games feature more Western Conference opposition before a visit from the Eastern Conference-leading
Cleveland Cavaliers
on Easter Sunday.
March, 22, 2010
3/22/10
2:00
PM ET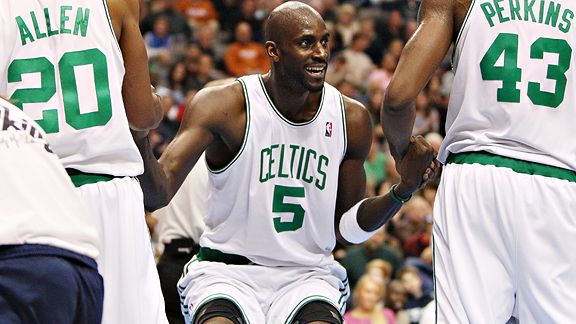 Matthew Emmons/US PresswireKevin Garnett has reason to smile lately.
It was a simpler time.
When the Celtics met the Jazz back in November, Boston emerged with a breezy 105-86 triumph, improving to 8-1 on the young season.
Rasheed Wallace
openly speculated about challenging the NBA record of 72 wins,
Kendrick Perkins
discussed
Doc Rivers
' challenge of being the best defense in sports since the 1985 Bears, and
Kevin Garnett
was talking about "
running through cornfields
," because he felt so healthy again.
(Sigh) Those were the days.
Between then and now, the Celtics got a bit lost in the cornfields KG was gleefully running through. Before this recent four-game winning streak, Boston was a pedestrian 33-23 since that early season win over the Jazz. And considering Boston won 15 of its next 19 games after topping Utah, it shows just how much this team struggled in recent months.
OK, so the regular season hasn't gone exactly to plan. But for the first time since that first Jazz meeting, there's a sort of optimism and buzz around this team that we haven't seen in the new calendar year.
A win Monday night would punch Boston's playoff pass. While that's not the sort of champagne-popping accomplishment of a sport like baseball, there's something to be said for crossing an accomplishment off the season to-do list.
What's more, a win Monday would cap a sweep of this three-game road trip that featured two of the top four teams in the Western Conference, and a Rockets team that would be challenging for the fifth spot in the Eastern Conference (Houston, in the wild West, is instead on playoff life support).
A victory would also push Boston's road record to a glossy 25-12 with four road games to go. While a return trip to Milwaukee, where the Green fell earlier this month, isn't a slam dunk, there's the very real possibility that the Celtics could close out the season at 29-12 on the road -- almost as sterling a mark as the 31-10 record they boasted in their championship season of 2007-08.
Click
HERE
to read the full story.
PODCASTS
Baseball Tonight - Lester Moving?
Play Podcast Buster Olney and Jayson Stark talk about the chances that Jon Lester and David Price will be moved before the deadline. Plus, Roch Kubatko on the Orioles' momentum.
Tedy Bruschi, NFL
Play Podcast ESPN NFL analyst Tedy Bruschi weighs in on the responsibility Tom Brady shoulders for the Patriots, Rob Gronkowski's physicality and how New England will use Darrelle Revis.
Baseball Tonight
Play Podcast Buster Olney talks to Alex Speier, Karl Ravech and Justin Havens about whether the Red Sox will move Jon Lester before the trade deadline, pace of play and much more.