March, 27, 2010
3/27/10
12:24
AM ET
BOSTON -- A collection of postgame news and notes after the
Boston Celtics
defeated the
Sacramento Kings
Friday night at the TD Garden:
The rundown
(a quick look at the postgame headlines)
* Big Baby finds a way into Doc's doghouse
* Doc is a nickname... but he has injury updates on Perk, Nate
* Atlantic Division champs! But that champagne stays on ice
Big Baby finds a way into Doc's doghouse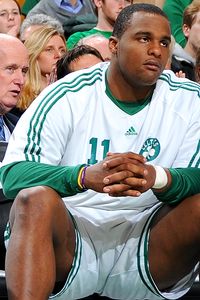 Brian Babineau/NBAE/GettyGlen Davis' view from the doghouse.
Even as the Kings bit into a Celtics' lead that soared as high as 24 points in the second half, little seemed like it could frustrate a Celtic team that had everything going for it over the first 2 1/2 quarters of the game.
Then
Glen Davis
picked up an ill-advised technical foul late in the third quarter and Celtics coach
Doc Rivers
responded by benching him for the remainder of the game.
"You don't get a tech in that situation," said a clearly annoyed Rivers, who immediately yanked Davis with Boston up 72-54 with 1:15 remaining in the third frame. "When you're up 18 points, again, your team is struggling. You're not [Kevin] Garnett or one of those guys. You don't get the liberty to talk anyway to the officials. I don't know, clearly, he earned it, I guess. But you just don't get it. And he wasn't playing well anyway, at that point. But I thought he was playing like the score and I just told him, he's not at that point yet in his life where he can turn it on or off. And we need him to be an every-possession player. And I didn't think he was that tonight."
Davis plowed over Sacramento guard
Beno Udrih
while scrambling for a loose ball and earned his fourth foul. Surprised by the call on a night in which he was just 1 of 4 from the field for five points with four rebounds, Davis vented to the nearest official and quickly picked up the technical.
The Kings went on to rally within six before Boston's starters secured the victory late.
Marquis Daniels
also spent a bit of time in that doghouse Friday, not checking into the game until the final 2:30 minutes of the third quarter. Given Daniels' struggles recently,
Tony Allen
logged 12 minutes of action. Daniels chipped in 2 points on 1-of-3 shooting with a minus-10 in the plus/minus category over six minutes as the bench universally struggled.
Doc is just a nickname... but he has updates on Perk, Nate
Rivers is fond of nothing that "Doc" is just a nickname, but he did provide a brief rundown on the sudden burst of maladies affecting a team that seemingly just got healthy for the first time this season.
Kendrick Perkins
, who sat out Friday's game with a sore left knee, has been diagnosed with tendinitis. Rivers expects Perkins will also sit out Sunday night's game against the Spurs.
Nate Robinson
, who left Friday's game midway through the second quarter with what the team dubbed a sprained left ankle, lobbied to return, but Rivers pegged his chance of playing Sunday at a coin flip, based on how the swollen ankle responds the next two days.
Rivers on Perkins: "It's tendinitis. I guess it's been bothering him for a while, but I didn't know to how bad it was. And [Celtics trainer] Eddie [Lacerte], right after the game [Wednesday vs. the Nuggets] came to me and said, 'Hey, you've got to talk Perk into sitting down because it's not working with me.' So we just had a little conversation."
Rasheed Wallace
started in place of Perkins and was woefully ineffective, logging a mere one rebound over 25 minutes with six points before fouling out. He did register three steals and three blocks.
Rivers on Robinson: "Nate wanted to come back in in the second half, but his ankle was huge. And you know you just got to get our guys to understand that it's about being healthy."
Allen got time as the backup ball-handler with the second unit, finishing with six points on 3-of-4 shooting with four rebounds and an assist.
Atlantic Division champs! But that champagne stays on ice
Before the Celtics could even secure the Atlantic Division title with a win over Sacramento, Toronto handed them the division crown with a loss Friday night to the Nuggets. But. two days after ensuring themselves a postseason berth, the champagne remained on ice in Boston.
"I didn't know that," Rivers said of the division title. "So, I guess that's good. It's obviously not what we're trying to do. I mean, it's nice -- 20 years from now, when I'm bragging to my grandkids and lying. Obviously, when you have a team with your goals so high, you don't really focus on it."
Celtics forward
Kevin Garnett
echoed Rivers' sentiments: "I wasn't even aware of that. I don't think that anybody in the locker room said anything like that. I think tonight we were more appreciative of [Rajon] Rondo, and his accomplishments. Any time you get any kind of record in this organization on a team like what we have, it's a huge thing. We are just of appreciative of being in the moment, being here, being a part of it. It is a very special moment, and no one even talked about the division title tonight. Tonight was Rondo's night."
Click
HERE
for more on Rondo's night.
March, 26, 2010
3/26/10
10:07
PM ET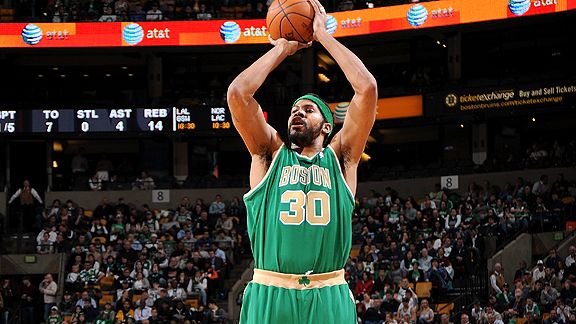 Brian Babineau/NBAE via Getty ImagesTwenty-five minutes, one rebound for Rasheed Wallace. But the C's still won.
BOSTON -- Instant reaction after the
Boston Celtics
posted a 94-86 triumph over the
Sacramento Kings
Friday night at the TD Garden:
How the game was won:
The end result was seemingly never in doubt, but the Kings actually managed to trim a 24-point, second-half deficit to six with little more than three minutes to play.
Rajon Rondo
set a career high with 18 assists, while
Paul Pierce
(22 points) and
Ray Allen
(20 points) shouldered the scoring load for Boston.
Champions alert
: The Celtics needed a win to wrap up the Atlantic Division title, but Toronto beat them to the punch. With the Raptors' loss to Denver, Boston secured the division crown for the third straight season.
Turning point I:
Up five with five minutes to play in the first quarter, the Celtics embarked on a 14-4 run to close out the frame and open a 15-point advantage. That lead ballooned as high as 24 late in the second frame as Ray Allen scored 18 first-half points and Rajon Rondo handed out 10 first-half assists.
Turning point II:
Clinging to that six-point lead late in the game, Pierce scored off an easy inbound feed as Boston scored the game's next five points to push the lead back to double digits.
Stat of the game:
Boston shot 40 percent (below Sacramento's 42.5 percent), but still emerged with the win thanks in part to 13 offensive rebounds.
Stat of the game II:
The Celtics finished with a season-low eight turnovers.
Unsung hero:
With
Kendrick Perkins
sidelined by a sore left knee and
Rasheed Wallace
providing little in the way of production,
Shelden Williams
came off the bench to chip in 6 points and 3 rebounds over 23 minutes.
What it means:
The Celtics have now won five in a row at home, prolonging their longest winning streak of the season at the TD Garden with four more games to go on this homestand. After a laugher of a first half, it got a bit dicey in the second half, but Boston kept the Kings at arm's length.
March, 26, 2010
3/26/10
6:59
PM ET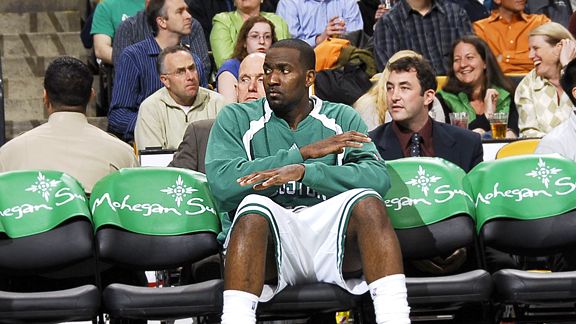 Steve Babineau/Getty ImagesKendrick Perkins (sore left knee) missed only his second game of the year.
BOSTON -- A collection of pregame news and notes before the
Boston Celtics
host the
Sacramento Kings
Friday night at the TD Garden:
The rundown
(a quick look at the pregame headlines)
* Perkins (sore left knee) inactive; Wallace to start
* Loose balls: A collection of quick notes from pregame
Perkins (sore left knee) inactive; Wallace to start
Celtics center
Kendrick Perkins
is inactive with a sore left knee,
Rasheed Wallace
will take his spot in the starting lineup.
Coach
Doc Rivers
didn't offer news of the injury during his pregame chat with the media and it was only revealed when lineup cards were turned in. Perkins logged only 23 minutes in Wednesday's win over the Nuggets, scoring seven points and grabbing five rebounds. He started the second half, departing with 3:47 to play in the frame, and did not return as Boston opened a comfortable lead.
For Perkins, it's only the second game he's missed this season. He did not accompany the team on a trip to Detroit earlier this season while battling flu-like symptoms. The Celtics emerged with a 105-100 triumph that night.
The Celtics are 5-4 with Wallace in the starting lineup this season. He also started a stretch of games when
Kevin Garnett
was sidelined with a hyperextended right knee.
Loose balls: More time for TA, Arenas reaction
* Based on his performance against the Nuggets (13 points in 20 minutes), Celtics coach Doc Rivers suggested there could be a larger role carved out for him moving forward, even as the team prepares to shrink its rotation in the playoffs.
"I think so, we'll wait and see how the games going, with matchups," Rivers said when asked about an uptick in playing time. "Tony has been terrific. As I said before [the Nuggets] game, he really has been. We're hoping keep him in that place, that'd be terrific."
Rivers reaffirmed that he doesn't feel the need to shrink the rotation until the playoffs are actually here, but seemed to hint that Allen could still play his way into action.
"We pretty much know the 9-10 guys, but maybe one spot is still up for grabs," said Rivers. "Other than that, we're pretty set with where we want to be."
*
Ray Allen
was asked about the
Gilbert Arenas
sentencing and at first joked as if he wasn't going to talk about it by noting, "Both teams played hard" (a familiar catchphrase when avoiding saying something negative about officials and others). Allen ultimately did elaborate, stressing that he thinks Arenas is a good person, but noting that the law is the law. It did lead to a fairly humorous back and forth with
Nate Robinson
as the pair discussed the potential perils of prison life.
*
Rajon Rondo
, on the verge of establishing a new Celtics' single-season steals record, held court with the media before Friday's game, talking about the art of steals and how he's learned to gamble less this season (which obviously hasn't hurt his steal numbers).
Rondo needed a single steal Friday to surpass
Rick Fox
, who swiped 167 passes during the 1996-97 season.
"I don't have the record," Rondo joked as he was peppered with questions. Keeping it light, he noted, "I hope I trip and fall on one tonight."
Rondo (678 assists) also entered the game within striking distance of
Sherman Douglas
' mark of 683 assists in 1993-94. That's good for second on the Celtics' single-season record book. Rondo is also closing in on Bob Cousy's record of 715 assists set in 1959-60.
March, 26, 2010
3/26/10
11:45
AM ET
The Kings announced on Thursday that guard Tyreke Evans will miss the team's next two games, including Friday's tilt with the Celtics. Here's a bit more from the
Sacramento Bee
: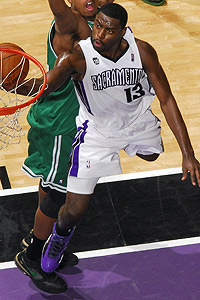 Rocky Widner/NBAE/Getty ImagesSacramento's Tyreke Evans remains sidelined for Friday's game vs. Boston.
As the Kings neared the end of practice at Emerson College on Thursday afternoon, Tyreke Evans strolled over to the huddle and joined his teammates, as though everything was OK.

Unfortunately for Evans and the Kings, that wasn't the case.

The team said Evans, who still feels the effects of the concussion he suffered last Friday night against the Milwaukee Bucks, would miss the next two games.

Evans, who has missed the previous three games, will sit out today against the Boston Celtics and Sunday in Cleveland against the Cavaliers.

"He didn't look too well," Kings coach Paul Westphal said. "He got dizzy again, and we pulled him out of practice."
Evans flirted with a triple-double when the Celtics visited Sacramento last month, registering 17 points, 11 rebounds, and 7 assists over 41 minutes. He made the final moments tense, hitting a 3-pointer with 6.5 seconds to play to pull the Kings within a point, but Boston hung on to emerge with a 95-92 triumph on the first game after the All-Star break (also Eddie House's final game with the Green).
After punching their postseason pass with Wednesday's win over the Nuggets, the Celtics can lock up the Atlantic Division crown Friday with a win over the Kings (or if Toronto loses to visiting Denver). Boston is 10.5 games up on the Raptors with 11 games to go on its schedule.