March, 29, 2010
3/29/10
2:15
PM ET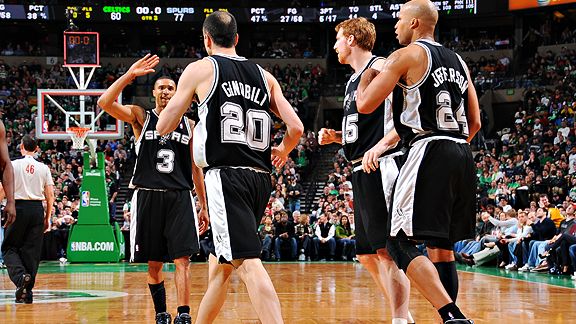 Steve Babineau/NBAE/Getty ImagesThe Spurs had plenty of reasons to celebrate at both ends of the court Sunday.
A couple of noteworthy stats from our ESPN Stats and Information folks that showcased why Boston struggled so badly in Sunday's loss to the Spurs:
1) The Celtics finished with their lowest point total since the Big Three united, highlighted by an inability to hit shots beyond the paint. Boston shot 37 percent overall (its second worst performance this season) and scored 30 second-half points, matching a season low. A big part of those troubles stemmed from an inability to score on jump shots.
The Celtics were a cringe-worthy 7 of 40 overall (17.5 percent) on jump shots for the game.
Rasheed Wallace
hit the team's only 3-pointer of the night in the first half, and Boston finished 1 of 14 from beyond the arc overall (missing all five trifectas it took in the second half).
2) At the other end of the floor, it wasn't much prettier, with
Manu Ginobili
slaying the Celtics off the dribble. Ginobili scored 20 of his game-high 28 points in the middle frames, handing out five assists in that span as well. The Spurs outscored Boston, 58-37, during those two quarters. But Ginobili proved most effective creating offense for himself, attempting 12 of his 19 field goals off the dribble (including 9 of 13 in the middle frame). Not only that, he got to the rim for a layup attempt eight times in that span.
Ginobili finished 7 of 12 off the dribble (5 of 9 in the paint) for 21 points. Off the pass he was 2 of 7 for 7 points.
"Manu's been playing great for the last month," said Spurs coach Gregg Popovich. "He's basically taken over the team. He's been the same Manu we've had when we won championships, so you know without Tony [Parker] it's really important for somebody to step up like that and he's done it."
The Celtics lobbed similar compliments, with
Kevin Garnett
stressing that Ginobili "imposed his will on the game." Even still, Wallace couldn't resist an under-the-radar jab.
"Manure did his thing," said Wallace, who earlier this season dubbed Toronto's Hedu Terkoglu, "Turkododo" while complaining about his flopping. "He opened the floor for them, we tried to trap him, but he made the basketball pass to the open man, or they made the extra pass after that. It's basic basketball. Honestly, man, there's not too much more to say about that. We tried to do a good job on him, but he got off. He got loose a little bit on the first half."
March, 29, 2010
3/29/10
1:03
AM ET
BOSTON -- A collection of postgame news and notes after the
San Antonio Spurs
defeated the
Boston Celtics
Sunday night at the TD Garden:
The rundown
(a quick look at the postgame headlines)
* Pierce sore after enduring shoulder stinger in third quarter
* Doc's Opinion: 'One of those nights' vs. Spurs
* Loose balls: No extra emotion for Finley
Pierce sore after enduring shoulder stinger in third quarter
Celtics captain
Paul Pierce
crumpled to the ground in pain after being hit on his right shoulder while attempting a shot midway through the third quarter.
Pierce got tangled with San Antonio's
Manu Ginobili
in traffic near the lane and drew a foul going up for a shot attempt. He landed on his feet, but soon fell to the ground clutching his right shoulder. He was attended to on the court, but stayed in the game through a timeout, and proceeded to miss the front end of two free throws.
Celtics coach
Doc Rivers
soon subbed for Pierce, but he shot the coach a quizzical glance coming to the bench, then refused to be examined by trainer Ed Lacerte who came over to check on him. Pierce subbed back in a short time later and finished with a team-high 18 points (only five of which came after the injury scare).
"It's a little sore," Pierce said after the game. "It's a stinger -- I've got some numbness down the right side of my arm, but hopefully it doesn't get any worse."
Pierce, the reigning Eastern Conference Player of the Week, finished 4-of-11 shooting, missing all three 3-pointers he attempted, and generating 10 of his points at the charity stripe. This was only the second game in his last six that he's been held below 22 points.
Pierce didn't elaborate much on how the injury happened.
"I don't know, I ducked my head or something," said Pierce. "It's a collision. I mean, you guys watched the game and saw the replays, I hope."
Doc's Opinion: 'One of those nights' vs. Spurs
Some nights the explanation about why a team played so poorly is simple. And Doc Rivers didn't get too deep when describing his team's struggles while setting a new season-low for scoring in a 94-73 loss to the Spurs.
"We just didn't play well, really," said Rivers. "I thought early on we had great shots and they didn't go in. I thought we pressed a little bit, and started forcing instead of [relying on] ball movement, offensively. And they won the 50-50 game. It was one of those nights, guys. We played awful. I thought they wanted to play.
"The first quarter I thought was terrific. I thought the bench came in in the second quarter and just everybody went [isolation.] There was no ball movement at all with that group. And then after that I thought the starters came back in, got us back into the game, and then the third quarter was awful for us. But I thought in the third quarter is when they stopped moving the ball, I thought, offensively. And, defensively, we struggled all night. Ginobili was fantastic and [DeJuan] Blair in the fourth quarter was a one-man wrecking crew."
The Celtics did a decent job on
Tim Duncan
(8 points, 9 rebounds over 26:31), but Rivers said the team had no answer for Ginobili.
"Oh, I could look at the box score before the game and say, 'I would take that on their end.' Except for Ginobili, he said. "When Ginobili has points and assists they usually win. And 28.7 assists is a great indicator for them. That means his hand print [is there and] Ginobili dominated this game. All the loose balls that he kept alive, that he didn't get credit for, defensive plays -- I thought he single-handedly was the will of the game. And then Blair just followed in. But once you get a chance to beat a team on the road, and a team like us, your energy does go up. And you can see that with them in the fourth quarter. It was going to be tough to turn it around."
Loose balls: No extra emotion for Finley
* Competing against his old team for the first time since requesting and receiving his release earlier this month, Celtics swingman
Michael Finley
said he didn't have any extra emotions facing the Spurs. "Tonight wasn't really that big of a deal," said Finley, who went scoreless over 13:23, missing both shots he took.
*
Kevin Garnett
's take on the loss: "I don't know, I just think we were just flat, we weren't aggressive. I thought we put a lot on Paul to score the ball. I don't think the ball was moving as it was the first half and we gotta get better at that." Asked about Ginobili, KG added: "I think he definitely imposed his will on the game, that was apparent. I thought when he was in there, for the 35 minutes he played, he was aggressive... He was setting guys up, getting guys open shots. He's been playing well over the last four or five games. We were well aware of that. He just got into a groove where he was scoring and setting guys up for the long ball."
* Celtics forward
Rasheed Wallace
ended a bit of media silence (if our notes are correct, he hadn't talked postgame with reporters since the middle of the month) by chatting after Sunday's loss. Like Rivers, he chalked up the defeat to "basic basketball." Asked about what the Spurs did to neutralize the Celtics, Wallace said, "They're a veteran team, a championship-caliber team -- like we are -- and they don't try to do too much. They just play basic basketball." Making his second start in place of
Kendrick Perkins
(left knee tendinitis), Wallace finished with seven points and eight rebounds over 25 minutes.
March, 28, 2010
3/28/10
10:43
PM ET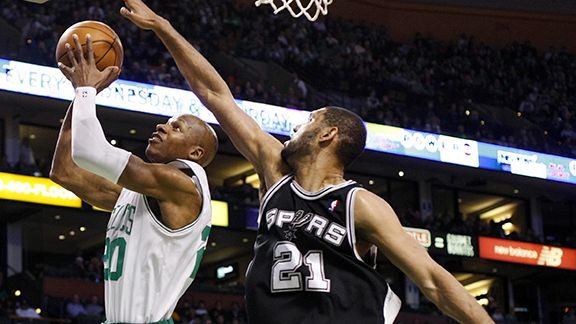 Greg M. Cooper/US PresswireRay Allen goes to the rim with Tim Duncan defending.
BOSTON -- Instant reaction after the
San Antonio Spurs
posted a 94-73 triumph over the
Boston Celtics
Sunday night at TD Garden:
How the game was won:
The Celtics were held to a season-low 73 points on a night they shot 37 percent from the floor and matched a season-low with a mere 30 second-half points.
Manu Ginobili
scored 28 points, while
Richard Jefferson
(16) and
George Hill
(15) helped pace the Spurs.
Paul Pierce
had a team-high 18 points despite 4-of-11 shooting (he was 10-of-11 at the free throw line).
Turning point:
The Celtics limited San Antonio to 19 first-quarter points, but the Spurs scored 21 points in less than seven minutes in the second quarter to open a double-digit lead at 40-30 with 5:10 to go in the half. Ginobili did most of the damage, scoring 12 of his 16 first-half points in the period.
Turning point II:
The Celtics were forced to play catch-up the rest of the game, but rallied within a point at intermission. San Antonio promptly embarked on a 12-0 run to start the half, culminating with a 19-foot jumper by
Antonio McDyess
for a 56-43 lead little more than two minutes in.
Stat of the game:
The Celtics shot 37 percent (27-of-73) from the floor, only marginally better than their worst shooting performance of the year (34.5 percent vs. Orlando on Nov. 20).
Unsung hero:
Shelden Williams
connected on all five shots he took, registering 11 points in 11 minutes. Tempering his night slightly, Williams grabbed just one rebound and committed four fouls.
Sunday Not-So Funday:
The Celtics dropped to 6-7 on Sundays this season, including 3-4 at home. The only other day Boston has a losing record on is Thursday (2-3 overall, 0-2 at home).
What it means:
This will do little to quell the notion that the Celtics can't win against quality competition. The good vibes built by five consecutive home wins take a strong hit after this lopsided loss. Boston will have two days to sit on this performance before hosting upstart Oklahoma City on Wednesday.
March, 28, 2010
3/28/10
7:54
PM ET
BOSTON -- A collection of pregame news and notes before the
Boston Celtics
host the
San Antonio Spurs
Sunday night at the TD Garden:
The rundown
(a quick look at the pregame headlines)
* Doc's injury update: Perkins out, Robinson in
* Popovich on Finley: 'We honored Michael's request'
* Loose balls: Scal lands low blow on Robinson
Doc's injury update: Perkins out, Robinson in
The Celtics held
Kendrick Perkins
out for the second straight game as he battles tendinitis in his left knee. Coach Doc Rivers indicated Boston's center is likely to return Wednesday night against Oklahoma City, but said the team is using caution with the playoffs around the bend.
"I'm pretty sure he'll play Wednesday," said Rivers. "For him, I don't think it's anything that serious -- [but] tendinitis can be, it can linger. When you come back, it can start right back up, but that's why we're trying to head it off. Hopefully we've done it in time."
While Perkins remains sidelined (
Rasheed Wallace
drew the start), reserve guard
Nate Robinson
will be available after the left ankle he sprained in Friday's win over the Kings responded well for the second straight day.
"Nate's fine," said Rivers. When asked if the backup point guard would face any minute restrictions, Rivers laughed and noted, "No more than normal, anyway. He's not playing a lot right now."
Popovich on Finley: 'We honored Michael's request'
Spurs coach Gregg Popovich said
Michael Finley
's release earlier this month was a simple situation: The veteran swingman asked for his release and the Spurs provided it.
"We honored Michael's request to seek another team," said Popovich, who noted the 37-year-old Finley had been squeezed from the rotation as others leapfrogged him on the depth chart. "He asked and we decided to do it, and do it the right way before the [playoff eligibility] cutoff date, so he could go to a team and play in the playoffs. It happened quickly. I think it was the weekend before, with the deadline on Monday or Tuesday. We talked about it at my house over the weekend and granted his request."
Popovich sounded businesslike while discussing the situation, and while he said the request certainly surprised him, he noted he held no malice against Finley.
"Everybody asks about it," said Popovich. "I was surprised when he asked that, I didn't think that was something that Michael Finley would ask to do. But one has to be realistic. You put yourself in those shoes and, if you are toward the end of your career, and someone's not going to play you, and you still want to play more basketball, what's wrong with asking to play elsewhere and trying to play as well as you possibly can? If that's what you want to do -- and that's what he did -- I don't blame him for that a lick. There's no malice -- he's one of the great guys I've coached. He wanted to keep playing and he didn't want to sit there on the bench for the rest of the season. There's nothing wrong with that. He wanted to play."
After averaging 3.7 points per game on 38.1 percent shooting in 25 appearances for the Spurs this season, Finley is contributing 5.8 points per game on 55.1 percent shooting in 11 games for Boston.
Asked if Finley could start in Perkins' absence, Rivers laughed and noted, "This isn't high school -- when you play your old team you start him or anything like that. We're going to penalize [Finley] if the scouting report is not really good. I've got to think he has the best scouting report we've had all year."
Loose balls: Scal lands low blow on Robinson
* Robinson went to put on his game shorts and, noting the ones he had were a bit tattered, asked a locker room staffer to grab him a new pair. Across the locker room,
Brian Scalabrine
heard the request and shouted back, "Give me the old ones, my daughter can wear them."
Scalabrine's daughter, Adria Raine, is 11 months old. One of the more creative jabs on Robinson's height we've heard lately.
* When asked about Wallace's lackluster performance Friday (one rebound, 25 minutes, fouled out), Rivers said, "He was in foul trouble, so let's hope [it's a better night rebounding]. When your big guy gets one rebound, you hope he does more the next game."
March, 28, 2010
3/28/10
1:00
PM ET
Here are 10 facts and figures to keep in mind for Sunday's Celtics-Spurs clash (ESPN, 8 p.m) at the TD Garden (information researched for ESPN by Elias Sports Bureau, Inc.):

1. The Spurs enter Sunday's game with 43 wins this season, assuring themselves of a winning record for the 13th consecutive season. That is the longest current streak for any team in the league. The Spurs have now registered a winning record in 26 of their 34 seasons since joining the NBA in 1976-77. Only one franchised has had more winning seasons than the Spurs over that span: the Lakers (31). Portland also has recorded 26 winning seasons since 1976-77.
2. Gregg Popovich boasts a 10-2 (.833) career record on the road against the Celtics. That is the highest career road winning percentage (minimum 10 games) against Boston for any head coach in NBA history, followed by Phil Jackson (19-8, .704) and Flip Saunders (10-5, .667).

Ginobili
3. Manu Ginobili is averaging 22 points per game in March. That is on pace to become the second highest scoring average Ginobili has ever posted in a single calendar month in which he played at least five games. In February 2008, Ginobili averaged 24.3 points per game in 11 games.
4. Tim Duncan has scored 20 or more points in each of his last five games played at the TD Garden. That is tied with Dwyane Wade for the second-longest current streak in this arena behind LeBron James (seven).
5. Michael Finley has appeared in 11 games for the Celtics this season after playing in 25 games for the Spurs at the start of the season. Only two other players have appeared in a game for theses two franchises in the same season: Frankie Sanders (1978-79) and Tony Massenburg (1991-92).

Rondo
6. Rajon Rondo has registered at least 15 assists in each of his last two games. Rondo is only the second player in Celtics' franchise history to record 15-or-more assists in consecutive games. The only other player to do that in a Boston uniform is Nate Archibald (March, 1980). Rondo has led or tied for the team lead in assists in each of the last 63 regular-season games he has appeared in. Not only is that the longest current streak of its kind in the league, it is more than double the next highest total (Utah's Deron Williams, 32 straight games).
7. Kevin Garnett has recorded 1,508 steals and 1,785 blocked shots in his career. Since the NBA began tracking steals and blocked shots in 1973-74, only one other player has recorded 1,500 in each category during the regular season: Hakeem Olajuwon (2,162 steals; 3,830 blocks).
8. Rasheed Wallace is shooting only 39.2 percent from the field in home games this season. Only three players have a lower field-goal percentage (minimum 250 field-goal attempts) at home than Wallace: Ronald Murray (.364), Richard Hamilton (.373) and Carlos Delfino (.390).

9. The Celtics have scored fewer than 100 points in each of their last 15 games played against the Spurs. That is the longest stretch of games the Celtics have gone without scoring 100 or more points against a particular opponent in the shot clock era. Boston's previous long in that category was 14 straight games against the Heat from January 2001 to January 2004.
10. Doc Rivers finished his playing career with a 138-game stint with the Spurs during the 1994-95 and 1995-96 seasons. Four other players who appeared in over 100 games with the Spurs in the NBA have gone on to become a head coach in the league: Vinny Del Negro (433 games), Avery Johnson (644), Allan Bristow (238) and Terry Porter (220).
March, 28, 2010
3/28/10
12:35
PM ET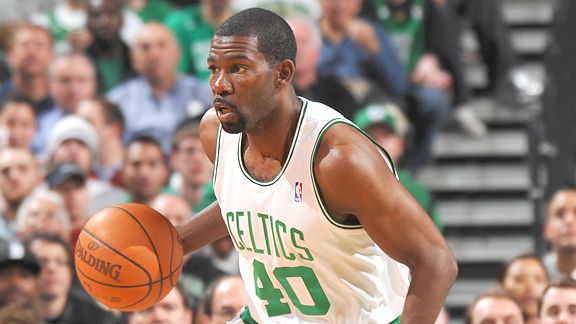 Brian Babineau/NBAE/Getty ImagesMichael Finley holds no ill will towards the Spurs, but wants to 'destroy' his old team Sunday.
Unless the Celtics and Spurs meet in this year's NBA Finals, Michael Finley's extensive knowledge of San Antonio's playbook might be rather useless in Boston.
Heck, it might not even hold much value for one night.
Finley, who spent the past three-plus seasons with the Spurs before requesting and receiving his release earlier this month, got thrust into coach mode Saturday as Celtics coaches had him demonstrate one set San Antonio is likely to run when they visit the TD Garden Sunday night (ESPN, 8 p.m.)
Paul Pierce suggested Celtics advance scout Jamie Young didn't have to worry about his job as, "It didn't look like [Finley] knew too many of the plays," joked Pierce.
Fortunately for the Celtics, they brought Finley in for the boost they thought he could provide on the court, believing he had more left in the tank than San Antonio thought.
After averaging 3.7 points per game on 38.1 percent shooting in 25 appearances for the Spurs this season, Finley is contributing 5.8 points per game on 55.1 percent shooting in 11 games for Boston. A bit of a roll of the dice when the Celtics signed him for the prorated veteran's minimum, Finley has cemented himself a coveted spot in Boston's rotation by providing instant offense off the bench.
But that doesn't mean the Celtics didn't mind picking his brain a bit Saturday for a little competitive edge in Sunday's game, particularly as they prepare to likely be without the services of center Kendrick Perkins (left knee tendinitis).
"If [Finley] doesn't know [the playbook], then we're [in trouble]," said Rivers. "He should know it as much as anybody ... He has to be our best scout [Sunday] -- he should be better than Jamie."
Click
HERE
to read the full story.
PODCASTS
Bill Simmons, NBA
Play Podcast Grantland's Bill Simmons discusses the state of the Lakers, Phil Jackson's future, the perception of Rajon Rondo, Doc Rivers' impact on the Clippers and more.
Baseball Tonight
Play Podcast Buster Olney chats with Jayson Stark about Ken Griffey Jr.'s uncomfortable interview with Linda Cohn and the value of spring training. Plus, Mike DiGiovanna on the Angels and Derrick Goold on Matt Carpenter's negotiations with the Cardinals.
John Farrell, Red Sox
Play Podcast Red Sox manager John Farrell talks about whether he expected his team to make such a turnaround in one season, his relationship with his players, fans' expectations for the squad and more.