April, 10, 2010
4/10/10
12:26
AM ET
BOSTON -- A collection of postgame news and notes after the
Washington Wizards
thrashed the
Boston Celtics
Friday night at the TD Garden:
The rundown
(a quick look at postgame headlines)
* Silver lining: Robinson and Daniels shine late
* Doc takes blame, players suggest otherwise
* Loose balls: Ray keeps faith, Blatche keeps quiet, Rondo's award
Silver lining: Robinson and Daniels shine late
Despite trailing by 21 entering the final frame, Boston rallied within six late thanks to an offensive spark by two players that previously could barely get off the bench.
Nate Robinson
erupted for a trio of 3-pointers over a 17-second span while scoring 13 points over 3 minutes, 28 seconds of action in the fourth quarter, while
Marquis Daniels
chipped in 8 points over that same span as the Celtics closed to within two possessions before an ill-advised foul helped Washington hang on for the win.
"Well, it wasn't a surprise, I mean it's their job -- it's what they should do," Rivers said of the spark provided by Daniels and Robinson. "I was more surprised that they could be that effective after sitting that long and then come in and make shots. That's always nice to see."
Robinson capped his 3-point barrage by banking in a trifecta in with 50.4 seconds to go and trimming Washington's lead to 97-91. But he then fouled
Andray Blatche
and the Wizards made enough freebies to seal the victory.
"I thought with that last group in, they just played harder," said Rivers. "You know, honestly, they had livelier legs. We shouldn't have fouled. We didn't want to foul... We always try to get the eight-second count first, but that's something that Nate has never worked on because we haven't worked on that with him. It's been with the other guys, and he didn't know that. So we'd prefer, in those situations, six-point game, try to get an eight-second count. And even in that case you didn't have to foul. You could play the defense out. But, listen, they were going so hard, I didn't care."
While Robinson and Daniels have fallen from Rivers' playoff rotation unveiled in Sunday's win over the Cavaliers, he suggested that Robinson will win Boston a playoff game.
"I think Nate can just wake up and make shots -- that's who he is," said Rivers. "Like I told you guys last week, Nate is not in our rotation right now, but he'll win a playoff game for us. There will be a game where we are flat and we are going to need somebody to come in and make something happen. And Nate will do that. I told him that [Thursday], that there will be a game where he's going to win this -- he's going to win us a playoff game.
"[With] Marquis, it'll depend on how the guys are playing and how he's working and practicing and everything else. But Nate's more of an X-factor offensively."
Doc takes blame, players suggest otherwise
Rivers tried to deflect blame for Friday's lopsided loss by suggesting his lack of scheduling a morning shootaround prevented his team from establishing an offensive rhythm.
Trouble with that logic is that Boston's longstanding pattern is to skip practice the day after a back-to-back (like the one it played earlier this week on the road against New York and Toronto), and simply hold a pregame walkthrough before the next contest.
"No, I don't think that was the reason, I just think he's trying to put it on his shoulders," admitted captain
Paul Pierce
. "It really comes from the players. When we go out there and put that type of effort, I don't think we really played with any toughness against this Washington Wizards team that has been struggling all year long. There's really no excuse for it, I just think when you say playing with toughness, a lot of things come along with that -- loose balls, having energy, a sense of urgency. All those little things come into play when I say we didn't play with any toughness and that's what it was tonight, we just got an old-fashioned butt whooping."
Echoed
Ray Allen
: "No, Doc is going to look at himself first and figure our what he could do better, but as a team we have to take responsibility as well. You know, Doc can't get out there on the floor. It's whoever is out there."
Loose balls: Ray keeps faith, Blatche keeps quiet, Rondo's award
* Ray Allen said it wasn't for a lack of trying that Boston generated only 14 second-quarter points.
"I felt like we had good shots," said Allen. "Guys had great shots. We got the free-throw line, [but] missed free throws. We have faith, and I have faith in Rasheed [Wallace] on the free-throw line. I have faith in him on the post. Kevin [Garnett] had a lot of mid-range shots. I missed a couple of easy shots. We have faith in [those shots]."
* Wizards forward Andray Blatche might have aided Boston in a comeback the last time the two teams met in Boston by jawing at
Kevin Garnett
. This time around Blatche kept quiet and Washington hung on thanks to his efforts.
Blatche connected on 12-of-23 attempts for 31 points, while Boston's Big Three combined for 11-of-35 shooting for 27 points.
"The No. 1 thing is I have a lot of respect for my coach [Flip Saunders]," said Blatche. "Last time he said, 'Just don't say nothing.' So this time I just didn't say nothing at all. I have respect for my coach."
And when Garnett jawed at him, Blatche said he kept quiet.
"My coach said don't say nothing, just play your game, let your game talk, and that's what I tried to do."
* Celtics point guard
Rajon Rondo
received the team's annual Red Auerbach Award before Friday's game. Click
HERE
for more details on the pregame ceremony that featured Boston legend Bob Cousy handing out this year's hardware.
*
Pregame notes
: Doc talks end-of-season checklist;
Marcus Landry
never got a chance in Boston.
April, 9, 2010
4/09/10
10:12
PM ET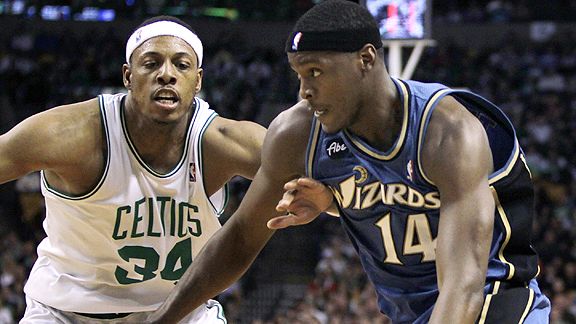 Charles Krupa/APThe Celtics produced another lackluster effort against a lackluster opponent.
BOSTON -- Instant reaction after the
Washington Wizards
posted a 106-96 triumph over the
Boston Celtics
Friday night at the TD Garden:
How the game was won:
The final score doesn't quite do this one justice as it was ugly for Boston over the first three-plus quarters. Let's break it down like this: Washington forward
Andray Blatche
connected on 12-of-23 attempts for 31 points and 10 rebounds over 42 minutes Boston's Big Three combined for 11-of-35 shooting for 27 points and 14 rebounds over 90 combined minutes. Another athletic big,
JaVale McGee
, came off the Washington bench to chip in 14 points and 11 rebounds as Washington scored at will at times.
Rajon Rondo
finished with 17 points and 12 assists to pace the Celtics.
Turning point:
The Celtics endured a scoreless streak of 7:35 as the Wizards scored 18 consecutive points to open a 21-point advantage early in the second quarter. When
Paul Pierce
hit a jumper with 2:40 to go in the first quarter, Boston trailed, 20-17. Before
Tony Allen
converted a layup with 7:05 to play in the second quarter, the Celtics trailed, 38-17. Washington's lead ballooned as high as 28 in the first half.
Stat of the game:
The Celtics shot 30 percent (12 of 40 overall) in the first half and their bench generated only a single field goal (Allen's scoreless streak buster) while going 1 for 9 for 2 points.
Unsung hero:
Nate Robinson
injected some drama into what had previously been a blowout with a trio of trifectas over a 17-second span as Boston pulled within six with 50 seconds to play. He finished with 13 points on 5-of-9 shooting (missing his final three shots).
Marquis Daniels
, another forgotten man at the end of the bench, added 8 points on 3-of-5 shooting over three minutes.
What it means:
For the Celtics, it was just another embarrassing effort (at least until the fourth quarter) on their home turf against a lackluster opponent. Boston fell to 24-16 at the Garden this season. The boo birds were out in full force as the Celtics trailed by nearly 30 in the first half to a team that entered Friday's game with the third-worst record in the NBA. The arena had cleared out before Robinson made things interesting for a fleeting moment.
PODCASTS
Field Yates, NFL
Play Podcast ESPN NFL reporter Field Yates covers expectations for Rob Gronkowski, the Patriots' outlook, LeSean McCoy's injury and Alex Smith's contract negotiations with the Chiefs.
Baseball Tonight - Jed Hoyer
Play Podcast Buster Olney and Justin Havens discuss how teams that made major deals have fared since the deadline. Plus, Cubs GM Jed Hoyer on the strange circumstances caused by weather.