Boston Celtics:

Gordon Hayward
November, 6, 2013
11/06/13
11:11
PM ET
BOSTON -- Before Wednesday's visit from the
Utah Jazz
, a couple of
Boston Celtics
players remarked about how much Brad Stevens knew about
Gordon Hayward
from the team's scouting session. Not surprisingly, Hayward's collegiate coach was able to dissect his game inside and out.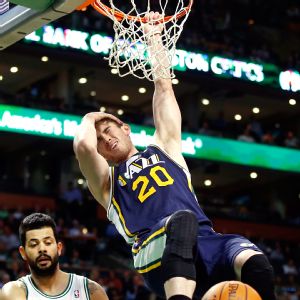 AP Photo/Elise AmendolaGordon Hayward couldn't watch as the Jazz fumbled away an early 13-point lead versus the Celtics.
That doesn't mean Stevens could stop him. Hayward scored a game-high 28 points on 12-of-20 shooting with nine rebounds, five assists and a steal over nearly 40 minutes of floor time. However, it was the professor who emerged with the win over student as Stevens notched his first NBA regular-season victory in the Boston Celtics' 97-87 triumph over the Utah Jazz on Wednesday at TD Garden.
Before the game, when a small mob of reporters herded around Hayward outside the visitor's locker room for a trip down memory lane, the goal was to get the scouting report on Boston's first-year coach. For instance, does he ever yell?
"You'd have to be at practice to find that out," said Hayward, confirming stories told about how Stevens would end practice sessions at Butler early if players weren't focused. "He kicked us out of practice a couple times when we weren't doing things the right way. He's extremely detail-orientated. When you're not focusing on those details, he gets pretty upset about that.
"I think there's different ways of coaching and he just didn't take the yelling approach all the time. When he needed to yell at us, he did, but for the most part, he took a different way of coaching."
That's better reflected in Stevens' flat-line sideline demeanor.
"He's just always calm, no matter what situation we were in; he always knew what we needed to do and communicated that with us extremely well," said Hayward. "As a player, when your leader is calm and collected, it kind of makes you relaxed as well. I think he was able to be so calm because of his preparation he did before. He was always prepared, and he taught us to always be prepared, too."
Yes, it was a bit of a gushfest as Stevens and Hayward spent the night volleying verbal bouquets.
November, 5, 2013
11/05/13
12:45
PM ET
The Utah Jazz visit the Boston Celtics on Wednesday night and Gordon Hayward will be a popular man given how he played for Brad Stevens at Butler. Forgive Boston fans if they are daydreaming of seeing Hayward in green in the future, particularly after the Jazz failed to work out an extension with him before the Halloween deadline to extend rookie pacts. Even ESPN.com's Marc Stein hinted at the possibility as part of his
fearless predictions
for the 2013-14 season: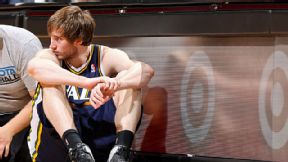 David Sherman/NBAE via Getty ImagesGordon Hayward a future target?
There are too many Hayward fans in front offices around the league for the former Butler star not to cost the Jazz more later than a deal would have cost them now, given how many teams are projected to have cap space and knowing that the price tags on restricted free agents are always higher than they seemingly should be because the bidders are trying to dissuade the home team from matching. ... The Suns and Boston Celtics -- just to name two franchises known to be big Hayward admirers with Jeff Hornacek and Brad Stevens running their respective benches -- are among those projected to have the cap space to put an uncomfortable offer on the table. Utah, of course, will have plenty of its own cap space to match a max offer if necessary, but doing a deal with Derrick Favors when Hayward might be an even bigger part of Utah's future ... struck me as curious to say the least.
The Celtics would seemingly have to do an awful lot of trimming this season to put themselves in position to be offering max deals this offseason (it's not impossible, but if Boston clears that much space it simply becomes is Hayward the guy you want to offer max money). The Celtics also have that $10.3 million trade exception in their back pocket for potential sign-and-trade possibilities. Regardless, the Stevens-Hayward connection will leave Celtics fans dreaming of a Butler reunion in Boston.
June, 23, 2010
6/23/10
7:05
AM ET
The eighth in a series of profiles of players that might be of interest to the Boston Celtics during Thursday's NBA Draft:
Did a fantastic NCAA tournament in which he carried Butler to the title game raise Gordon Hayward's stock enough to prevent the Celtics from having a shot at him at No. 19? Probably. But if Hayward starts slipping into the late teens, he's the type of shooter the Celtics would undoubtedly be interested in netting.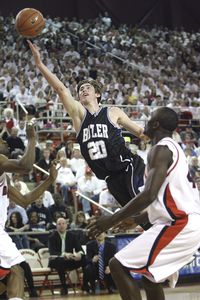 AP Photo/Chuck Burton
From ESPN's Player Evaluation:
Projection:
Late lottery to mid first round
Positives:
Sharp shooter with deep range ... Versatile player who can score in a variety of ways ... Solid rebounder for a wing ... Great size for his position ... Adept at picking up steals
Negative:
Needs to add a lot of strength to his frame ... Isn't an elite athlete ... Lacks great lateral quickness
Ford's analysis:
Back in April, Ford wrote: "Hayward is another hot name who should probably capitalize on his success in the NCAA tournament. While a few savvy GMs had him pegged as a potential lottery pick all year, most have moved him up the draft board much more recently ... Hayward should go somewhere between 10 and 20."
Forsberg's take:
Ranked as Ford's No. 10 prospect in this year's draft and with interest reportedly as high as the Clippers at No. 8, it would seem Hayward has no shot of slipping all the way into Boston's range. But if he does make it to the teens, would the Celtics consider shimmying up a few spots to land him? Such a move could reveal how confident the team is in bringing back Ray Allen next season and how much of a need they feel to land an NBA-ready shooter.
Click
HERE
to view all previous draft profiles.