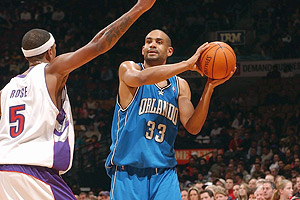 Ron Turenne/NBAE/Getty Images
Grant Hill and Doc Rivers have roots in Orlando.Continuing our offseason look at players who could be of interest to the Boston Celtics once a new collective bargaining agreement is achieved with a look at forward Grant Hill:
The skinny: Not much of an introduction needed here: The soon-to-be 39-year-old Hill remains a consistent contributor at both ends of the court. The Celtics and president of basketball operations Danny Ainge were hot for him during the offseason before the 2009-10 season, but Hill ultimately elected to ink a two-year, $6.2 million to return to the Suns. Despite his advanced age and health woes earlier in his career, Hill has missed only three games over the past three seasons.
2010-11 season: Hill averaged 13.2 points, 4.2 rebounds and 2.5 assists over 30.1 minutes per game in 80 starts for Phoenix. He shot 48.4 percent from the field and still excels at getting to the rim, where he shot 71.3 percent, according to Hoopdata. His mid-range shot dipped a bit, but he's still a threat beyond 16 feet. Hill earned $3.2 million last season.
Why it makes sense: The Celtics' desire this offseason is to get younger and more athletic; they'd probably make an exception for Hill, who, like Ray Allen, might actually be getting better with age. Hill graded out as "very good" according to Synergy Sports data, averaging .986 points per play this season (75th percentile among all NBA players). He's still a very good spot-up shooter and can still run in transition (his two most common play types). On the defensive end, he might be even better, an offensive-foul drawing machine who remains a stout defender against players nearly half his age. Again, Hill graded out as "very good," based on Synergy Stats data, limiting opponents to .843 points per play (those opponents shot just 37.6 percent against him, that 6-foot-8 frame still pestering the man he's guarding).
Why it doesn't make sense: With sixteen seasons, 32,961 minutes and 948 games under his belt, one wonders how much longer Hill can keep this up (health issues did limit him to 135 games over five seasons from 2000-2006). Hill's decline last season in the mid-range suggests those legs are getting a little heavier, but he continues to thrive on his smarts. Again, it all comes back to age. He'd be older than Shaquille O'Neal was when he arrived in Boston.
Bottom line: If Hill is finally ready to accept a bench role for a chance at a championship, Boston can carve out a healthy role for him as the defensive-minded swingman behind Paul Pierce. His relationship with Doc Rivers, his coach in Orlando, could be a major pull at this stage of his career, particularly if he's going to endure a change of scenery after only knowing three NBA destinations (Detroit, Orlando, and Phoenix).