Boston Celtics:

Heat Index
May, 11, 2011
5/11/11
3:18
PM ET
MIAMI -- A look at the Miami perspective from our friends at the Heat Index before Game 5:
Heat Index via kwout
April, 30, 2011
4/30/11
8:32
PM ET
While we hop a flight to Miami, here's our tag-team partners at the Heat Index with some phenomenal coverage leading up to Sunday's Game 1 of Celtics-Heat, including plenty of chatter on
how to defend Rajon Rondo
:
Heat Index via kwout
February, 20, 2011
2/20/11
1:55
PM ET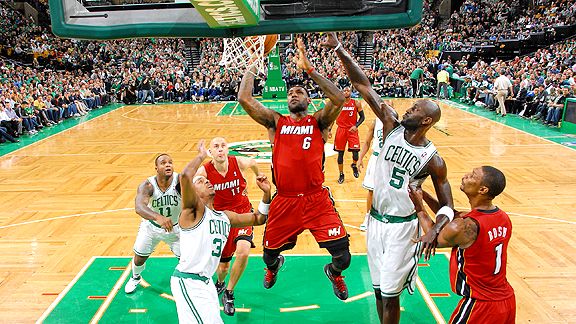 Brian Babineau/NBAE/Getty ImagesA rivalry is brewing between Miami and Boston, but they'll be on the same side Sunday, like it or not.
LOS ANGELES -- Seven members of the Celtics and Heat will join forces Sunday as part of the Eastern Conference All-Stars and a budding rivalry will be put on the back burner, even if just temporarily, writes The Heat Index's Michael Wallace:
For one night, at least, LeBron James is willing to forgive Rajon Rondo for that pesky little peek into the Miami Heat's huddle during last Sunday's game in Boston.

And Celtics forward Kevin Garnett won't carry a grudge from that running forearm shiver that Dwyane Wade delivered his way in the lane on that flagrant foul last week. Gone, too -- at least momentarily -- is the bitterness, intensity and rage that have come to define what so far has been a one-sided rivalry between the Miami Heat and Boston Celtics.

Why? Because tonight at the Staples Center, the two top teams in the Eastern Conference have no choice but to unite for a common cause as East teammates in the All-Star Game.

James, Wade and Chris Bosh join Garnett, Rondo, Paul Pierce and Ray Allen in the goal of helping the East team knock off Kobe Bryant, Blake Griffin and the West squad for midseason bragging rights. And for now, that task is bigger than any level of beef between the Heat and Celtics.

"Right now, we come down here as allies," Pierce said of setting aside any grudges with the Heat. "Maybe we'll leave as enemies. But now we're allies. And it's all about having fun."
Click
HERE
to read the full story.
November, 11, 2010
11/11/10
8:15
AM ET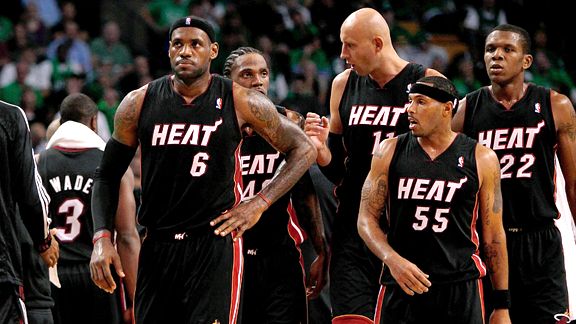 Jim Rogash/Getty ImagesThe Heat hope to reverse their fortunes from opening night in Boston.
Two weeks ago, the Celtics took advantage of the Heat's flaws, which still linger. Can the C's do it again? ESPN Boston's Jackie MacMullan examines:
Game No. 1 was a lifetime ago.

Remember that Miami Heat debacle in Boston, when Dwyane Wade zipped around like a nervous rookie hyped up on grape Kool-Aid, Chris Bosh roamed the court like a transplanted Canadian who'd lost his passport (and his jump shot), and LeBron James, a self-proclaimed "facilitator,'' forgot to pass the ball?

You knew it was foolish to issue proclamations following Miami's underwhelming 88-80 loss on opening night. You also knew that two weeks later, when the Celtics took their talents to South Beach, the Heat would be, if nothing else, a bit more cohesive -- yet no less scrutinized.

On Tuesday, Heat coach Erik Spoelstra perused his notes on the Celtics and noted that first game "felt like last summer.''

"The strides we have made in the last two weeks have been notable,'' he declared.

But that was two hours before Miami blew a 22-point lead on its own court and lost to the Utah Jazz in overtime. The damage was implemented by predictable foils: an elite point guard (Deron Williams) and a physical power forward (Paul Millsap) who shredded Bosh, Udonis Haslem and the boys with 46 points and 9 rebounds.

So the Heat host Boston on Thursday with a fresh batch of questions regarding their poise, their toughness and their compatibility.
Click
HERE
for the full story.
Bonus links from our friend at the
Heat Index
:
*
Bunker mentality
: This is reality for the Heat, every time they take the floor is like a mini playoff game because of the exposure and the star power -- and sometimes the jealousy.
*
The Little 12
: We spend a lot of time talking about the Big 3. We constantly gauge how well they're meshing together -- game by game, minute by minute, possession by possession. But how about we pay some lip service to the other guys? Forget the Big 3, the real question is have the Little 12 gelled yet?
October, 25, 2010
10/25/10
1:55
AM ET
(AP Photo/Eric Gay)The Miami Thrice expect a rude reception in Boston.
Chris Bosh
said Boston fans hate opponents a little more than most cities.
LeBron James
thinks the Garden can be an intimidating place to play. And the Heat are expecting a hostile environment for Tuesday's season-opener against the Celtics. From the Heat Index's Michael Wallace:
MIAMI -- It remains to be seen which player scores the first basket for the Miami Heat when they play the most anticipated season opener in franchise history Tuesday night against the Boston Celtics.

But in the budding rivalry, it was clear on Sunday who took Miami's first shot.

"They're supposed to hate you," Miami forward Chris Bosh said after Sunday's practice when asked what reception he expects the Heat to receive at TD Garden on Tuesday night. "You're the opposing team. And, it's Boston. They hate people a little bit more than usual cities."

The new-look Heat might be a work in progress in developing chemistry between their star trio of Dwyane Wade, LeBron James and Bosh. But when it comes to how the Heat will handle the hostility they expect to face in Boston, the players seemed to be ready and willing after Sunday's practice.

Bold roster moves have made the Heat the most polarizing team in the league. But Miami's players and coaches insist their mental makeup is strong enough to overcome challenges they will face on the court and in the court of public opinion.

Still, Wade, James and Bosh have each had their struggles in the past against Boston. James acknowledged Sunday the Celtics were a tremendous hurdle in his path with Cleveland.

Last season, the Celtics beat Wade's Heat in the first round before getting past James' Cavaliers on the way to losing to the Lakers in the NBA Finals. Boston was 4-0 against Bosh's Raptors in the regular season.

"It's just drive, not animosity toward that team," said James, whose Cavaliers were eliminated in the conference semifinals by Boston in six games last season. "That's a great team. But I've had my battles with Boston the last few years. We're going to take the challenge, and it's going to be fun to start the season as well."

James has received a mixed reception during the Heat's road preseason games. He was cheered loudly when the Heat played Oklahoma City on Oct. 8 in Kansas City, but was booed each time he touched the ball during Miami's Oct. 21 game against the Hawks.

There is no mystery regarding the reaction from Boston fans.

"They bleed green; that's all they care about," James said. "We have to be mentally focused and mentally prepared. Some arenas believe and love basketball more than others. Sometimes, more history adds more intimidation. Not saying it's an intimidation factor for me. It's never been an intimidation factor for me. But as far as the crowd and as far as the team, Boston is one of those hostile environments to play."
Click
HERE
to read the full story.