Boston Celtics:

Isiah Thomas
May, 25, 2012
5/25/12
10:55
AM ET
By
Scott Turken
| ESPNBoston.com
Editor's note: ESPN producer Scott Turken is a lifelong Pistons fan who remembers Larry Bird's legendary steal in Game 5 of the 1987 Eastern Conference finals (highlights here) a little differently than folks in Boston.
I still cringe when I hear Johnny Most's gravelly voice scream, "Now there's a steal by Bird!" It's been 25 years, but it still hurts.
Larry Bird's steal of Isiah Thomas' inbounds pass in 1987 is the ultimate buzzkill for a Detroit sports fan. I've seen it hundreds of times, and it still upsets me.
[+] Enlarge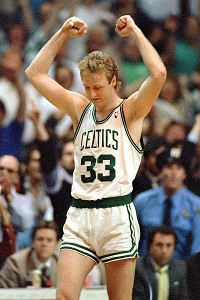 AP Photo/Peter SouthwickLarry Bird celebrates after Boston's 108-107 win over the Pistons in Game 5 of the 1987 Eastern Conference finals.
As a 12-year-old kid in suburban Detroit, literally sitting on the edge of my bed, I thought the Pistons had broken through. In the golden age of the NBA, Larry and Magic's NBA, a team had to prove it could beat the king. If you couldn't beat one of the two godfathers of the game, you couldn't play for the title.
The Pistons had lost to the Celtics in the 1985 playoffs but had a chance to go up 3-2 in the 1987 Eastern Conference finals.
Isiah already was a great player in his own right. The six-time All-Star (and three-time All-NBA first-teamer) was in the prime of his career and had built a reputation for being clutch. In the 1984 playoffs, Zeke poured in a remarkable
16 points in 94 seconds
of a game to force overtime against the Knicks.
With 5 seconds left, there he was, the team's best player, on the most famous floor in the sport, with a chance to steal the game. He saw Bill Laimbeer -- his friend who co-captained the Bad Boys ship -- in the backcourt. One of the great passers in the history of the NBA, a man who had averaged 13.9 assists per game two years prior, threw a soft pass.
Bird not only made the steal, but threw a perfect pass to Dennis Johnson, who finished with the reverse.
Two and a half decades later, I can watch the "underneath to DJ, he lays it in" part. For many years, I couldn't watch it. But with some perspective and time, that seminal play is not only one of the Zapruder film clips of the NBA, but also meaningful for what it stood for.
Sometimes, no matter what you do, somebody is going to be better than you.
November, 19, 2009
11/19/09
10:36
PM ET
Celtics captain Paul Pierce continued his ascent up the NBA's all-time scoring list Wednesday, leapfrogging former Pistons guard Isiah Thomas for 48th overall with 18,824 career points.
Pierce could climb higher quickly, as he sits 7 points behind Chet Walker and 16 points shy of Scottie Pippen. If he stays healthy, Pierce will be knocking on the door of the top 30 by season's end.
For Pierce, 32 and in his 12th season, passing Thomas, who was voted one of the NBA's top 50 players of all time, is significant.
"I think it's great," said Pierce. "It shows the longevity I've had in this league, staying healthy. To pass one of the greats like Isiah, it's just another accomplishment I'm proud of. I don't take it for granted. The game is bigger than that. It's an honor to be up there with those guys."
Kevin Garnett (21,439 points) is less than 150 points away from cracking the top 25 for all-time scorers. If he remains healthy this season, he'll likely vault a pair of former Celtics in Larry Bird (24th at 21,791 points) and Gary Payton (23rd at 21,813 points).
Ray Allen (19,843 points) sits at No. 33 overall. Only three active players reside ahead of Garnett and Allen: Shaquille O'Neal (5th, 27,721), Kobe Bryant (16th, 24,161) and Allen Iverson (17th, 24,020).
Kareem Abdul-Jabbar is the NBA's all-time leading scorer with 38,387 points. Check out the
entire top 25
.