Boston Celtics:

J.r. Giddens
July, 10, 2010
7/10/10
5:00
PM ET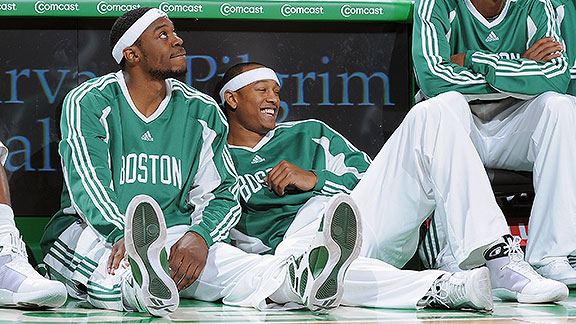 Brian Babineau/NBAE/Getty ImagesBill Walker and J.R. Giddens were shipped out of Boston in a trade for Nate Robinson.
Over the next few weeks, we'll take a player-by-player look at the 2009-10 roster and how each player's season unfolded, assigning a grade for their overall performance. This is the 12th in the series of report cards:
Five players came and went from the Boston locker room during the 2009-10 season: Eddie House, Bill Walker, J.R. Giddens, Lester Hudson, and Marcus Landry. Today, we take a quick look at each player and grade their (limited) contributions to this year's team.
Player
: Eddie House
2009-10 averages
: 7.2 points, 1 assist, 38.3 percent on 3-pointers (Boston only)
Season in a paragraph
:One season after setting a franchise record for 3-point percentage (44.4 percent), House struggled with the primary part of his game and was ultimately flipped to New York in the Nate Robinson trade. In 50 games for Boston, House wasn't a detriment, but his struggles were magnified on a reserve unit that struggled to generate offense. With the Celtics in need of a shakeup, he was the fall guy.
Final grade
: C
Teacher's notes
: Losing a core member of the 2007-08 team was hard to swallow for the Celtics, but even House seemed to acknowledge something needed to be done to shake the team from some January/February doldrums. We'll never know if House would have found his shot and provided the type of postseason spark he did in 2008.
What's next?
: One
report
suggests the Celtics have at least pondered the option of bringing back House, but it's likely they'll find better options for a bench scorer next season.
***
Player
: Bill Walker
2009-10 averages
: 1 point, 0.6 rebounds, 0.4 assists (Boston only)
Season in a paragraph
: Walker, a second-round draft choice in 2008, logged a mere 29 minutes during eight games in Boston this season, scoring eight points before being traded as part of the House-for-Robinson swap. In his fourth game with the Knicks, he scored 21 points over 35 minutes against the Cavaliers and ultimately reached double figures in 14 of 27 appearances in New York, all of which led to some backlash against the Celtics for not giving him more playing time.
Final grade
: C+
Teacher's notes
: Like most in today's report card, there's really not a fair sample size to truly warrant a mark, but Walker did show that he was the most NBA-ready of the young players that washed in and out of the Celtics' veteran locker room. His health limited his chances in Boston, but he never did quite enough in practice to warrant an uptick in time. New York's shot-happy offense allowed him to showcase his perimeter skills, but he still has a way to go to become a complete player.
What's next?
: The Knicks picked up their option to retain Walker and it will be interesting to see if he can continue to progress, particularly if the team becomes a playoff contender with the addition of Amare' Stoudemire this offseason.
****
Player
: J.R. Giddens
2009-10 averages
: 1.1 points, 1 rebound, 0.3 assists (Boston only)
Season in a paragraph
: The 30th pick in the 2008 draft, Giddens appeared in 21 games for Boston this season, including one start, but averaged just 4.7 minutes per game and scored a total of 24 points. Like Walker, he simply didn't get a chance to really showcase his talents before being collateral damage in the Robinson-House swap. Giddens got his big chance on Jan. 2, starting in a makeshift lineup that also featured fellow reserves Tony Allen and Rasheed Wallace. He played 20 minutes and looked a little over-excited for the opportunity, logging as many turnovers (two) as points. Giddens appeared in just two more games before getting dealt, due in part to an injury sustained in the NBA Development League.
Final grade
: C+
Teacher's notes
: Giddens' work ethic was undeniable and he oozed athleticism, but he never got a chance to really settle in, as every minute was a chance to showcase his skills. He performed well in two stints in the D-League over two seasons, but hasn't shown enough to warrant consistent time with a parent club.
What's next?
: Giddens is competing for Dallas in the Las Vegas summer league hoping to find a home next season. Being nice doesn't get you far in this league, but Giddens was a happy-go-lucky sort who deserves an opportunity somewhere.
***
Player
: Lester Hudson
2009-10 averages
: 1.4 points, 0.5 assists, 0.6 turnovers (Boston only)
Season in a paragraph
: Boston's only pick in the 2009 draft (58th overall), Hudson was a heralded scorer from unheralded Tennessee Martin. The Celtics hoped he could learn the point guard role and provide some depth behind Rajon Rondo, but it never clicked. He was waived in early January to free a roster spot that ultimately only got filled on the final day of the regular season.
Final grade
: C-
Teacher's notes
: There's no denying Hudson's offensive talents, but he needed to expand his toolbox in order to stick at the pro level and it didn't happen in either Boston or Memphis, who waived him on July 1 after he spent much of the season with the Grizzlies' D-League affiliate.
What's next?
: Hudson is competing for the Washington Wizards at the Vegas summer league hoping to keep his NBA dream alive.
***
Player
: Marcus Landry
2009-10 averages
: 0 points, 0 assists, 0 rebounds (Boston only)
Season in a paragraph
: Landry played a whopping three minutes for Boston, missing a pair of 3-pointers, after coming over from the Knicks with Robinson. He did play 13 games with the Maine Red Claws and impressed at times despite making only two starts (11.4 points, 4.3 rebounds, 1.6 assists per game).
Final grade
: Incomplete
Teacher's notes
: Impossible to grade someone who played nearly as many minutes as most readers of this report card. Landry made 17 appearances in New York before being traded, but his career high for minutes remains 14 (twice) and he just hasn't had much time to showcase his talents.
What's next?
: Waived by Boston at the end of the 2009-10 season, Landry competed for the Indiana Pacers at the Orlando summer league and is now in Vegas with the Knicks trying to earn a job next season.
***
Honor roll
: Click
HERE
to read past report cards.
Don't agree with teacher? Just want to sound off on the departed's 2009-10 seasons? Click HERE to leave a comment.
February, 18, 2010
2/18/10
12:42
PM ET
LOS ANGELES --
Nate Robinson
appears one step closer to being a member of the
Boston Celtics
.
League sources told ESPN's Chris Sheridan Thursday that the Celtics and Knicks have agreed to a tentative deadline day swap that should bring the three-time dunk champion to Boston as part of a five-player deal that sends guard
Eddie House
to New York.
According to the sources, Boston receives Robinson and an unidentified second player in exchange for House and second-year players
J.R. Giddens
and
Bill Walker
.
Given Robinson's status as a base-year compensation player, Boston and New York have negotiated for much of the past three days trying find a way to make salaries line up.
It's unclear whether the second player coming from New York could be a player received by the Knicks during the team's active deadline pursuits, or a third team, all of which leaves the deal very much tentative.
House practiced with the Celtics Wednesday, but openly acknowledged that he expected to be dealt before Thursday's 3 p.m. deadline.
"I was talking with my agent and there's a strong possibility that I'll be traded [Thursday] to New York," said House. "With that being said, I've always had a bond with these guys. I love playing with [the Celtics], but at the end of the day, it's a business. The Celtics feel like they're a better team with the guy they're trying to get. I gotta move on, that's what it is.
"At the end of the day, you can't control it. It's out of my hands -- it's never been in my hands. Wherever I go, if I go to New York, I'll play two months, try to play real strong basketball, get some wins with those guys, and make a good account for me for free agency."
House was a fan favorite for his high energy and perimeter shooting, but he's struggled this season, connecting on 64 of 167 3-pointers (40.1 percent) through 50 games. If Tuesday's visit to Sacramento was his final contest in green, he went out with a bang by scoring 12 points with a quartet of triples in a 95-92 triumph.
Robinson, a first-round pick (21st overall) of the
Phoenix Suns
in the 2005 draft, has spent his entire five-year career with the Knicks. He's averaging 13.2 points and 3.7 assists per game this season, but has appeared in only 30 contests after falling out of favor in New York. He was held out of Wednesday night's game with flu-like symptoms.
Robinson's post to his
verified Twitter account
seem to suggest a deal is near. He wrote this morning: "This is a sad day for me as well but I have tears of joy ... Thanks to my fans."
A three-time slam-dunk contest champion, Robinson will be expected to provide a different sort of offensive outburst than House off the bench, but he's also a high-energy guy and, while designated a point guard, he's known more for scoring the ball than distributing it.
Giddens, a former first-round pick (30th overall), and Walker, chosen in the second round (47th overall), were end-of-the-bench players used sparingly in Doc Rivers' hermetic rotation.
Giddens appeared in 21 games this season (27 for his career), including one start, scoring a total of 24 points. Walker appeared in eight games this season (37 for his career), scoring only eight points.
January, 22, 2010
1/22/10
12:26
PM ET
A couple Friday morning updates thanks to recent Tweets from Celtics players:
Celtics guard
Marquis Daniels
(
@lambo6
) Tweeted earlier today that he had the cast removed from his surgically repaired left hand:
Thanks to my higher power my good LORD n Saviour on that note Got my cast off one step closer to gettn back, so excited
Daniels said last week that he could have the cast off within a week and is still on pace for a post All-Star game return. Daniels, who has been conditioning and even doing limited shooting and passing before games, appears eager to get back on the court. But Celtics coach
Doc Rivers
noted that they would not rush him back in fear of aggravating the injury.
Meanwhile, Celtics guard
J.R. Giddens
(
@jgidd4
) Tweeted about his debut Thursday night with the Maine Red Claws of the NBDL:
Playin in my second d league game [Friday] y'all wish me luck 1st game 23pt 6asst and 3rebs miane red claws came down to get sum game mins
Giddens put up those totals on 9-of-14 shooting (he connected on 3-of-5 3-pointers) in just under 40 minutes as the Red Claws fells to the Armor, 109-100, in Springfield.
(
Update:
One more Twitter note as the Celtics confirmed Friday afternoon that
@GlenDavisNBA
is indeed Glen Davis' official Twitter account. An apology to his fans and teammates was posted there after Wednesday's obscene outburst to a fan).
November, 3, 2009
11/03/09
8:18
AM ET
An interesting note from Chad Ford's column Monday on the deadline to extend members of recent draft classes:
"The only other player from the first-round class of 2008 to have their third-year option declined was the Celtics' J.R. Giddens."

The move means Giddens will become an unrestricted free agent after the season, adding another expiring contract to the Celtics' 2009-10 roster, and potentially positioning him as a player that's slightly more attractive to be included in any midseason trade.
The Celtics selected Giddens with the 30th overall pick in the 2008 draft. The 6-foot-5, 215-pound guard spent part of last season with the Utah Flash of the NBA Development League, averaging 17.2 points, 6.3 rebounds, and 2 assists in 26 games.
Giddens has appeared in eight NBA games, including two this season, but has just four career points.