December, 9, 2014
Dec 9
8:45
PM ET
The knock on
Jeff Green
has long been that he's simply not consistent enough, which is why it's so surprising that, nearing the end of the first quarter of the 2014-15 season, a case can be made that Green has been the most consistent player on the
Boston Celtics
.
[+] Enlarge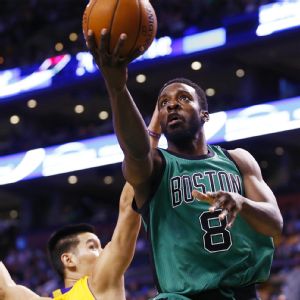 Mark L. Baer/USA TODAY SportsMany of Jeff Green's individual numbers are the best of his career but when he's on the floor, the Celtics' point differential suffers.
The 28-year-old Green is averaging a team- and career-best 19.8 points per game this season while adding 4.5 rebounds, 1.7 assists and 1.1 steals over a team-high 34.3 minutes per game. Even as his 3-point shot defied him early this season (31.3 percent overall), Green has thrived attacking the basket harder than in any season of his career. A career-best 56.2 true shooting percentage reflects his overall offensive efficiency.
But while Green ranks No. 19 among the league's leading scorers through 19 games, advanced metrics continue to suggest that the Celtics perform better with him off the court. Sticking with
our format
from reviewing
Rajon Rondo
's first month of the season, we look at the good, the bad and the ugly from Green's play thus far.
THE GOOD
When evaluating Green's performance, Celtics coach Brad Stevens often suggests that the team needs him to "soar with his strengths." Green will never be a particularly strong rebounder and, despite the frequency with which he touches the ball, he's never been very good at generating offense for others. Green's main job on the court is to put the ball in the basket, and he does that as well as anyone on the Celtics.
Zoom in on the five games that the team has played to start the month of December. Green is averaging 25.8 points per game while shooting 49.4 percent from the floor. His 3-point percentage finally is climbing -- it's at a lofty 45.8 percent this month. What's more, Green is averaging 7.2 free throw attempts per game, illustrating the balance he has struck between taking advantage of open perimeter looks and attacking the rim.
Synergy Sports data has Green averaging 1.013 points per possession finished. Of players with at least 300 plays finished this season, he is 15th in the league, snugly tucked between Kevin Love and
Kyle Lowry
.
Synergy also has a metric called score percentage that calculates the percentage of possessions finished in which the player generates at least 1 point. Green ranks 24th overall at 46.1 percent in a category that tends to be skewed toward big men, but his score percentage placement is made more impressive when you consider that
LeBron James
sits two spots behind Green at 46 percent.
[
Read full story
]