Boston Celtics:

Joel Anthony
May, 3, 2014
May 3
12:00
PM ET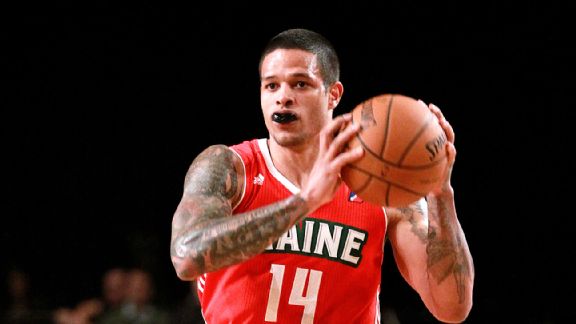 Jack Arent/NBAE via Getty ImagesAfter starting the season with Maine, Chris Babb got an NBA call-up.
With the Boston Celtics' 2013-14 campaign in the rearview mirror, we've busted out our red pens and assigned grades to each player based on their individual performances this season. Our annual reminder that players are graded based on expectations versus personal performance. This is the 13th in a series of end-of-the-season report cards:
Player
: Chris Babb
2013-14 base stats
: 1.6 ppg, 1.2 rpg, 26.7 FG%
2013-14 advanced stats
: 0.667 Off ppp (6th percentile); 0.861 Def ppp (54th)
2013-14 salary
: $133,000

Season in a paragraph
: Undrafted out of Iowa State, Babb went to training camp with the Celtics in October and was Boston's final cut. He landed with the team's D-League affiliate in Maine and got the call-up, in part, due to the team's need for wing depth after Gerald Wallace was lost for the season. Like Chris Johnson before him, Babb made the most of his opportunity and, after two 10-day contracts, signed for the remainder of the season.
Teacher's notes
: We'll hold off on giving grades to the late arrivals given their limited sample (but you can still vote in the polls). Babb might have led the team in claps per minute over the final two months of the season. Even when he was a healthy DNP, Babb was into the game and a quality teammate. Babb struggled offensively, shooting just 26.7 percent from the floor and 22.2 percent beyond the 3-point arc, but was mostly a competitive defender and his effort was obvious.
What's next?
: Babb signed on for four seasons, but the final three are nonguaranteed. He'll stick with the organization to start this offseason, but as the roster crowds he could be moved as part of a trade package or set free to seek an opportunity elsewhere. If he survives the summer, he'll likely still be fighting an uphill battle to keep his end-of-the-roster spot in training camp.
---
Player
: Joel Anthony
2013-14 base stats
: 0.8 ppg, 1.2 rpg, 0.4 bpg, 37.5 FG%
2013-14 advanced stats
: 0.71 Off ppp (9th percentile); 1.0 Def ppp (9th)
2013-14 salary
: $3.8 million

Season in a paragraph
: Anthony arrived in mid-January as part of the three-team swap that sent out Jordan Crawford and MarShon Brooks in exchange for a collection of future draft picks. The 31-year-old center played sparingly and only once did he reach double figures in minutes before April. The quiet Anthony didn't appear to quibble about his role and stayed ready for his opportunity.
Teacher's notes
: Brad Stevens often pointed to Anthony as the sort of defensive presence the team could use to protect the rim, but he rarely called on him until the final games of the season. Anthony has a couple championship rings from his time in Miami, but he's struggled to find a consistent role since starting 51 games for the Heat during the 2011-12 season.
What's next?
: All indications are Anthony will pick up the $3.8 million player option he has for next season as he clearly won't fetch that price tag on the open market. Will he be back in Boston? That will likely depend on whether the team can include his deal in any offseason move. Given his limited role this year, you get the sense that the Celtics must be confident that's possible after taking on his contract as part of a deal that's likely only to deliver second-round draft picks (albeit, potentially high ones from the 76ers).
Honor roll
: Click
HERE
to read past report cards.
Don't agree with teacher? Just want to sound off on the 2013-14 season for Babb or Anthony? Leave your thoughts in the comments section.
January, 18, 2014
Jan 18
12:45
PM ET
BOSTON -- If the
Boston Celtics
were hoping to give their newest additions a little anonymity during their first day on the job, they succeeded by bringing them on board the same day as
Rajon Rondo
made his 2013-14 season debut.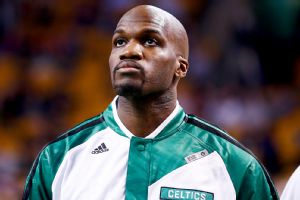 Jared Wickerham/Getty ImagesJoel Anthony joined the Celtics on Friday night.
Both veteran big man
Joel Anthony
, acquired from the
Miami Heat
as part of a three-team swap, and swingman
Chris Johnson
, signed to a 10-day contract out of the D-League on Friday, suited up for their first game with Boston on Friday night, but were mere spectators for Rondo's return in a loss to the
Los Angeles Lakers
.
Before Friday's tilt, coach Brad Stevens admitted the team hadn't had enough time to get either player up to speed and it was unlikely either would make an on-court debut until the team's upcoming three-game road trip.
For their part, Anthony and Johnson are excited for the opportunity here.
Anthony spent 6-plus seasons with the Heat, winning two consecutive NBA championships despite a diminishing role. He admitted it was tough leaving the only NBA home he's known, particularly while going from a title contender to a team in a rebuild, but said he'd make the most of this situation.
"I understand the business of how things work," said Anthony, a soft-spoken Montreal native, who took an open locker spot next to fellow Canadian
Kelly Olynyk
. "Obviously, you want to be able to stay for all that, but it's time to move on. Fortunately, I'm in a position where I'm going somewhere there's another opportunity for me. So I'm just looking to take advantage of that and continue on with my career."
Anthony, who started 51 of 64 appearances while playing 21.1 minutes per game during Miami's first title season in 2011-12, had played a mere 37 minutes over 12 appearances this season. Regarded for his interior defense and rebounding, the 6-foot-9 Anthony believes he can carve out a role in Boston, even on a team that's already got a surplus of undersized big men.
"Defensively, with my energy and shot-blocking, also my experience," said Anthony. "I've been in a lot of big games, seen a lot of different situations, and I feel my experience will be able to help out this ball club. Just looking to do those things that I do with a high motor and plenty of energy, 110 percent, and just take it from there."
Johnson is a 6-foot-6 swingman regarded for his energy. He appeared in eight games for the
Memphis Grizzlies
last season and spent training camp with the
Brooklyn Nets
in October. With Boston in need of wing depth after trading away
MarShon Brooks
and excusing
Keith Bogans
, Johnson could be an emergency option during his 10-day tryout.
"I'm fortunate, blessed to be here," said Johnson. "I'm just going to make the most of this situation. When my number is called, just be ready and provide energy, do all the little things to show that I belong here."
And what can he bring?
"Just provide energy. Do the little things that can help the team win -- rebound, defend, get on the floor and get 50-50 balls," he said. "Just do whatever it takes to win."
Johnson said he absorbed everything during his time with Memphis last season.
"I learned a lot, just the work ethic, how those players come in, how they work hard, not always speeding up the game," said Johnson. "It's a slower game in the NBA. Just picking their brains, because there's a lot of veterans in the league who've played for a long time. Just give me confidence and keep building on that."
January, 16, 2014
Jan 16
12:45
PM ET
WALTHAM, Mass. -- While the impending return of Rajon Rondo should give the Boston Celtics their biggest boost, the team was readying additional reinforcements for a recently thinned roster.
Veteran big man Joel Anthony, obtained from the Miami Heat as part of Wednesday's three-way trade that sent MarShon Brooks and Jordan Crawford to the Golden State Warriors, was undergoing his routine physical at an area hospital then joined the Celtics for the tail end of their offday session.
Observing practice was Chris Johnson (no, not the same Chris Johnson the Celtics had for a bit a couple seasons ago), a D-League wing who was finalizing a 10-day contract to add additional depth for a team that operated with only 10 available bodies during Wednesday's win over the Toronto Raptors that ended a nine-game losing streak.
"I think we're going to fill a 10-day contract here soon and Chris Johnson is here today from the great Dayton University," said Ainge, pandering to a beat reporter wearing a sweatshirt from that same institution. "So Chris has been playing very well, we need a wing player, we need someone who can shoot the ball, so Chris will add some depth to our team for now."
The Celtics are in need of wing help, not only due to recent trades, but after excusing Keith Bogans from the team due to his frustration over a lack of playing time. Ainge
expounded on his comments
Thursday morning detailing the situation, stressing that Bogans didn't have any sort of incident that served as a tipping point.
"There was no big incident. Keith, he's been frustrated for a lot of the year, just because he hasn't had a role," said Ainge. "Keith has started on a lot of teams in this league and he's in his 11th year and I think his expectations were just different than what I thought was realistic. I shared with him what his realistic role was and I just didn't think he was very happy with it. It was just better for him to go home, stay in shape in case we need him, but we'd rather have -- we're going to play the guys that we have here that are really hungry to play and dying to play that we're going to try to develop into better players."
Two other quick hits:
HANDS OFF: BRADLEY SITS OUT: Celtics coach Brad Stevens noted that Avery Bradley, who injured his right hand early in Wednesday's win over the Toronto Raptors, would sit out Thursday's session as a precaution. He is expected to play on Friday against the Lakers.


NOT PICKING SIDES: After referencing Tom Brady and Peyton Manning while describing Rajon Rondo's ability to audible, Stevens was asked about Sunday's AFC Championship game between the Patriots and Broncos. An Indianapolis native and admitted Manning fan, Stevens punted on offering a prediction (which leads you to believe he's got the Broncos). All the fence-sitting coach would offer is, "I'm sure it'll be a great game. I unbelievably respect everybody involved."

PODCASTS
Baseball Tonight
Play Podcast Karl Ravech and Justin Havens put Clayton Kershaw's scoreless innings streak in perspective with Buster Olney and discuss the rash of injuries around MLB. Plus, Derrick Goold on Yadier Molina's injury and Alex Speier on the Red Sox.
Baseball Tonight
Play Podcast Buster Olney and Tim Kurkjian discuss the rosters for the Home Run Derby, Jon Lester's future and more. Plus, Indians P Corey Kluber on his All-Star candidacy and Tigers P Joba Chamberlain.