Boston Celtics:

Kevin McHale
December, 14, 2012
12/14/12
11:44
PM ET
The
Boston Celtics
lost on Friday night and, even before the final buzzer sounded in Houston, it couldn't have seemed more inconsequential.
While the Rockets dribbled out the clock on a 101-89 triumph at the Toyota Center, snapping Boston's brief two-game winning streak,
Kevin Garnett
stood up from the Boston bench, put his head down and strode to center court, where he shared a long and emotional embrace with Houston coach
Kevin McHale
.
McHale rejoined the Rockets just six days ago after his
23-year-old daughter Alexandra "Sasha" McHale died on Nov. 24
of lupus-related complications. Tears welled in the coach's eyes as he wrapped his arms around Garnett, a player he drafted out of high school 17 years ago.
The loss McHale suffered -- and the losses our nation endured
Friday in the Connecticut tragedy
-- is a reminder that there are things so much bigger than basketball; so much more important than a mid-December defeat.
Garnett's on-court intensity has a way of rubbing opponents and observers the wrong way. But those who know him best off the court swear he's the nicest and most unselfish person you could meet.
We got a small glimpse of that on Friday night in Houston as cameras caught a private moment with a man who was incredibly influential in Garnett's basketball career. Not only did McHale draft Garnett, but he dealt his star player to Boston before the 2007-08 season, affording him the opportunity to seek the title that evaded him in Minnesota.
It doesn't matter much what was said between the two; the raw emotion on McHale's face said it all. There's so much more beyond basketball, and Friday was a reminder of that.
May, 18, 2011
5/18/11
6:45
AM ET
The Houston Rockets are nearing a decision on their next head coach and two of the three options have Celtics ties in Kevin McHale and Lawrence Frank, who after a season as Doc Rivers' top assistant is drawing heightened interest for a top job:
ESPN Boston via kwout
June, 1, 2010
6/01/10
6:16
PM ET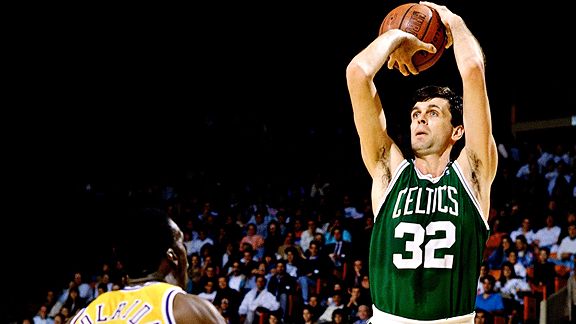 Andrew D. Bernstein/Getty ImagesKevin McHale has hands-on experience with the Celtics-Lakers rivalry.
Celtics legend Kevin McHale isn't certain who will win the 2010 NBA Finals, but his heart still bleeds green.
Speaking on a conference call Tuesday to promote NBA TV's coverage of the Finals, McHale, an analyst for the network, offered his thoughts on the matchup, including the fact that his past allegiance to the Celtics has him leaning in their direction to prevail in this series.
"I'm excited for Boston, but I'm not only happy for the players, but happy for [Celtics president of basketball operations and McHale's former teammate] Danny [Ainge], a very good friend of mine, [Celtics coach] Doc [Rivers], Eddie Lacerte -- my old trainer -- so it goes way back for me," said McHale. "So many guys are still involved since I left there years and years ago, it goes to show the organization stays very consistent. I'm excited for them. It's fun for basketball and it's going to be great.
"My prediction? It's going to be an interesting series.
Paul Pierce
was the best player [in 2008] and swung that seires over in favor of the Celtics. It's a coin toss -- flip 'em -- a coin-toss series. Just because my heart is into it, I'll go with the Celtics."
Later, McHale was asked if he'd have any interest in the Celtics' coaching job with reports that Rivers could walk away at season's end. McHale, who posted a 39-55 record in a season and a half as coach of the
Minnesota Timberwolves
, didn't say no, but was careful to tread cautiously.
"That's way down the road, we'll see where it goes," said McHale, who noted that Rivers is still Boston's coach and doing a wonderful job at it.
McHale did note that he's had contact with the
Chicago Bulls
about their head coaching vacancy and likes that situation.
PODCASTS
Peter King, NFL
Play Podcast Sports Illustrated's Peter King weighs in on the Patriots' offensive line, the outlook for New England, Jim Harbaugh's relationship with his team and the Cowboys' success.
Opening Rant, 9/30
Play Podcast Colin Cowherd shares his thoughts on the state of the Patriots, New England's offense and Brady Hoke's future at Michigan.
First Take
Play Podcast Skip Bayless & Stephen A. Smith debate if the Patriots dynasty is over, if the 49ers have stopped listen to Jim Harbaugh and more. Plus, they make their World Series predictions.