ORLANDO -- A year ago, Kris Joseph was here at the Orlando Summer League as a late second-round pick trying to cement his roster spot with the Boston Celtics. This time around he's just an observer, and getting another chance to wear a green jersey might ultimately be out of his hands.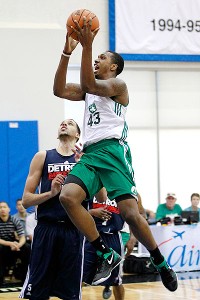 AP Photo/John Raoux
Kris Joseph at work during summer league in 2012.When the Celtics and Brooklyn Nets finalize a blockbuster trade -- one that hasn't been pushed through yet in part because of the fact that Joseph cannot officially be traded from Brooklyn until Friday -- it's expected that Joseph will be shipped back to Boston as part of a proposed eight-player swap that includes three draft picks.
Working on a nonguaranteed contract -- albeit one that would pay him just $788,000 next season -- Joseph could eventually be the victim of Boston's overcrowded roster. That, of course, would be the second time a need for roster flexibility has worked against him as Joseph was waived by Boston in January before his contract went fully guaranteed in his rookie season.
Aware of the uncertainty, Joseph is excited by the potential opportunity to showcase his abilities for a team in transition.
"It's a young team that's 'rebuilding,'" Joseph said. "At the same time, I don't know what's going to take place in the next couple of days, and I'm just waiting, taking it day by day, playing it by ear. And if the opportunity does come, where I do end up back in Boston, and the opportunity is there for me, I'll be ready.
"I've realized early in my career that it's just part of the business. I've been through a lot for a first-year guy. I was released [in Boston], [returned to the] D-League, got traded [from Maine to Springfield] in the D-League. This is not the first time I've been part of a trade. I've been through a lot as a professional, in my first year. I think that's going to help me to grow and mature, just for the future."
Despite his limbo status, Joseph utilized his summer league visit to say hello to new coach Brad Stevens. He's actually familiar with Stevens as Butler (Stevens' school) ousted Syracuse (Joseph's school) from the NCAA tournament en route its first title game appearance in 2010. While he didn't stick in Boston last time around because of a veteran team's need for roster flexibility, Joseph believes things could be different with this opportunity.
"Being on a team like that, a younger team, and being able to run a lot more, and just playing, it's going to be a great opportunity for me because I excel in the open court," Joseph said. "I think it'll be great; we'll be able to push the tempo and play a different kind of style under Coach Stevens. I played against Coach Stevens at Syracuse; they beat us in the tournament. Just remembering how his team played, I can tell that this Celtics team and how he's going to handle them, it's going to be great."
Joseph acknowledged it was a hectic draft night as the Celtics and Nets worked through their deal. Joseph was not in the initial iteration of the swap, but was later inserted in place of Tornike Shengelia. He said toward the end of the night, he realized he was likely in the trade and even phoned old Syracuse teammate Fab Melo to celebrate.
"I think I told Fab. He wasn't aware of it. I know that surprises you," Joseph deadpanned. "I told him and he was very excited, definitely."
A native of Montreal, the 24-year-old Joseph is familiar with another fellow Canadian: Boston's first-round pick, Kelly Olynyk.
"He can do pretty much everything," Joseph said. "At his size, it's impressive. He can put the ball on the floor, he's hitting 3s, he's passing the ball. He gives you the total package."
When it was noted that the Canadians could be in the process of cobbling together a nice national team roster with the growing influx of NBA talent (hey there, Andrew Wiggins), Joseph smiled.
"That's a secret," he said. "We're not going to talk about that yet."