Boston Celtics:

Lawrence Frank
July, 21, 2011
7/21/11
7:46
PM ET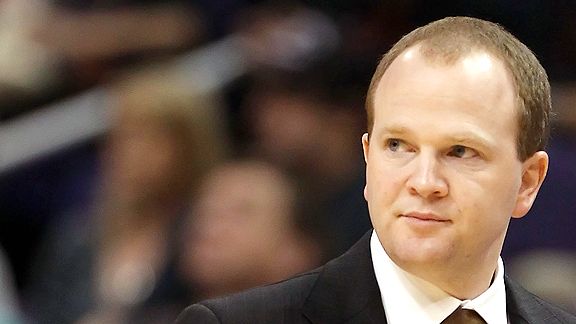 Christian Petersen/Getty ImagesAfter one season in Boston, Lawrence Frank is back in the NBA head coaching ranks.
After one season as Doc Rivers' top assistant in Boston, Lawrence Frank is set to become an NBA head coach again with the
Detroit Pistons
. From ESPN.com's Marc Stein:
SOURCES: PISTONS TAB FRANK
The Detroit Pistons have chosen Lawrence Frank to be their new head coach, according to sources with knowledge of the team's thinking. The Pistons have selected Frank over former Detroit assistant Mike Woodson, with sources telling ESPN.com that the decision signals the growing influence in the organization of former New York Knicks executive Dave Checketts. Yahoo! Sports first reported that Frank's hiring is imminent. The Associated Press reported that Frank will have a formal contract offer from Detroit within the next two days.
Frank boasted a 225-241 record in parts of seven seasons coaching the
New Jersey Nets
before coming to Boston last season, where he replaced defensive guru Tom Thibodeau. Frank missed out on three other head coaching jobs this summer despite being a finalist in Houston (Kevin McHale), Golden State (Mark Jackson), and Toronto (Dwane Casey), but finally got his gig with the Pistons.
What does it mean for Boston? The Celtics, who had expressed a desire in bringing Frank back, but acknowledged the healthy market for his services throughout the league (both as a head coach and assistant), are left searching for a top assistant for the second straight offseason. Given that the position produced two head coaches in little over a year's time, it shouldn't be hard for Rivers and Co. to fill that spot.
The natural inclination is to assume the Celtics will be looking for another defensive specialist, but with little drop-off on defense after Thibodeau's departure, Boston shouldn't limit itself while gauging available candidates. As Rivers often noted, while Frank's focus might have been on defense, that didn't mean he wasn't exempt from offering input on the offensive end.
Names that seem logical to pop up would include Mike Woodson, the other finalist in the Detroit search. Woodson, the former Atlanta head coach, visited the Celtics' practice facility last season. He's from the Larry Brown coaching tree and it's no secret how close Rivers and Brown are. (In fact, maybe Rivers would ring up his old pal just to float it past him; remember that Brown nearly signed on to be Boston's top assistant before the 2007 season).
Rivers could also look in-house. Armond Hill will enter his eighth year on the Boston bench next season, while Kevin Eastman joined Boston the same year in 2004 (but spent the 2005-06 season away from the team). They might not be the glitziest candidates, but they are loyal assistants that have been integral parts of Boston's success during the Big Three era.
The Celtics have a couple potential spots to fill on the coaching staff beyond Frank's departure. Earlier reports indicated big man coach
Roy Rogers would not be back with the team
(a former assistant on Frank's staff in New Jersey, Rivers noted that Rogers was hired in part to aid Frank's transition to Boston) and coaching associate Darren Erman is bound for Golden State.
After inking a five-year extension after the 2010-11 season, Rivers has a chance to mold the next iteration of his coaching staff. But success breads interest and so long as Boston remains competitive, interest will exist in the bodies that sit closest to Rivers.
As for the Pistons, they're getting a spark plug of a coach. After Rivers underwent a throat procedure during the 2010-11 preseason, he let Frank run an open practice at the TD Garden. Frank never quite stopped screaming from the sideline from that point forward. Overseeing the defense, Frank's voice could be heard shouting out instructions and assignments as he inched near midcourt at times (only to stomp back to his seat after the opposing team scored at the opposite end). Frank commanded immediate respect in the Boston locker room and replacing Thibodeau was no easy task. What's more, Rivers leaned heavy on Frank as part of the All-Star festivities in Los Angeles, more invaluable experience for him this past season.
July, 18, 2011
7/18/11
12:32
PM ET

Lawrence Frank is still knocking down doors looking for another head coaching gig, but even if he fails in that attempt this summer, it's no slam dunk he'll be back on the Boston bench. Could the Knicks lure him away? From
Newsday's Alan Hahn
:
First of all, whomever the Knicks hire would have to accept a one-year deal because [head coach Mike] D'Antoni is going into the final year of his contract and there is some uncertainty about his future. Frank, unlike most, would likely be amenable to accepting a one-year contract because it gives him the freedom to continue to look for head coaching jobs.

Frank might also prefer New York over returning to Boston for proximity reasons, as well, because he could be home full-time in New Jersey, where his wife and two daughters remained last season when he worked for the Celtics.
*
Forsberg's thoughts
: Even Celtics president of basketball operations Danny Ainge admitted after the season that Boston expected Lawrence Frank to have opportunities with other teams even if he didn't land a head coaching job. He's been a finalist in Houston, Golden State, and Toronto, and remains in the mix in Detroit. But let's say he gets passed up by the Pistons, would he really hop to New York, one of Boston's Atlantic Division rivals? If family is a concern, it's hard to imagine Celtics coach Doc Rivers, who spends so much of his time jetting back and forth from Orlando to see his own kids, would stand in the way of Frank getting closer to his Jersey roots. Ainge said at the end of the season the team is very much interested in retaining Frank if he doesn't find another job.
Hop
HERE
to read ESPN's latest edition of 5-on-5 which focuses on recent coaching changes and features a question (No. 4) on who should be Detroit's next coach with a couple votes for Lawrence Frank.
(h/t: ProBasketballTalk)
July, 14, 2011
7/14/11
6:56
AM ET

Celtics top assistant Lawrence Frank remains in the hunt for the
Detroit Pistons
' coaching vacancy. From
ESPN.com's Marc Stein
:
Of the five known candidates for job, sources say that former Pistons assistant Mike Woodson is still the closest thing to a favorite, thanks largely to Woodson's good working relationship with Pistons president of basketball operations Joe Dumars and the fact that Detroit would know exactly what it's getting after Woodson's work under Larry Brown during the Pistons' 2004 title run.

Yet sources say that one reason Detroit's search has dragged out so long is the strong impression that Lawrence Frank made on new Pistons owner Tom Gores and his advisers, among them former New York Knicks executive Dave Checketts.

Detroit's choice, then, appears to be a tossup between the unattached Woodson and Frank, who remains part of Doc Rivers' staff in Boston.
Stein suggests the Pistons are inching closer to a decision. Frank has already been a finalist for jobs in Houston (Kevin McHale), Golden State (Mark Jackson), and Toronto (Dwane Casey). The Celtics have maintained their interest in bringing back Frank as Rivers' top assistant if he doesn't land a head coaching job. If he does go, the lockout will not prevent Rivers from searching for a new addition to his staff.
June, 16, 2011
6/16/11
12:58
PM ET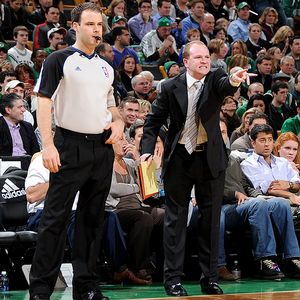 Brian Babineau/NBAE/Getty ImagesLawrence Frank on the Boston bench this season.
Celtics' top assistant Lawrence Frank continues to be in the mix for nearly all offseason coaching vacancies with sources telling ESPN.com's Marc Stein that Frank interviewed Wednesday with the Detroit Pistons.
More from Stein
:
Boston Celtics assistant coach Lawrence Frank interviewed Wednesday for the Detroit Pistons' coaching vacancy, according to NBA coaching sources... The Pistons have likewise requested permission from the Dallas Mavericks to interview assistant coach Dwane Casey, who was taking part Thursday in the Mavericks' championship parade in Dallas.

Frank, formerly coach of the New Jersey Nets, is the second candidate to be formally interviewed for the position, sources said, joining former Atlanta Hawks coach Mike Woodson.

Casey and Frank are the two finalists for the Toronto Raptors' coaching vacancy. Both were also finalists in Houston and Golden State for jobs that went to Kevin McHale and Mark Jackson, respectively.

Frank was 225-241 in parts of seven seasons coaching the Nets before joining Doc Rivers' staff in Boston this past season, replacing Chicago Bulls coach Tom Thibodeau.
*
Forsberg's take
: Having already gone down to the wire in Houston and Golden State, it seems almost impossible that Frank won't land a head coaching spot this offseason. That said, Casey remains a hot commodity after winning a title this season with the Mavericks and competition could be fierce in Detroit, particularly if the likes of Bill Laimbeer emerge as candidates because of his strong ties to the organization. If Frank ultimately gets passed over again, Boston could benefit if he elects to return for another season alongside Rivers.
May, 18, 2011
5/18/11
6:45
AM ET
The Houston Rockets are nearing a decision on their next head coach and two of the three options have Celtics ties in Kevin McHale and Lawrence Frank, who after a season as Doc Rivers' top assistant is drawing heightened interest for a top job:
ESPN Boston via kwout
March, 23, 2011
3/23/11
9:03
PM ET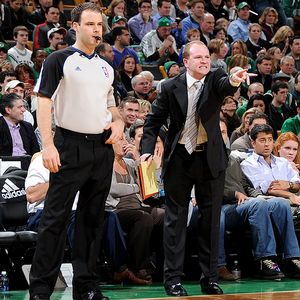 Brian Babineau/NBAE/Getty ImagesCeltics top assistant Lawrence Frank is drawing interest from Tennessee.
BOSTON -- Celtics coach Doc Rivers lent validation to reports that top assistant Lawrence Frank is drawing interest from the University of Tennessee and stressed that he has no problem with Frank going through the interview process for any position deemed an upgrade over his current role, so long as it doesn't interfere with his responsibilities with the Celtics.
"Just like [current Bulls coach Tom Thibodeau] last year, we allowed him to do his job with us, which he did and did phenomenally by the way, and still get interviews, which is great. I'm a big believer in that. I don't think you should ever stand in the way of anyone if they're going to be able to better themselves. You just don't do that. I know it's done around the league... but I don't believe that. I think you can do an interview and still do your job. So if it came to that, it would be great for him."
Rivers kept it light when asked about the potential of losing Frank after the season, particularly to the college ranks.
"He's a pain in the [butt], so I think that'll be good," joked Rivers. "No, Lawrence is a great coach. He'd be terrific in a college atmosphere."
Rivers couldn't resist another one-liner, quipping: "I told Lawrence that he would struggle in the living room with moms [during recruiting pitches], but other than that, I think he'd be pretty good. No, I want all my assistants to get jobs, that would be terrific."
Tennessee fired men's basketball coach Bruce Pearl earlier this week in the face of potential sanctions from the NCAA, who had charged Pearl with multiple instances of unethical conduct. Frank, who spent three seasons as a Tennessee assistant under Kevin O'Neill, was immediately linked to the opening, though it's unclear if he'd be willing to take a college coaching job or wait out another head coaching opportunity at the NBA level.
Frank spent five-plus seasons as a head coach with New Jersey before being fired after an 0-16 start to the 2009 campaign. He would seemingly be a candidate in Boston if Rivers decided to walk away after this season. Rivers is working on a one-year contract after debating whether to hang up his clipboard last season to spend more time with his family.
October, 18, 2010
10/18/10
3:54
PM ET
AP Photo/H. Rumph Jr.Celtics coach Doc Rivers missed Monday's session a day after undergoing throat surgery.
WALTHAM, Mass. -- Here are some notes from Monday's Celtics practice:
Coach Doc Rivers was not at practice, having had an outpatient throat procedure at a Boston hospital on Sunday. Basically, he's day to day. Top assistant Lawrence Frank filled in and, for probably the only time this season, addressed the media. (Rivers doesn't allow his assistants to talk to the press.)

"He feels good, but the doctor doesn't want him using his voice, so it will kind of be day-to-day," Frank said at practice nothing the surgery, which had been planned, was expected to relieve pressure on Rivers' vocal chords. Rivers is home resting his voice.

Frank, who was fired last season as head coach of the Nets, said his new job is "an ideal situation because we can just do our jobs and not have to worry about anything else ... It's a rare environment. I've been on teams that got to the Finals and on teams that have been rebuilding and you appreciate an environment like this."

After he was through, Frank said, "Sorry to bore you. I hope Doc is back soon. Have a great day."
Delonte West (back injury) did not practice. Frank said the team is taking it slowly with West, who has to miss the first 10 games of the season anyway due to a league suspension
Marquis Daniels (shoulder soreness) participated in non-contact drills only.
No update on rookie Avery Bradley, who is having trouble with his left ankle. Bradley appeared in three exhibition games, but was noticeably slowed by the ankle. Frank said the team will re-assess the situation.
July, 17, 2010
7/17/10
3:00
PM ET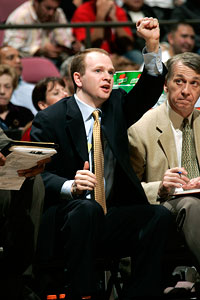 Ned Dishman/NBAE/Getty ImagesLawrence Frank spent six-plus seasons as coach of the Nets before an 0-16 start to the 2009-10 season cost him his job.
Could Lawrence Frank be the next head coach of the
Boston Celtics
?
Frank reportedly agreed to a
one-year assistant-coaching contract
Thursday, matching the length of time remaining on Doc Rivers' current deal. That will afford Frank the luxury of examining all the available head-coaching jobs after the 2010-11 season.
Could Boston be one of them?
Rivers wrestled with the decision to return this season and could very well walk away next year when his contract expires (though he's hinted since announcing his decision to return this season that he's certainly not limiting himself to one year).
For the sake of argument, say Rivers does walk away; the Celtics are preparing for a large-scale roster overhaul after the 2011-12 season based on the (potential) expiring contracts of
Kevin Garnett
,
Ray Allen
, Jermaine O'Neal,
Rasheed Wallace
, and
Nate Robinson
(roughly $48 million in expiring deals). There could be some growing pains as there's never a guarantee that available money immediately leads to impact players (just ask the
New York Knicks
and
Los Angeles Clippers
).
So maybe Frank spends a year as Rivers' apprentice, gets comfortable with the players, and then takes over the clipboard if Rivers hangs up his whistle. Even if he's hired as simply a bit of a transitional coach, he'd have the opportunity to earn a longer stay. If nothing else, you'd have to think he'd be in the mix if Rivers was to walk away.
Regardless, Frank is regarded as a hard worker and is a proven NBA head coach who took the fall for New Jersey's struggles last season (he was fired after an 0-16 start). His addition should acquiesce any fears some had about losing defensive mastermind Tom Thibodeau.