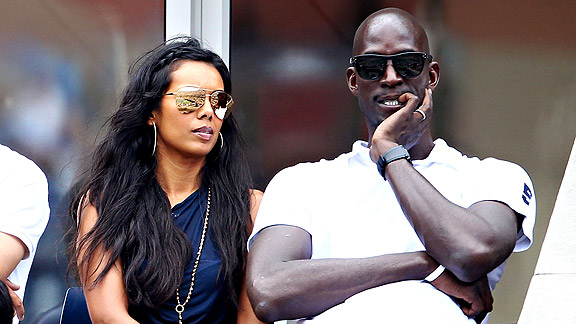 Julian Finney/Getty Images
Kevin Garnett and wife, Brandi, at the US Open on Monday.It's no surprise to see Kevin Garnett at a tennis tournament; it's an offseason staple. In fact, Garnett seemingly can't get enough of any sort of tennis (as evidenced by THIS snapshot from his recent promotional trip to China). But here's the fun part about Garnett getting spotted at the US Open on Monday: A second photo from the event shows Spike Lee mingling with Garnett family members. You'll remember Lee and KG last shared headlines when the director said Garnett needed to "calm the [expletive] down" last February. Combined with other incidents, it left Garnett defending his reputation a bit (leading to another hilarious photo of Shaquille O'Neal, KG, and Lee on the sideline during All-Star Saturday night festivities).
A look at other Celtics headlines (or what passes for such during the lockout) on a Monday holiday:
* Jermaine O'Neal has committed to taking part in a two-week hoops league hosted by Impact Basketball in Las Vegas, according to the New York Times. O'Neal has an offseason residence in Vegas, making it a short commute for him. Celtics guard Avery Bradley also spent time working with Impact this offseason, so it will be interesting to see if he gets invited to join the league. [Update: This story from our friends at ESPN New York confirms Bradley is scheduled to attend.]
* ESPN the Magazine's Chris Palmer reports the Kevin Durant-led Goodman League will tangle with members of the Indy Pro-Am on Sept. 24. Might Celtics rookie JaJuan Johnson be part of the Indy team after competing there this summer? Fellow Celtics rookie E'Twaun Moore did as well, but he's already overseas playing in Italy.
* Speaking of Moore, he's already knee-deep in preseason games for Benetton Treviso of Italy's Lega-Serie A. His teammates include local product Jeff Adrien and local favorite Brian Scalabrine. According to a box score in a game story posted on the team's official website Monday, Moore dropped 21 points in an exhibition win over a team from Frankfurt, Germany. The best news for Celtics fans: Moore hit 5-of-5 attempts from beyond the arc in the game, an encouraging sign about the progress of his 3-point shot (one that he undoubtedly has attempted to hone with eyes toward making the Celtics roster when NBA hoop returns).