Boston Celtics:

Leftovers
December, 22, 2011
12/22/11
12:33
AM ET
BOSTON -- A handful of leftovers after the
Boston Celtics
wrapped up an abbreviated preseason with an 81-73 triumph over the
Toronto Raptors
Wednesday night at TD Garden:
*
No injury for J.O.
: Celtics center
Jermaine O'Neal
departed for the locker room in the third quarter of Wednesday's game, but coach Doc Rivers said it wasn't anything to be concerned by for the oft-injured veteran. "I didn't want him falling asleep on the bench," joked Rivers. "No, I think he went to go get a massage, honestly. He asked me if he could go get a massage and I said, 'Sure, whatever.'"
Rivers heaped praise on O'Neal's preseason play after he blocked four shots in less than 12 minutes of court time Wednesday.
"He's great. He defends the basket, man," said Rivers. "His blocked shots, his timing -- it's just amazing. He looks great. What you saw is what he's been all camp. I told you, coming out of our mini training camp, he was the MVP. He's a rare bird, you rarely see a guy that blocks shots that takes charges. He does both. That's just unusual."
*
Rondo shows confidence in his jumper
:
Rajon Rondo
drilled a trio of first-quarter jumpers Wednesday aiding him in piling up a team-high 17 points and showcasing just how much of a weapon that shot can be.
But Rivers might have preferred the aggressiveness Rondo showed in attacking the basket even more.
"We want him to just shoot it," said Rivers. "I don't care how many times he shoots. What I did like more than his jump shot was that he got to the foul line I think six times in the first half. We need that."
Rondo's attempts at the rim were down more than an attempt per game last season and some wondered if his foul shooting woes (and injury issues) were deterring him from attacking the basket. Rondo missed just one freebie Wednesday, an encouraging sign in his confidence there as well.
November, 8, 2010
11/08/10
4:05
PM ET
AP Photo/Sue OgrockiCeltics guard Ray Allen puts up a shot against the Oklahoma City Thunder.
OKLAHOMA CITY -- A trio of leftovers after the
Boston Celtics
defeated the
Oklahoma City Thunder
Sunday night at the Ford Center:
THE DAGGER: After the Thunder rallied within six in the fourth quarter, Glen Davis hit a pair of jumpers to quickly push the lead back to double digits. But the play Celtics coach Doc Rivers liked best came a short time later and essentially sealed Boston's victory. Hauling in an offensive rebound off a Nate Robinson miss, Davis keenly decided against going up in traffic and instead kicked the the ball back out to Ray Allen, who splashed a 3-pointers for an 88-71 advantage with just over seven minutes remaining, forcing Oklahoma City to call timeout as the game slipped away.

"One of the thing that I love that we're finally doing is, on offensive rebounds in traffic, we're kicking it back out," said Rivers. "That's something we talk about a lot. I think it was Baby who got an offensive rebound and, last year he would have tried to fight the trees and go into traffic. [This time] he kicked it out and 3-point shooters are always open on offensive rebounds. That was a big play."
No charity from C's: The Celtics came into the game with a primary goal of keeping the free throw-happy Thunder off the charity stripe and, thanks in large part to quality offensive possessions and valuing the ball (maybe outside of the third quarter), they achieved that goal. Boston forced Oklahoma City to operate largely out of a halfcourt set and limited transition opportunities, which prevented them from racing to the rim and drawing fouls (keeping OKC off the offensive glass, beyond the third quarter, helped that cause as well). The Thunder settled for a mere 17 free throw attempts, nearly half the league-best 34.8 attempts they averaged per game entering Sunday's tilt.
See you again, soon: Being a Western Conference foe, Sunday was Boston's only visit to Oklahoma City this season, but the Thunder trek to Boston on Nov. 19. Celtics coach heaped praise all over Oklahoma City and thinks they'll it'll get its season on track sooner than later. But he wouldn't mind if that came after the second meeting.

"They'll be fine," said Rivers. "Everybody is gunning for them right now. It'll be an adjustment period, but they'll be right back up there by the end of the year. They're so talented, so well-coached. They'll be fine. I'm glad we only see them twice."
October, 15, 2010
10/15/10
12:45
PM ET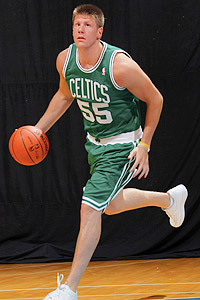 Layne Murdoch/NBAE/GettyLuke Harangody made himself at home at Madison Square Garden Wednesday.
The life of a rookie: One moment you're on top of the world after producing your first NBA double-double on a familiar court, the next you're forced to sing Happy Birthday in front of all the veterans in the locker room and get assigned the thankless task of hauling a birthday cake to the team bus.
Celtics second-round draft choice
Luke Harangody
made the most of extended minutes Wednesday night in New York, chipping 16 points and a game-high 12 rebounds over 22 minutes in Boston's 104-101 triumph over the Knicks. This one night after a solid stretch against the 76ers and it seemed like Harangody was asserting himself as a potential role player off the Boston bench despite a low draft position (52nd overall).
Harangody wasn't in danger of developing a big head, but his teammates took him down a peg, anyhow. Harangody joined the rest of the Celtics' rookies in singing Happy Birthday to
Paul Pierce
,
Jermaine O'Neal
, and coach Doc Rivers after Wednesday's game (the trio were all born on Oct. 13). For good measure, he also had to grab the box containing the
chocolate-frosted cake
and lug it to the team bus as he departed the locker room.
It's a pretty fair trade-off for what the veterans have been doing to help him on the court.
"My confidence level is getting better every day," said Harangody. "The veterans have been great with me just pulling me to the side at practice and letting me know I was going 100 miles per hour out there. They tell me, 'Just relax and play your game. Everyone knows what you can do.' Every game it's getting better and better."
Indeed, Harangody connected on three consecutive shots in a 61-second span against Philadelphia, scoring 8 of the 11 points he produced that night. Coupled with his New York effort, Harangody has made 8 of his last 14 attempts (57.1 percent) while chipping in 27 total points. This after connecting on just 2 of his first 13 preseason attempts (15.4 percent) over a three-game span.
"Luke was stellar," Pierce said after Wednesday's game. "He's been gaining his confidence. We've seen him in practice. He played well just the other night [vs. Philadelphia] and it carried over. Coach just said, 'You're going to go out there and make mistakes,' but he continued to play hard and it showed."
For his part, Rivers couldn't resist a small jab after Harangody's effort in New York.
"I think he thought he was in the Big East tournament," said a smiling Rivers, referring to the Madison Square Garden venue after Harangody's exploits with Notre Dame. "He was playing terrific. He was shooting the ball. We're trying to get him to try and think: Shoot. Don't just shoot when you're open, shoot the ball and keep the game simple. We're thinking that will slow him down. He's a monster on the glass, he just works hard. It's good for him, I think he needed it."
Most impressively, Harangody showed that, even with his undersized frame, he can still compete on the glass. That will ease concerns about whether he's too small to battle at the power forward spot (heck, he even guarded centers at times against New York).
"All through college, I kind of had a knack for the ball," said Harangody. "I started to put a body on my man, finally, and it kind of gets me loose to go to the basket."
RIVERS EXPECTS INJURY BUG TO LINGER THIS SEASON
Having just detailed injuries that would sideline
Shaquille O'Neal
and
Delonte West
Wednesday night, Rivers was asked about experimenting with a shooter-heavy lineup featuring
Glen Davis
and
Kevin Garnett
. He smiled and noted that Big Baby's knee had been sore and that he wasn't likely to play much that night (he ultimately sat out the entire game and Garnett got ejected in the second quarter, anyhow).
Rivers admitted this will be a familiar challenge for Boston throughout the season.
"I think we're going to deal with that all year, that would be my guess," said Rivers. "I don't think we're going to be a team that's healthy all year, i can almost guarantee that. But that's why our bench is so important. We need our bench this year in order to get to the playoffs. We have to log heavy minutes during the regular season for Paul, Kevin, and Ray. Honestly, I don't know if it would bode well for us in the playoffs [if the veterans were forced to log heavy regular-season minutes]. And to think that Shaq and JO will be healthy for 82 games -- I'm hoping that's the case, but I'm not going to count on that. We're going to need guys to fill in.
"That's the problem with the East, you still gotta win games and that's what we're going to have to do."
PROGRAMMING NOTE: NO, CANADA
Your humble blogger is scheduled to see seven of the Celtics' eight exhibition games this preseason with Friday's game in Toronto the lone contest we're not attending. Like the regular-season games we're unable to attend, we'll still have our eyes on the action from afar and typically we'll pass along some postgame observations in the blog. And if any news comes up, we'll do our best to reach out to the team on the road and update you as best we can. Fortunately, in this case, the Celtics return home quickly, with an exhibiton rematch against the Knicks on Saturday in Hartford, Conn.
September, 24, 2010
9/24/10
12:25
PM ET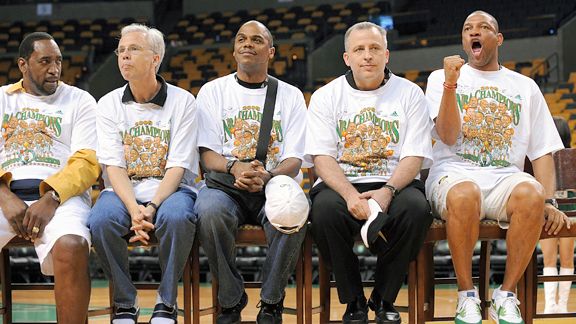 Brian Babineau/Getty ImagesBoston's coaching staff before the victory parade after the 2008 championship season.
A handful of Celtics' leftovers from Thursday:
Thoughts on the departed
In an offseason that saw plenty of turnover, Celtics coach Doc Rivers and president of basketball operations Danny Ainge spent part of Thursday's session with reporters talking about those key members of Boston's recent success that won't be back next season.
Rivers saw two members of his coaching staff depart when big-man coach Clifford Ray was not retained, while associate head coach Tom Thibodeau became head coach of the
Chicago Bulls
.
"It was difficult parting ways with Cliff," said Rivers. "It was difficult to [part ways with associate head coach Tom Thibodeau]. I had dinner and lunch with Thibs, Sunday and Monday [in Chicago]. I saw him too much. I told him he's not with me any more, get away from me. You form a special bond with those guys especially with Cliff. Cliff's been with me for a while. Someday he may be back with me. But yeah, it's always tough."
The Celtics hired former New Jersey head coach Lawrence Frank as Rivers top assistant. Ainge indicated last week that the team was having conversations with a former Frank assistant,
Roy Rogers
, about potentially bringing him in as the new big-man coach.
Ainge was asked Thursday about the departure of
Brian Scalabrine
, who spent five seasons in Boston, ascending to fan favorite despite limited contributions on the court.
"Scal was good for us, good for our team, and the morale of our team," said Ainge. "He brought a lot of good qualities to our team over the years."
Scalabrine is set to join Thibodeau in Chicago after agreeing to a non-guaranteed deal that will have him fighting for a roster spot during the Bulls' training camp.
Rondo on SportsCenter
Celtics point guard
Rajon Rondo
appeared on SportsCenter
Thursday and ran the usual gamut of offseason questions, including looking back to Boston's Game 7 loss to the Lakers, ahead to a new seasons, and offering his thoughts on the
Miami Heat
.
As part of the appearance, courtesy of the NBA 2K11 video game that Rondo is promoting, there was also some chatter about player ratings in the game. Rondo must have got some bad information from game producers, because a
list of starter ratings released Thursday
indicated he's an 87 overall, not the 93 he believed in the interview. Regardless, he is the Celtics' top-rated player, which is sure to lead to some cries about disrespect from the other starters who range from 72 (
Kendrick Perkins
) to 83 (
Paul Pierce
). By comparison, Miami's
Dwyane Wade
and
LeBron James
are both at 97 overall, while
Chris Bosh
is an 87. The Celtics can hold out hope for an in-season roster rankings upgrade.
May, 7, 2010
5/07/10
11:25
AM ET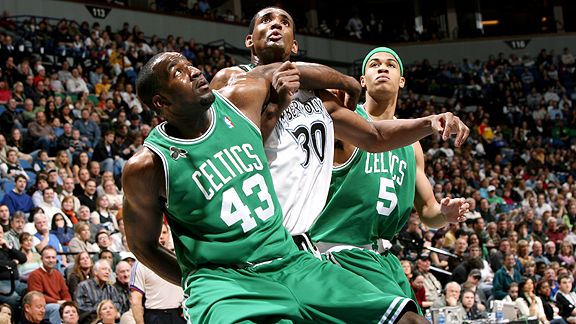 David Sherman/NBAE/Getty ImagesNo, really, Kendrick Perkins swears he learned things from former teammate Mark Blount.
Clearing out the notebook before tonight's Game 3 with some leftover nuggets from Thursday's practice:
*
C's must limit turnovers and fouls
: Celtics coach
Doc Rivers
stressed that his team must drive down the number of giveaways and fouls in order to continue being successful. The latter we addressed in our
5 things to watch in Game 3
, but Rivers noted that turnovers are giving the Cavaliers too many easy points in transition and fueling some of their second-half runs.
"They're a lot like Miami in that, if you turn the ball over, you should just give them two points, because LeBron [James] in the open court by himself, there's not a lot of options in stopping that. Hell, even when you try to foul, he still scores through the contact. The type of turnovers we've had are bad. We've had open-court turnovers, cross-court pass turnovers, and we can't have those in this series -- or any series.
*
Need for 'Sheed, The Sequel
: Asked if the Celtics needed another big effort from
Rasheed Wallace
, Rivers joked, "I'm all for it." But he noted that, regardless of his offensive output, the key for Wallace is maintaining his focus in the defensive end. "I think, publicly, his shooting and scoring is what everyone saw. For us, it was more the defense and things like that. He did a lot of little things in Game 2 that we need him to do again. His defense was good, we need that. We need a sustained defensive effort at the 5 and the 4 spot, for 48 minutes. And that's not just Rasheed, but everybody. Those two positions are really important for us."
*
'Sheed's wake-up call
: After telling the Celtics radio broadcasters that he had a heart-to-heart with Wallace in the showers sometime before Game 2,
Kevin Garnett
was asked how exactly he woke Wallace up. KG chuckled at the question Thursday, then playfully announced, "I slapped his ass!"
*
Thibs interviews with Hornets
: According to the Associated Press, New Orleans general manager Jeff Bower, team president Hugh Weber, and soon-to-be owner Gary Chouest interviewed both Celtics associate head coach Tom Thibodeau and ESPN analyst
Mark Jackson
on Thursday in Boston for the Hornets' head coaching vacancy.
The Hornets have now interviewed five candidates for the job. The club also met with former Dallas coach
Avery Johnson
and current Mavericks assistant Dwane Casey on Tuesday, and with former NBA coach Mike Fratello on Wednesday.
*
Being perfectly Blount
:
Kendrick Perkins
generated some chuckles during the end of his chat with the media after Thursday's practice. After being snubbed a bit in the All-Defense balloting, Perkins was asked if his intimidating scowl could have affected some of the coaches that didn't vote for him, but he noted that wouldn't change because that's just how he looks. When asked about the five stitches he needed to close a gash in his lip after receiving an elbow from
Shaquille O'Neal
in Game 1, Perkins added, "I'm already ugly. I can't add nothing else to that, man."
But Perkins wasn't done. While discussing his defensive development, Perkins noted he's taken a little bit from all the big men he's been around, most notably Kevin Garnett. "I learned some things from
Mark Blount
, too," said Perkins, who even seemed to crack up at his own suggestion. "Believe it or not."