Boston Celtics:

Maine Mondays
February, 1, 2011
2/01/11
9:45
AM ET
By
Greg Payne
| ESPNBoston.com


Boston Celtics rookie Avery Bradley tied an NBA Developmental League record with nine steals as the Maine Red Claws escaped with a thrilling 109-106 victory Sunday over the D-League's top team, the Tulsa 66ers, who entered the game winners of 14 straight (check out the highlights above). We take our occasional look at how Boston's D-League affiliate is faring:

--SINCE THE LAST TIME WE MET--

January was a busy month for the Red Claws, including a trip to the D-League showcase. Here's some of the top headlines from the past month:

Harris cashes in overseas: Paul Harris, the Claws' top choice in the 2009 D-League draft, left the team in late January, signing a contract with a team in the Philippines. Harris told the Portland Press Herald: "Playing time played a little part, but it was a situation where I felt like we went to the [D-League] Showcase. It was the biggest stage of the year. I think I played pretty well. I waited around to see what happened. Nothing really happened."

Janning traded to Rio Grande for Anderson: Matt Janning, a Northeastern product who spent time with the Celtics' summer league squad in Orlando, was traded to the Rio Grande Valley Vipers in exchange for shooting guard Antonio Anderson, a Lynn, Mass. native. "Antonio Anderson is a versatile player who plays the game at a high level on both ends of the court and led his team to last year's D-League Championship," said Red Claws president and general manager Jon Jennings. "Antonio is a player we were very interested in last year and are thrilled to be able to add him to our roster." Janning, who started the NBA season on the Phoenix's roster, joined Maine in December after being cut by the Suns.

Where they stand: The Red Claws are 12-17 overall, good for fourth place in the D-League's Eastern Conference. The playoffs are seeded by the top eight teams in the league and, right now, Maine is about three games back of a final spot with two months (and 21 total games) remaining in its season.

December, 20, 2010
12/20/10
3:55
PM ET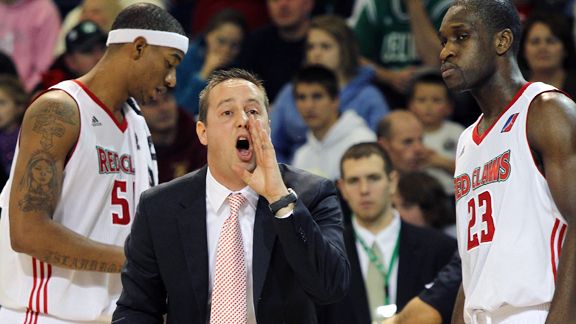 Rich Obrey/NBAE/Getty ImagesAustin Ainge and the Red Claws have won three in a row.
On a week they welcomed back one of their parent club's former stars, the Maine Red Claws mimicked the Boston Celtics a bit, putting together a three-game win streak that featured a pair of victories over Antoine Walker and the Idaho Stampede.
--
WEEK IN REVIEW
--
Thursday, Dec. 16: Claws 105, Stampede 99
: On the night Walker returned to New England (dropping 25 points over 33 minutes in the process), the Red Claws shot 51.4 percent from the floor, put six of nine scorers in double digits (including a double-double from DeShawn Sims, who registered 24 points and 17 rebounds) and ended a two-game skid.
Friday, Dec. 17: Claws 117, Armor 112
: Maine withstood a feverish fourth-quarter rally that saw the Armor temporarily pull ahead, but dug in for a gritty victory that evened the season series between the two territorial rivals at two games apiece. Sims again provided the offensive punch, scoring a team-high 25 points to go along with eight rebounds, while Tiny Gallon chipped in 19 points and seven boards. JamesOn Curry scored a game-high 38 points for Springfield.
Sunday, Dec. 19: Claws 100, Stampede 98 (OT)
: Jamar Smith's 3-pointer with 3.9 seconds remaining in regulation forced an extra session, where Gallon produced six of his team's eight points, including a winning fadeaway with 2.6 seconds to play. Gallon paced the Red Claws with 17 points, while Mario West added a double-double with 13 points and 10 rebounds (to go along with four assists and two blocks). The Claws connected on 12-of-24 3-pointers, with Smitih and Chamberlain Oguchi providing three apiece (highlights embedded below).
--
EYES ON FAMILIAR FACES
--
Tiny Gallon (6-9 forward, affiliated)
-- After sitting out Maine's road trip last weekend, Gallon returned to to average 17.3 points and 6.3 rebounds per game during the three wins. Season stats: 16.8 ppg, 8.2 rpg, 2.0 apg.
Jamar Smith (6-3 guard, affiliated)
-- Smith connected on 13 of 22 attempts (59 percent) of his shots, while averaging 12.3 points per game in three wins. What's more, he connected on 7 of 14 3-pointers. Season stats: 13.2 ppg, 5.3 apg, 3 rpg.
Mario West (6-5 guard, camp cut)
-- Maine's Swiss Army knife continues to provide a little bit of everything, averaging 10.6 points, 7 rebounds, and 4.3 assists per game over the weekend. Season stats: 10.9 ppg, 6.3 rpg, 2.3 apg.
DeShawn Sims (6-8 forward, summer league)
-- After a little lull, Sims is thriving again, putting up back-to-back monster efforts to start the weekend (he did go cold Sunday, connecting on just 3-of-12 shots for nine points and eight rebounds). Season stats: 15.9 ppg, 8.5 rpg, 1.1 apg.
Matt Janning (6-4 guard, summer league)
-- Janning continues to log quality minutes off the bench, but didn't reach double figures in scoring all weekend. He connected on 6 of 17 shots (35.3 percent), including 4 of 8 3-pointers. Season stats: 6.9 ppg, 2.6 rpg, 1.5 apg.
--
WHAT'S ON TAP
--
The Red Claws trek to Iowa on Thursday for a pre-Christmas clash with the surging Energy (9-3, best record in the D-League). Maine then returns home to host Springfield Sunday at 5 p.m. ... For those in Maine, the Claws (including Gallon, Sims, and Matt Janning) will be ringing bells with the Salvation Army at the Maine Mall from 4-8 p.m.
December, 13, 2010
12/13/10
2:05
PM ET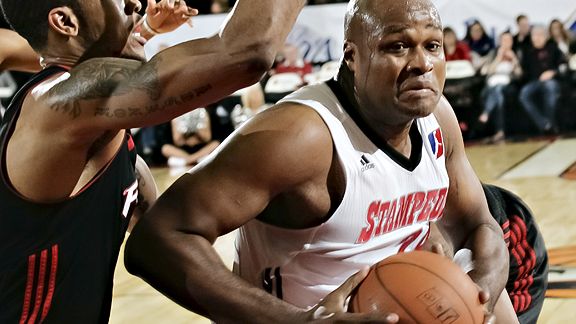 Otto Kitsinger/Getty ImagesA familiar face is returning to New England this week.
The Maine Red Claws will be thrust into a national spotlight this week when newly inked Antoine Walker and the Idaho Stampede invade for two games in four days. Before that happens, let's take a look back at the week that was for the Claws:
--
WEEK IN REVIEW
--
Thursday, Dec. 9
: The injury plagued Red Claws got a bit of (temporary) reinforcement Thursday when the Charlotte Bobcats optioned rookie point guard Sherron Collins to the team before the start of a weekend doubleheader against Erie. Coach Austin Ainge had some familiarity with Collins after watching him compete for Charlotte at the Orlando summer league (where Collins averaged 12.5 points and 2.8 assists in four games). Collins was the first player optioned to Maine this season and only the second Bobcat to be sent to Maine (Alexis Ajinca spent much of the 2009-10 season with the Claws).
Friday, Dec. 10 - Erie 120, Maine 71
: The Red Claws landed on the wrong side of a 49-point thumping, as Erie ran wild in the first game of a doubleheader, opening a 47-point lead through three quarters before calling off the dogs. Erie shot 60.2 percent from the field (50-of-83 overall) and put six players in double figures, led by Nate Linhart with 20 points on 7-of-8 shooting. DeShawn Sims rebounded from some previous-week struggles to score a team-high 22 points and grab 10 boards. Paul Harris added a double-double (12 points, 12 assists) for the Claws, who shot a mere 26.8 percent (22-of-82 overall) from the floor.
Saturday, Dec. 11 - Erie 109, Maine 91
: Maine came out more inspired Saturday night, scoring 62 first-half points, but Erie made a third-quarter run to pull away, putting six players in double figures again to sweep the weekend series. Sims again led Maine with 20 points (on 8-of-13 shots), while Harrison added 18 points, six rebounds, three assists, two blocks, and a steal while stuffing the stat sheet. Collins rebounded from an off game the night before, scoring 15 points over 29:13 off the bench.
--
EYES ON FAMILIAR FACES
--
Tiny Gallon (6-9 forward, affiliated)
-- Sidelined with a back issue, Gallon did not play in either of Maine's two games this weekend. He's averaging 16.6 points, 9 rebounds, and 1.3 assists per game in seven appearances (five starts).
Jamar Smith (6-3 guard, affiliated)
-- Smith's shot wasn't falling in Erie, where he was 7-of-17 overall, for a total of 19 points to go along with four rebounds, seven assists, two steals, and 13 turnovers over two games. For the season, Smith is averaging 13.4 points, 5.7 assists, and 3.4 rebounds per game.
Maine Red ClawsMario West gets his own bobblehead night in the new year.
Mario West (6-5 guard, camp cut)
-- Like Smith, West struggled mightily with his shot, missing all seven attempts in Friday's loss, and connecting on 3-of-14 shots overall for eight points in two games. West added a total of seven rebounds, five assists, two blocks, a steal and eight turnovers in the weekend series. For the season, he's averaging 11 points, six rebounds, and 2.2 assists per game.
DeShawn Sims (6-8 forward, summer league)
-- With Gallon sidelined, Sims jumped back into the starting lineup and made the most of the opportunity, twice leading the team in scoring this weekend. For the two games, he totaled 42 points, 15 rebounds, and two blocks over 62 minutes of action. For the season, Sims is averaging 14.4 points and 7.4 rebounds per game.
Matt Janning (6-4 guard, summer league)
-- Janning is one of Maine's top guards off the bench, logging 61 minutes this weekend, while scoring 10 points in each game (on 6-of-14 shooting overall). In five appearances, Janning is averaging 7.2 points, 2.2 rebounds, and 1 assist per game since joining the Claws after being released by the Phoenix Suns.
--
WHAT'S ON TAP
--
The Red Claws host Walker and the Stampede on Thursday (7 p.m.) and Sunday (5 p.m.), while also sandwiching a visit to Springfield Friday night. Keep an eye on this space for more on Walker's return later this week.
Maine also announced that Jan. 6 will be Mario West Bobblehead Night, with the first 1,000 fans receiving the collectible courtesy of Wright Express.
"In addition to being a fan-favorite and one of the hardest working players on the team, Mario West's name will forever be in the Red Claws' history books as the first player in team history to earn a call-up to the NBA," said Red Claws president and general manager Jon Jennings. "We wanted to do something that, not only the fans would enjoy, but that would honor Mario's unique place in Red Claws' history."
December, 7, 2010
12/07/10
11:00
AM ET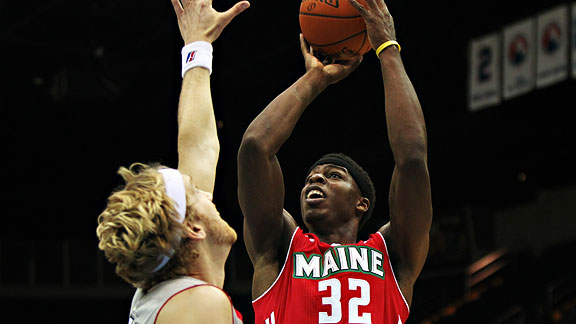 Chris Marion/NBAE/Getty ImagesDeShawn Sims puts up a jumper vs. Springfield.
The Maine Red Claws dropped a pair of nail-biters last week, but finished strong with a 119-111 triumph over visiting Springfield Sunday. We're a day later than usual (
thanks, Adrian Gonzaelz
), but let's take a look in the rear-view mirror.
--
WEEK IN REVIEW
--
Before diving into three games in four days, the Red Claws inked former Celtics summer leaguer Matt Janning out of the available player pool Wednesday. Janning started the year with the
Phoenix Suns
before being let go last month and found a home with some familiar faces (including Maine coach Austin Ainge and, another in-season acquisition, DeShawn Sims, both a part of Boston's summer squad in Orlando).
Thursday, Dec. 2: Springfield 116, Maine 112
: Buoyed by the addition of Nets second-year swingman
Terrence Williams
(16 points, 15 rebounds, 13 assists) the host Armor took over late and emerged with the win.
Mario West
returned to the lineup after battling a hamstring injury and scored a team-high 21 points on 9-of-17 shooting with seven rebounds and two steals. Janning scored 12 points in his debut, logging nearly 24 minutes off the bench, as Maine put six players in double figures.
Friday, Dec. 3: Fort Wayne 105, Maine 99
: Fort Wayne opened a 27-point cushion and fended off Maine's late rally. West again paced Maine with 19 points, 12 rebounds, five assists, four blocks and two steals over 41:30. Champ Oguchi tossed in a career-high 19 points off the bench for Maine.
Sunday. Dec, 5: Maine 119, Springfield 111
: Tiny Gallon put on a dunk exhibit, sprinkling in an array of jams as part of a 25-point, eight-rebound effort to pace the Claws. Jamar Smith added 20 points and 10 assists, while Paul Harris chipped in 18 points and nine rebounds. Check out the highlights below:
--
EYES ON FAMILIAR FACES
--
TINY GALLON: The 6-foot-9 forward -- an affiliated player after spending a short time with Boston in the preseason -- continues to thrive in the D-League, averaging 16.6 points and nine rebounds per game. He posted two doubles-doubles this week (barely missing another in Maine's lone win). He's doing a good job getting to the line, averaging nine free throw attempts per game during that three-game span.
JAMAR SMITH: The 6-foot-3 guard Smith -- also an affiliated player -- has thrived since joining the starting lineup last month. He's shooting 50.6 percent from the floor while averaging 14.6 points, 6.3 assists, and 3.9 rebounds per game.
MARIO WEST: After sitting out three games with a hamstring injury, West returned this week and put together three impressive efforts. His shooting remains streaky (he was 4 of 12 in Sunday's win) and his turnovers are a concern (17 giveaways during the three-game span), but his scrappiness was missed on the court.
DESHAWN SIMS: The 6-foot-8 forward who spent time with Boston's summer squad has cooled after initially joining the Claws. In the two losses, Sims was 4 of 19 shooting for a combined 12 points. His minutes dipped in Sunday's win, but he connected on 4-of-5 shots for eight points over 15 minutes.
MATT JANNING: The Northeastern product registered 12 points off the pine in his debut, but had a quiet weekend. He connected on a mere 1 of 9 shots for four total points, going scoreless over 12 minutes in Sunday's win. Regardless, Janning finished plus-13 in that win, so he's helping the team even when his shot isn't falling.
--
WHAT'S ON TAP?
--
The Red Claws hit the road for a doubleheader in Erie on Friday and Saturday. The next home game is Thursday, Dec. 16 when old friend
Antoine Walker
is expected to return to the region as a member of the Idaho Stampede.
November, 29, 2010
11/29/10
5:05
PM ET
The Red Claws split a doubleheader with host Springfield last week, dropping a heartbreaker on Night 1, but rebounding with a lopsided triumph on Night 2 (see highlights above).
Newly acquired DeShawn Sims, the Michigan product who played for Boston at the Orlando summer league, scored a team-high 15 points in his debut on Friday night to lead five Claws in double figures, but the Armor rallied behind a game-high 30 points from Scottie Reynolds for an 88-85 triumph at the MassMutual Center.
Maine rebounded on Saturday with Sims again providing a monster effort off the bench. The 6-foot-8 forward posted team highs with 24 points and 15 rebounds in a 114-98 triumph over Springfield.
"[Sims is] a monster and they had a hard time guarding him," Claws coach Austin Ainge
told the Portland Press Herald
.
Paul Harris posted 22 points on 9-of-14 shooting with eight rebounds and three steals in Saturday's win. He's averaging 15.8 points and 10.3 rebounds per game in four appearances this season after sitting out all of last year with an ankle injury.
--
EYES ON THE AFFILIATES
--
With Stephane Lasme shelved following surgery to repair a foot fracture earlier this month, the Celtics have two affiliated players competing for Maine in Jamar Smith and Tiny Gallon. Others like Sims and Mario West (a final camp cut) have ties to the organization as well. Here's a look at how the affiliates are faring:
* Smith climbed into the starting lineup this week, earning back-to-back starts. He had an off shooting night, connecting on just 2-of-9 attempts in Friday's loss, but bounced back with 12 points and eight assists in Saturday's triumph. For the season, Smith is averaging 11.8 points, 5.5 assists and 2.8 rebounds while averaging 32 minutes per game.

* Like Smith, Gallon joined the starting lineup for this week's doubleheader and produced two quality efforts (14 points, 11 rebounds in Friday's loss; 17 points, 8 rebounds in Saturday's win). For the season, Gallon is averaging 14.8 points, 8 rebounds and 1.2 blocks over 30.8 minutes per game.
West has only appeared in one game this season because a hamstring injury, scoring four points and grabbing four rebounds in eight minutes.
--
WIGGLING UP TO MAINE?
--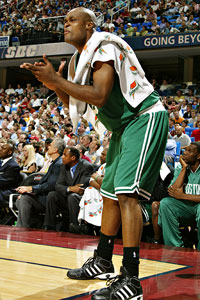 David Liam Kyle/NBAE/GettyOld friend Antoine Walker could be returning to the region soon.
Sources tell ESPN.com's Marc Stein that former Celtics forward Antoine Walker should soon
ink a deal with the Idaho Stampede
of the NBA's Development League (providing he passes a standard background check).
For those interested in breaking out their old No. 8 (or 88) jerseys and shimmying up to Maine for Walker's return to the region, the Red Claws are
set to host
the Stampede on
Dec. 16
(7 p.m.) and
19
(5 p.m.). It is Idaho's only visit to Maine this season and the Claws do not travel there later in the year.
Here's more on Walker's impending return from Stein:
Former NBA All-Star Antoine Walker intends to launch his latest comeback with the D-League's Idaho Stampede, according to sources close to the situation.

After years of legal and financial woes, Walker first must pass a background check that all D-Leaguers are subjected to before he can sign with the league, sources said.

But plans are already in place for Walker's rights to be claimed by the Stampede, who are coached by former NBA guard Randy Livingston, as long as there are no snags with background review.
Click
HERE
to read the full story.
--
WHAT'S ON TAP
--
The Red Claws visit Springfield again on Thursday before returning home to host Fort Wayne on Friday. It's a bit of a doubleheader for the parent and minor league squads as the Celtics visit the Nets on Sunday at 1 p.m., while Maine hosts the Armor (the Nets' D-League affiliate) at 5 p.m. that same day.
November, 22, 2010
11/22/10
2:15
PM ET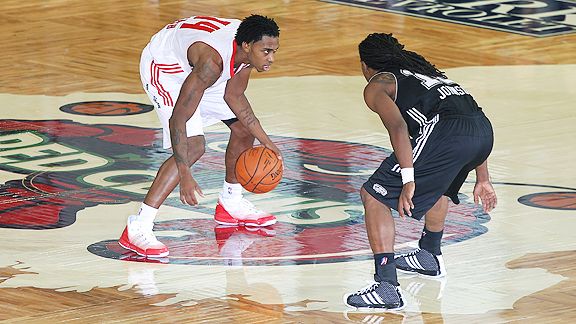 Rich Obrey/NBAE/Getty ImagesJamar Smith dribbles the ball near midcourt during a game against Austin.
Every Monday while the NBA Development League is in session, we'll try to take a quick glimpse at how the Maine Red Claws, Boston's minor league affiliate, are faring with a focus on the Celtics' affiliated players.
WEEK IN REVIEW
The Red Claws (1-1) opened their season by splitting a back-to-back with visiting Austin, dropping Friday's season-opener, but rebounding in Saturday's rematch. Paul Harris scored a team-high 20 points to pace five Claws in double figures on opening night (Maine shot a solid 47.3 percent from the floor overall), but thanks in large part to the 22 offensive rebounds Maine allowed, the Toros emerged with a 103-97 triumph. The following night, Jamar Smith, one of three affiliated players from Boston, scored a game-high 25 points on 9-of-12 shooting off the bench to spark the Claws to 93-88 victory.
EYES ON THE AFFILIATES
Stephane Lasme: On the eve of the 2010-11 season, the Red Claws announced that Lasme, one of Boston's final (and toughest) camp cuts, would be sidelined indefinitely after undergoing surgery to repair a stress fracture in his left foot (suffered in Maine's only preseason game last Monday night). Lasme started that night, but played only two minutes before incurring the injury that will shelve him for the foreseeable future.

Jamar Smith: One of the nation's top 3-point shooter last season at Southern Indiana (he was named the Division 2 Player of the Year there), Smith showcased his perimeter skills by connecting on 5-of-6 trifectas in Saturday's 25-point outburst. He's averaging 33.5 minutes per game off the bench, shooting 61.1 percent with a solid stat line (15 points, 5 assists, 4 rebounds, and 2 steals per game through two contests).
Tiny Gallon: Coming off the pine, the 6-foot-9 Gallon, a Milwaukee Buckets draftee who was brought in for the final days of camp with eyes towards assigning to Maine, is averaging 14 points, 6.5 rebounds,and 2 blocks per game (he registered four rejections in Saturday's game). He also produced the monster one-handed jam that appears at the end of this entry.
WHAT'S ON DECK?
The Red Claws get back to work with another back-to-back later this week, this time a doubleheader in Springfield on Friday (7 p.m.) and Saturday (noon). The Red Claws defeated the Armor, 102-88, in preseason play.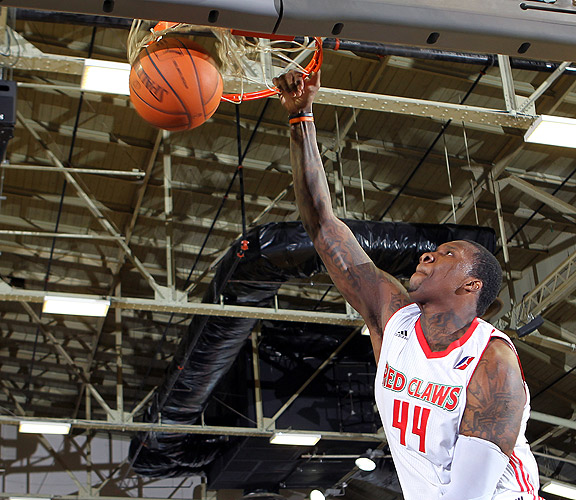 Rich Obrey/NBAE/Getty ImagesTiny Gallon throws down a one-handed jam.