Boston Celtics:

Matt Janning
December, 1, 2010
12/01/10
5:55
PM ET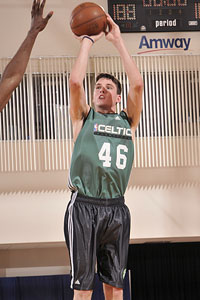 Fernando Medina/NBAE/GettyThe Maine Red Claws inked Northeastern product Matt Janning Wednesday.
The Maine Red Claws signed Northeastern product Matt Janning on Wednesday, filling a roster spot opened when recently acquired Jordan Eglseder was waived due to a knee injury.
Janning shined for Boston's summer league squad, actually being implored by Celtics president of basketball operations Danny Ainge to stick with the team, but decided to join Phoenix's squad for the Las Vegas summer league and it led to an NBA job (he inked a multi-year contract, but couldn't stick early in his rookie season).
Here's more from a release from the Claws:
Janning, a 6-4, 198 lb. guard out of Northeastern, will join the team tomorrow in Springfield. Undrafted in the 2010 NBA Draft, Janning was signed in August by the Phoenix Suns after averaging 12.6 points and 5.8 rebounds for them in the Vegas Summer League. He also played for current Red Claws Head Coach Austin Ainge as part of the Boston Celtics summer league squad in Orlando.

With Steve Nash and Goran Dragic already established, Janning, 22, proved to be the odd man out in Phoenix and was released by the Suns on November 16 despite favorable reviews from the Suns' coaching staff and players. He joins fellow former Huskie Eugene Spates on the Red Claws.

"I have never seen anything like this," said Red Claws president and general manager Jon Jennings of the team's spate of injuries. "Before our season had even begun, we lost Stephane Lasme to a lengthy injury, followed quickly by injuries to Mario West, Lamonte Ulmer, Magnum Rolle and now Jordan Eglseder. I am incredibly impressed by the perseverance our team has shown. They have really pulled together and played well.

"We are very fortunate that a player of the caliber of Matt Janning was available. He is athletic and has a tremendous feel for the game. He will be a good addition to the team."
July, 7, 2010
7/07/10
5:34
PM ET
ORLANDO, Fla. -- A collection of news and notes after the Boston Celtics defeated the Charlotte Bobcats in summer league play Wednesday at the RVD Sportsplex:
The rundown
(a quick look at summer league headlines)
* Janning takes flight; debates a second flight
* Loose Balls: Harangody gets stitches; Erden improves
JANNING TAKES FLIGHT; DEBATES A SECOND FLIGHT
Celtics summer leaguer Matt Janning has a decision to make: To fly or not to fly.
Janning had a ticket for an 8 p.m. flight from Orlando to Las Vegas on Wednesday evening and he planned to sync up with the Phoenix Suns in Sin City in preparation for the second half of the NBA's summer league slate next week.
But after scoring a game-high 20 points in Boston's 92-71 triumph over Charlotte in Wednesday's summer league action, Janning got an unexpected surprise when Celtics president of basketball operations Danny Ainge asked him to stay in town and finish out the week.
"He kinda said, 'You got a good situation here you're looking at,' and he said I gotta talk to my agent and figure this thing out," said Janning, a Northeastern product. "Maybe I can finish the week out and then get down [to Vegas]. I've got a few hours to figure it out."
Janning did a little bit of everything Wednesday, while playing extended stretches at point guard. Coming off the bench, he connected on 8-of-15 shots, including a pair of trifectas, while grabbing eight rebounds and dishing three assists. He even threw down a pretty one-handed jam in the third quarter.
Not all his contributions ended up in the box score, either. Late in the game he registered a nice block from behind, swatting a would-be layup off the glass. It didn't end up in the box score, but every player on the Boston roster, including summer coach Austin Ainge noticed.
"Matt played unbelievable, he even blocked a shot," said Ainge, who immediately consulted the box score to verify if it got on there. "Nope, but he definitely got it."
Janning surprises a lot of people with his athleticism and said he expects to do that more with every opportunity.
"A lot of times, people don't expect me to come out and dunk, stuff like that," said Janning. "But it's all part of my game. It's a little bit deception, but people will realize it soon."
Will he be showing it Thursday when the Celtics meet the Pacers in Orlando? Or next week in Vegas with the Suns? Maybe both. One thing's for sure: Janning left an impression Wednesday.
"I feel good," said Janning. "It's been whirlwind. You never know what's going to come out. I could come out here, play my best game, and nothing might happen. But that's why you come out here to play, because you hope something happens. You get a few calls and go from there."
Update:
Janning updated his
Twitter account
last night to indicate he is indeed heading to Las Vegas to meet up with the Suns. Can you blame him? He's unlikely to have another effort like Wednesday's here, so he leaves the 2010 AirTran Summer League having put his best foot forward. Now it's time to impress the scouts out West as well.
LOOSE BALLS: HARANGODY GETS STITCHES; ERDEN IMPROVES
* Semih Erden, the Turkish 7-footer the Celtics signed Monday, converted an early dunk in traffic and seemed energized by the play. Erden registered eight points on 3-of-5 shooting with six rebounds and two blocks (he did commit four turnovers and fouled out). Even still, Erden logged 25:31 total and had a team-best plus-29 overall in the plus/minus stat.
* Luke Harangody, Boston's second-round selection (52nd overall), needed four stitches to close a gash below his eye after taking an elbow while chasing a loose ball late in the first half. He returned to the locker room for treatment, but returned to the court in the second half. Harangody finished with 12 points on 5-of-9 shooting with three rebounds and two assists over 20:22.
* According to Celtics' media relations department, the group did not hear anything official from the team today and assumed that Kendrick Perkins did not undergo surgery to repair damage to his injured knee.
* DeShawn Sims made the most of his 16 minutes on the court Wednesday, scoring 18 points on 8-of-11 shooting.
PODCASTS
Baseball Tonight
Play Podcast Karl Ravech and Justin Havens put Clayton Kershaw's scoreless innings streak in perspective with Buster Olney and discuss the rash of injuries around MLB. Plus, Derrick Goold on Yadier Molina's injury and Alex Speier on the Red Sox.
Baseball Tonight
Play Podcast Buster Olney and Tim Kurkjian discuss the rosters for the Home Run Derby, Jon Lester's future and more. Plus, Indians P Corey Kluber on his All-Star candidacy and Tigers P Joba Chamberlain.