Boston Celtics:

MediaDay2010
September, 28, 2010
9/28/10
10:00
AM ET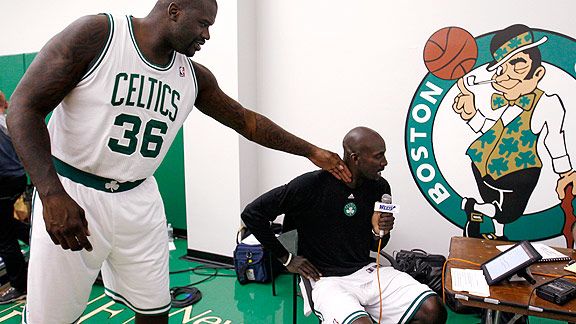 AP Photo/Winslow TownsonShaquille O'Neal gets playful with Kevin Garnett during Media Day.
WALTHAM, Mass. -- Media day can be a grind for players. For the better part of two hours, they shuttle from station to station, posing for photos and answering the same questions for different microphones.
It's kind of like the first day of school combined with photo day, and each class demands a presentation of some sort. Which is to say, it's not meant to be much fun.
But there was
Paul Pierce
, a veteran of 12 media days with the
Boston Celtics
, bouncing gleefully around the Sports Authority Training Center at HealthPoint on Monday, a big smile on his face at every turn. The unofficial start of the 2010-11 season, which media day essentially signifies, left Pierce downright giddy -- and he didn't mind telling everyone who asked.
"Truthfully, man, I had the same feeling about this team [before the 2007-08 season], when we got Kevin [Garnett] on the team and Ray [Allen]," said Pierce. "The additions that we made -- [
Shaquille O'Neal
], Jermaine [O'Neal], Delonte [West] and some of the other rookies -- this is one of the most talented teams, top to bottom. It's more talented than the teams that I've been on."
Pierce spent much of his summer trying to erase the pain of Boston's Game 7 loss to the
Los Angeles Lakers
in the NBA Finals, but it wasn't until he arrived in Boston earlier this month to participate in some pre-preseason scrimmages that he began to turn the page. That's because he knows the collective talent on the Celtics has the potential to ease that pain the only way possible: by winning another title.
Click
HERE
to read the full story.
September, 28, 2010
9/28/10
1:15
AM ET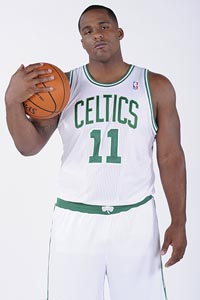 Brian Babineau/NBAE/GettyGlen Davis is uncertain of his role on this year's Celtics squad.
WALTHAM, Mass. -- While stressing that he'll do whatever it takes to help his team win, Celtics forward
Glen Davis
expressed disappointment Monday with a murky role that may force him to reinvent himself again this season.
Davis shrugged his shoulders during media day when asked what the addition of veteran big men
Shaquille O'Neal
and
Jermaine O'Neal
meant for him this season, then sounded off on his situation.
"I don't even know, I gotta find out what my role is," said Davis. "With Rasheed [Wallace] last year, I had to become a center. Now? I don't know. Do I become a [power forward]? Do I go back to playing the 4? We'll see.
"It's difficult because, as a player, you kind of don't understand where [the organization is] going or what they are doing. No matter what I do -- I can play great -- it's still not enough. I'm just here to help the team wherever possible, any way I can. Whenever I find my role, I'll do it to the max, the only way I can."
Davis noted that he blossomed late in his second season when
Kevin Garnett
missed significant time with a knee injury. Davis averaged 15.8 points, 5.6 rebounds and 1.8 assists per game in the 2008-09 playoffs, well above his regular-season career averages of 5.9 points, 3.6 rebounds and 0.7 assists per game.
That offseason, the Celtics recruited Wallace, making him the primary power forward off the bench and forcing Davis to adapt to a center role, where he shunned the perimeter pops for rolling to the basket. Already a bit undersized for an NBA big man, the 6-foot-9 Davis struggled at times around the basket (in a land of 7-footers), but carved out a role as an energy player who attacked the glass and thrived off his athleticism.
Now it might be back to the drawing board, in a contract year no less.
"Coming into my second year, I did a really good job of becoming a better player, but it wasn't good enough for our team, so they went out and got
Rasheed Wallace
," said Davis. "I had to adjust again. Rasheed was more of a perimeter guy and I had to be more of a low-block guy. I go from popping and hitting big shots to rolling to the basket a lot. That's what I needed to do for the team, so that's what I did.
"Now this year, you've got 5s, so I've just got to know what my role is again this year. [I've been] through some ups and downs with [head coach] Doc [Rivers], but as long as I find out what my role is, I'm going to do my role."
Boston bench players have typically thrived when assigned a specific role. Davis admits the uncertainty is the hardest part.
"It bothers me, but at the same time, I'm a player," said Davis. "Put me out on the court and I'll do anything you want me to do. That's the beauty of my position. Throw me out there and I'm going to play. I'm going to go out there and guard Shaq. Throw me out there and I'm gonna guard
Rashard Lewis
. Put me wherever you want to put me, I'm going to guard whoever you want me to guard. I'm just a basketball player.
"The role I would prefer to play is the role they want me to play."
September, 27, 2010
9/27/10
6:35
PM ET
WALTHAM, Mass. -- There's a total of
13 videos from Media Day
now uploaded to our
YouTube page
. Simply click, "See All" on the right side to expand them all.
The list of players:
Shaquille O'Neal
(embedded above),
Paul Pierce
,
Ray Allen
,
Kevin Garnett
,
Rajon Rondo
,
Kendrick Perkins
, ,
Jermaine O'Neal
,
Delonte West
,
Marquis Daniels
. There's also videos with Celtics president of basketball operations Danny Ainge and coach Doc Rivers.
We'd have got your more, but our video camera battery died from all the excitement. Enjoy.
September, 27, 2010
9/27/10
6:18
PM ET
WALTHAM, Mass. -- Celtics forward
Kevin Garnett
described his summer as "painful" and "dark" on the heels of letting an NBA title slip away, but described his emotions toward the new season as "excited" and "vibrant" while talking to reporters Monday for the first time since Boston's Game 7 loss to the Lakers in the NBA Finals.
Garnett exhibited a newfound bounce in his step that appears to stem from improved health as he enters the 2010-11 season, combined with an unbridled optimism about the potential for this year's team.
"I'm really excited, really excited," said Garnett. "I don't like us, I love us. I like how we are, I like our depth, and I'm eager to start."
Garnett labored through much of last season while coming off knee surgery that curtailed both his 2008-09 season and Boston's hopes that season of defending its 17th NBA title. He admitted Monday that, at no point last season, did he ever feel 100 percent, something that wore on him mentally, even when his play improved in the postseason.
"More mentally than anything, last year was hard for me, just because I knew I was playing through some difficult times," said Garnett. "I'm not one to make excuses; I'm not one to be out here [expletive] and complaining about things. I'm one to work, to come in here and continue to work, and try to better myself. That's what I did."
Click
HERE
to read the full story.
September, 27, 2010
9/27/10
5:30
PM ET
WALTHAM, Mass. -- Celtics center
Kendrick Perkins
was nearing the end of an eight-minute Q&A with reporters that produced some of the biggest laughs of Monday's media day when a reporter asked Perkins if he thought he'd have to fight for his job when he returned to the lineup following offseason knee surgery.
Perkins got serious for a moment.
"I really don't want to answer this question because I don't want to start nothing," he said. "But, really, my spot is not up for grabs. So when I come back I
will
be in my spot, everybody else will just have to adjust to me after that."
Celtics coach Doc Rivers is fond of noting that everyone says the right thing this time of year, but that opinions often change when the ball goes up. Perkins provided a refreshing blast of blunt honesty, highlighting the day's proceedings with an assertion that his job isn't in any sort of jeopardy.
Celtics president of basketball operations Danny Ainge raised some eyebrows during a conference call following
Shaquille O'Neal
's introduction in August when he suggested the opposite.
"I'm sure Perk's going to be worried and nervous since we are going to win games with this front line even when he's not playing," Ainge said then. "I'll be sitting with and talking with Kendrick throughout this whole process and hopefully he can just focus on getting healthy and competing for his job back."
With Perkins sidelined, the Celtics will insert either Shaq or
Jermaine O'Neal
into the lineup, which Ainge has suggested will be the case until near the All-Star break.
Perkins expressed optimism that his return date might be sooner following a solid summer of rehab.
"I'm feeling good. I've got a smile on my face, so I'm feeling great," said Perkins. "Everything has been going in a positive direction lately. Rehab is going great.
"I can't tell you when my return date is going to be, but I'm a little bit ahead of schedule. I don't want to jinx myself, but it's going really well."
Click
HERE
to read the full story.
September, 27, 2010
9/27/10
4:55
PM ET
AP PhotoShaquille O'Neal heads up the stairs for an interview at Media Day.
WALTHAM, Mass. -- Five quick thoughts after the Celtics wrapped up Media Day Monday afternoon at the Sports Authority Training Center:
Much more to come on these topics and all the media day happenings.