January, 17, 2011
1/17/11
2:00
PM ET
By
Greg Payne
| ESPNBoston.com
Chris Forsberg/ESPNBoston.comIn Memphis, Martin Luther King Jr. is honored and the Lorraine Motel is preserved as part of the National Civil Rights Museum.
The Boston Celtics and Orlando Magic headline the NBA's 13-game slate Monday on the holiday celebrating Dr. Martin Luther King, Jr. The day offers both players and coaches the opportunity to reflect on the significance of Dr. King and the civil rights movement.
Prior to last Friday's tilt, both Boston coach Doc Rivers and Charlotte counterpart Paul Silas talked about the holiday before the Celtics and Bobcats tilt.
"It has great meaning," said Rivers. "I'd rather be at home watching all of the the other stuff, the history of it. I just think it's really important that we talk about race relations all the time, and not just black [and] white, [but] any kind of minority. I think it's good. I think that talk is always prompted during this time of the year. But let sports be the example. It's amazing how everyone gets along on teams and that's how you'd like everything to be -- that way."
Silas, who played for the Boston Celtics from 1972-1976 and won championships with the club in 1974 and 1976, had the privilege of meeting Dr. King before his professional playing days, which enhanced the meaning of the day for him.
"It meant a lot to me because I met him one time in a Chicago airport," Silas explained. "I was in college and he was there and signed some autographs for us and he was just a wonderful human being and the things that he did for minority people were just out of this world, and I didn't think we would ever recover from that, but things have gotten better as noticed by the President (Barack Obama) now and things are going to continue to get better. But he was the starting point of it. [He was] very, very smart, understood, could communicate, was just a good human being and you just don't find that that often -- all of those qualities together -- you don't find that that often."
January, 18, 2010
1/18/10
8:03
PM ET
[+] Enlarge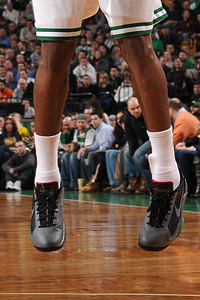 Brian Babineau/NBAE/Getty Images
BOSTON -- Boston Celtics players Paul Pierce, Shelden Williams, JR Giddens and Rajon Rondo will wear gray sneakers against the Dallas Mavericks in honor of Dr. Martin Luther King, Jr. and today's holiday.
Check out Rondo's at right.