February, 21, 2012
2/21/12
8:00
AM ET
With the All-Star break nearing, NBA.com
handed out midseason report cards
to all 30 teams last week and the Celtics graded out better than you might expect:
Writes NBA.com's John Schuhmann in summary:
In a condensed season, an experienced team like the Celtics just wants to survive the regular season and get a decent seed in the playoffs. And though it hasn't been pretty (they've cracked the 100-point mark just five times), the Celtics have survived thus far. They actually won six of the eight games Rondo missed, and they've benefitted from an easy and home-heavy schedule early on. After a 5-9 start, they won nine out of 10 games to put some fear in the rest of the Eastern Conference, but have since flattened out. And in reality, they may just be a .500 team. Offensively, they're below average. As usual, turnovers are an issue. And they no longer get to line as much as they used to. In a related point, the Celtics no longer own the paint. After outscoring their opponents by 5.2 points in the paint per game over the previous seasons, they're getting outscored by 4.4 this season. Allen and Garnett are free agents this summer and the big three era may be over sooner than that if Danny Ainge gets an itchy trigger finger around the trade deadline. The cracks have been showing for a while now, and for Ainge, surviving may not be enough.
Hop
HERE
to read the full midseason report card series.
September, 21, 2010
9/21/10
5:00
AM ET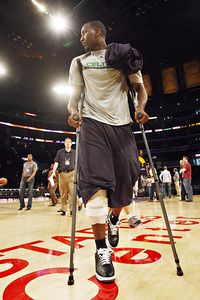 AP Photo/Reed SaxonThe Celtics need a healthy Kendrick Perkins to be successful this season.
In a top 10 list detailing the
biggest injury concerns
entering the 2010-11 season, NBA.com's David Aldridge pegs
Kendrick Perkins
' ACL rehab as one of the main areas to watch, suggesting Boston should brace itself for little in the way of contribution from Perkins this season.
Boston didn't bring Shaquille O'Neal aboard because it felt confident that Perkins would come back quickly from the bad knee injury he suffered in the opening minutes of Game 6 of the Finals against the Lakers. The Celtics have all-too-familiar experience with knee injuries suffered by big men in recent years, having lost Kevin Garnett for the playoffs in '09 and Leon Powe early in that postseason, too. Perkins underwent successful surgery in July but will be a spectator until at least the All-Star break, and even then, the likelihood he'll make much of a contribution this season is small.
Forsberg's take:
While I think Perkins will make more of an impact this season than Aldridge is suggesting, I agree that his health might be the single biggest story line for Boston entering the 2010-11 campaign.
For all the talk about team chemistry and depth at the wing, nothing is as vital to Boston's success as Perkins' recovery after tearing the ACL in Game 6 of the NBA Finals. Here's why: Despite a beefed-up frontcourt, the Celtics really haven't added
that
much depth if Perkins doesn't return to form in the second half of the year. After all, Boston also lost
Rasheed Wallace
this offseason (expected retirement after being waived by Boston). At least to start the year,
Jermaine O'Neal
and Shaquille O'Neal simply fill the voids left by Perkins and Wallace. That depth only becomes a bonus this season when Perkins is able to resume his starting role.
Yes, we expect more from
Glen Davis
(call him "Bigger and Better Baby,") and rookie center
Semih Erden
could use his performance at the FIBA world championships as a springboard to becoming a contributor in his first NBA season. But there's also the lingering question about how much the O'Neals have left in the tank (though there's no reason to think both won't continue to play at a high level, we all know how much more was expected from Wallace and that didn't match what was provided for much of last season).
Doc Rivers will kindly remind you that the Celtics' Big Three-era starting 5 has never lost a playoff series when healthy. Boston learned the hard way last season just how valuable Perkins is to this team. And that's why his health is so important, because Boston has never won a world title when he's not 100 percent.
September, 7, 2010
9/07/10
3:15
PM ET
NBA.com Screenshot
NBA.com graded the
offseason of all 32 teams
and the
Boston Celtics
earned a solid B (only seven teams got a higher mark). Here's the teacher's comments:
Danny Ainge could have really shaken things up this summer, but the Celtics' stars and their coach are back for another run. And though it didn't seem possible, they got even older with the additions of the two O'Neals.

On-the-floor chemistry has been the Celtics' strength for the last three seasons. So integrating Shaq into both the offense and defense will be a critical challenge. But priority No. 1 with this team, as always, is staying healthy.

The Celtics proved last season that they don't need to tear through the regular season. They just need to be fresh come April. And when healthy, Boston is a tough out. They just may be short on talent when it comes to matching up with the new beast of the East, the Miami Heat.
Click
HERE
to read the full report card.
(h/t:
Jay Ouellette
)
July, 27, 2010
7/27/10
8:15
PM ET
Rajon Rondo
's triple-double performance against the
Cleveland Cavaliers
in Game 4 of the Eastern Conference semifinals is up for
Game of the Year
in voting on NBA.com.
It's one of three games involving the Celtics among the 10 on the ballot. Alas, the other two are remembered far less fondly by Boston fans. The first is the Lakers' triumph over the Celtics in the first regular-season meeting on Jan. 31, in which
Kobe Bryant
made a pull-up jumper over
Ray Allen
with 7.3 seconds remaining (and
Ron Artest
drew a flailing charge on
Paul Pierce
soon after).
The other? Los Angeles' Game 7 triumph in the NBA Finals. Worse yet for Celtics fans, that was
winning the vote
in a landslide in early returns.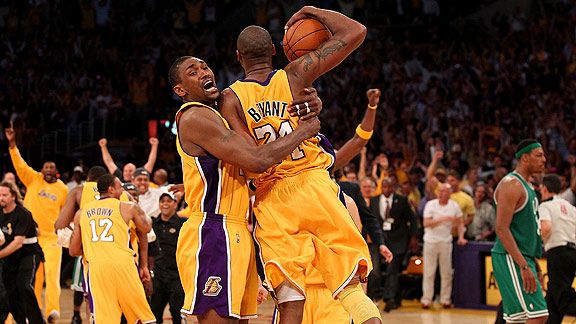 Christian Petersen/Getty ImagesNot many Celtics' fans will cast a vote for this as Game of the Year.