September, 17, 2013
9/17/13
8:35
AM ET
For the third straight year, ESPN.com and the TrueHoop Network are ranking every NBA player -- and counting them down on Twitter (@
ESPNNBA
) from No. 500 to No. 1. This year, ESPN asked its forecast panel to predict the overall level of play for each player for the upcoming NBA season. This includes both the quality and the quantity of his expected contributions, combined in one overall rating.
Here's a look at the Celtics players unveiled thus far (we'll update this post as the full list is unveiled):
415: Donte Green - 2.41 (2012: 336)
439: Phil Pressey - 2.25 (2012: NR)
481: Vitor Faverani - 1.92 (2012: NR)
Hop
HERE
to see rankings 401-500.
August, 18, 2012
8/18/12
11:35
AM ET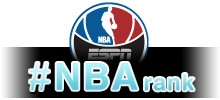 ESPN.com and the TrueHoop Network are ranking every NBA player -- and counting them down on Twitter (@NBAonESPN), from No. 500 to No. 1. Celtics rookie Kris Joseph gets the typical second-round pick treatment and is the first Boston player to debut at No. 467 (with a 1.99 ranking). That should provide just another dose of motivation for the 51st overall pick in this summer's draft.
Some of Boston's former second-round picks like E'Twaun Moore (414th, 2.46 rating) and Lester Hudson (468, 1.97) are also part of the 400+ club, as is departed big man Sean Williams (428, 2.32).
One rating sure to draw heavy Boston interest (and maybe even some debate), Brian Scalabrine lands at No. 487 with a 1.76 rating.
Hop
HERE
to view the in-progress list.
PODCASTS
Paul Solotaroff, NFL
Play Podcast Men's Journal's Paul Solotaroff weighs in on the characterization of Richard Sherman, the relationship between Sherman and Patrick Peterson and expectations for Darrelle Revis.
Baseball Tonight - Dominant Pitching
Play Podcast Adnan Virk talks to Tim Kurkjian about dominant pitching performances and the search for the next commissioner. Plus, Arash Madani on if the Blue Jays can make the playoffs.
Greg Cosell, NFL
Play Podcast NFL Films' Greg Cosell weighs in on whether the Browns should start Brian Hoyer or Johnny Manziel, the Jets' QB situation, Ryan Mallett's abilities and Robert Griffin III's development.