Boston Celtics:

New England Patriots
December, 12, 2012
12/12/12
2:00
PM ET
New England Patriots on InstagramRajon Rondo chats with Patriots retired offensive lineman Matt Light at halftime of Monday's game.
Boston Celtics point guard Rajon Rondo is a big football fan. Just the other night he was tossing the pigskin around the Celtics' locker room and, in the offseason, he organized west coast workouts with Danny Ainge joking he did such solely to play flag football.
By all accounts, Rondo was a talented high school quarterback. With his pure speed and athleticism, you can't help but wonder, if Rondo had focused his energy on the gridiron, could he have extended his football career to the college level or beyond?
"I mean, it's easy to say that, but I don't know," said Rondo. "I don't take what [professional football players] do lightly. But I think I could have played. I could have given it a shot."
Rondo. who essentially committed to basketball when he transfered to hoops power Oak Hill Academy to finish his high school career, admitted he never considered pursuing football beyond his high school glory days.
"No, I didn't think about playing at Kentucky," said Rondo. "High school days, but not college. When I got to college, it was just one-track minded, which was basketball and get to the league."
Rondo, sporting a Wes Welker jersey, strolled the Patriots' sideline at halftime of Monday's game versus the Texans at Gillette Stadium. He noted on Tuesday, "Every time I go, I try to at least get on the field and see the game from there."
So what did Rondo learn from Monday's experience?
"Execution. Everybody has to be held accountable, all 11 guys on the field, and I think we can take something from that as a team in basketball, because five guys have to be on the court, and individual guys don't win the game in football," said Rondo. "It's a team effort."
Informed that coach Doc Rivers, who joined him in Foxborough and sat in on the Patriots' pregame offensive meetings, had suggested Rondo and Kevin Garnett were the Tom Bradys of the Celtics, Rondo took it as a compliment to be compared to a three-time champion and two-time MVP.
"Oh, really? I mean, quarterback [and] point guard, it's pretty much the same thing," said Rondo. "I don't know about Tom Brady."
February, 10, 2012
2/10/12
10:06
AM ET
TNT ScreenshotPatriots tight end Rob Gronkowski was courtside Thursday night at Celtics-Lakers.
BOSTON -- Tight end Rob Gronkowski was among a large contingent of Patriots on hand for Thursday's Celtics-Lakers overtime thriller at TD Garden. During the game, he could be seen shouting at Lakers superstar Kobe Bryant.
So what did Bryant yell back at him?
"I told him the Eagles need a tight end," said Bryant, a Philadelphia native. "I'm recruiting. He's a freak athlete. He shouted at me, I shouted back."
Somewhere,
Brent Celek
isn't amused.
Patriots owner Robert Kraft sat next to Celtics owner Wyc Grousbeck, while players Vince Wilfork, Patrick Chung, Julian Edelman, Brandon Spikes, Devin McCourty, Sterling Moore, Tiquan Underwood, and Gronkowski were all in attendance. The Patriots received a standing ovation from the crowd when a handful of players were displayed on the JumboTron in the first quarter.
Gronkowski earned some additional JumboTron time later in the game when someone with a sense of humor put him on the video board while an LMFAO song blared. Gronkowski has been in the headlines for
dancing shirtless
following the Patriots' Super Bowl loss last weekend in Indianapolis while LMFAO performed. Gronkowski just flashed his familiar smile when he realized he was on camera and limited his moves to a little head bob from his seat next to the TNT broadcast position at midcourt.
February, 4, 2012
2/04/12
3:52
PM ET


WALTHAM, Mass. -- How does Celtics coach Doc Rivers see Sunday's Super Bowl XLVI playing out between the New England Patriots and New York Giants?
"I said [on Friday] 31-21 Patriots," said Rivers. "But after our game last night [against the New York Knicks], I've changed it. I think our game and the football game will be very similar. A little nasty, a little ugly -- but then the Patriots will win at the end."
When a reporter jokingly offered the final score of Friday's Celtics-Knicks game, Rivers laughed and said, "Yeah, 91-89."
Rivers is a big NFL fan and admitted he has a handful of offers to visit friends for Super Bowl parties following Boston's Sunday matinee with the Memphis Grizzlies. He said he'll likely retreat to a one-man Super Bowl party before halftime.
"I got invited to a couple of people's [parties], but I'm pretty antisocial with the Super Bowl," said Rivers. "I actually like watching the game. I'll go visit some friends for about a quarter, and then I'll slip out and go home and watch it by myself. I like that."
Rivers has been on the Patriots bandwagon this season (and in year's past given the loyalty among Boston coaches). Of course, there was one time when he was rooting heavily against New England back during Super Bowl XX in 1986 when Rivers' beloved Chicago Bears throttled the Patriots, 46-10.
"Oh, I watched that at Randy Wittman's house with Scott Hastings and
all my Hawks teammates
," recalled Rivers, who had the luxury of two consecutive offdays to not only watch the game, but celebrate it the day after. He fondly recalled being the only true Bears fan in attendance and used that to his advantage.
"I did well that night," said Rivers. "I took bets after they went down 3-0. And that's a fact."
Read on for more Super Bowl tidbits from Celtics players.
July, 31, 2011
7/31/11
11:05
PM ET
And here's a bunch of the photos the team sent out via Twitter of his visit, including Rondo -- dislocated left elbow looking just fine with a football nestled nearby -- catching up with Patriots coach (and frequent TD Garden visitor for C's games) Bill Belichick:
Rondo catches up with Vince Wilfork, who is often spotted sitting baseline for C's games:
And, finally, Rondo shows the form that made him a high school standout at quarterback (and even Patriots backup signal caller Brian Hoyer
liked the form
):
Rondo was spotted chatting with newly acquired wide receiver Chad Ochocinco and included a photo of the two while Tweeting about visiting Pats camp:
October, 27, 2009
10/27/09
2:30
PM ET
CLEVELAND -- Greetings from Quicken Loans Arena, where the Cleveland Cavaliers host the Boston Celtics in an Eastern Conference showdown to open the 2009-10 NBA season.
Ray Allen, wearing a band-aid to cover stitches above his eye, but eager to warm up, was spotted waiting patiently in one of the tunnels as the Cavaliers ran children's events on the floor a short time ago.
Here's some news and notes as we wait for action to pick up: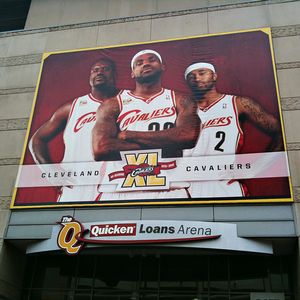 Chris Forsberg/ESPNBoston.com
The Cavaliers are celebrating their 40th anniversary this year.
CAVALIERS XL: "XL" is the Cavaliers' trademark of sorts for the 2009-10 season, as it celebrates the team's 40th year. Of course, the addition of arguably the game's biggest body -- Shaquille O'Neal -- helps give the "XL" slogan a bit of a double meaning here.
LOCAL FLAVOR: Parking is reasonable near The Q, with bordering lots going at $25 and nearby garages at $15. After a sunny day, clouds have rolled into the area, but temperatures were in the low 60s most of the day and fans -- many wearing LeBron James's "23" shirts -- were roaming the area around the stadium. Progressive Field is a baseball throw's away, so imagine Fenway and the Garden sharing neighboring territory.
One parking attendant opined to some folks walking by that the loss of Glen Davis would hurt the Celtics tonight, but he was more excited about the debut of O'Neal. "We've got the Diesel!" he proclaimed.
WHITE OUT: The Cavaliers have distributed shirts throughout the arena with the "XL" logo on them and it should look like a sea of white for tonight's game.
PREGAME PLAN: The Celtics' locker room is expected to be open about 90 minutes before tipoff and coach Doc Rivers will address the media at 6:35 p.m. We'll pass along news and notes here in the blog, but if you want the updates a little faster, you can follow me on Twitter. We'll also post some pictures and video throughout the night.

October, 27, 2009
10/27/09
9:29
AM ET
CLEVELAND -- A relatively tranquil preseason, where the most common question might have been whether the 2009-10 Celtics could be better than the 2007-08 squad that won an NBA title, encountered a bit of turbulence before the team treked to Cleveland for Tuesday's season-opener against the Cavaliers.
Fist guard Ray Allen needed stitches after a freak on-court collision with center Kendrick Perkins at Saturday's practice. Then came reports that forward Glen Davis injured his right hand in an off-the-court altercation Sunday and is likely to miss significant time. Finally, guard Rajon Rondo's agent indicated Monday his client will not sign a contract extension before Friday's deadline, making him a restricted free agent after the season.
While none of these events were particularly good news for the Celtics, it should do little to temper the expectations and unbridled optimism that surrounded this team before the weekend.
Allen returned to practice with stitches over his right eye Sunday and joked about the incident. He's expected to be fine for tonight's game.
With Davis sidelined indefinitely -- and possibly suspended -- the Green will lean on forward Shelden Williams off the bench. The 6-foot-9, 250-pound Williams, the fifth overall pick of the 2006 draft, is on his fourth team in four years, but he's likely to be as serviceable as Mikki Moore, who assumed Davis's role off the pine when Garnett injured his knee last season.
Williams, who celebrated his 26th birthday last week, has averaged 4.7 points and 4.2 rebounds per game over his career. That's almost exactly what Moore gave the team (4.8 points, 4.4 rebounds) in 24 regular-season apperances last season.
The presence of Rasheed Wallace further eases the loss of Davis, as will the eventual reutrn of Brian Scalabrine, who remains sidelined by a right ankle injury, but it does not appear serious in nature.
As for Rondo, he'll potentially join an All-Star free-agent class that should include LeBron James, Dwyane Wade, Chris Bosh, and Ray Allen. That group could grow to include the likes of Paul Pierce, depending on which players opt out of their contracts at year's end.
Regardless, Rondo will be a restricted free agent and the Celtics will have at least the opportunity to match any offer he receives. Boston allowed Davis to go to restricted free agency last year before re-signing him in the offseason. Just because a player tests the market, doesn't mean the team won't be able to bring back the player at a deal that's fair to both sides.
With Allen's contract coming off the books -- and depending on Pierce's situation -- it would appear the Celtics will have some financial freedom in the summer of 2010.
If nothing else, the recent news items have taken some of the spotlight off Kevin Garnett's surgically repaired knee.
October, 26, 2009
10/26/09
4:47
AM ET
How do the Boston Celtics feel about the team's decision to eschew morning shootarounds on game days? They're not losing sleep over it.
On the advice of Dr. Charles A. Czeisler, a sleep medicine specialist at Harvard Medical School and Brigham & Women's Hospital, the Celtics have eliminated early game-day shootarounds at the Sports Authority Training Center at HealthPoint in Waltham, and have shifted off-day practices to a later start time (typically noon or 1 p.m.)
Most of players embraced the chance to hit the snooze button, but Celtics coach Doc Rivers knew the toughest sells would be two of his key players -- and noted early risers -- Ray Allen and Kevin Garnett.
Their verdicts?
"I always wake up pretty early; my wife, I don't think she likes it because she has to take the boys to school," Allen said with a smile. "I do get to sleep in a little more. I don't have to get up as early, so when I go to bed, I can sleep in a little bit. ... Once I get up, I feel great, I'm not tired at all. I'm getting a great amount of sleep."
Allen, who is well known for being one of the first to arrive for both practices and games, is enjoying that extra time, particularly because it lets him spend more time with his family.
"I can still [be here early] and still get more sleep," Allen said. "That's the beautiful thing about it. I'm not trying to rush in. Some teams, you figure, practice at 10 a.m., so by 12, they're home and they have the rest of the day. But this way, it's not cramping your morning. Before, we really had to wake up at 7, get breakfast, then you start practicing early. Once everyone gets in now, their bodies are pretty awake. You're not feeling groggy. You don't see that sleep in everyone's eyes. Everybody's up."
Given the fact that most players and coaches don't get to bed until the early morning hours after games, the new measure imposes what the team has dubbed "Celtics Time," a moratorium from around 3 a.m.-11 a.m. reserved for rest and relaxation.
Garnett doesn't seem quite as sold on the change, but he's all for anything that promotes the good of the team.
"It is what it is," said Garnett. "Whatever Doc wants. It ain't my cup of tea, but whatever the [coach] wants. Hell, I don't sleep anyway. It's great. I'll find good in everything. If it means I get to sleep from 8:30-9, so be it."