Boston Celtics:

Nikola Vucevic
June, 22, 2011
6/22/11
9:55
AM ET
A couple of noteworthy morning headlines with thoughts and analysis:
Krstic's deal with CSKA Moscow now official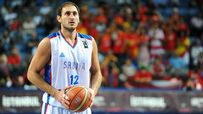 Garrett W. Ellwood/NBAE/GettyGoodbye, Nenad Krstic.
According to Nenad Krstic's overseas representatives, Invictus Sports Group, his two-year deal with CSKA Moscow has officially been inked (even though he's still technically under contract with the Celtics until month's end). From
a press release
from the company:
It's official! The captain of the national team of Serbia, Nenad Krstic, signed a two-year contract with CSKA Moscow, until the end of the 2012-2013 season. After seven years in the NBA -- with the New Jersey Nets, Oklahoma City Thunder and Boston Celtics, averaging 10.0 points, 5.4 rebounds in 25.2 minutes in 419 regular-[season] games, and 10.4 points, 5.4 rebounds in 25.2 minutes in playoff games -- the center decided to come back to Europe to compete at the highest level to win the Euroleague.
*
Forsberg's thoughts
: Reports indicated this was coming
earlier this month
, so it's not a total surprise. The interesting part is that a representative at Invictus' offices told us Wednesday that there's no clause in the contract that allows for early termination based on the NBA lockout (and that person also didn't believe there's an NBA release after the first year of the deal). Now, contracts are meant to be broken, but, on the surface, that would essentially wipe out any thoughts of Krstic returning to the Celtics at any point during the 2011-12 season. He was set to be an unrestricted free agent, but Boston holds limited rights to him and could have re-signed him this offseason at a reasonable salary bump (contingent, of course, on the new collective bargaining agreement).
L.A. Daily News: C's interested in moving up for Vucevic?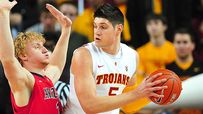 Gary A. Vasquez/US PresswireHello, Nikola Vucevic?
Even as USC's Nikola Vucevic climbs up the draft board, the Celtics are noted as one team with interest in trading into position to acquire him, sources told the
Los Angeles Daily News
:
NBA personnel said this week Vucevic will probably be drafted somewhere between the No. 9 and No. 17 picks, which makes it seem silly there were doubts he would turn pro a few months ago.

"He's moved up drastically during his workouts," said an NBA general manager who did not wish to be identified. "A lot of teams like him now."

The Knicks are believed to be highly interested, along with the Houston Rockets. The Boston Celtics are even interested in trading up in order to select Vucevic, according to sources.
*
Forsberg's take
: The Celtics brought Vucevic in for a workout and he's clearly an intriguing player given his size and range. If the Celtics are convinced they might not be able to find an impact big man at No. 25 (or beyond), it stands to reason they'd be interested in moving up. But what's the price? With the protected pick they acquired from Oklahoma City (via the Los Angeles Clippers) in the Jeff Green/Krstic trade, Boston potentially has two first-round picks next year it could be willing to dangle for the right player.
(h/t on Vucevic: CelticsBlog)
June, 16, 2011
6/16/11
9:53
AM ET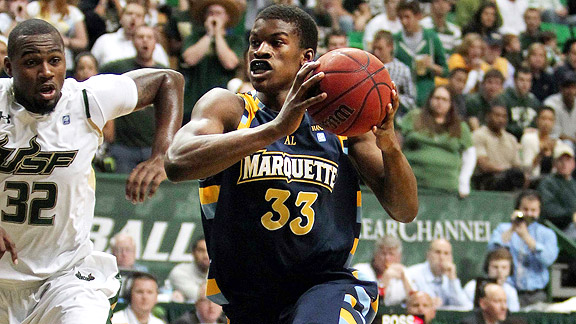 Kim Klement/US PresswireOur stats guys say Jimmy Butler is one of the safest late first-round picks.
Speaking in a panel session at a social media conference last week, Celtics president of basketball operations Danny Ainge noted his stats gurus had crunched the numbers and suggested that, "Historically, the odds of a No. 25 draft pick breaking into a rotation is like 6 percent."
Given Boston's recent veteran-laden rosters and coach Doc Rivers preference to lean on his more experienced players, that drives that number down even lower with the Celtics. So whether Ainge was tempering expectations for next week's draft, or simply showing how difficult it can be to pluck that late-round gem, we couldn't help but wonder if there was anything close to a sure bet at the back end of the first round.
ESPN Stats and Info researchers Peter Newmann and Dean Oliver crunched the numbers and examined the prospects and came back with four suggestions for specialized players they believe are capable of making an immediate NBA impact. From Newmann and Oliver:
Finding value with a pick late in the NBA Draft is difficult. There may be players who stick in the league for a short period of time, but major contributors are rare.

Last season, Landry Fields (No. 39 overall pick) was one of three rookies who played at least 30 minutes per game as a rookie (Blake Griffin, John Wall). In previous years, other late first-round picks and second-round picks who yielded great value include: Marcus Thornton (No. 43 in 2009), Nicolas Batum (No. 25 in 2008), George Hill (No. 26 in 2008), Arron Afflalo (No. 27 in 2007), Paul Millsap (No. 47 in 2006) and Monta Ellis (No. 40 in 2005).

There are several prospects in the 2011 NBA Draft class that stand out as potential late first-round picks or second-round picks who could be impact players. [ESPN Stats and Info has] identified four players who each have a specialty skill that will help improve an NBA team:

* Jimmy Butler is a versatile wing player who doesn't make a lot of mistakes and can do the understated things a coach looks for - play defense, hit the opportunistic shot, and grab more rebounds than his matchup.

* Travis Leslie is an explosive athlete whose skill set is reminiscent of Shannon Brown. With an unrefined jumpshot but great explosiveness and willingness to defend, he can be the type of player who provides energy and a change of pace off the bench.

* Nikola Vucevic is a big man from USC who has a mid-range jump shot and enough defensive presence that is fairly rare entering the league. Offensively, he won't clog the lane but can get offensive boards. Defensively, he has enough bulk to hold his own in the post and will also work on the glass.

* Jordan Williams is the player among these who has the best chance to play consistent minutes on good teams. He has one great skill as a rebounder that allows a coach to put him in just for that. His strength and size will also allow him to defend many NBA big men. Offensively, he will be opportunistic around the basket and be safe with the ball.

Whether these players will become role stars, rotation players or stars is yet to be seen, but the specialty skill each of these players have gives them a better chance at sticking with an NBA team than some of their fellow prospects and a better chance at making an impact in the NBA.
Both Vucevic and Williams have been pegged as potential Celtics choices as part of Chad Ford's mock draft series. Both are intriguing big men. If there's one way to crack Rivers' rotation, being a Marquette guy wouldn't hurt, and that could bode well if the Celtics were to land swingman Butler. Leslie is pegged by Ford as a "super athletic" combo guard who can finish around the basket.
So, armchair general managers, let's say all four players are still on the board when Boston selects with pick No. 25 next Thursday. Who's your selection? Do any of the four intrigue you? Sound off in the comments.
June, 7, 2011
6/07/11
10:35
AM ET
The first in a series of profiles of players that might be of interest to the Boston Celtics during the 2011 NBA Draft (June 23, Newark, N.J.):
With the Celtics
working out Vucevic on Monday
and the 7-foot center being a recent projection for Boston's pick in
Chad Ford's Mock Draft 3.0
, we start our look at potential Celtics targets here. Ranked the third best center on Ford's big board (and 27th overall) and with the ability to stretch the floor, Vucevic certainly fits the mold of a player that Celtics president of basketball operations Danny Ainge might desire. The question is will he still be around when Boston picks at No. 25.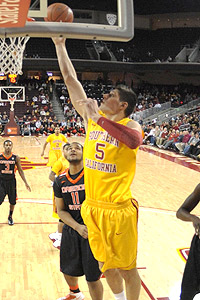 Kirby Lee/US Presswire
From
ESPN's player evaluation
:
Projection:
Mid to late first round
Positives:
Big man with a soft touch around the basket... Nice face up game with range out to 3-point line... Long arms allow him to play bigger than he is... Solid rebounder
Negative:
Not a great athlete... Lacks lateral quickness... Not a great ball handler
Ford's analysis:
Vucevic continues to impress NBA teams with some excellent workouts, including a standout session with the San Antonio Spurs. It sounds as if Vucevic is seriously in the picture as early at the 16th pick to Philadelphia, and he probably won't slide past the Spurs.
In the news
: From
the LA Times
: Nikola Vucevic arrived in Los Angeles on Sunday night. The former USC junior forward had spent the previous four days in Chicago. He made himself quite a bit of money there -- not literal money, mind you, but potential money, which he'll likely see pour his way in person at the 2011 NBA draft on June 23. That's right. Vucevic said Monday he's going to be there, along with his family. "We believe he's a first rounder and we believe he should be in New York with his family," added Vucevic's agent, Rade Filipovich of Bill Duffy's BDA Sports Management.
Forsberg's take:
You can't teach size and measuring out as the only legit 7-footer at the Chicago combine last month, it's hard to imagine a team looking to add size wouldn't take a chance on him towards the middle of the first round, maybe even well before the Celtics get on the clock. At just 20 years old, there's a lot of potential here and Vucevic
comes from a basketball family
. Those long arms (7-5 wing span and 9-5 standing reach) would be an intriguing addition to the Boston frontcourt, but unless the Celtics were so impressed by what they saw Monday that they'd wiggle up the board, it's hard to imagine him landing in green.
June, 6, 2011
6/06/11
6:44
PM ET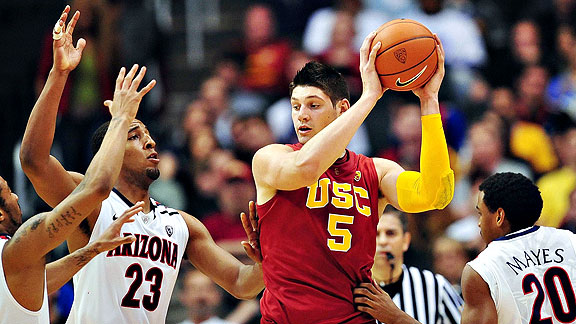 Gary A. Vasquez/US PresswireUSC's Nikola Vucevic was one of a handful of players to work out Monday for the Celtics.
The
Boston Celtics
announced that they worked out USC's
Nikola Vucevic
, Louisville's
Terrence Jennings
, Clemson's Demontez Stitt, Florida's
Vernon Macklin
, Richmond's Kevin Anderson, and UConn's Charles Okwandu on Monday at the team's practice facility in Waltham.
Vucevic, ranked 27th overall by ESPN.com's Chad Ford, is tops among three players from that group that you'll find on Ford's big board. The 7-footer out of Montenegro who averaged 17.1 points and 10.3 rebounds for USC last season was actually
pegged as Boston's selection
in Ford's Mock 3.0 last month.
Both Jennings (
80th overall on Ford's big board
, 20th at forward) and Macklin (
No. 96 overall
, 25th at forward) are 6-foot-9 forwards with potential to be second-round selections. Jennings averaged 9.6 points and 5.2 rebounds over 23.4 minutes per game as a junior at Lousville, while Macklin averaged 11.6 points and 5.4 rebounds over 24.5 minutes per game as a senior at Florida.
Stitt
and
Anderson
are point guards;
Okwandu
is a big man. Anderson might be the most intriguing of the bunch after averaging 16.6 points and 3.3 assists per game as a senior.
May, 24, 2011
5/24/11
4:14
PM ET
With the NBA Draft combine completed, ESPN's Chad Ford checks in with his
third mock of the year

. We'll be keeping an eye on his projection for potential Celtics over the next month leading up to the draft.
Past selections:
*
Mock, Version 1.0
: Chris Singleton, Florida State
*
Mock, Version 2.0
: Jordan Williams, Maryland
PODCASTS
Baseball Tonight
Play Podcast Karl Ravech and Justin Havens put Clayton Kershaw's scoreless innings streak in perspective with Buster Olney and discuss the rash of injuries around MLB. Plus, Derrick Goold on Yadier Molina's injury and Alex Speier on the Red Sox.
Baseball Tonight
Play Podcast Buster Olney and Tim Kurkjian discuss the rosters for the Home Run Derby, Jon Lester's future and more. Plus, Indians P Corey Kluber on his All-Star candidacy and Tigers P Joba Chamberlain.