June, 13, 2011
6/13/11
3:10
PM ET

At the very moment the Dallas Mavericks closed the books on the 2010-11 NBA season by topping the Miami Heat Sunday night, the oddsmakers in Las Vegas were opening the books on the 2011-12 campaign. The Boston Celtics
check in with 12-1 odds on betting site Bodog.com
, sixth best in the league. With the usual disclaimer that this is for entertainment purposes only, here's a look at the top odds:
Miami Heat -- 5-2
L.A. Lakers -- 11-2
Chicago Bulls -- 6-1
OKC Thunder -- 8-1
Dallas Mavericks -- 10-1
Boston Celtics -- 12-1
The poor Toronto Raptors are the site's longest odds at 150-1. Thankfully, there's no option to vote for the lockout to win the 2011-12 title.
August, 5, 2010
8/05/10
2:45
PM ET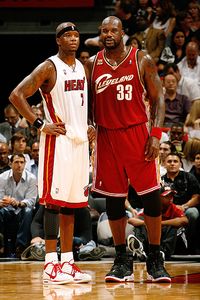 Issac Baldizon/NBAE via GettyWhich O'Neal will average more points next season, Shaq or Jermaine?
As sports business guru Darren Rovell
pointed out
, oddsmaker
Bodog.com
set the opening lines for
Shaquille O'Neal
's stats next season at 10.5 points and 6.5 rebounds.
Which begs the question: Would you take that sort of production from O'Neal?
Shaq averaged 12 points and 6.7 rebounds over 23.4 minutes per game in 53 regular-season appearances (all starts) with the
Cleveland Cavaliers
. While we made the case today
why O'Neal could start
in Boston, it's likely much of his time will be spent in a reserve role. So, given the fact that he might log 15-20 minutes per game, wouldn't those stats be well worth the $1.4 million price tag?
If nothing else, it's a clear upgrade over the 3.7 points and 2.7 rebounds averaged last season by
Shelden Williams
. Heck, you can combine last season's averages for both Williams and
Glen Davis
and you barely get Shaq's predicted production.
The site also offers a bet about which O'Neal will average more points this season, Shaquille or Jermaine. Shaq gets a 1.5-point cushion, too, which suggests the oddsmakers pegs Jermaine around 12 points per game next season.
(A friendly reminder that this blog doesn't condone sports betting, but it's always fun to examine Las Vegas' take on matters).
June, 26, 2010
6/26/10
6:55
AM ET
LAS VEGAS -- Apologies for the lack of on-site draft coverage the past couple days. Your humble reporter is out west on a trip that was planned before I took the reins of the Celtics coverage this past season. I'm doing my best to chip in from afar during the downtime and I'm fortunate to have some hoops junkies traveling with me, so we spent out first night of this adventure watching and analyzing the draft like most of you.
And since we're in Las Vegas, we couldn't help but take a glance at the early odds for next year's NBA champion. Immediately after the Finals, the Celtics were -- and remain -- at 12-1 odds, that's tied for sixth-best odds (with the Nuggets and Bulls). The teams in front of Boston: the Lakers (3-1), Magic (5-1), Thunder (8-1), Cavaliers (8-1), and Suns (10-1).
The odds, which were set immediately after the NBA Finals, saw the Bulls as the only team whose odds improved before the draft occurred (even before they cleared that extra cap room). It will be interesting to see how those odds shift again with the draft complete. Now, the necessary disclaimer that we're not condoning gambling, simply making an observation in a city where it's impossible to avoid.
Beginning Monday, we'll start our series of daily report cards for each member of the Celtics team for the 2009-10 season. Free agency kicks off next week as well and we'll have our eyes on that. The following week, we're headed down to Celtics' summer league in Orlando to catch a few games and get a glimpse at the players that may comprise the end of the Boston bench next season.