Boston Celtics:

Oklahoma City
February, 22, 2012
2/22/12
11:51
PM ET
Layne Murdoch/Getty ImagesThe Celtics didn't always have the answer to slowing Russell Westbrook and the Thunder.
The
Boston Celtics
limped into the All-Star break Wednesday night on the heels of a 119-104 loss to the
Oklahoma City Thunder
. Boston is physically battered from mounting injuries and mentally bruised in the midst of a five-game losing streak, the longest of the Big Three era.
But here's the biggest takeaway from Wednesday's defeat: An inspired second half against Oklahoma City gave Boston reason to be inspired about the second half of the season.
"I just love the spirit of this team," Celtics coach Doc Rivers told reporters after his charges rallied from a 27-point deficit to (improbably) make it a two-possession game with little more than three minutes to go. "I told them after the game, 'If we play like [the Celtics did in the second half of the game] in the second half of the season -- and healthy -- it's going to be tough to beat us.'"
If you turned your TV off at halftime -- and, really, who could blame you? -- you missed the latest gritty comeback effort by Boston. Yes, the same team that rallied from a 27-point hole to stun Orlando nearly did it again. The Celtics (15-17) ultimately came up short, but considering how bleak things looked in the first half, it was enough to give Boston something to hang its hat on going into the midseason break.
After all, watching the Thunder rally from their own early double-digit deficit to open a 23-point halftime cushion had most fence-straddlers ready to hop on the side of Team BlowItUp. Oklahoma City's 72-point first-half outburst left even the most ardent of Celtics fans ready to admit that this team might simply be too old to run with the young guns of the league.
Apropos of this roller-coaster season, the Celtics made things far more interesting than they should have been in the second half, putting a legit scare into the Thunder, who finally pulled away over the final three minutes. Boston did more than prevent widespread panic with its rally -- it gave itself a healthy dose of optimism that it can be a more consistent team -- the type that can hang with the league's best -- when it gets healthy.
But therein lies the biggest question of the second half: Can the Celtics actually get -- and stay -- healthy?
February, 22, 2012
2/22/12
1:07
PM ET
Brian Babineau/NBAE/Getty ImagesNearly one year to the day he was traded away, Kendrick Perkins and the Thunder host the Celtics Wednesday evening.
Battered and bruised, the Boston Celtics (15-16, 4-8 away) close out the first half of the 2011-12 season by visiting the Oklahoma City Thunder (25-7, 13-1 home) on Wednesday evening at Chesapeake Energy Arena (7 p.m., ESPN). To preview the matchup, we play a game of 3-on-3 with
ESPN Boston
's Greg Payne and
CelticsHub
's Brian Robb.
---
1. Let's bottom line it: Do the Celtics have a chance against the Thunder?

Payne
: Without Rondo, probably not. Kevin Durant and Russell Westbrook will most likely dominate, and you have to figure Serge Ibaka, through sheer athleticism alone, could very well have a field day against Boston's older big men. This feels more and more like a nightmare matchup for Boston, as Oklahoma City boasts the pieces to exploit many of Boston's weaknesses.
Robb
: Sure. With Kevin Garnett back, the C's have the players to space the floor against the Thunder and this team has shown it can win without Rajon Rondo. The problem is the C's will have to be nearly flawless offensively to keep pace against the high-powered Thunder offense, something Doc Rivers' crew hasn't been capable of doing in weeks now. Boston has a chance tonight, but it's not a promising one given how hard the injury bug hit again Monday night against Dallas.
Forsberg
: The Thunder, even beyond being one of the best teams in the NBA, play very well at home and that building has quickly become an incredibly tough place to play. Even with Kevin Garnett back, the Celtics are still dinged up and playing without their floor general in Rajon Rondo, so this will be anything but easy for staggering Boston. You might hope for the Thunder to overlook the Celtics, especially with the Lakers coming to town on Thursday for another national TV broadcast, but it's hard to imagine that happening with Kendrick Perkins on the floor. All that said, here's one thing for Celtics fans to lean on: When all signs point in one direction, go the other. Maybe, just maybe, Boston finds a way to pull this one out, sending the team into a six-day All-Star break with exactly the bit of confidence it needs to build off of coming out on the other side.
January, 16, 2012
1/16/12
10:31
PM ET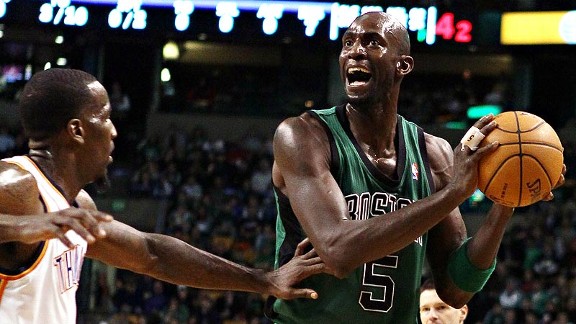 Elsa/Getty ImagesOld friend Kendrick Perkins helped slow Kevin Garnett and the Celtics.
BOSTON -- Rapid reaction after the
Oklahoma City Thunder
defeated the
Boston Celtics
97-88 Monday night at TD Garden:


GAME IN A PARAGRAPH
Oklahoma City's
Kevin Durant
(28 points, 7 rebounds, 4 assists) and
Russell Westbrook
(26 points, 7 rebounds, 4 assists, 3 steals) were thorns in Boston's side, particularly late in the game while fending off a furious Boston charge.
Thabo Sefolosha
added 19 points on 7-of-9 shooting with 5 rebounds and 4 steals for the Thunder.
Paul Pierce
scored a team-high 24 points on 8-of-15 shooting, while
Kevin Garnett
chipped in a double-double (12 points, 12 rebounds) and
Rajon Rondo
flirted with a triple-double (12 points, 9 rebounds, 9 assists).
TURNING POINT
The Celtics trailed by seven coming out of halftime, but managed to tie the game at 57 with five minutes to play in the third quarter. Perkins produced an old-fashioned, three-point play to ignite Oklahoma City's 15-5 run to close out the frame and completely deflate the still-unable-to-get-over-the-hump Celtics. Turnovers killed the Celtics, including two in the final 81 seconds that led to a
Nick Collison
layup, a Thabo Sefolosha dunk, and a double-digit lead for the Thunder at the break. Boston rallied to make it a one-possession game on three different occasions over the final seven minutes, but the Celtics could never get over the hump.
PERK'S RETURN
Kendrick Perkins
admitted Monday's game would be emotional for him and he might have been a little over-amped, picking up three fouls that limited him to 13 scoreless first-half minutes. The Celtics honored Perkins during the first timeout with a
video tribute
that culminated with him celebrating with the Larry O'Brien trophy before fading to the simple words, "Thank You, Perk." Perkins finished with 7 points and 5 rebounds over 28 minutes.
J.O. ORDERS A DOUBLE-DOUBLE
Celtics center
Jermaine O'Neal
achieved a double-double midway through the third quarter, finishing with 12 points on 5-of-11 shooting with 11 rebounds (four offensive), 2 steals, and a block over 24 minutes. It was only his second double-double with Boston, the other coming in a rather meaningless end-of-the-season loss to the
Washington Wizards
last April (15 points, 13 rebounds over 37 minutes).
A MARQUIS DANIELS SIGHTING
Limited to 55 seconds of floor time since
Mickael Pietrus
debuted last week, Daniels got some first-half burn and responded by making a pair of layups while chipping in four points and six rebounds over 12 minutes, giving the Celtics a much-needed spark in six first-half minutes. Daniels had missed his previous eight shots entering the game and hadn't made a shot since Jan. 2.
UNSUNG HERO
Pietrus continues to give the team everything he can, chipping in 14 points on 5-of-9 shooting over 21 minutes. He hit some big fourth-quarter 3-pointers to give the Celtics a chance, but it wasn't enough.
WHAT IT MEANS
The Celtics have now lost five straight, the longest losing streak in the new Big Three era. Forgive us if we sound like a broken record, but Boston
still
hasn't beaten a quality, playoff-caliber opponent (even if this was one of the more encouraging all-around efforts against such a team). It's a familiar script: Boston allows the opponent to build a double-digit lead and expends all of its energy fighting back (multiple times) and comes up short in the end. While Boston struggled to find baskets in the final moments, Oklahoma City had numerous players step up and hit clutch shots. The schedule lightens up a bit with Toronto and Phoenix set for visits later this week (and a trip to Washington -- two of Boston's four wins -- looming Sunday).
January, 16, 2012
1/16/12
7:53
PM ET
BOSTON -- Oklahoma City center
Kendrick Perkins
admitted to battling some butterflies before Monday's game against his former squad. Perkins noted how the whole day felt odd, including entering the visitor's locker room before a nationally televised battle with his former team, the
Boston Celtics
.
Perkins said the whole trip to Boston had been strange, including going from the team plane to the Thunder's downtown hotel (instead of the usual trek to Boston's practice facility in Waltham). Perkins spent most of Monday holed up at the hotel after the team's morning shootaround and admitted he was trying to harness his emotions and focus on the game.
That won't be easy. Perkins admits he's still emotionally attached to the Celtics.
"I'm definitely happy with where I'm at," said Perkins. "I'm never taking it for granted, I'm happy in Oklahoma City, and stuff like that. I was fortunate to leave one great situation and go into another one. But, like I said, it's a bond that you form, especially when you win a championship with guys. Also, just with being here since I was a young boy at 18, all the way to age of 26 -- it's not like a stranger that you trade, and y'all go your separate ways, it's just the end of it. At the end of the day, I'm happy, and I'm grateful for where I'm at. But I'd be lying to you if I just said I'm just cool and not attached."
Perkins stressed his connection to the Celtics and how much he keeps in contact with his former teammates. Coach Doc Rivers said it was going to be odd seeing him on the opposing bench.
"I don't ever call it coaching against players, because I can't go out there and guard him -- I wish I could foul the hell out of him, but I can't," joked Rivers. "But it is going to be different. And I'm glad it's here and I'm glad we can get it over with. Because he means a lot to me."
Will Perkins get a technical?
"Oh absolutely," said Rivers. "He is who he is, he's not going to change."
Added Perkins: "Is that what y'all want? I don't know, it depends on what's going on in the game. But hopefully not. My financial advisor told me I got to chill out on those."
A few other quick hits from pregame:
*
Jermaine O'Neal
starts at center for the second straight game. Rivers stressed that he just wants to see O'Neal do the little things like blocking shots, rebounding, and taking charges.
*
Keyon Dooling
(right knee) and
Chris Wilcox
(left calf) are both out again for Boston. Dooling said he's feeling better, but Rivers hinted he's still not ready and might miss Wednesday's game against Toronto as well. Neither Wilcox nor Rivers set a timeline for that injury, but the expectation is that he'll miss most of this week. "I'll be back, ready to play whenever I'm healthy," said Wilcox. "I don't really have no date on it right now, just whenever I feel like I'm healthy, back to 100 percent, that's when I'm going."
January, 16, 2012
1/16/12
12:31
PM ET
Brian Babineau/NBAE/Getty ImagesRajon Rondo vs. Russell Westbrook -- one key matchup in Monday's game.
Kendrick Perkins
returns to Boston for the first time since being dealt away last February as his Thunder (11-2, 5-1 away) visit the Celtics (4-7, 3-3 home) at TD Garden (8 p.m., TNT). We go 3-on-3 with ESPN Boston's Greg Payne and CelticsHub's Brian Robb to preview Monday's game:
---
1. We already know he's going to get a ridiculous ovation and probably a JumboTron salute during an early timeout. But what will Kendrick Perkins stat line look like?

Payne
: Perk is known for his defense and he won't break away from his reputation tonight. He'll come through with a solid effort defensively for Oklahoma City, and seeing as anyone can score in the paint against Boston these days, don't be shocked if Perkins also contributes eight to 10 points. I think he'll flirt with a double-double by gobbling up seven or eight rebounds, and he'll also block a few shots. Final line: 9 points, 8 rebounds, 3 blocks, 1 illegal screen, and 26 scowls.
Robb
: Let's go with 4 points, 11 rebounds, 1 assist, 3 turnovers (1 moving pick), and a technical foul -- just to make the Garden nostalgic. Perk will also hit both free throw attempts, as he has put together an incredible 77.8 free throw shoot percentage through the young season, which will further the calls from the Boston faithful around the Garden that, "We should have never traded you Perk!"
Forsberg
: Only one moving screen?! Really? Have you guys totally forgotten how Perk operates in the last 11 months? The guy once had his Basketball Reference page sponsored by a non-Celtics fan just to jab him about his penchant for moving screens. The real question is how many of those bone-jarring screens he'll set on best buddy
Rajon Rondo
(I don't think Perkins takes it easy on anyone). I think he'll have a quietly effective night. Let's go with 8 points, 8 rebounds, 2 blocks. Heck, all the cheers from the crowd might make it tough to scowl (but he'll find a way at times).
March, 1, 2011
3/01/11
11:00
AM ET
NBA.com/ThunderKendrick Perkins at his introductory press conference with Oklahoma City.
The
Oklahoma City Thunder
signed center
Kendrick Perkins
to a multiyear contract extension, the team announced Tuesday.
"We had a unique opportunity to enter into discussions with Kendrick to solidify his future with our organization," general manager Sam Presti said in a statement. "We are pleased to know that he will be a part of our core group now and in the future. Kendrick's blue-collar, team-first approach aligns with the vision we hold for building a sustainable team in the Oklahoma City community."
Click
HERE
to read more on the extension.
--
Forsberg's analysis
: As part of Thursday's deadline deal that sent Perkins and
Nate Robinson
to Oklahoma City in exchange for
Jeff Green
and
Nenad Krstic
, the Thunder trimmed a tiny bit of cap space (a little over a $1 million), which gave them just enough additional wiggle room to help hammer out a contract extension with Perkins. With Boston over the salary cap, the team couldn't offer more than a four-year, $22 million extension this season, while Oklahoma City was able to use that small cap space to offer Perkins as much as $13 million more on a four-year deal (For a more detailed explanation, hop
HERE
).
Here's the key passage from
Larry Coon's CBA FAQ
explaining how this works:
Only teams under the cap can renegotiate a contract, and the salary in the then-current season can be increased only to the extent that the team has room under the cap. Raises in subsequent years are limited to 10.5 percent of the salary in the first renegotiated season. The renegotiation may not contain a signing bonus.
Kudos to Oklahoma City for getting a deal done, not only facing the prospect that Perkins could test the free-agent waters after this season, but facing a March 1 deadline to get this extension done. Could Perkins have landed more money this offseason? Certainly. Would it have been with a team like Oklahoma City that's positioned to be a contender for the foreseeable future? Probably not. Plus, Perkins gets the security of a long-term extension with an uncertain labor forecast (and potential lockout) looming. It's a win for both sides.