Boston Celtics:

Omer Asik
December, 20, 2013
12/20/13
12:15
AM ET
The
Boston Celtics
appear to have
made the best bid
for
Omer Asik
's services. Continuing our
eBay analogy from Wednesday
, the Celtics simply didn't meet the reserve price.
Hey, it happens. The Rockets set a Thursday deadline for their Asik auction and hoped to create a bidding war for a proven defensive-minded center. One never materialized, and sources told ESPN.com that Boston's offer of
Brandon Bass
,
Courtney Lee
and a future first-round pick was the best offer on the table, but not enough to convince Houston to make a deal.
Here's what Celtics fans should take away from Boston's interest in Asik (if it wasn't obvious enough given the way the team has competed this season): The Celtics are not content to sit back and let the draft-lottery pingpong balls dictate their rebuilding process. If there's a way for Boston to get better now -- and not hinder the team's future plans -- then the Celtics must consider it while attempting to accelerate through this transition process.
Maybe the Celtics and Rockets will chat again down the road. There are 63 days until the Feb. 20 trade deadline and plenty can change before then. Center remains a position of need for the Celtics; their lack of pure size might be the most glaring need once
Rajon Rondo
returns from his ACL surgery and rehab in early 2014.
It's too early to know exactly what direction this Celtics team is headed in. While some see them as overachievers atop the Atlantic Division with a 12-15 record, first-year coach Brad Stevens has noted his team "is not lighting the world on fire." Another month of basketball should tell us if Boston can stick around in the hunt for the division title.
For those Celtics fans with no interest in losing games in order to better the team's draft position, not being able to close the Asik deal is likely a sore issue. Adding Asik's defensive talents to Boston's frontcourt could have turned a top-10 defense into a formidable unit. Asik could have helped against the East's established bigs, like Brooklyn's
Brook Lopez
and Indiana's
Roy Hibbert
.
Lee and Bass didn't let rumors about a possible swap impact their play in Boston's 107-106 home loss to Detroit on Wednesday night. The two showed up at the Celtics' off-day holiday event at a local hospital Thursday with smiles on their faces as any chance of a deal evaporated. It's an encouraging sign that Stevens has been able to keep players focused on the larger team goal even when their names appear in trade rumors. Maybe Lee and Bass will operate with a chip on their shoulders. Ultimately, all Boston can do now is remain focused on the future.
Despite the roster surplus at shooting guard and power forward, Stevens has said he likes coaching this group. He's gotten maximum effort out of numerous players, and that's helped Boston remain competitive in almost every game this season.
The Celtics can put Asik on their watch list, but there ought to be virtually no fallout from Houston ending the bidding process without a winner. The C's will look to continue their development on the court, and the front office will keep monitoring ways to improve the team utilizing the team's stockpile of assets.
December, 18, 2013
12/18/13
4:31
PM ET
BOSTON -- It's not often that a team puts an established impact center on eBay. But that's essentially what the
Houston Rockets
have done with
Omer Asik
. And while the
Boston Celtics
have been building up their PayPal account since summer, stockpiling future assets with the idea of a splurge purchase further down the road, the team shouldn't hesitate to consider parting with some of its early savings as this auction winds down with few bidders.
[+] Enlarge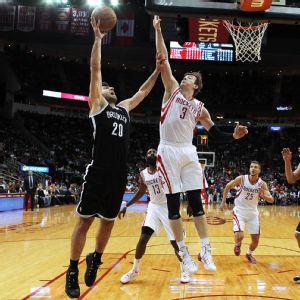 Scott Halleran/Getty ImagesTrading for Omar Asik would make the Celtics better in the short term and would not hurt their long-term plan.
Sure, it wasn't supposed to go this way. The Celtics were pegged to take their lumps during the first year of a rebuilding season under new coach Brad Stevens. Instead, a month and a half into the 2013-14 campaign, Boston finds itself atop the Atlantic Division and penciled in as the fourth seed in a shambled Eastern Conference. The Celtics, as currently constituted, are not a playoff team -- at least not one capable of doing much beyond giving a first-round opponent a run for its money. Boston has two rather glaring needs at the moment: a floor-general point guard to direct an inconsistent offense and a rim-protecting center who can joust with the league's elite bigs.
The first half of that wish list is on its way in the form of All-Star point guard
Rajon Rondo
, who is expected back early in 2014 after rehabbing from ACL surgery. The other half is available at a moderate cost that could accelerate the team's return to being an honest-to-goodness contender, all without hindering the team's ability to rebuild on the fly moving forward.
Listen, you don't have to sell this stats nerd on Asik. While most will look at his stat line and see a player who averages 5.4 points and 7 rebounds per game in three-plua NBA seasons, I see an elite defender capable of taking Boston's top-10 defense to an even higher level.
Asik's impact in protecting the hoop is impossible to ignore, both as an individual defender and the effect on his teams as a whole. Although he's played sparingly this season (311 minutes of floor time), the Rockets' defensive rating (points allowed per 100 possessions) is a measly 96.9 with Asik on the floor. That number rockets to 102.4 when he's on the bench.
That isn't an outlier. Two years ago in Chicago, the defense-minded Bulls owned a defensive rating of 89.7 with Asik on the floor, which was 5.6 points lower than the team's already minuscule rating of 95.3. In his first NBA season, Chicago saw similar results when Asik was on the floor (90.9 defensive rating) versus when he was off (99.5).

In 16 appearances this season, Asik is allowing 0.667 points per play, according to Synergy Sports data. Of players with at least 135 possessions defended, Asik ranks fifth in the NBA. (FYI: Boston's first player on that list is rookie center
Vitor Faverani
at 33rd overall.)
It's not just a small sample size. Two seasons ago with Chicago, Asik played 65 games and allowed 0.653 points per play (277 points on 424 possessions defended). Of players with at least 200 possessions defended, he ranked first in the league. No. 2, ironically, was
Brandon Bass
, a player the Celtics might deem expendable in the quest to secure Asik's services.
Bass is an excellent player. One we've often gushed about for the unheralded positive impact he's provided this team in two-plus seasons. This season, Bass has even improved his rebounding. But Boston's lack of pure size is painfully evident, particularly in recent losses to the likes of the Nets (
Brook Lopez
) and Clippers (
Blake Griffin
/
DeAndre Jordan
).
The Celtics entered this season with logjams at shooting guard and power forward. If Boston can find a package (maybe tossing in one of the nine first-round picks it has stocked for the next five seasons to entice Houston, or a facilitating third team) then it absolutely has to consider making the move for Asik.
When Doc Rivers was here, he used to talk about opportunity and how, in the NBA, it is so incredibly fleeting. If you have a chance to be competitive, you have to embrace it. By adding Rondo and Asik to this lineup, Boston would have the parts to ensure this team was more than a surefire first-round exit in the postseason. In fact, in a dilapidated East, the Celtics could be a legitimate playoff team (not just one sneaking in by winning the Atlantic Division).
Better yet, they'd have much of the same team penciled in to return next season, able to build off whatever they accomplish this season. This would give the team a glimpse at one possible future iteration, while not locking it in (both Rondo and Asik are scheduled to be free agents after the 2014-15 season).
December, 18, 2013
12/18/13
8:00
AM ET

The latest on the Boston Celtics' interest in Houston Rockets center Omer Asik:
Numerous teams consulted by ESPN.com in recent days have said they are convinced the Rockets will indeed go ahead with a trade headlined by Asik before their self-imposed deadline of Dec. 19, with sources saying Tuesday that the Boston Celtics are increasingly active in the Asik talks.



AP Photo/Jae C. HongOmer Asik, right, has been unhappy in Houston since Dwight Howard arrived in July.

As a result, the Celtics now are widely regarded as the strongest rivals to the Philadelphia 76ers in terms of likely destinations for Asik, with many rival executives expecting the final form of a trade built around the 7-footer from Turkey to feature at least three teams. ...

One possible scenario that has emerged, sources say, is a three-way trade in which Boston lands Asik, Cleveland absorbs the contract of Celtics forward Jeff Green and Houston scores no fewer than one of the future first-round picks it covets for surrendering Asik. Other players would have to be involved in such a trade to make the salary-cap math work, but it's the sort of trade that would fall in line with Cleveland's well-known focus on upgrading its options at small forward.

The Cavaliers pursued Green in free agency two summers ago before Green re-signed with Boston and, as ESPN.com reported Sunday , have shown far more interest recently in finding a new small forward than going ahead with the rumored Varejao-for-Asik swap. ...

ESPN.com reported Sunday that Celtics forward Brandon Bass is another possible trade target for the Rockets, despite the fact that his contract runs for one more year than Hawes' deal.

Sources say the Rockets are conflicted about taking back Philadelphia's Thaddeus Young or the Celtics' Green because each player has two more seasons left on his contract after this one. If either Young (owed $19.4 million in 2014-15 and 2015-16) or Green (owed $18.4 million over the same span) is involved in the eventual Asik trade, Houston almost certainly will need a third team to absorb the contract of either player, since the Rockets need to maintain as much future flexibility as possible to re-sign forward Chandler Parsons, who quickly has blossomed into a key cog in Houston and will command a huge raise when he eventually makes it to free agency.
(
Read full story
)
December, 17, 2013
12/17/13
9:45
PM ET
There was some scuttlebutt Tuesday about a
potential Rajon Rondo-to-Sacramento
trade. As ESPN.com's
Marc Stein noted
, "Those Rondo-to-[Kings] rumblings have been shot down pretty firmly. But I continue to hear Celts remain at heart of trade mix for [Houston center] Omer Asik." More from Stein:
As Dec. 19 draws near, more & more folks forecasting three-team Asik deal & Boston right there w/Philly now in terms of likely destinations

— Marc Stein (@ESPNSteinLine) December 18, 2013
On Monday, Celtics first-year coach Brad Stevens noted, "I don't pay attention to [trade rumors]. The only time I would pay attention to it is if [Celtics president of basketball operations] Danny [Ainge] came in and told me that something was being considered, and we haven't had any of those discussions."
The Celtics have a need for a rim-protecting center. But asked if he had a preference on any moves, Stevens added, "It's not my job. I'll coach the guys that are here, and I'm excited about coaching these guys and I've enjoyed coaching these guys."
December, 16, 2013
12/16/13
2:00
AM ET
The Houston Rockets have made it clear they
intend to trade disgruntled big man Omer Asik
this month. ESPN.com's Marc Stein reported Sunday that the Boston Celtics had the potential assets to attract Houston's interest:
The advice offered to us on Sunday was stern: Keep an eye on Boston. The Celtics possess two players in different salary ranges that would presumably fit in useful ways next to Dwight Howard: Jeff Green and Brandon Bass. The Celts also have a spare first-round draft pick or two to plug into any trade equation to sweeten the deal for Houston, amid rising suspicions around the league that Morey's Rockets are going to find a way to come out of the Asik saga with at least one future first. The same Rockets who happen to have a GM (Morey) and coach (Kevin McHale) who have long-standing relationships with Celts president Danny Ainge.
Last week, we pondered possible Bass-for-Asik deals in the
Celtics Mailbag
. The Celtics have nine first-round draft picks over the next five years which will help them wiggle their way into any trade chatter.
(
Read full post
)
July, 1, 2012
7/01/12
9:07
PM ET
While the Celtics have a lot to be encouraged by early in the free-agency process, action elsewhere around the league might have provided a dose of bad news for the team on Sunday night. Before we spoil the surprise of this exercise, let's play a game with an anonymous player comparison:

Player A: 3.1 ppg, 5.3 rpg, 1 bpg, 14.7 mpg, 50.6 FG%, 45.6 FT%, 66 games (2 starts)
Player B: 2.9 ppg, 3.2 rpg, 1.5 bpg, 13.9 mpg, 54.5 FG%, 70.7 FT%, 55 games (3 starts)

Pretty similar, right? Now just check out these basic per-36 minute numbers.

Player A: 7.6 ppg, 13 rpg, 2.5 bpg
Player B: 7.6 ppg, 8.3 rpg, 4 bpg

And just in case you were wondering about some advanced metrics:

Player A: 13.4 PER, 20.1 REB%, 5 BLOCK%, 25.2 TO%; Ratings: 97 offensive, 92 defensive
Player B: 13.6 PER, 13.6 REB%, 8.5 BLOCK%, 19.2 TO%; Ratings: 107 offensive, 90 defensive

Ready for the bad news, Celtics fans? (After the jump).


June, 18, 2012
6/18/12
4:15
PM ET
Throughout the offseason, there will be reports and whispers about players that the Celtics might be interested in. Each time a name bubbles up, we'll ask an ESPN Boston writer to react to the rumor. Kicking things off: A veteran Chicago scribe says the Boston Celtics could be interested in restricted free agent center Omer Asik. Like a summer romance, could this love truly last?
From NBA.com's Sam Smith:
The Celtics are one the teams said to be considering a strong offer to Bulls center Asik. The thinking is it might help them retain Kevin Garnett, who though playing very well at center the second half of the season doesn't want to return as a center.
ESPN Boston reaction
: Asik is a restricted free agent on the books for a $2.3 million qualifying offer from the Bulls. If the Celtics bring back Garnett, they will almost certainly be over the cap and that means Boston will have only the taxpayer's mid-level exception ($3 million) available to lure anything more than a minimum-salary player (at least for a free-agent of which they don't already own the rights to). All of which is to say, Asik would almost certainly command more money from another team and -- even if he didn't -- the Bulls can still match the price tag, so don't expect an Asik-Garnett pairing. Now, if Garnett does not return, clearly the Celtics might be interested in a young defensive-minded center who already has knowledge of their system having played for Tom Thibodeau in Chicago. Alas, the question becomes whether Asik is a long-term answer worthy of an elevated price tag. --
Chris Forsberg
Bonus reading
: For a solid breakdown of Asik's season and what lies ahead, check out his
season-ending player recap
on ESPN Chicago.