Boston Celtics:

Playoffs2011
April, 11, 2011
4/11/11
10:30
PM ET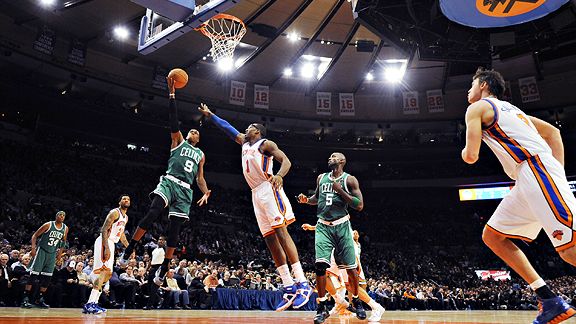 Lou Capozzola/Getty ImagesIt's Boston vs. New York in the first round of the NBA playoffs.
The third-seeded
Boston Celtics
will joust with sixth-seeded
New York Knicks
in the opening round of the Eastern Conference playoffs.
By virtue of Boston's overtime loss Monday to Washington, coupled with both Miami's win over Atlanta and Orlando's triumph over Philadelphia, the East seeds were finalized, setting up one side of the NBA playoff bracket. Top-seeded Chicago battles eighth-seeded Indiana; Second-seeded Miami tangles with seventh-seeded Philadelphia; and four-seeded Orlando renews acquaintances with fifth-seeded Atlanta.
The Celtics are 3-0 against the Knicks this season, but all three meetings were wars. Boston defeated New York, 105-101, at the TD Garden in late October. Boston needed a last-second
Paul Pierce
jumper to win 118-116 at Madison Square Garden in December, then rallied out of a monster hole to prevail 96-86 in a bloodbath last month in the Big Apple.
The two teams meet in both sides' regular-season finale Wednesday night in Boston.
April, 9, 2011
4/09/11
1:00
PM ET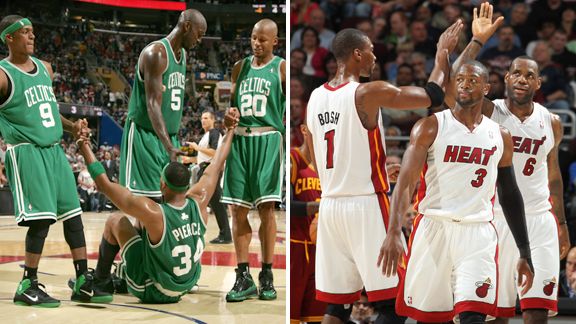 Getty ImagesCeltics vs. Heat, Round 4, Sunday on South Beach.
Celtics coach Doc Rivers admits that the most frustrating aspect of his team's late-season stumble has been that, along the way, it lost the ability to control its own destiny. After spending much of the season atop the Eastern Conference, Boston has endured inconsistent play over the past month-plus and soon found itself three games behind the
Chicago Bulls
with five games to play.
And after getting throttled Thursday at the United Center, any fleeting dreams of a top seed were dashed. The bad news for Boston: The road back to the NBA Finals almost assuredly goes through Chicago. The good news for Boston: The Celtics can still control just about everything but that.
Or, as Celtics coach Doc Rivers put it after Friday's win over the Wizards: "We control our own destiny for the second seed now and we've got to win the next two games."
The Celtics and Heat sit with matching 55-24 records entering Sunday's showdown. Whoever wins thrusts themselves into the driver's seat for the No. 2 seed, but particularly Boston since the Green already own the head-to-head tie-breaker having ensured they win the season series by taking the first three meetings of the season.
A win Sunday would mean the Celtics would need just one win over their final two games -- Monday in Washington or Wednesday against New York -- to lock up the maid of honor spot in the East (which would ensure that, should top seeds win out, Boston would boast home-court advantage over the Heat in the conference semifinals). Boston could also clinch that spot with a win Sunday and a Miami loss over its final two games (road games at Atlanta and Toronto).
If the Heat win Sunday, they'll need to maintain that one-game cushion over Boston to the finish line due to the tie-breaker.
But here's the added bonus for Boston: Wins on Sunday and Monday would not only lock up the No. 2 seed, but take all the meaning out of Wednesday's regular-season finale against the Knicks. Not only could Boston rest its starters that night -- giving it what amounts to a week break, given that the team is not likely to open the first round until Sunday, April 17 -- but Boston would have the luxury of -- ahem --
allowing
New York to win that game, which could ensure a first-round matchup with what seems like a more desirable Philadelphia squad, depending on how the 76ers and Knicks close out their schedules.
New York currently boasts a ½-game edge for the sixth seed. Boston would play the No. 7 seed in the opening round.
April, 5, 2011
4/05/11
2:55
PM ET
Who might the Boston Celtics most want to avoid in the opening round of the postseason, the Philadelphia 76ers or New York Knicks?
ESPN's TrueHoop bloggers debate
:

Henry Abbott, TrueHoop: The 76ers. These two teams have both been singing the tired hymn that it can take time for a roster to get it. Maybe the 76ers -- who recently beat the Spurs, Celtics and Bulls -- did get it and are now really the team that Doug Collins has been building. For the Knicks, on the other hand, two big names and one big promise to play better aren't nearly enough to scare the Celtics.

Brian Robb, Celtics Hub: The 76ers. Athletic teams have given Boston fits for the past couple of years, and this squad certainly fits the bill. With a balanced starting lineup, a top-10 defense and an explosive bench, the Sixers have the pieces to hang with Boston or Miami in the first round, as long as Lou Williams recovers from his hamstring injury in time.

Michael Schwartz, Valley of the Suns: The Knicks, because they are such a wild card. Their defense is bad enough for them to get swept, but they feature a pair of stars good enough to take over a series on their own. Plus, 3-point shooting increases the variability in a team's performance, and only Orlando takes more 3s than New York.

Darius Soriano, Forum Blue & Gold: The Knicks. With the Celtics' reliance on small lineups, the Knicks' lack of size isn't as big a concern. If the Knicks rely less on isolation and more on their pick-and-roll sets, they can collapse the Celtics' defense to get Carmelo Anthony and Amare Stoudemire the ball in space where they excel. Plus, I'm not sold on an inexperienced 76ers team testing the Celtics.

Jared Wade, 8 Points, 9 Seconds: The Sixers. The Knicks are different, but they haven't changed. If that makes sense. They will be fine long-term, but a few big Carmelo games aren't enough to convince me that their defense -- the root cause of that previous tailspin -- has been fixed.
April, 5, 2011
4/05/11
12:35
PM ET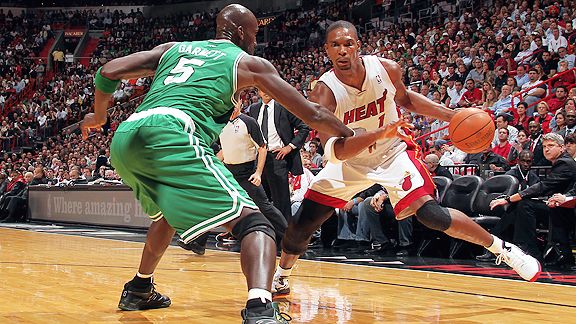 Victor Baldizon/NBAE/Getty ImagesIt's essentially a two-horse race between the Celtics and Heat for the No. 2 seed in the East.
With the No. 1 seed all but locked up by the
Chicago Bulls
, John Hollinger examines the race between Boston and Miami for the No. 2 seed:
--
HOLLINGER: THE RACE FOR No. 2 IN THE EAST

--
We were duped by Boston's second-half struggles a year ago, so we'll grab a few salt packets with this information, but the league's long-term history bears repeating: Coasting into the postseason hoping to "flip the switch" is a poor formula for playoff success.

Still, both Miami and Boston have a card left in their pockets that the Bulls do not: For both, the redistribution of playoff minutes from scrubs to starters should make them more potent foes than in the regular season. In Miami's case, this is abundantly obvious, as the Heat's top-heavy roster has been one of the season's most heavily discussed phenomena.

Boston? Arguably, the Celtics could benefit nearly as much. Consider this chart from basketballvalue.com. What you're seeing is Boston's plus-minus with various units on the court. At the top, notice that their most common units feature their four All-Stars with any warm-bodied big man; you'll see that regardless of whether it's Glen Davis, Nenad Krstic, Jeff Green, Jermaine O'Neal, Shaquille O'Neal or Ed O'Neill, the Celtics dramatically outscore the opposition with that group. Meanwhile, some commonly used Boston regular-season units that were trampled -- like "Robinson-Wafer-Daniels-Davis-Erden", for instance -- won't be seeing daylight this postseason.

All of which offers reasons for optimism for fans of each. Yet the big-picture takeaway from the Eastern Conference regular season is that both clubs may have too many fundamental flaws to beat the likes of the Bulls and Lakers in the postseason.
April, 5, 2011
4/05/11
7:52
AM ET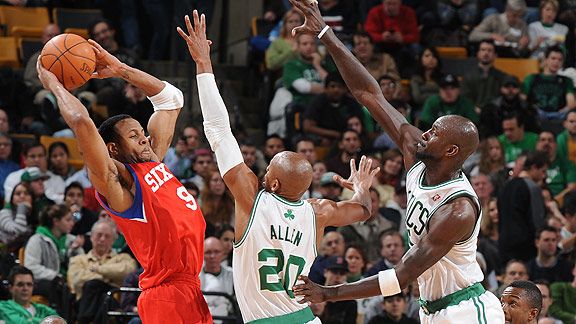 Brian Babineau/NBAE/Getty ImagesThe 76ers kick off a week that could serve as a postseason appetizer for Boston.
In a week of potential playoff foes, beginning with the
Philadelphia 76ers
on Tuesday,
Ray Allen
hopes the
Boston Celtics
increase their intensity:
--
C'S WEEK SHOULD HAVE A PLAYOFF FEEL
--
Call it a postseason appetizer. During a four-game stretch over the next six days, the Boston Celtics will play the three Eastern Conference teams they likely will have to beat in order to get back to the NBA Finals.

Unlike the postseason, Boston doesn't necessarily have to win these three games. Of course, it wouldn't hurt their cause, given the jockeying for postseason seeding.

If the playoffs started Monday and top seeds won out, the Celtics' projected playoff path would go through the Philadelphia 76ers, Miami Heat and Chicago Bulls. Boston hosts the 76ers on Tuesday before visiting the Bulls on Thursday and the Heat on Sunday.

Instead of coasting to the regular-season finish line, Boston must joust with three of the top six teams in the East (the current No. 7, the New York Knicks, loom in the regular-season finale April 13). For a team that's played to the level of its competition, that might be the best thing for these roller-coaster Celtics.
March, 29, 2011
3/29/11
3:42
PM ET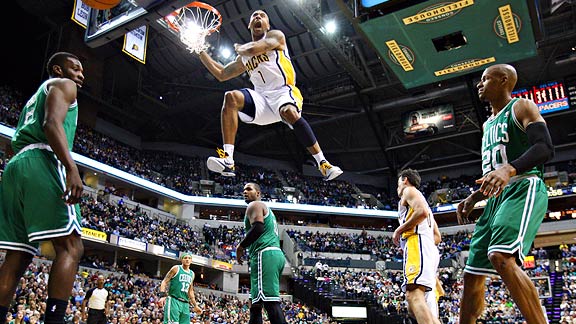 AP Photo/Michael ConroyThe Celtics lost for the seventh time in 12 tries Monday in Indiana.
The Celtics' regular-season spiral looks a lot like it did last year, but don't be fooled -- this is far different, and not in a good way, writes Peter May:
--
MAY: CELTICS SLIDE WASN'T PART OF THE PLAN
--
The Celtics' winning percentage has dropped every month since the turn of the year, replicating last season's underwhelming 27-27 finish. Their loss to Indiana on Monday was their third in four games and kept them two games astern of Chicago -- and tied with Miami -- in the Eastern Conference. Not all that long ago, they held decent leads over both teams. The Celtics are 8-7 in March with Thursday night's game against equally reeling San Antonio to close out the month. Boston is a mere 10-8 since it sent Kendrick Perkins packing and imploded its bench. The Celtics are 15-11 since blowing out the Lakers in the fourth quarter at the Staples Center on Jan. 30. Something is amiss and, unlike last season, it's not as readily apparent.
March, 29, 2011
3/29/11
12:32
PM ET



Here's something that might be more sobering than the fact that the Boston Celtics have lost seven of their last 12 overall: Boston's shot at the No. 1 seed in the Eastern Conference dropped off by nearly 30 percent in the last seven days and suddenly Boston has a better chance at landing the No. 3 seed than the top seed it talked so much about before the 2010-11 season. Both the Chicago Bulls and Miami Heat have been on fire lately (both 8-2 in their last 10; Boston is 5-5 in that span) and, even when the Bulls stumbled Monday against Philadelphia, the Celtics couldn't take advantage. Now Boston finds itself two games back of the Bulls with nine games to play, while Miami has pulled even with the Celtics. Head-to-head matchups between Boston and its two top foes -- both on the road -- highlight the remaining schedule. Here's a closer look at the race atop the East:
***
1.
Chicago Bulls (53-20, .726)
Chance at top seed: 85.8 percent; Projected: 60-22
Conference: 32-13; Streak: Loss 1; Games Back: --
Road ahead
: HOME (4) -- Toronto, Phoenix, Boston, New Jersey; AWAY (5) -- Minnesota, Detroit, Cleveland, Orlando, New York
The skinny
: The Bulls rallied back from a sizable deficit but couldn't top the 76ers for a win that might have cemented their status as top seed in the East. Fortunately for Chicago, the Celtics couldn't capitalize and a very forgiving schedule over the final nine leaves them the favorite to clinch the conference's top spot. Also working in the Bulls' favor: Chicago plays only two more back-to-back this season, opening against the Celtics on April 7 before visiting lowly Cleveland the next night and a Knicks/Nets combo to end the regular season.
2.
Boston Celtics (51-22, .699)
Chance at top seed: 6.5 percent; Projected: 57-25
Conference: 33-11; Streak: Loss 1; Games Back: 2
Road ahead
: HOME (4) -- Detroit, Philadelphia, Washington, New York; AWAY (5) -- San Antonio, Atlanta, Chicago, Miami, Washington
The skinny
: Showing no signs of snapping out of their recent funk, the Celtics continue to stumble towards the finish line and plummeted from a 36.1 percent chance at the top seed last Tuesday, all the way to a 6.5 percent chance this week. Yes, Miami is currently projected with both a better chance at the No. 1 seed and a better record, which means the Celtics are in danger of falling to the third seed (which right now would mean a first-round series with Philadelphia and having to travel on the road to Miami and Chicago in later rounds, if top seeds won out). If nothing else, Boston could do itself a slight favor by hanging on to the No. 2 spot (it owns the head-to-head tie-breaker with three wins already over Miami) as that would ensure homecourt advantage in the conference semifinals.
3.
Miami Heat (51-22, .699)
Chance at top seed: 7.7 percent; Projected: 58-24
Conference: 32-12; Streak: Win 5; Games Back: 2
Road ahead
: HOME (3) -- Milwaukee, Charlotte, Boston; AWAY (6) -- Cleveland, Washington, Minnesota, New Jersey, Atlanta, Toronto
The skinny
: It's a road-heavy finish for the Heat, but there's only one playoff team in that road mix (Atlanta) and the other five squads have combined for a mere 92 wins between them (New Jersey's 23 the tops in the bunch). The home games all feature teams with inspiration, including Milwaukee and Charlotte clawing for their playoff lives, but the visit from Boston might ultimately decide who gets that No. 2 seed. Miami only boasts one more back-to-back, starting with a visit from Boston on April 10 and visiting Atlanta the next night.
Required reading
:
Hollinger's Playoff Odds
|
NBA Standings
|
Playoff Predictor
Follow the race
:
ESPN Boston
|
ESPN Chicago
|
The Heat Index
March, 28, 2011
3/28/11
4:23
PM ET
Tickets to Games 1 and 2 of Boston's first-round playoff series at the TD Garden will go on sale Thursday at 11 a.m. Here's more details from the Celtics:
The Boston Celtics announced today that a limited number of playoff tickets for Round 1, Home Games 1 and 2 at the TD Garden will go on sale Thursday, March 31 at 11 a.m. There is a three (3) ticket limit per customer and seats start at just $12.

Dates and times of home playoff games will be announced following the conclusion of the 2010-11 NBA regular season, and will be posted on www.celtics.com.

Celtics fans will be able to purchase on March 31 beginning at 11 a.m. by visiting Celtics.com, by calling 1-800-4NBA-TIX (800-462-2849) or by visiting the TD Garden Box Office. Acceptable forms of payment for tickets are American Express and all other major credit cards. Customers may also pay by cash at the TD Garden Box Office.

Fans interested in purchasing tickets for Games 1 and 2 before Thursday may do so by registering for the Celtics Beat Presale. Fans that sign up at Celtics.com/beat by March 29 at 5 p.m. will receive a link to access the exclusive Games 1 and 2 ticket presale which begins on March 30 at 11 a.m.
March, 22, 2011
3/22/11
7:09
PM ET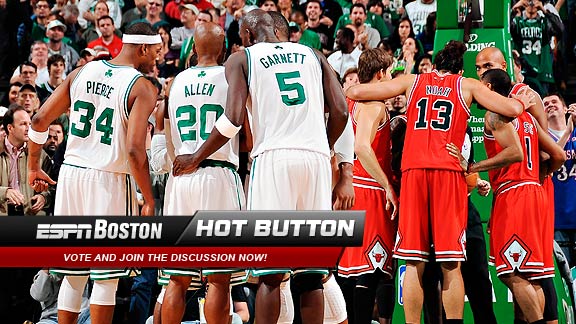 Steve Babineau/Getty ImagesQuick huddle up: Who's going to emerge as the No. 1 seed in the East?
Which team has the best chance of capturing the top seed in the East? ESPN Boston and ESPN Chicago made the argument for each city, now you be the judge in this week's
Hot Button poll
. Check out a sampling of the arguments for both sides below:
--
FRIEDELL: BULLS' YOUTH AND DESIRE WILL WIN TOP SEED
--
The Chicago Bulls have the inside track on the No. 1 seed in the Eastern Conference playoffs because of their youth. Boston Celtics coach Doc Rivers has already said he won't push his veterans over their minutes limit down the stretch in the regular season just to pick up a better seed.
--
FORSBERG: C'S WON'T LET HOME COURT SLIP AWAY THIS TIME
--
From the very moment the Boston Celtics walked off the confetti-strewn court at the Staples Center, where the rival Los Angeles Lakers were celebrating a second consecutive world title last June, coach Doc Rivers and his charges told anyone that would listen how different the ending would have been had Game 7 of the NBA Finals been played in Boston.
Click
HERE
to vote in this week's Hot Button poll.
March, 22, 2011
3/22/11
1:00
PM ET



In rallying back from 15-point deficits in each of its two most recent wins (vs. New Orleans and New York), the Boston Celtics have managed to stay neck-and-neck with the Chicago Bulls in the race for the top seed in the Eastern Conference. Meanwhile, the Miami Heat are lurking 2½ games back. Here's an updated glance at the East's final sprint:
***
1.
Boston Celtics (50-19, .725)
Chance at top seed: 36.1 percent; Projected: 59-23
Conference: 33-9; Streak: Won 2; Games Back: --
Up next
: Wednesday vs. Memphis (39-32)
Road ahead
: HOME (5) -- Charlotte, Detroit, Philadelphia, Washington, New York; AWAY (7) -- Minnesota, Indiana, San Antonio, Atlanta, Chicago, Miami, Washington
The skinny
: Boston might have rescued its chances of earning the top seed by completing back-to-back 15-point rallies against New Orleans and New York. Trouble is, the Celtics managed to fall behind by at least 15 in all three games of their recently completed road trip and that's not going to get it done against a Bulls team that's 9-1 over their last 10. Ten of Boston's final 13 games will be played as part of back-to-backs, including four back-to-backs finishing on the road (a scenario in which Boston has accrued eight of its losses this season).
2.
Chicago Bulls (50-19, .725)
Chance at top seed: 60.2 percent; Projected: 60-22
Conference: 30-12; Streak: Win 1; Games Back: --
Up next
: Tuesday at Atlanta (40-30)
Road ahead
: HOME (6) -- Memphis, Philadelphia, Toronto, Phoenix, Boston, New Jersey; AWAY (6) -- Atlanta, Milwaukee, Minnesota, Detroit, Orlando, New York
The skinny
: The Bulls stumbled against the Pacers Friday, snapping an eight-game winning streak. Boston couldn't capitalize while getting absolutely pasted by the Rockets that same night. Chicago bounced back strong, however, throttling the Kings by 40 on Monday. That breezy win might aid its cause with a tough back-to-back in Atlanta looming Tuesday. The Bulls have four back-to-backs remaining on their schedule, with an even split between home and away games.
3.
Miami Heat (48-22, .686)
Chance at top seed: 3.7 percent; Projected: 57-25
Conference: 30-12; Streak: Win 2; Games Back: 2½
Up next
: Wednesday at Detroit (25-45)
Road ahead
: HOME (4) -- Philadelphia, Houston, Milwaukee, Charlotte, Boston; AWAY (7) -- Atlanta, Detroit, Cleveland, Washington, Minnesota, New Jersey, Toronto
The skinny
: Winners of five of their lat six, the Heat are quietly hanging around. A road-heavy schedule to close out the year doesn't do them any favors, but the strength of schedule isn't very daunting and there's only one remaining back-to-back (which opens with a visit from Boston on April 10). While the odds projector doesn't give the Heat much of a chance at securing the top seed, don't be surprised if they find a way to wiggle up and make things interesting for the No. 2 seed at least.
Required reading
:
Hollinger's Playoff Odds
|
NBA Standings
|
Playoff Predictor
Follow the race
:
ESPN Boston
|
ESPN Chicago
|
The Heat Index