Boston Celtics:

Preseason2010Game4
October, 13, 2010
10/13/10
11:30
AM ET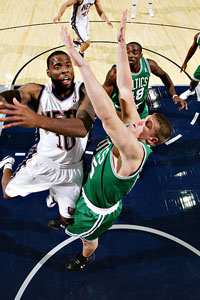 Ned Dishman/NBAE/GettyCeltics rookie Luke Harangody turned in a solid performance Tuesday vs. the 76ers.
PHILADELPHIA -- Celtics coach Doc Rivers was ready to sub center
Jermaine O'Neal
back into the game with a little over four minutes remaining in the first half Tuesday night against the 76ers, but rookie forward
Luke Harangody
heated up so quickly, Rivers pulled O'Neal back to let the group on the floor keep playing.
Harangody scored eight points in 61 seconds, hitting three consecutive shots to help Boston erase a five-point deficit and lead at the intermission. He finished 4-of-5 shooting with 11 points and three rebounds over 14 minutes. What's more, Harangody spent time at the small forward, getting a glimpse of his potential to fill minutes at a position Boston is somewhat thin on, and had one of his better defensive games.
After a couple of dizzying weeks to start his professional career, it's clear everything is starting to slow down for Harangody.
"I don't know if we can slow him down right now, but he's playing good," said Rivers. "It's good to see him make shots. That's what he does: the back-to-back 3's were good. He's going so fast at times but he's getting it.
"The fact that he's starting to get our coverages is better. I'm more concerned with him -- and all the [new] guys -- getting our defensive coverages down. We're getting there."
With five minutes to play in the first half, Harangody showcased some of his potential. He picked up a steal against 76ers rookie
Evan Turner
, then canned a 12-foot jumper at the other end of the floor. On the next two offensive trips down the floor, he drilled trifectas (both feeds from
Nate Robinson
) and the second one in front of the Boston bench had Rivers pumping his fist in excitement.
It's clear Harangody has potential at both ends of the floor. He came out on the floor for warm-ups Tuesday and drained seven consecutive mid-range jumpers (the shot might not be the prettiest as he crosses his hands after release, but it does the trick). Meanwhile,
Kevin Garnett
is
whooping Harangody and the rookie bigs
into shape on defense.
October, 13, 2010
10/13/10
12:58
AM ET
PHILADELPHIA -- Standing next to each other on one side of the paint,
Boston Celtics
teammates
Jermaine O'Neal
and
Glen Davis
saw, at precisely the same moment, a Sixers ball-handler ready to drive from the opposite baseline.
Like two shoppers racing for a must-have Christmas gift on Black Friday, the two practically pushed each other out of the way trying to scramble over and draw an offensive foul.
In a way, it seemed appropriate. These two figure to be pushing each other to take charges all season long.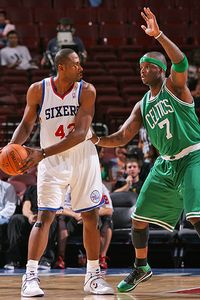 Joe Murphy/NBAE/Getty ImagesJermaine O'Neal has struggled offensively, but his defense has impressed Doc Rivers.
"It's a contest this year: Who can draw the most charges," O'Neal said after the game with a big grin. "And I believe I'm going to win it."
After making his debut Sunday, O'Neal anointed himself the undisputed charge champion of the world. All he's missing is a
Rasheed Wallace
-like title belt. It's an art he takes great pride in and isn't bashful about telling one and all how good he is at it.
Even if someone who disagrees with him happens to wear stripes.
The charge tally during Boston's 103-92 preseason loss to the Sixers on Tuesday between O'Neal and Davis was at one apiece when O'Neal stepped in as
Andres Nocioni
plowed into him while driving baseline in the third quarter.
The whistle blew and O'Neal looked up from the ground expecting to see the referee pointing in the opposite direction. Instead, the referee's fists hit his hips indicating a blocking foul on O'Neal, who then earned a technical foul for voicing his displeasure while on his back.
That's how serious O'Neal is about taking charges.
Click
HERE
to read the full story.
October, 12, 2010
10/12/10
11:45
PM ET
PHILADELPHIA -- A collection of news and notes after the
Philadelphia 76ers
defeated the
Boston Celtics
103-92 in preseason play Tuesday night at the Wells Fargo Center:
The rundown
(a quick look at postgame headlines)
* After long wait, rookie guard Bradley makes NBA debut
* Loose Balls: Lasme draws high praise; role reversal for reserves
AFTER LONG WAIT, ROOKIE GUARD BRADLEY MAKES NBA DEBUT
Rookie
Avery Bradley
walked into the Celtics' locker room after an intense pregame warm-up and glanced up at the countdown clock trying to figure out exactly how much time he had left before the team's pregame huddle. He turned away looking frustrated that his NBA debut wouldn't come for one more hour.
You can understand the 19-year-old being antsy. It had been 210 days (or 18,057,600 seconds, but who's counting?) since he last played in a meaningful game (Texas' 81-80 loss to Wake Forest in the NCAA tournament on March 18).
And after spending the past three-plus months sidelined because of offseason ankle surgery, he was champing at the bit to show the coaching staff what they landed with the 19th overall pick in June's draft. Bradley finally participated in contact drills during Saturday's practice, but still wasn't able to play in Sunday's exhibition game against the Raptors.
Finally, he got the thumbs-up Tuesday and chipped in two points, three rebounds and an assist in nearly 12 minutes of action.
"It just felt good to be out there again," Bradley said after icing an ankle that tightened up on him from inactivity in the second half. He's optimistic it will be OK on Wednesday, but the Celtics have exercised extreme caution in regard to player health.
"I haven't been on the court playing in a game in a long time, since my last game at Texas. It felt real good being out there."
Bradley checked in for his first game action with 1:38 to play in the first quarter. He grabbed a defensive rebound just before the quarter expired, but got more involved in the second period. After missing a couple of jumpers, he hit a mid-range attempt with 8:57 to play in the half for his first NBA bucket.
It was the only shot he hit on six attempts, but Bradley proved, true to his predraft reputation, to be most impressive on the defensive side of the ball.
"Avery played great in the first half, you can see what he can do with ball pressure. It's amazing," said Celtics coach Doc Rivers. "But in the second half, I thought he got tired, No. 1. And I thought his ankle stiffened up, that's why we had to put Nate [Robinson] in. We didn't want to take [Bradley] out, but he couldn't have survived.
"I was happy. He's going to be a really good player."
Said Bradley: "One thing I really take pride in is playing defense. That's because I may not have the offense down yet, but I feel like you can never have a bad offensive game if you're out there and giving all you've got [defensively]."
Bradley always appears cool and collected, if not a bit shy, but admitted teammates told him to calm down as his juices were flowing early on. Bradley is eager to build off this effort, but is also taking a wait-and-see approach with the ankle, especially with three games in the next four days.
"Especially when I stop moving, it tightens up on me," said Bradley. "I iced it after the game and we'll see how it feels [Wednesday]."
LOOSE BALLS: LASME DRAWS HIGH PRAISE; ROLE REVERSAL FOR RESERVES
Doc singles out Lasme, again: The first name Rivers brought up in his postgame confab with reporters: Camp invitee Stephane Lasme, who continues to make a strong push for the final roster spot. Lasme chipped in six points (making all three shots he attempted), while adding three rebounds, two blocked shots and an assist over 28 minutes of floor time. "Lasme, he's playing terrific for us," said Rivers. "I'm really happy with what he does. He can play the 4; he can play the 3. He has a pretty good basketball IQ. I thought he was terrific."
Battle for the final spot: In that competition for roster spot No. 15, Von Wafer started in the makeshift lineup and registered 11 points on 3-of-8 shooting (making his first 3-pointer in green) over a whopping 39 minutes of play. His biggest strength was driving to the basket, but he finished with only one assist, indicating he's not generating much scoring off those drives. He did get to the foul line for five attempts, but a couple came on defensive 3-second violations by the 76ers where he was the assigned shooter.
No shame in loss: Rivers didn't lament his team's inability to maintain a 12-point, third-quarter lead in falling for the first time this preseason. "It reminded me of the olden days in some ways," said Rivers. "You can win for three quarters, but it's the fourth quarter that really comes back because they have their guys in who can make plays. We just didn't really make any offensive plays. I thought our energy kind of went down in that one stretch [in the third quarter]. But I was really happy. The first two quarters, even midway through the third, we were playing terrific. The ball was moving -- a lot of good stuff."
Role reversal: The Celtics trotted out a starting lineup of Marquis Daniels, Glen Davis, Jermaine O'Neal, Wafer and Nate Robinson. While neither Ray Allen nor Rajon Rondo was scheduled to play, the duo dressed for the game (in case of emergency) and, before tip-off, took the spots typically assumed by the reserves for pregame handshakes as Tuesday's "starters" took the floor.
No dice: Daniels was the final Celtic starter introduced and, as he came down the line of teammates, Robinson playfully motioned for him to do the "dice shoot" that captain Paul Pierce typically does (and Daniels assists with) during normal player intros. Daniels just smiled and threw a couple of high-5s instead.
Turkey talk: Being Philadelphia, there was naturally a fair amount of Allen Iverson chatter with reports he might sign a one-year deal to play in Turkey this season. "We were talking about that today," said Rivers. "I don't know, it's a tough one. He's a great player -- a great guard -- now you see him struggling. I'm not concerned for him basketball-wise. I just hope that, whatever is going on off the court for him, has settled down and he's doing better. For me, that's what I always worry about with any of my guys. I want to see them do well -- do well in life, do well after basketball." Rivers said he hadn't talked with Iverson recently, but had chatted with his former coach Larry Brown, and relayed that those two had been in constant contact regarding Iverson's future.
October, 12, 2010
10/12/10
9:35
PM ET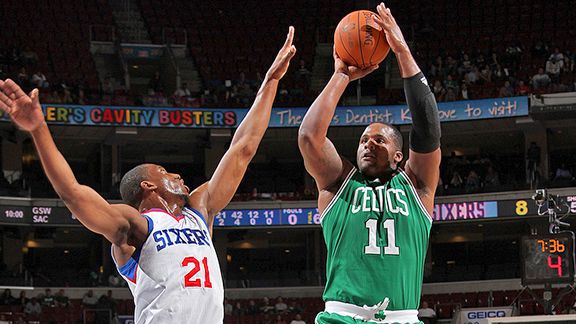 Joe Murphy/NBAE/Getty ImagesDespite a solid effort from Glen Davis, the Celtics stumbled in Philadelphia Tuesday.
PHILADELPHIA -- First impressions after the
Philadelphia 76ers
defeated the
Boston Celtics
103-92 Tuesday night at the Wells Fargo Center:
HOW THE GAME WAS WON
Marreese Speights
scored a team-high 19 points to key a Philadelphia bench that put four players in double figures and rallied from a double-digit second-half deficit to top the second-string Celtics. Even without the starting five the Celtics employed for the first three games of the preseason, Boston still managed to open a 12-point, third-quarter lead leaning on its typical reserves (and even that unit lacked
Delonte West
, sitting with back spasms).
Nate Robinson
finished with a game-high 26 points for Boston.
TURNING POINT
Despite an 11-point cushion (61-50) with 4:25 to play in the third quarter, the game quickly slipped away from the C's. The 76ers erased their deficit before quarter's end and a late 3-pointer from
Lou Williams
gave the hosts a 71-69 advantage heading to the final frame. Philadelphia's 11-0 run midway through the fourth quarter turned a one-possession game into a laugher.
STAT OF THE GAME
Maybe not surprisingly in a game in which Boston's second-half floor lineup often featured three rookies (
Semih Erden
,
Luke Harangody
and
Avery Bradley
) and two roster invites (
Stephane Lasme
and
Mario West
) and a guy battling to keep the 15th roster spot (
Von Wafer
), the Celtics committed 23 turnovers. Regardless, it remains an area of concern for the Green moving forward.
UNSUNG HERO
Rookie Luke Harangody connected on 4 of 5 shots for 11 points over 12 quality minutes. He hit his first three shots and caught fire, at one point forcing Doc Rivers to bring
Jermaine O'Neal
back from the scorer's table and sub him in later.
WHAT IT MEANS
The Celtics drop to 3-1 on the preseason, but the second unit showed plenty of positives, outplaying Philadelphia's starters for much of the first half. Boston got its starters plenty of rest and should be back with all of its guns (except perhaps
Shaquille O'Neal
) Wednesday night in New York.
October, 12, 2010
10/12/10
6:46
PM ET


PHILADELPHIA -- In the midst of a stretch that features five games in seven days, including back-to-backs to close out the week, Celtics coach Doc Rivers followed through on his plan to offer his veterans rest Tuesday night against the 76ers, trotting out a starting lineup he hopes he never has to utilize in the regular season.

Boston rolled out a starting unit of Glen Davis, Marquis Daniels, Jermaine O'Neal, Von Wafer and Nate Robinson as Kevin Garnett, Paul Pierce, Ray Allen and Shaquille O'Neal were all given the night off.

Delonte West would have started with the normal second unit, but his back continues to be a problem and he'll get a night off to prevent those spasms from flaring up any worse. West missed a practice last week, then sat out much of the second half in a win over New Jersey on Thursday.

Rajon Rondo will dress, but only be utilized in emergency situations.

Rivers had to stop and think about the lineup before giving it to reporters, but indicated the Big Three will play Wednesday night in New York. Shaq could get another night off against the Knicks due to lingering soreness.

"With the back-to-back, we decided to play them [Wednesday]," Rivers said of his regular starters. "We practiced today. We were here [for two hours] and got in a good practice."

ROOKIE BRADLEY SET FOR FIRST ACTION

The Celtics will get a small boost as rookie guard Avery Bradley is expected to log the first game action of his career. Bradley has been shelved for much of the past three-plus months after ankle surgery. The 19th pick in June's draft returned to the practice floor this week and is excited for his first court time.

"Feels like forever," he joked about the wait as he slipped on his No. 0 game jersey after an extended warm-up on the floor.

Said Rivers: "Avery will play, that's real big for us. I'm not sure how many minutes he can play, we want to play him as many minutes as possible, but his body will tell us."

J.O. WILL BE LIMITED TO 20 MINUTES

After logging seven minutes in his exhibition debut Sunday against the Toronto Raptors, Jermaine O'Neal shouldn't top more than 20 minutes against the Sixers.

"We'll try to build his minutes up, but we will go shorter with him," said Rivers. "He'll play the first seven minutes of the first quarter, five or six [minutes] in the second, and the first seven [minutes] of the third. No matter what the score is, he will not play in the fourth quarter.

"He has to catch up, he missed camp days, too. You could see in the skeleton [offense] today, he doesn't know our stuff yet. We need him to catch up."

October, 12, 2010
10/12/10
5:25
PM ET
Chris Forsberg/ESPN BostonA look outside the Wells Fargo Center in Philadelphia.
PHILADELPHIA -- Greetings from the Wells Fargo Center, where the Boston Celtics visit the Philadelphia 76ers for the teams' second meeting of the preseason. Boston throttled Philadelphia,
93-65
, in the Celtics' preseason opener last Wednesday in Manchester, N.H.
In that game, the 76ers rested starters Elton Brand and Andre Iguodala. This time around, Boston is expected to lean on its younger players. Doc Rivers said Monday that Shaquille O'Neal (hip) will not play and that he
might sit a handful of his veterans
as the Celtics are in the midst of a stretch that features five games in seven days, including tonight's, the first of back-to-backs to close out the week.
Boston is expected to ramp up minutes for Jermaine O'Neal (hamstring), who played just
seven first-half minutes
in his Celtics debut Sunday at TD Garden. Could this be the night rookie guard Avery Bradley (ankle) gets the green light for his Boston debut? He warmed up hard before the game.
According to the stadium scoreboard, the normal starting lineup is in place, with Jermaine O'Neal at center. Let's see if that holds. More to come throughout the night.
Nate Robinson warms up before Tuesday's game.