Boston Celtics:

Preseason2010Game5
October, 14, 2010
10/14/10
11:30
AM ET
NEW YORK --
Boston Celtics
center
Jermaine O'Neal
talks in the sort of whisper-soft hush that makes you wonder whether his kids make it through even one bedtime story before their eyelids slam shut.
And it was with what O'Neal would call his "soft bedroom voice" that he approached referee Zach Zarba for an explanation about the personal foul he had received trying to haul in a rebound over Knicks rookie
Timofey Mozgov
late in the second quarter of Boston's 104-101 preseason triumph Wednesday night at Madison Square Garden.
Zarba instructed O'Neal to walk away. The veteran of 14 NBA seasons said he then simply asked whether he could have a conversation about the call and received a technical foul for his troubles, setting off fireworks that resulted in
Kevin Garnett
's getting tagged with a pair of technicals by second-year referee Kane Fitzgerald farther down the court, earning KG an automatic ejection with 4:39 to play in the first half.
Garnett was not available for comment after the game.
"I asked, 'I can't talk right now?'" O'Neal said, mimicking his gentle tone and demeanor. "Just like that, the soft bedroom voice …
"But he gave me a tech. That's too fast. That's way too fast. That's telling guys that they can't ask refs what they did. You're basically taking emotions out of the game.
"You're talking about two technicals on Kevin in a matter of seconds. You gotta be able to have an opportunity to go, 'OK, back away, I got one already, I can't get thrown out.' But to give them that quick?"
Click
HERE
to read the full story.
October, 14, 2010
10/14/10
2:45
AM ET
NEW YORK -- A collection of news and notes after the
Boston Celtics
defeated the
New York Knicks
, 104-101, in a preseason tilt Wednesday night at Madison Square Garden:
The rundown
(a quick look at postgame headlines)
* Pierce hits jumper in order to keep dinner reservations
* Big Baby sits with a sore left knee; Boston's injury roundup
* Loose Balls: C's avoid OT: Bubble watch; Lafayette signs
PIERCE HITS JUMPER IN ORDER TO KEEP DINNER RESERVATIONS
Celtics coach Doc Rivers joked last week that he'd rather commit a blatant technical foul and allow the other team to shoot a potential winning free throw than stumble into overtime in the preseason. Yes, it seems the Celtics have a 48-minute rule and, but Celtics captain
Paul Pierce
had increased motivation to make sure the team followed through on it Wednesday.
Celebrating his 33rd birthday, Pierce drained a 19-foot jumper with 8 seconds remaining to break the game's final tie and helped Boston escape with a win in regulation.
"So, basically, I've got an 11 o'clock reservation that I had to make," said Pierce, who joked that he'd answer only two questions before staying longer. "I didn't want to cancel because it's my birthday. I was trying to get this over with."
Pierce finished with 20 points on 6-of-14 shooting with nine rebounds, five assists, and a steal over 37 minutes.
"Actually, I wasn't supposed to be in [the game that long]," said Pierce. "But we had a shortage of big men and I told coach to put me back in."
Even though Rivers (and
Jermaine O'Neal
, too) were celebrating birthdays, Pierce made this his Garden party.
"That was fun," said Rivers. "I told our guys that I didn't plan to extend them and they wanted to stay in. They were having fun and Paul said he wanted to win, it's his birthday. I said, 'It's my birthday, too.' But it was fun, we never go small like that, but we had no bigs left, so we had no choice."
Read more on the Celtics' birthday dinner plans,
HERE
.
BIG BABY SITS WITH A SORE LEFT KNEE; INJURY ROUNDUP
* Celtics reserve forward/center
Glen Davis
sat out Wednesday's game with a sore left knee. Rivers indicated Davis was healthy enough to be in uniform, but didn't plan on being short
Kevin Garnett
for much of the final 28 minutes. "If I had known that we would end up with one big, I would have asked [Davis] to play before the game," said Rivers. "But I didn't know that."
* Boston rookie guard
Avery Bradley
said before Wednesday's game that his surgically-repaired ankle felt fine one night after his first NBA action on Tuesday in Philadelphia. Boston didn't take any chances, playing him just two minutes. He did make his only shot he attempted, a little floater in the lane.
* Celtics reserve guard
Delonte West
returned to Boston on Wednesday for additional treatment on his spasm-plagued back.
Shaquille O'Neal
got another maintenance day for what he dubbed his, "arthritic 28,000-point-scoring hip." Hop
HERE
for more on injuries.
LOOSE BALLS: C's AVOID OT; BUBBLE WATCHING; LAFAYETTE SIGNS
* Rivers suggested the Cetics were equipped with an emergency plan for overtime and were hoping desperately to avoid it. "If we had gone to OT, we were going to take [the starters] out," said Rivers. "I told them that, it was either now or never, because everyone is coming out of the game." Pierce ensured he didn't have to spend a few extra minutes on the bench watching reserves play the extra session.
* Bubble watch: On a night in which the Celtics were shorthanded, reserve guard
Von Wafer
played a mere two first-half minutes, then spent the rest of the night on the pine.
Stephane Lasme
chipped in 2 points on 1-of-2 shooting with four rebounds, a block and an assist, but finished a team-worst minus-13 overall in the plus/minus category.
*
Oliver Lafayette
, the former D-League standout signed to the Celtics' roster on the final day of the 2009-10 season and waived before the start of training camp this year due to a non-guaranteed contract, has signed with Partizan Belgrade. Ironically, Belgrade is where Celtics roster hopeful Lasme honed his skills for a season two years ago. Lasme did note that the coaching staff had changed, but said the experience was a positive one for him and should be beneficial for Lafayette.
October, 13, 2010
10/13/10
10:20
PM ET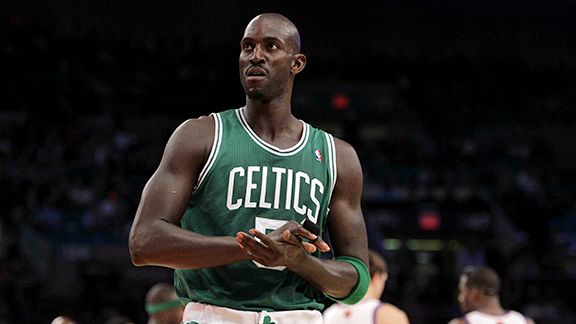 AP Photo/Frank Franklin IIKevin Garnett got the heave-ho in the second quarter for two technical fouls.
NEW YORK -- First impressions after the
Boston Celtics
defeated the
New York Knicks
, 104-101, in preseason action Wednesday night at Madison Square Garden:
HOW THE GAME WAS WON
Celtics captain
Paul Pierce
drilled a 19-foot jumper with eight seconds remaining to break the game's final tie. Celebrating his 33rd birthday, Pierce scored 20 points, chipping in Boston's final three points of the game, including a free throw to help ice the game, while adding nine rebounds, five assists and a steal over 37 minutes. Pierce joked after he had an "11 o'clock reservation" to celebrate his birthday and didn't want to be late due to overtime.
TURNING POINT
The Celtics were trailing by seven when the officials injected themselves into the game, whistling Boston for three successive technical fouls, two of which were tagged to
Kevin Garnett
, earning him an
automatic ejection
with 4:39 to go in the second quarter. The Knicks' lead pushed to double digits, but the C's rallied around a short bench while making a late-game charge.
STAT OF THE GAME
The Celtics again committed a whopping 23 turnovers and were plagued by 34 personal fouls (allowing the Knicks to attempt 42 freebies), but overcame all that to win.
UNSUNG HERO
The ejection of Garnett, coupled with a thin frontcourt --
Glen Davis
(knee) and
Shaquille O'Neal
(hip) did not dress -- meant increased action for rookie forward
Luke Harangody
. What's more, it gave Harangody time at center while he's trying to figure out how to play as an undersized power forward. Harangody finished with 16 points on 4-of-9 shooting and a game-high 12 rebounds.
WHAT IT MEANS
The technical foul calls will overshadow much of what transpired on the court, including
Ray Allen
's monster effort (24 points on 9-of-14 shooting with five rebounds, two steals, and two assists over nearly 40 minutes), but the Celtics did a nice job composing themselves and fighting their way back from a double-digit deficit despite the lack of available bodies.
October, 13, 2010
10/13/10
8:53
PM ET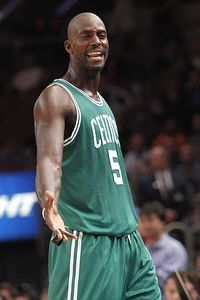 AP Photo/Mary AltafferKevin Garnett reacts to being ejected from Wednesday's game.
NEW YORK -- Celtics forward
Kevin Garnett
earned a pair of technical fouls and an automatic ejection during the second quarter of Boston's preseason game with the
New York Knicks
on Wednesday night at Madison Square Garden.
Garnett, seemingly frustrated at a lack of foul calls on the Knicks, expressed his displeasure several times during the first two quarters. The situation came to a boil when teammate
Jermaine O'Neal
was whistled for a loose-ball foul while chasing a rebound of a Garnett miss with 4:39 to play in the half.
O'Neal got tagged with the first of three successive technicals against the Celtics for arguing with referee Zach Zarba. Across the court, Garnett was barking at referee Kane Fitzgerald, who hit him with one technical, then followed with the ejection soon after when Garnett's chatter didn't cease.
Garnett looked incredulous and could only smile as he looked at the Celtics bench, where coach Doc Rivers motioned for him to settle down and depart.
Garnett finished with six points on 3-of-5 shooting with three rebounds and two assists over 11 minutes. Boston was already playing with a shorthanded frontcourt as neither
Glen Davis
(knee) nor
Shaquille O'Neal
(hip) were available.
The NBA has instituted a more stringent technical foul policy this season, aimed at limiting arguments and menacing gestures toward game officials.
For good measure, Knicks rookie
Timofey Mozgov
, who doesn't even speak much English, also earned a technical in the second quarter.
Jermaine O'Neal earned a technical foul while on the floor Tuesday night in Philadelphia after disputing a blocking foul in Boston's loss to the 76ers.
October, 13, 2010
10/13/10
7:25
PM ET


NEW YORK -- A collection of news and notes before the Boston Celtics visited the New York Knicks for an exhibition battle Wednesday night at Madison Square Garden:

DELONTE SENT BACK TO BOSTON FOR TREATMENT
After sitting out Tuesday's game in Philadelphia, Celtics guard Delonte West returned to Boston Wednesday to receive additional treatment on his ailing back, but coach Doc Rivers said "there's a very good chance" West could be back on the court in time for Saturday's rematch with the Knicks in Hartford.

"I guess he has an advantage with the 10 games [suspension to start the season]," said Rivers. "So in some ways, we're going to be careful with that and let him get healthy."

West developed back spasms last week, keeping him out of a practice session before the team launched into exhibition play. He returned for the preseason opener in Manchester, N.H., but developed tension in the back the next night in New Jersey and left the game in the second half.

The back flared up again this week, keeping him off the court Tuesday in Philadelphia before the team decided to send him home instead of having him accompany the team to Toronto for yet another preseason game on Friday night.

SHAQ SITS AGAIN; PUTS IN FULL DAY'S WORK WITH REPORTERS

Shaquille O'Neal will sit out his second consecutive exhibition game with lingering soreness in his 38-year-old hips. But that didn't stop him from reveling in the New York scene, coming out to address (and entertain) a media throng for more than 20 minutes before Wednesday's game.

Shaq left New York reporters grinning from the get-go when he shrugged off questions about Russian rookie Timofey Mozgov.

"What Russian guy?" Shaq responded when asked about Mozgov. "What's his name? No, I don't know who he is."

Mozgov shouldn't take it personally. Remember, Shaq is the same guy who didn't know who Luke Harangody was when his contract signing was announced at Shaq's introductory press conference, and O'Neal affectionately referred to Semih Erden as "the Turkish dude" or "the Turkish cat" for the first couple weeks of the preseason.

More from Shaq:

*The state of the Knicks: "They should be a playoff-contending team."

*Centers in the NBA: "I killed off the centers now, all the centers wanted to play European-style basketball. Only 1.5 or 2 real centers left, that's Dwight Howard and Yao Ming, and every now and then Yao Ming steps outside and wants to shoot jumpers."

*His Boston nicknames: "It's the Big Shamrock a.k.a Blackie Bulger a.k.a The Godfather of Sudbury."

*Being the greatest athlete rapper of all time: "I would agree. I was the one that did everything right, made it to the top and did it respectfully and kept it going. Lot of guys try to come in, but I actually came in from the bottom, worked my way up with the crew, did this, and did it better. Just a young kid coming from projects of Newark, N.J."

LOOSE BALLS: DAVIS' KNEE SORE; BRADLEY'S ANKLE FINE

* Rivers said reserve forward/center Glen Davis' knee is sore and that it might limit his minutes Wednesday. Rivers had hoped to (finally) experiment with a lineup that featured Davis and Kevin Garnett, along with shooters Paul Pierce and Ray Allen (and, before his back acted up, West). Alas, that configuration might have to wait yet again with Boston battling small injuries. Rivers admitted that minor injuries are likely going to be an ongoing issue throughout the season, which he believes puts an even greater focus on bench play carrying the team until the postseason arrives.

* After his ankle tightened up in the second half of his NBA debut Tuesday in Philadelphia, rookie Avery Bradley said the injury responded well Wednesday and he's hopeful to log more game action this evening against the Knicks. One thing Bradley isn't looking forward to is singing "Happy Birthday" to the three birthday boys: Rivers, Jermaine O'Neal and Pierce. "We haven't had to do anything yet, but we probably will after the game," said Bradley, who paused for a moment, then clarified, "No, I know we'll have to after the game."

* Rivers, who turned 49, joked about his anticipation of receiving his AARP card next year. "Oh, I'm signing up for it. I've got no pride," said Rivers. "They mail it to you the day you turn 50, too. I can't wait. Movies are ridiculous now." Rivers also acknowledged the rookies would be singing by night's end, having already serenaded Maine Red Claws coach Austin Ainge during training camp in Newport, R.I. "They're going to sing again, they know that," said Rivers. "They just don't know when. I'm trying to get the Garden to let them do it at midcourt. I don't think that's going to happen."

October, 13, 2010
10/13/10
5:45
PM ET
Chris Forsberg/ESPN BostonA look from outside Madison Square Garden in New York City.
NEW YORK -- Greetings from Madison Square Garden, where the
Boston Celtics
visit the
New York Knicks
for the first of two preseason matchups over the next four days.
One night after resting much of its starters in Philadelphia, Boston is expected to trot out an A lineup, including a starting five that should feature the Big Three,
Rajon Rondo
and
Jermaine O'Neal
. Celtics coach Doc Rivers said Tuesday he wants to get a look at O'Neal with the starters, something that hasn't occurred yet this preseason, and suggested that 38-year-old
Shaquille O'Neal
might get a second maintenance day as he rests sore hips.
"I do want to get as many of our guys back in [Wednesday] and then we have another back-to-back in a day after that," Rivers said after Tuesday's game. "We have to make a decision there."
The decision shouldn't be hard to predict. The Celtics will trot out their starters against the Knicks, then return to rest mode Friday night in Toronto, so that the starters can play bigger minutes in front of a "home" crowd when the Knicks trek to Hartford for another exhibition game Saturday night.
The Celtics did not practice before Wednesday's game, so all available players should be pushed hard. It will be interesting to see if rookie
Avery Bradley
can bounce right back one night after his surgically repaired ankle tightened up in the second half against the 76ers, or whether
Delonte West
gives it a go after sitting out in Philadelphia with lingering back spasms.
Boston should be in a celebratory mood as Oct. 13 is the Big Three of birthdays with Rivers (49),
Paul Pierce
(33) and Jermaine O'Neal (32) all born on this date. Hopefully the rookies iced their vocal chords as plenty of singing likely awaits this evening.
More to come after pregame locker room access.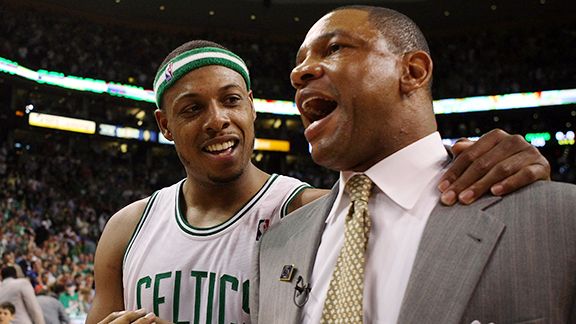 Elsa/GettyTwo of today's three birthday boys.