Boston Celtics:

President Obama
August, 25, 2011
8/25/11
12:26
PM ET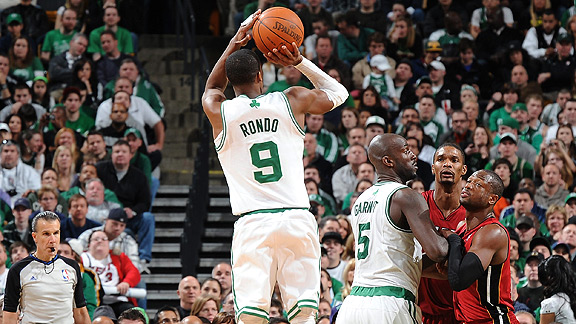 Brian Babineau/NBAE/Getty ImagesRajon Rondo pulls up for a jumper vs. the Heat.
Offering a few belated thoughts on one of the bigger headlines while on vacation last week...
In an excerpt of his upcoming book,
Shaq Uncut: My Story
,
Shaquille O'Neal
(with help of ESPN Boston's Jackie MacMullan, who penned the biography) suggests that a playful jab from President Barack Obama might have sent
Rajon Rondo
into a late-season shooting funk:
In early March some of the guys went to the museum of Fine Arts for a fund-raiser and got to hang with President Barack Obama. Everyone was a little bit in awe. The President turns to Ray, points at Rondo, and says, "Hey, Ray, why don't you teach this kid how to shoot?" Everyone starts laughing...

KG told me he saw the look on Rondo's face and the kid was devastated, embarrassed. Dissed by the President, even though I'm sure Obama didn't mean any harm. Rondo smiled and went along with all of it, but KG told me he could see it in his eyes. It bothered Rondo. It killed him.

The next day Rondo shot the ball horribly. He stopped taking shots after that. He's so sensitive. I think it was a real jolt to hear the outside perception of a basketball fan who happens to be the President of the United States. It messed with his mind. I'm sure of it.
Did Obama's words really sting Rondo? Here's what we know: The Celtics visited with Obama during a fundraiser at the Museum of Fine Arts on March 8. Boston hosted the
Los Angeles Clippers
the next night and Rondo put up a healthy 15 shots (making six as part of a 13-point outing). Two nights later he connected on 6-of-12 shots for 12 points while visiting the
Philadelphia 76ers
.
Rondo only made 3-of-12 shots beyond 10 feet in those two games and it's undeniable that he struggled soon after from all over the court. During Boston's next four contests, Rondo combined to go a mere 4-of-29 (13.8 percent) for just 8 total points (Rondo did have 26 assists while committing juts five turnovers during that same span).
Theories about his struggles were all over the map. Coach Doc Rivers said it was simply going through a tough stretch (Said Rivers: "He's not playing great right now, but I don't think he's slumping or anything. He's just going through a stretch. It's a long season.") KG suggested Rondo was grinding through injuries and, later in the month, Rondo
admitted to MacMullan
in New Orleans that his right pinky had been bothering him for two weeks. But Rondo also expressed confidence he would get back on track, punctuating it with, "No one has to tell me what to do. I'm pretty good at doing that on my own."
The stats definitely show a player that struggled late in the season, but Rondo was anything but bashful over the final 18 games. In fact, his shot attempts hopped up (9.4 per game over the first 50 contests; 11.1 over his final 18 games):
Rondo before March 8
: 50 games, 238 of 471 overall, 50.5 percent
Rondo after March 8
: 18 games, 80 of 199 overall, 40.2 percent
Rondo full season
: 68 games, 318 of 670 overall, 47.5 percent
Something on his mind? Potentially, but here's a few more things to remember:
* Shaq wasn't present for the incident with Obama and tales certainly tend to grow as they are relayed from person to person. We're not doubting any of the details, but it's worth noting.
* Over the final 18 games, Rondo attempted 40 shots from 17-to-23 feet and connected on 47.5 percent of them, according to Synergy Sports data. Overall, Rondo took 75 jump shots during that span (4.2 per game) and -- take away the eight 3-pointers he attempted and missed -- Rondo shot 37.3 percent overall on jumpers. For a player that shot roughly 33 percent from the mid-range in 2010, those are not particularly atrocious numbers.
* Maybe it's time to just stop with the excuses. Was he hurt? Was he slumping? Some wondered if Rondo went into a funk after the Celtics traded away good friend
Kendrick Perkins
later that month. The biggest hindrance to Rondo by the time the playoffs rolled around in May was a dislocated left elbow that had nothing to do with any of what happened in February.
* For all the hand-wringing about Rondo's jumper, it's worth pointing out that he shot 41 percent from 16-to-23 feet this past season (up 8 percent from the previous year, and he attempted a career-high 3.3 attempts per game from that range). Yes, Rondo graded out as merely "average" among jump shooters, according to Synergy Sports. He was 100-of-260 shooting (38.5 percent) on all half-court jump shots last season. But zoom in closer and he graded out as "good" from 17 feet to the 3-point line, connecting on 67-of-162 attempts (41.4 percent). Dial it back to the 2009-10 season and Rondo was 91-of-272 (33.5 percent) on all jumpers, while connecting on just 48-of-134 shots from 17 feet to the 3-point line (35.8 percent) showing some decent improvement last year.
* If you want to nitpick, Rondo attempted 1.1 less shots at the rim last season, according to HoopData, and struggled mightily at the free throw line (career-low 56.8 percent). A case could be made that those areas are of far more concern moving forward than his jump shot (and any presidential criticism of it).
March, 8, 2011
3/08/11
8:55
PM ET
twitter.com/iambigbaby11Glen Davis posted this picture to his Twitter account Tuesday.
The meeting was not open to the media, including the White House traveling press corps. According to the Celtics, the gathering was optional and not all players attended.
"We were thrilled to visit with the President," Celtics co-owner and managing partner Stephen Pagliuca said in a statement through the team. "He spoke about the Boston Celtics unselfish play and teamwork. It was inspiring for us to hear those words and we told the President we hope to see him in the White House in the fall after the NBA Finals."
The Celtics
visited the White House in September of 2008
after winning their 17th world title.
The team's players, owners and coaches presented President Bush with a green Celtics jersey emblazoned with "43," a nod to Bush's standing as the 43rd president, and an autographed basketball.
After that ceremony, Celtics captain Paul Pierce said meeting the president was more nerve-wracking than the NBA finals.
"I got real nervous back there, my hands were sweaty," he said. "I was more nervous right here today."
August, 6, 2010
8/06/10
10:45
AM ET
Celtics coach Doc Rivers probably wasn't in the talking mood after Boston fell to the Lakers in Game 7 of the NBA Finals. But Orlando Sentinel columnist George Diaz relays how Rivers sent a pretty important caller to voicemail last month: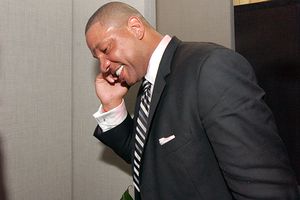 Randy Belice/NBAE/Getty ImagesA call from the president? It was no prank call for Celtics coach Doc Rivers.
Doc Rivers was bumming. Barack Obama was calling.

His Boston Celtics had just lost Game 7 of the NBA Finals. It was the morning after, and the team was ready to board a private get to go back home. His cell phone kept buzzing. It was a 202 area code. Washington, D.C.

Doc assumed that it was Stan Kasten, an executive with the Atlanta Hawks during Doc's playing days there. Kasten is now president of the Washington Nationals baseball team.

The phone buzzed again. Same number. Doc turned it off and settled in for the long ride.

Back in Boston, the phone buzzed again. It was a programmed number _ Kasten. May as well pick it up and hear the attaboy condolences from his friend.

"Doc, hold on, I have a friend who wants to say hello." He gave the phone to the guy next to him.

"Doc this is President Obama. I guess I can't get you to pick up the phone," he said.

Oops.
Click
HERE
to read the full entry.
Diaz
also blogged
about the Celtics' addition of
Shaquille O'Neal
earlier this week and got a killer line from Rivers.
"We're the only team with players eligible for the All-Star and the Legends Game," said Rivers.
(h/t:
CSNNE.com
)