Boston Celtics:

Rashad McCants
September, 17, 2010
9/17/10
2:55
PM ET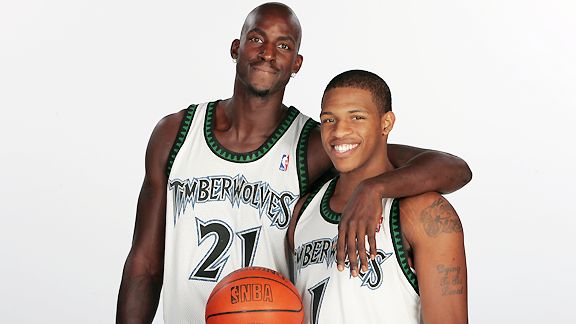 Melissa Majchrzak/NBAE/Getty ImagesKG and Rashad McCants go way back.
Celtics president of basketball operations Danny Ainge insists
Rashad McCants
is an NBA player.
Kevin Garnett
gives him the thumbs-up as a teammate. So could McCants find a way onto the Boston roster this fall?
McCants is one of four intriguing players Boston auditioned earlier this week, along with
Adam Morrison
,
Cuttino Mobley
and
Trenton Hassell
. But Ainge suggested it's been a revolving tour of NBA-caliber players and he's simply practicing due diligence as the new season approaches.
"It's just part of the evaluation process," said Ainge. "You see who's in what kind of shape and where they are at. You're evaluating players, that's all part of it."
Ainge admits he likes a lot of what he saw in working out McCants, Morrison, Mobley, and Hassell. But with training camp little more than a week away, he said, the team is still merely in evaluation mode.
"We're evaluating a lot of people," said Ainge. "Our roster is pretty darn full. We have to figure out, are the players that we have better than what's available? That's what we're doing now."
Click
HERE
to read the full story.
September, 15, 2010
9/15/10
11:00
PM ET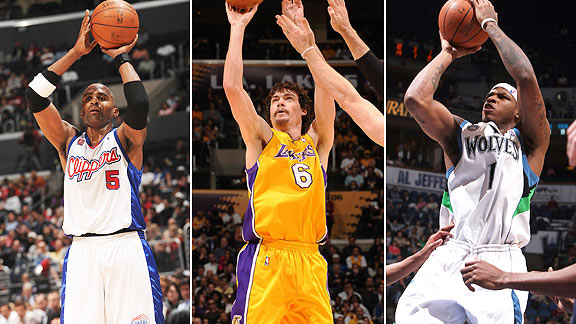 NBAE/Getty Images(Left to right): Cuttino Mobley, Adam Morrison and Rashad McCants are on Boston's radar.
Asked earlier this month to evaluate his offseason haul after signing
Delonte West
to fill out the Celtics' roster, president of basketball operations Danny Ainge said he preferred to wait until the offseason ended to make such judgments, hinting the team might not be done shaping the roster it will carry into training camp later this month.
The Celtics auditioned a handful of bodies this week at the team's training facility, including familiar NBA names
Adam Morrison
,
Rashad McCants
,
Cuttino Mobley
and
Trenton Hassell
, a league source confirmed.
News of the workouts was first reported by Yahoo! Sports.
While Boston's roster is maxed out at 15 players signed for the 2010-11 season (and that doesn't include
Tony Gaffney
and
Oliver Lafayette
, who boast non-guaranteed deals), Ainge doesn't appear ready to call it a summer, even after signing a whopping 11 contracts this offseason.
The Celtics appear focused on evaluating wing players with potential to provide depth behind
Ray Allen
and
Paul Pierce
, as there is some concern with each of the current reserve perimeter players signed for next season in West (10-game suspension),
Marquis Daniels
(injury history) and
Von Wafer
(limited game action last season).
Here's a quick glance at the four noteworthy names brought in for evaluation this week.
July, 26, 2010
7/26/10
10:30
AM ET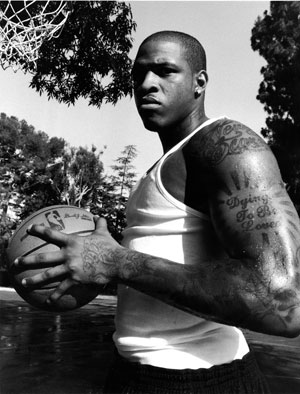 Sye Williams/ESPN The MagazineAfter a fall from NBA stardom, could Rashad McCants find a second chance in Boston?
During the slower times during the offseason, we'll occasionally reach into our
Celtics Mailbag
and pull out a question to field in the blog. Hop
HERE
to submit a question and keep an eye out for the latest edition of our weekly mailbag.
Q: Any chance the Celtics take a look at signing Rashad McCants? I haven't heard his name mentioned at all, but after reading the ESPN the Magazine article on him, it seemed like he was friends with Kevin Garnett while they were in Minnesota together. -- Matt (Malden, Mass.)
A:
McCants is a name that keeps coming up in the 'bag since his story appeared in ESPN the Magazine recently. But it seems like his reputation -- warranted or not -- has scared off potential suitors. He didn't help his cause by skipping an opportunity to join the Cleveland Cavaliers for the Las Vegas Summer League this month, even if his reason for no-showing was reportedly to tend to his ailing mother.
But his relationship with Garnett does make you wonder if the Celtics would be one of the few teams willing to take a chance on him. Here's the passage on McCants and Garnett from the
ESPN the Magazine
article:
In his first two seasons McCants earned an on-court rep that didn't exactly sync up to the profile either: a quick-trigger shooting guard physical enough to defend small forwards. He bonded with the team's superstar, Kevin Garnett, the two frequently working out together after practice. When McCants awoke from knee surgery in 2006, KG was sitting at the foot of the bed. In 2007-08, under first-year coach Randy Wittman, McCants began to blossom, selected by his peers as a team captain. As Minnesota's second option, he routinely made highlight reels. Future All-Star was what they said. At his season-ending interview, Wittman praised his effort. Brimming with optimism, McCants spent the summer in the area, organizing workouts and early-morning sprints for his teammates.
Things went bad for McCants quickly and now it seems no one will give him a chance. More from the Magazine:
He hits rewind on a couple of recent humbling experiences. It's the summer of '09 and McCants is growing anxious over a lack of offers, so he undertakes a quest for answers. "I've heard nothing but bad things about you," Heat coach Erik Spoelstra tells him in the midst of an informal run in Miami. At the Vegas Summer League, Mike D'Antoni says he can't give McCants a shot for fear he'd poison the Knicks' locker room. Tar Heel blood brothers Larry Brown and George Karl barely give him the time of day. Some GMs won't even get on a conference call with him. "Everybody said I wasn't a good fit," he says with genuine sadness. "It felt like I had nowhere to turn. It felt like I died."
It seems like McCants might have to look outside the NBA to prove himself and maybe work his way back to the league. He is, however, exactly the type of player the Celtics covet: an offensive minded shooting guard, with the physicality to defend at small forward. He'd be a nice addition to the bench and you can't help but wonder if Boston's veteran nucleus -- headlined by Garnett -- could keep McCants on track. But with the Celtics valuing chemistry so dearly, the team might not be willing to risk having a reclamation project poison the locker room.