January, 6, 2012
1/06/12
8:55
PM ET

The Boston Celtics matched a franchise low by scoring only 25 points in the first half of Friday's tilt with the Indiana Pacers.
The Celtics, who were a mere 9-of-34 shooting overall (26.5 percent) in the first half, trailed by eight at the intermission against the Pacers. The 25 points matched a first-half franchise low set
Feb. 8, 1995
against the Cleveland Cavaliers. The Celtics rallied that night, erupting for 50 second-half points en route to a 75-67 triumph.
Boston also mustered a mere 25 points in the second half of two games against Milwaukee (March 18, 1999 and Feb. 27, 1955).
July, 27, 2011
7/27/11
10:05
PM ET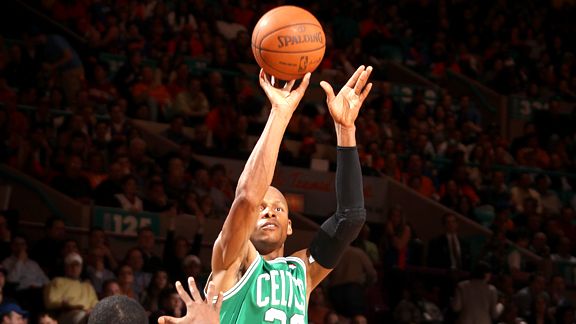 Nathaniel S. Butler/Getty ImagesRay Allen quietly set a Celtics' franchise record last season.
When you're busy breaking the NBA record for career 3-pointers, a team record tends to slide by without much fanfare. But
Ray Allen
accomplished a rather noteworthy feat last season and one that we failed to properly highlight during the season.
Allen's 44.4 percent clip from beyond the arc last year wasn't just a career high, it actually established a new Celtics' franchise record, barely eclipsing
Eddie House
's mark set two season earlier. Here's a look at the top marks in Celtics' history:
1. Ray Allen -- 2010-11 -- 44.44 percent (168 for 378)
2. Eddie House -- 2008-09 -- 44.41 percent (151 for 340)
3. Danny Ainge -- 1986-87 -- 44.27 percent (85 for 192)
4. David Wesley -- 1994-95 -- 42.86 percent (51 for 119)
5. Chris Ford -- 1979-80 -- 42.68 percent (70 for 164)
Looking back at the game log, Allen nearly blew his chance at etching his name in the Celtics' record book by connecting on only 3-of-14 triples over his final three appearances of the 2010-11 season. It didn't matter. Having shot a blistering 45.7 percent beyond the arc in the first half of the season, including a ridiculous 51.8 percent in 16 January games as he ramped up to passing Reggie Miller as the NBA's all-time leader in 3-point field goals, Allen put himself on pace to establish the franchise percentage mark.
A tip of the cap to
CelticsBlog forum poster mgent
for noting the accomplishment (which was also part of the Celtics' end-of-season notes and simply didn't get much attention -- at least in this space -- during playoff coverage).
February, 11, 2011
2/11/11
1:45
PM ET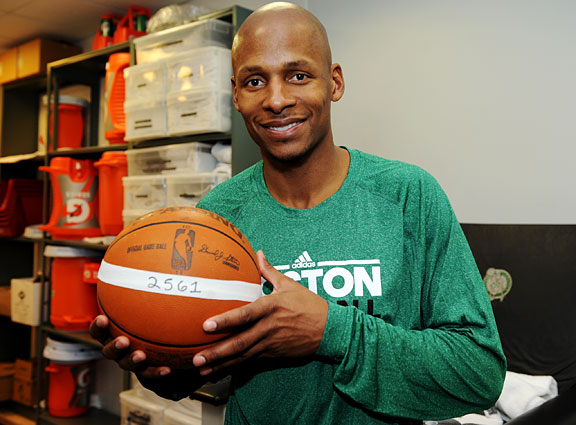 Brian Babineau/NBAE/Getty Images
Ray Allen showcases the ball he broke the NBA's career 3-point record with in Thursday's loss to the Los Angeles Lakers. (Not pictured: The 2,560 other balls used to achieve the record).
February, 10, 2011
2/10/11
8:40
PM ET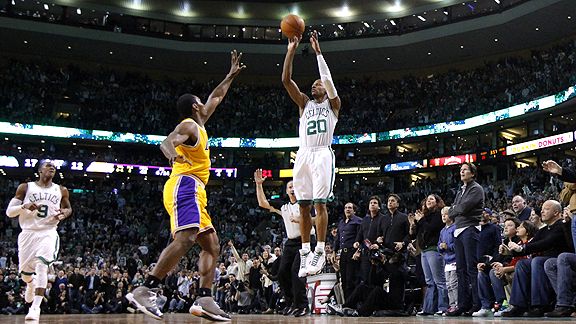 David Butler II/US PresswireIt was a record night for Ray Allen.
BOSTON -- With a pair of first-quarter 3-pointers,
Boston Celtics
guard
Ray Allen
matched and eclipsed
Reggie Miller
's NBA record of 2,560 career 3-pointers Thursday night against the
Los Angeles Lakers
.
Allen took a feed from Garnett and got off the record-tying shot before
Derek Fisher
could rush out to defend with 4:13 remaining in the first frame. Allen nearly assumed sole possession of the record a moment later in transition, but a 3-point from the left side of the arc wouldn't fall.
A short time later, he buried No. 2,561 from nearly the same spot as the tying shot. Allen got a wide-open look and buried the triple to establish the new NBA mark with 1:48 to go in the first quarter.
Between the quarters, the moment was recognized in the arena and the crowd serenaded Allen with a prolonged standing ovation. After acknowledging the crowd, Allen went over to greet Miller, sitting courtside as an analyst for TNT, before greeting his mother, Flo, and his wife and children.
Allen entered Thursday's tilt one triple shy of catching Miller. His first 3-point attempt -- a bomb from the corner opposite the Celtics' bench -- rattled out as the crowd groaned in anticipation of the moment.
Before the game, Allen admitted he didn't sleep well on the eve of the milestone moment.
"I didn't sleep extremely well last night, and I didn't expect it," said Allen "I got into trying to talk about shoes, just dealing with everything that was going on today and making sure that everything was together. I didn't sleep extremely well, but during the day I slept well. But, last night, it's just like a little kid. The game itself is big enough. Being on the precipice of breaking this record takes you to another level. I saw Reggie earlier and it's like so surreal because I know Reggie and he's been here many games, but now, being here, in this moment, and being able to say this moment is before us, it seems pretty overwhelming."
For his part, Miller offered nothing but kind words towards Allen before tip-off.
"He just told me he was proud of me and he was excited for me," said Allen. "He said he was glad that he could be here for this moment and it's just so serendipitous that it happened the way it happened. For us to be sitting here, Reggie's in the building, and he's in the building able to work the game."
Lakers superstar
Kobe Bryant
, part of the same draft class at Allen, marveled at the accomplishment.
"I think it's pretty awesome that he and I have been in the league so long and we're still playing at a high level," said Bryant. "I take a lot of pride and honor in watching him perform, being that we came [into the league] in '96 and probably me, him and -- who else? [Steve] Nash -- are really the only ones that are still going at a high level.
"[Allen's jump shot is] right at the top [of the all-time best]. It's pure, it's pure. In the game today, you got to put [Dirk] Nowitzki up there in terms of just having a beautiful stroke, but Ray's is water, man. It's water."
On the cusp of the milestone Monday in Charlotte, Allen admitted to being aware of how monumental the moment would be. That the clinching 3-pointer -- and the one that pushed him ahead of Miller -- would be encapsulated maybe more so than the 2,558 others that got him to that point.
"It's one shot of many," Allen said of the record-breaker. "But it ends up being one shot that stands alone."
Allen entered the 2010-11 season 116 3-pointers shy of the record and, given his that he only hit 145 while struggling at times last season, he didn't even consider it a lock that he'd get the record this season. But Allen is shooting a career bests at 50.7 percent from the floor and 46.2 percent from beyond the 3-point arc and suddenly he was on the cusp of the record.
"It just seems like it happened so fast," Allen said. "When I got to the start of the season, it was somewhat painstaking because I had -- I don't know what it was, 120, 130 3's away -- and I was like, 'I could do it this season, or I could do it next season.' And it just went by so fast. You look up and I'm at 90, then 50, then 30. You look up, it's February and the season's gone by pretty quick. But it's just happened. I'm sitting here thinking I'm right at four now, it just happened. It's like I blinked. It didn't seem like anything, just play regular basketball, do your job and -- 'Voila!' -- you're sitting here. That's pretty much how my whole career has been."
February, 7, 2011
2/07/11
4:30
PM ET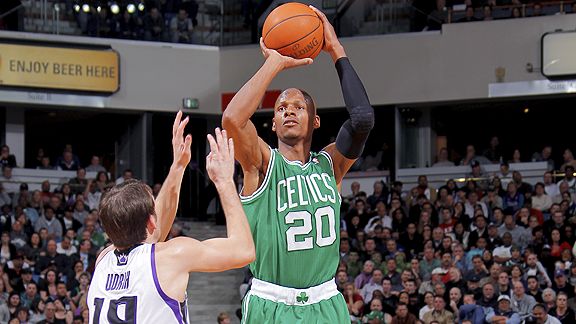 Rocky Widner/NBAE/Getty ImagesRay Allen needs three 3-pointers Monday to tie Reggie Miller's record.
CHARLOTTE -- Celtics guard
Ray Allen
needs a trio of 3-pointers Monday night against the Bobcats to tie
Reggie Miller
's NBA record of 2,560 career 3-pointers. Will the record be matched (or even fall) in Charlotte? Past history suggest Allen is going to at least give himself a chance.
In eight career games here, Allen is averaging 20.9 points and chucking an average of 7.3 triples per game. He's made 2.8 trifectas per game in Charlotte, which means an average night is likely to at least etch his name on the same line as Miller in the record books Monday.
There's a sentiment among some fans that it would add to the moment if Allen breaks the record Thursday night in Boston when the
Los Angeles Lakers
visit the TD Garden. But Allen isn't the type to alter his routine in order to steer the moment toward a certain date.
"I think everybody knows, but there's a sense of me getting sidetracked if you worry about it, because you feel like you've got to shoot it from beyond the arc," Allen said last week. "I don't want to press, I don't want to step outside of what we're trying to do here, and just continue to be who I am and do what I've been doing this whole time. I know it. I know it's in the back of my mind. I know it's there, but this is me being here, being where I am, I'm here because of the preparation I've put in my whole career, so I just stick to that and let it carry me the rest of the way."
Even with that pressure, Allen said he's savoring the pursuit of a new NBA milestone.
"No, I truly am enjoying it," Allen said. "This is a moment that I've never experienced before. I don't know how many people can experience this type of moment. We're playing a team sport, but there's the individual element that is associated with me right now [and] as much as I've always been very into the team, it's something that everybody is pointing at me, like, 'You need to keep doing this, you need to do that.' It's all a testimony to the guys that can stay around for a long time, because, you get 20,000 points, however many minutes, whatever it may be, but longevity produces greatness in any sport."
February, 5, 2011
2/05/11
4:55
PM ET
By
Greg Payne
| ESPNBoston.com
Comcast SportsNet ScreenshotRay Allen's mother, Flo, with a shirt fit for her son's upcoming milestone.
BOSTON -- Celtics guard
Ray Allen
continued his approach towards NBA history Friday night, as he buried three 3-pointers in a 101-97 loss to the
Dallas Mavericks
, moving to within five triples of
Reggie Miller
's record for most career 3-point field goals made.
Allen's currently averaging 2.3 made 3-pointers per game this season, and if that pace continues, he will likely eclipse Miller's 2,560 career 3-pointers next Thursday against the visiting
Los Angeles Lakers
. Ironically enough, that game will be nationally televised by TNT, the station Miller serves as a color analyst for, which means there is a chance that he could be broadcasting the game in which his record is surpassed.
June, 6, 2010
6/06/10
10:02
PM ET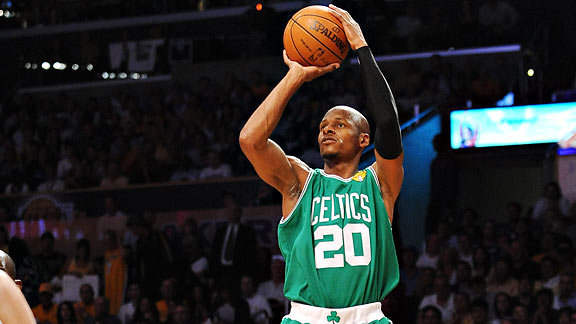 Noah Graham/Getty ImagesRay Allen broke the Finals record for 3-pointers in a game.
LOS ANGELES -- Celtics guard Ray Allen set a new NBA record for 3-pointers in a game with his eighth of the night in the third quarter of Game 2 against the Lakers at the Staples Center.
Limited to 27 minutes due to early foul trouble in Game 1, Allen never got in a rhythm, connecting on 3-of-8 shots, but no 3-pointers, while finishing with 12 points.
Allen connected on the first seven 3-pointers he attempted in Sunday's game before one rimmed out late in the first half. Allen finished 9-of-14 shooting for 27 points in the first half. Of Allen's nine first-half makes, six were assisted by Rajon Rondo.
Allen, who hit seven 3-pointers during a Finals game in 2007, had previously tied his own mark, also done by Houston's Kenny Smith in 1995 vs. Orlando and Chicago's Scottie Pippen in 1997 vs. Utah.
"It's definitely right up there, because there's no better place, moment, time to play a game, to win a game, and to win in a great fashion where everybody has to do it together as a team, and to be able to shoot the ball," Allen said of the mark after the game. "And I don't know what record it is that people are telling me that I got, but it's great to have. Great to be able to look back on it and say I did that. This is definitely the time. This is definitely our time."
April, 2, 2010
4/02/10
7:54
PM ET
BOSTON -- With an alley-oop lob to
Kevin Garnett
on Friday night at TD Garden, Boston Celtics guard
Rajon Rondo
broke Bob Cousy's single-season franchise record by registering his 716th assist.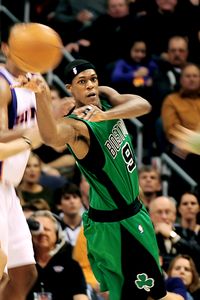 Mark J. Rebilas/US PresswireRajon Rondo broke Bob Cousy's 50-year-old single-season assist record on Friday.
Rondo entered Friday's game against the
Houston Rockets
one shy of the 50-year-old mark and tied Cousy's 1959-60 total by assisting on a 3-pointer by
Paul Pierce
90 seconds in. With 8:45 to play in the first quarter, Rondo lobbed a perfect feed to Garnett from the top of the key, and the easy slam established the new mark.
The Celtics honored Rondo during the first timeout by acknowledging the record and the Garden crowd gave him with a standing ovation as the JumboTron displayed Cousy's No. 14 in the rafters.
"If Cousy had it that long, it's pretty damn impressive," Celtics coach
Doc Rivers
said after Thursday's practice. "I'm so not impressed with numbers, if you want me to be honest, but obviously it's been a record that stood a long time, so there has to be some good in there."
Last week, Rondo passed
Rick Fox
to establish a franchise single-season record for steals. He entered Friday's game with 176 thefts on the season.
"[The records] may mean more to me once I retire or I am away from here," Rondo said last week. "I am just focused on winning."
March, 26, 2010
3/26/10
8:40
PM ET

BOSTON -- Celtics point guard
Rajon Rondo
set a new team single-season record for steals Friday night against the Kings.
Rondo entered the game tied with RIck Fox, who set the franchise mark with 167 steals in 1996-97. Rondo established the new record with a second-quarter pickpocket of
Sean May
with 4:39 to play in the half.
Before the game, Rondo joked about not having the record yet and, with 11 games to play, said, "I hope I trip and fall on one tonight."
The only real suspense came when Rondo was originally credited with a first-quarter steal, then had it retracted soon after. He had to wait for his second shift on the floor to set the mark.
December, 20, 2009
12/20/09
9:45
PM ET
BOSTON -- Celtics forward
Paul Pierce
tied a team record for most 3-pointers in a game without a miss by sinking all six trifectas he attempted in Sunday's 122-104 triumph over the
Minnesota Timberwolves
at TD Garden.
Pierce's effort matched the performances of
Walter McCarty
on Nov. 2, 1999, and
Danny Ainge
on Jan. 4, 1988.
"You know it's funny, I didn't know that until somebody came in and said, Paul, I think he broke a record or something? Tied a record?" said Celtics coach
Doc Rivers
. "So, you would've thought Larry [Bird] had done better than that. Honestly, I would have. I was surprised by that. I didn't know he was 6 for 6 from the three. I never look at the stats during the game. You know, [associate head coach Tom Thibodeau] and [assistant coach] Armond [Hill] always have their stat sheets. I never even glance at it because I don't want to know."
Pierce finished with a game-high 29 points on 8-of-14 shooting, with seven rebounds and four assists. Teammate
Kevin Garnett
could be seen emphatically encouraging Pierce during the game.
Asked if he had been yelling at Pierce, Garnett said, "Nothing that the Truth can't handle, though. Sometimes vice versa.
"I think that's what teammates are for, to motivate each other. It wasn't a yell though, it was like a real strong, stern voice. You got yelling, and then you got a real strong stern voice, so I used my stern voice on him. He was terrific tonight though. I thought he played on the floor -- the offense, everything, I thought it came to him. He had times when he went to attack and he gave it up, he shared the ball. Beautiful basketball tonight."