January, 30, 2011
1/30/11
12:05
PM ET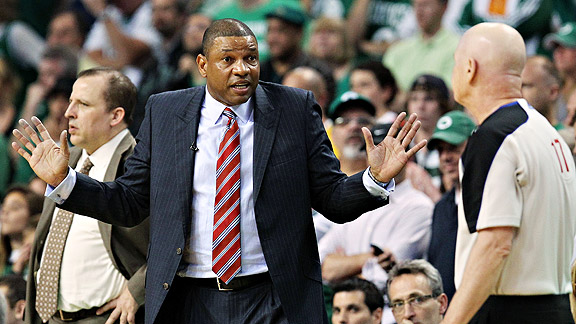 Ronald Martinez/Getty ImagesDoc Rivers chats with Joey Crawford during last year's NBA Finals.
Joey Crawford, who worked Game 7 of the NBA Finals last season, is part of an officiating crew for Sunday's Celtics-Lakers showdown that also features Marat Kogut and Tom Washington. This is Crawford's third Celtics assignment this season (he also reffed a an 89-84 loss to the Thunder on Nov. 19 and a 100-75 win over the Nets on Dec. 5.) Kogut was part of a the crew for Celtics-Magic on Christmas Day, but it was referee Bob Delaney that drew most of the ire from Shaquille O'Neal and his teammates.
June, 17, 2010
6/17/10
11:19
AM ET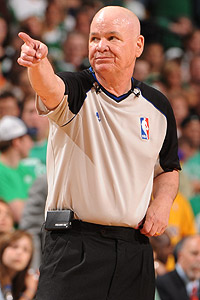 Andrew D. Bernstein/NBAE/Getty ImagesJoey Crawford is part of Thursday's Game 7 crew.
LOS ANGELES -- The NBA assigned referees Joey Crawford, Dan Crawford, and Scott Foster to work Thursday's Game 7 of the Finals between the Celtics and Lakers.
Considering the pool of potential officials, including lightning rods Bennett Salvatore, Eddie F. Rush, and Bill Kennedy, both teams can probably breath a sigh of relief that, on the surface, this is as innocuous a crew as the NBA could have cobbled together.
According to referee stats kept at
NBAStuffer.com
, this assignment will make Joey Crawford the most worked official in the postseason. His 76.9 winning percentage for home teams will give pause for Celtics fans, but the breakdown of his fouls suggest he's an equal opportunity distributor (52.4 percent of calls against road team).
Dan Crawford has worked 12 games this postseason, with a home-team winning percentage of 50 percent. The road teams are actually averaging 1.3 more points per game in his assignments. Foster's worked 11 games with the home team winning 63.6 percent of the time, though his stats suggest he's more likely to assign a technical foul to the hosts.
Joey Crawford worked Game 1, Danny Crawford worked Game 3, and Scott Foster worked Game 4. Rasheed Wallace did pick up his two Finals technicals as part of those games. Fortunately for Boston, it won't matter if he reaches the league's threshold of seven this evening.
June, 15, 2010
6/15/10
10:57
AM ET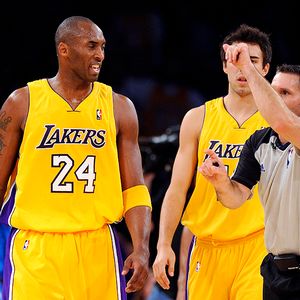 Kevork Djansezian/Getty ImagesMonty McCutchen T's up Kobe Bryant.
LOS ANGELES -- Monty McCutchen, Joe DeRosa, and Ken Mauer are the officials assigned to referee Game 6 of the NBA Finals Tuesday night at the Staples Center.
McCutchen and Mauer worked Boston's Game 2 victory that featured a series-high 58 whistles, while DeRosa was part of the Game 1 crew that called 54 infractions (and handed out three technical fouls) in a Lakers triumph. Those two games left the referees under heavy scrutiny for impacting the flow of the game.
Since then, and after both coaches moaned about calls, the officials have largely crawled out of the headlines as fouls have dipped over the past three games -- Game 3 (47 total fouls), Game 4 (44), and Game 5 (45). All of which makes those first two games stick out like sore thumbs.
Ray Allen
found himself in early foul trouble and was limited for much of the first three quarters in Boston's Game 1 loss.
Rasheed Wallace
picked up his fifth technical of the postseason that night, while
Paul Pierce
and
Ron Artest
drew a double technical just 27 seconds in.
In Game 2,
Kevin Garnett
sat for extended periods of the first half with foul woes, but the Lakers had their own troubles as Ron Artest fouled out,
Lamar Odom
got three quick ones and played 15 minutes, and
Kobe Bryant
got whistled by Mauer for his fifth on a charge early in the fourth quarter, limiting his aggressiveness.
Each team endured 29 infractions in Game 2, but the Lakers shot 41 free throws compared to Boston's 26.