April, 9, 2012
4/09/12
2:58
PM ET
David Butler II/US PresswireHow will Doc Rivers manage rest for his starters?
With 10 games over the final 16 days of the regular season, including a back-to-back-to-back on the road starting Friday, the
Boston Celtics
won't get much downtime between now and April 26.
Celtics coach Doc Rivers has said health is more important than seedings, but even he's unsure how to properly navigate this stretch, particularly with Boston set to play five games in six nights starting with a visit to South Beach on Tuesday night.
"We're just going to wait and see how guys react," said Rivers, who admits it's a bit of an eyeball test with his players. He has kept a sense of humor about the situation, joking, "The way the Chicago game went [Thursday], I wish I had saw that before the game, I would have sat them all. That would have been terrific."
Rivers has noted how it's hard for him to simply keep guys out of the lineup, suggesting that even if he gave
Kevin Garnett
a night off, the veteran player would run five miles on a treadmill, lift weights and go get up shots -- barely affording him much true rest. Plus, you just never know how players are going to react on the court. Garnett struggled with his shot in Chicago and for much of the Indiana game before catching fire in the fourth quarter against the Pacers (securing that win) and carrying it over into the Philadelphia game.
"We're just going to play it game by game," Rivers said. "This season, it's just so hard to try to figure out who needs the rest and who doesn't. Guys have been pretty good though, I will say our guys have been very honest in our talks about how their bodies are feeling. We're going to really need that honesty over the next 10 games."
December, 13, 2010
12/13/10
11:45
AM ET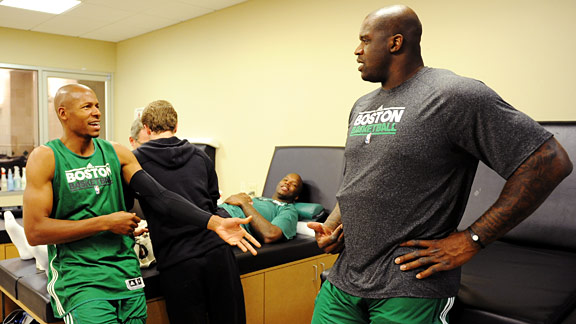 Brian Babineau/NBAE/GettyThe trainer's room might be the busiest place in Waltham to start the week.
For the second time in little more than two weeks, the Celtics have caught a three-day lull in the schedule and, for the second time, Boston is enjoying consecutive days away from the basketball court with hopes of limiting the wear and tear of an 82-game season.
After Saturday's win in Charlotte, Celtics coach Doc Rivers gave his team Sunday and Monday off from full-squad practice. Some of the wounded will still trek to the training facility in Waltham for treatment, others will go just to get up shots on their own accord, while the youngest players will likely continue their offday regiment of working with the coaching staff as they learn the Boston playbook, then play some 2-on-2 to keep fresh.
The extended breaks from practice are largely good for a veteran team. Combined with two games off last week, the Celtics will have given
Shaquille O'Neal
six full days of rest before the team resumes practice Tuesday morning (you can be sure Shaq checked the board twice after showing up tardy the last time Rivers gave a two-day break). Meanwhile, guys like
Paul Pierce
and
Glen Davis
, who have battled flu-like symptoms during recent games, get a chance to recover. And obviously extra rest won't hurt ailing feet (
Rajon Rondo
,
Nate Robinson
), dinged-up thumbs (
Marquis Daniels
,
Semih Erden
) or any other malady in the Boston locker room.
The Celtics enjoyed two days of rest at the end of November, then trekked to Cleveland and atoned for an early season loss with a 106-87 thrashing of the Cavaliers. Not only is a red-hot Knicks squad waiting for Boston in New York on Wednesday, but the Celtics follow with a back-to-back at home Thursday night against Atlanta. These days of rest should come in handy then as well.
This is actually the third time this year the Celtics have caught a three-day break in the schedule. Rivers didn't give them a two-day break the first time (Nov. 14-16), but that might have been due in large part to the return of
Delonte West
, who needed practice time to reintegrate with the team after sitting out the first 10 games due to suspension.
Boston doesn't get another three-day break the rest of the season (save for the All-Star break, which should include a few green jerseys in Los Angeles). In fact, the Celtics enjoy four more two-day breaks in December, then don't get much rest moving forward with only one two-day break in January (Jan. 23-24 after a road game Jan. 22 in Washington).
Needless to say, the C's should enjoy the rest now.