Boston Celtics:

Rich Gotham
September, 5, 2014
Sep 5
8:15
PM ET
BOSTON -- Boston Celtics team president Rich Gotham still shudders when he reflects on sitting in the lottery war room in late May when the team's draft fate was determined and dreams of a top pick were dashed. While pleading for patience as part of the team's current rebuilding process, he's not bashful in admitting that he hopes that both he and the team can avoid the lottery process again for the foreseeable future.
[+] Enlarge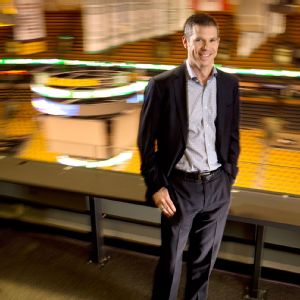 Essdras M Suarez/The Boston Globe/Getty ImagesCeltics president Rich Gotham says "the expectation for this year's team is that the future will come a little bit more into focus."
And three months after the ping-pong balls defied Boston, and a couple months since Boston plucked Marcus Smart (6th) and James Young (17th) in the 2014 draft, Gotham expressed an excitement about the team's youngest players and their future potential.
"I've been loving Marcus Smart's play, because he's just tough," said Gotham, admitting he often peeks at the on-court offseason action whenever he's at the team's training facility in Waltham this summer. "He goes out there and he competes. I saw James Young for the first time the other day, and I saw him stroke a couple of lefty 3-pointers from the a couple feet beyond the arc and I was like, 'Hmmm, we could use that.'
"It's exciting. I'm a hoops junkie. I love watching the young guys, I love watching their development, I love thinking about what these guys could become. I watched our draft workouts, but the best workout I saw all summer was Kelly Olynyk putting on a shooting clinic hitting 3s. We bring in all these guys, but we've got great guys on our team. It's exciting to think about how these guys will develop over time.
"The franchise, we're committed to being patient as we need to be to get the team to where it needs to go. What you want, most importantly, is to have options. Whether it's developing your young guys and utilizing those draft picks -- and utilizing them well -- and getting guys that can help you hang that next banner. Or it's using those picks and cap space as assets to acquire other players, whether it's via trade or free agency. I think we have all those options available to us, and they'll continue to be available to us for the foreseeable future. And that's really all that you can ask for. You can't be too hasty in trying to make things happen just for the sake of trying to make it happen in order to appease any sense of impatience. You gotta stay true to the process."
[
Read full story
]
May, 21, 2014
May 21
12:25
AM ET
NEW YORK -- Boston Celtics co-owner Steve Pagliuca, still clutching a Portuguese rooster he hoped would bring his team better lottery fortune than it has had in the past, stood in the middle of Times Square Studios in the immediate aftermath of the NBA draft lottery and began scanning the crowd.
"Anyone seen Rich?" Pagliuca asked.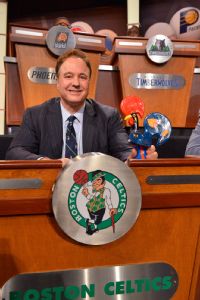 David Dow/NBAE/Getty ImagesCeltics co-owner Steve Pagliuca and his lucky rooster didn't do much to change the team's fortunes in the draft lottery.
While Pagliuca served as the brave face of the organization during ESPN's show revealing the draft lottery results, team president Rich Gotham drew the less-than-enviable task of being sequestered behind the scenes during the actual pingpong draw about 90 minutes before the on-air broadcast that showed that Boston had landed the sixth pick.
For more than an hour, Gotham had been locked in a nearby room trying to cope with the disappointment of another missed opportunity for the Celtics to land a premium draft position. The Celtics had a 33.4 percent chance at landing a top-three spot, but instead watched the Cleveland Cavaliers vault to No. 1 with only a 1.7 percent chance at the pick.
Gotham knew things had gone awry almost from the moment the process began. Having studied the list of Boston's potential combinations, he was aware the team needed a 4 or a 5 as part of the four-ball draw that determines each of the top three picks. But the first pull produced nothing but large digits, suggesting that not only had another team earned the top spot, but it was one from the back of the lottery pack, diminishing Boston's chances of securing a top-three selection.
In the blink of an eye, the lottery was over. Stripped of all communication to the outside world, Gotham had to fill the next 75 minutes before the public unveil with small talk and his own thoughts.
Pagliuca, who was still scanning the TV studio in search of Gotham, joked, "I've never seen Rich without a phone, so I'm hoping he survived."
Gotham emerged at the far end of the studio. Behind him, an ESPN crew broke down Cleveland's stunning vault, while members of the Cavaliers mugged for pictures on the opposite side.
So how was Gotham's stay in the so-called war room?
"It's an odd room to be in," he said. "You have two or three people who are really happy, then everyone else says, 'What just happened?' Because it happens so quickly. They do the three picks, and it probably takes no more than five minutes to do the three picks, but you are back there for an hour and 15 minutes or so. So it's a little bit of a bummer to be stuck in there.
"At the same time, you can't help it, the wheels start turning about what's next. 'What are we going to do next?' I think the good news this year is that we're going to get a good player. It's a deep draft, [Celtics president of basketball operations Danny Ainge] and his guys will do what they always do, and that's pick the right guy. And we'll go forward and do it the old-fashioned Celtics way: Roll up the sleeves and put the brains to work and figure out how we did it back in '07, which was planned after a lottery where we didn't get a break either."
[
Read full story
]
November, 6, 2012
11/06/12
4:45
PM ET
Darren McCollester/NBAE/GettyCeltics president Rich Gotham.
Celtics team president Rich Gotham phoned into The Herd on Tuesday to talk about Boston's slow start, chasing the champion Heat, and the "nuclear reactor" that is Kevin Garnett. Hop
HERE
to listen to the podcast and check out some highlights below:
On Garnett's on-court intensity
: "I think he defines the culture. His intensity is unwavering at all times, and whether it's on the court at practice or on the bus on the way to the arena, he's the guy who's setting the tone. I often joke: KG doesn't sleep, I think he just waits for daylight, like Chuck Norris. He just burns. And he's got that burning intensity, and it keeps everyone else on edge. I say that in a good way. People don't think they can let up when KG is in the vicinity and I think that's a good thing for your team. It's sorta like a nuclear reactor -- he gives you the fuel and his energy is amazing to see. He's just got around-the-clock energy, he never seems to let down."
On seeing Ray Allen in a Heat uniform
: "It was surreal watching [him hit 3-pointers for the Heat], honestly, you're so used to seeing that for us. As much as I like Ray, he was a good person while he was here, I was not happy to see him knocking down those shots. Life goes on, we landed on our feet; We got the JET, Jason Terry, and Courtney Lee, so we feel good about those guys. It's just going to take a little time to get those integrated to what we're doing.